A Silver Lining: Discovering Folk Art in the New England Countryside
The pandemic has been heartbreaking with the loss of lives and livelihoods. It has also provided opportunities to slow down and appreciate the world around us, to focus on our friends and family, and to look for silver linings.
We are both retired from the museum field and have worked extensively with decorative arts and material culture in New England. With museums closed during the early months of the pandemic, we craved the opportunity to investigate art and culture. What to do? Explore the countryside, particularly the early graveyards and burial grounds.
In addition to offering social distancing and the chance to be outdoors, visiting historic graveyards is the ultimate museum-like experience. Gravestones are works of art and historical records. Unlike antiques that are owned, bought, sold, and often lose their history, or architecture that gets remodeled and demolished, gravestones stay in place and carry their documentation on their back—sometimes even the signatures of makers.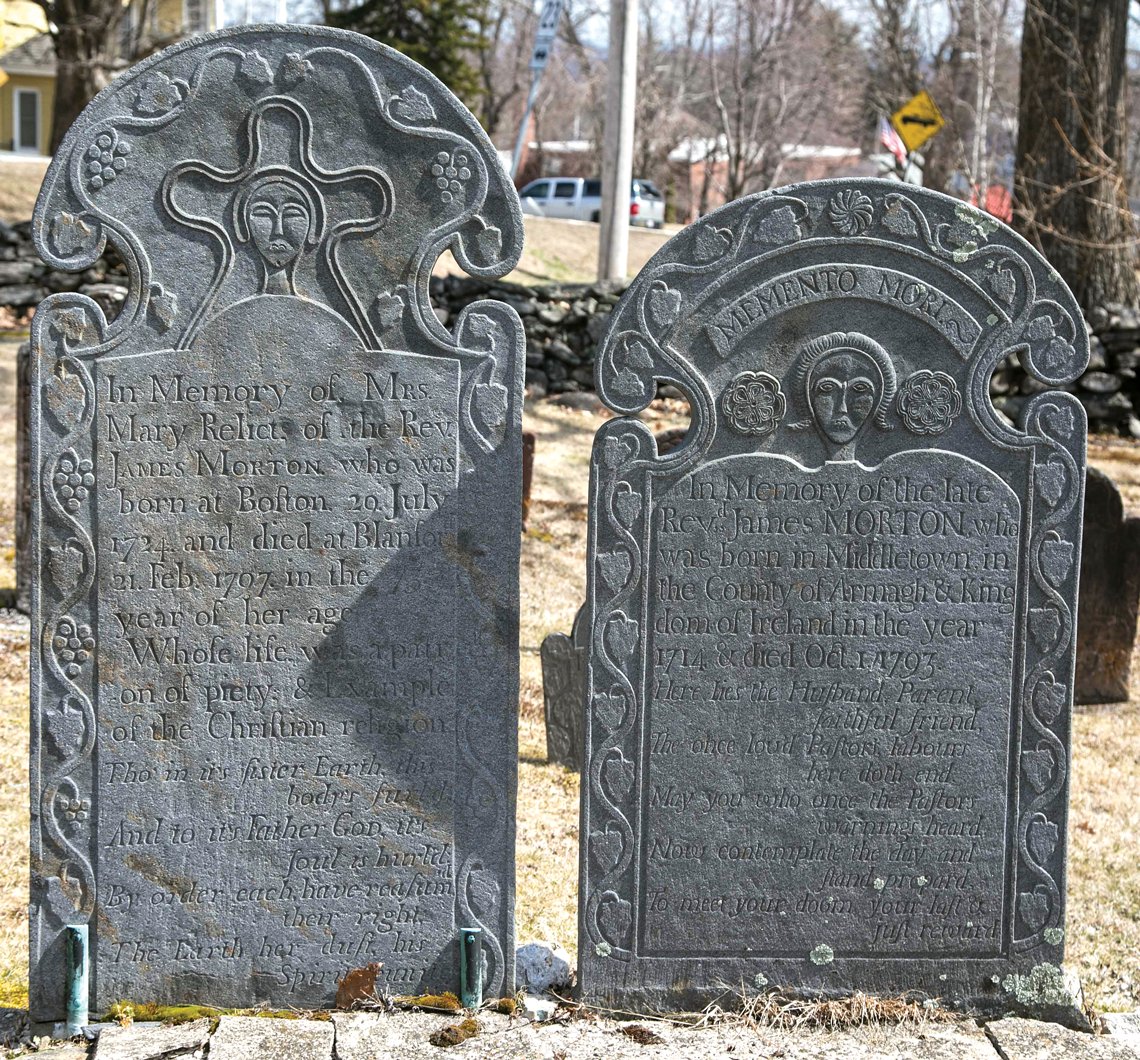 Rev. James & Mary Morton (1714–1793 and 1724–1797). Schist. Blandford Old Burying Ground, Blandford, Hampden County, Mass. Attributed to stonecutters Elijah or Joseph Sikes, who worked in central Massachusetts during this time.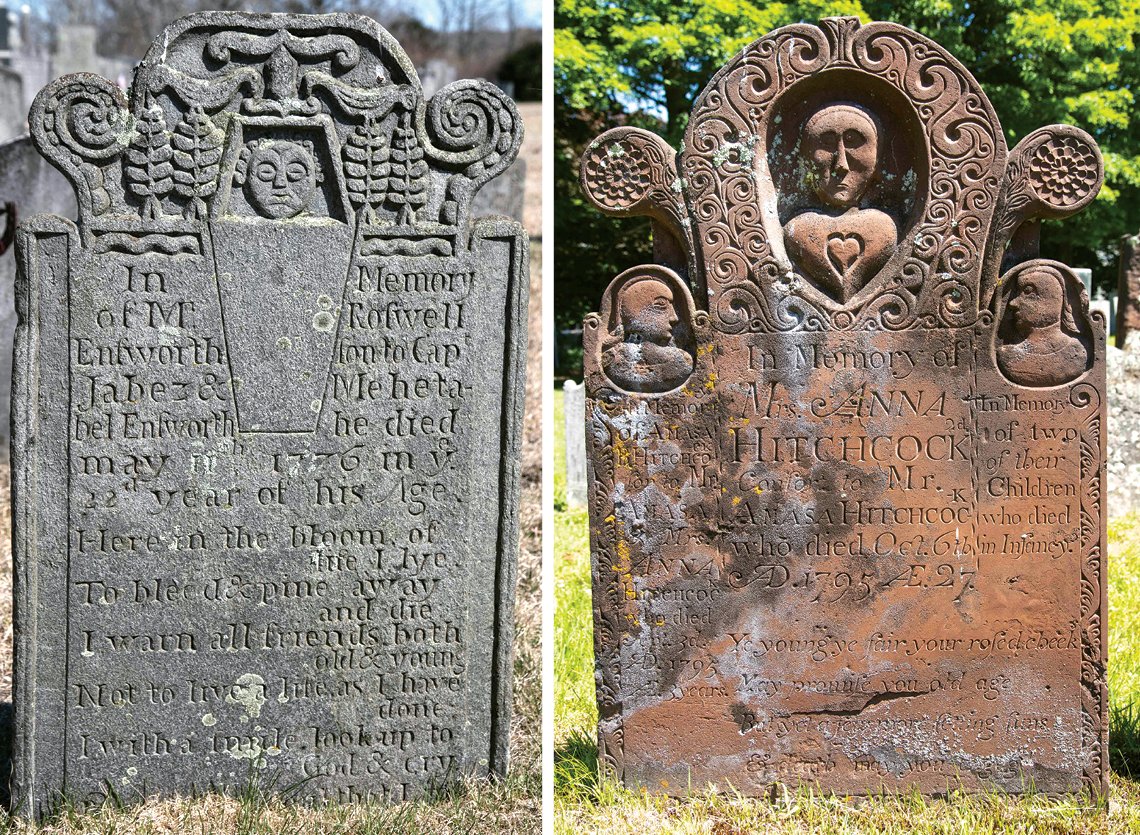 Left: Roswell Ensworth (1754-1776). Schist. Canterbury Burying Ground, Canterbury, Conn. Attributed to stonecutter Josiah Manning (1725–1806), whose work with his two sons is prominent in graveyards in eastern Connecticut and into western Massachusetts. Right: Anna Hitchcock and her two Children, 1795. Red sandstone. Cheshire Hillside Cemetery, Cheshire, Conn. Attributed to stonecutter Elisha Cowles (1750–1799) of Meriden, Connecticut.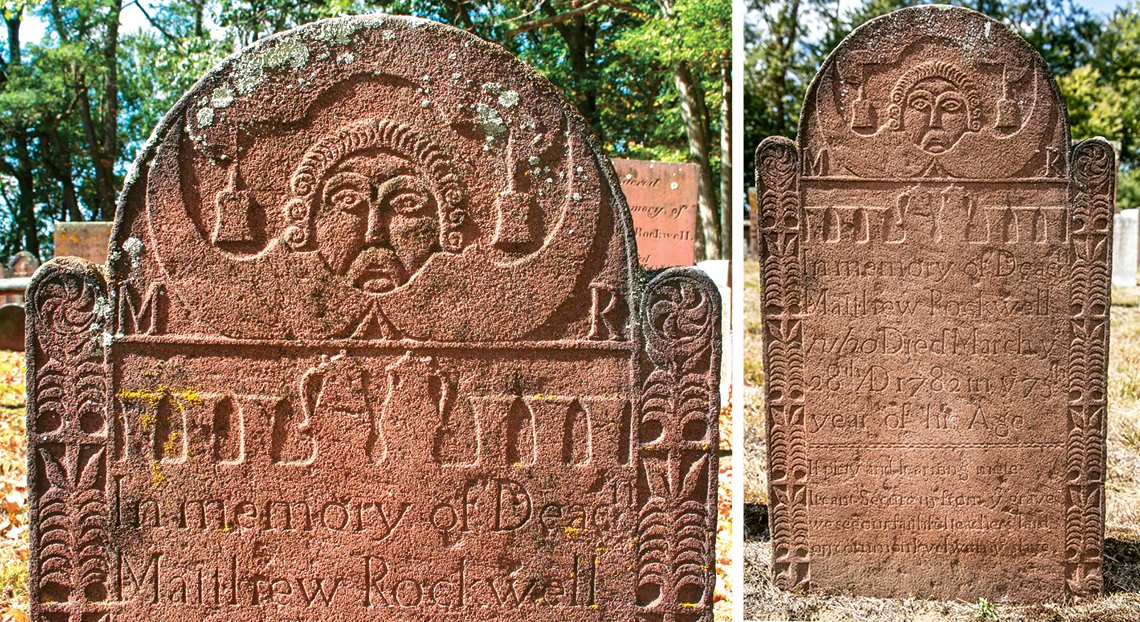 Deacon Mathew Rockwell (1707–1782). Red sandstone. East Windsor Hill Burying Ground, East Windsor, Conn. Attributed to stonecutter Ebenezer Drake (1739–1803), South Windsor, Conn.
Since March, we've taken thousands of photographs in more than one hundred locations, from Bridgeport, Connecticut, to Middlebury, Vermont, with a special interest in documenting the marble work that appears in graveyards from western Connecticut to Vermont, along the long geologic marble belt of western New England.
What started as a Covid-19 distraction for the joy of discovery, has evolved into a mission. A year ago we were involved in a fabulous "talk and tour format" program at Dedham Historical Society & Museum in Dedham, Massachusetts. We realized how easy it can be to present a tour of a local burying ground in tandem with a lecture, even if we've never been to the location before, but especially in any of the hundreds of places we've already studied. The talk and tour format is a real crowd pleaser. We have also realized, sadly—how much conservation, restoration, stewardship, and care is needed for old graveyards—and what an astonishing teaching tool this can be. So, like Johnny Appleseed, our mission is to visit burying grounds, gather information and photographs, and, as long as we can get around, we will work with local historical organizations and hopefully inspire communities to care about the history that's so easy to access in their own neighborhoods.
Gravestone photography is harder than it looks. A cloudless day is best, and generally, there's only an hour a day, around noon, when natural sunlight rakes across the stone surface, creating shadows that bring the carving and decoration into high relief. To expand this window, we use lightweight, inexpensive dressing mirrors that enable us to direct sunlight across the face of the stone, creating the effect of the best light. If we reach our first site by eight o'clock in the morning, we are able to visit seven or eight burying grounds before the light turns against us, even with the use of mirrors.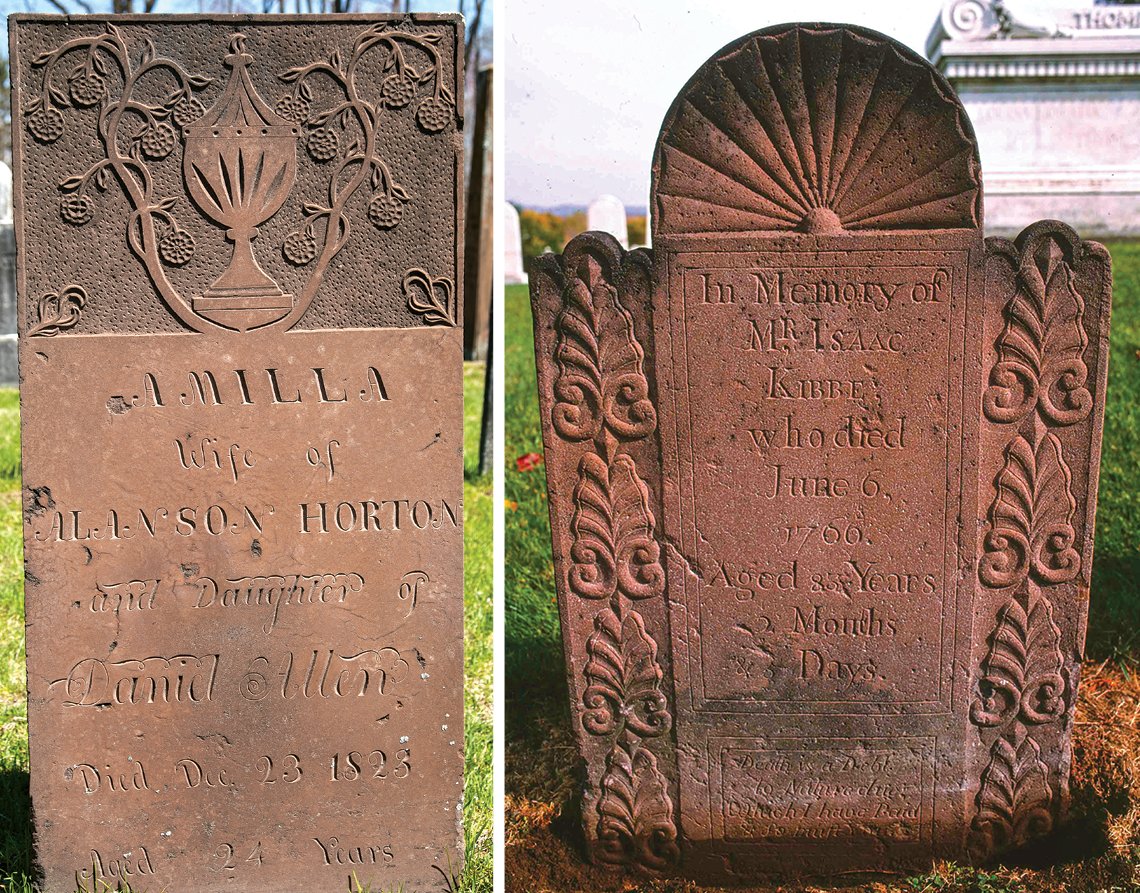 Left: Amelia Horton (1799–1823). Red sandstone. Scantic Burying Ground, East Windsor, Conn. Unidentified maker. Right: Isaac Kibbe (ca. 1683–1766). Red sandstone. Enfield Street Cemetery, Enfield, Hartford County, Conn. Attributed to stonecutter Ezra Stebbins (1731–1796).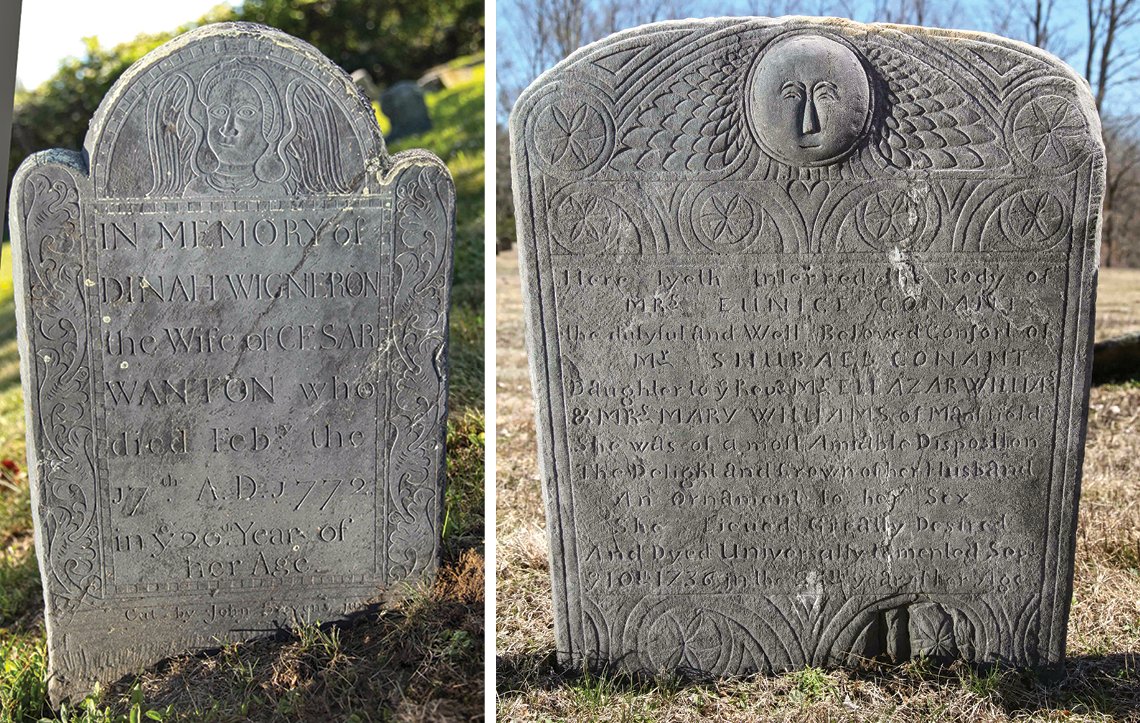 Left: Dinah Wigneron, Enslaved African (1752–1772). Schist. Newport Burying Ground, Newport, Rhode Island. Signed by John Stevens. Right: Eunice Conant (1712–1736). Schist. Olde Mansfield Center Cemetery, Mansfield, Tolland County, Conn. Attributed to Obadiah Wheeler (1673–c. 1750). The high relief of this stone represents the apex of Wheeler's work.
Left:
Mary Nash (ca. 1721–1725). Schist. Hill Cemetery, Hatfield Mass, Attributed to Joseph Nash (1644–1740), Hadley, Mass. Nash's stones prior to the 1730s can include crude carvings of skulls, as seen on this stone. Right: Col. Seth Pomeroy (1706–1777). Red sandstone. Bridge Street Cemetery, Northampton, Mass. Attributed to Nathaniel Phelps (1721–1789).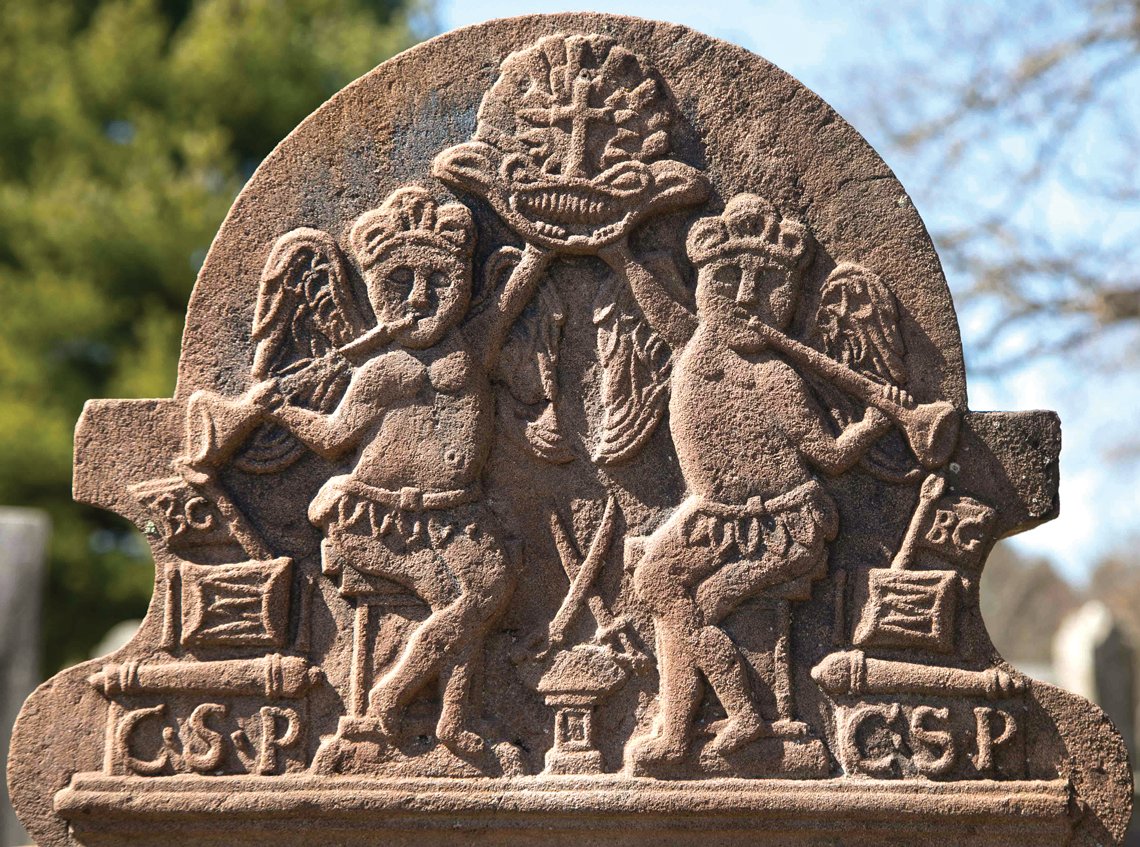 Detail of Col. Seth Pomeroy (1706–1777). Red sandstone. Bridge Street Cemetery, Northampton, Mass. Attributed to Nathaniel Phelps (1721–1789).
To plan our itinerary, we rely on findagrave.com—a division of ancestry.com. This website crowdsources the work of thousands of genealogists, tombstone tourists, and gravestone hardcores who have uploaded hundreds of thousands of photographs from all around the world. We search by state, county, and town, then sort the list of headstones by date of death to find the burying grounds that have early folk art stonecutting, the most visually elaborate dating from the seventeenth into the early nineteenth centuries.
In the seventeenth and early eighteenth centuries, stone cutters generally used the stone that was found in their region: slate in eastern Massachusetts and Rhode Island, red sandstone in the lower Connecticut Valley, slate and schist in the New England highlands, and, starting in the mid-eighteenth century, marble in western Massachusetts and Vermont. While stylistic elements like death heads, winged cherubs (soul effigies), pinwheels, roundels, foliate scrolls, border patterns, and neoclassical ovals, festoons, willows and urns are familiar to many people who have visited burial sites—their varied application by carvers in rural areas is astonishing. In addition, some of these stonecutters amplified their work by elaborately shaping the tops and sides of stones in ways not generally seen in urban graveyards.
For gravestone folk art found in rural areas, 1750 to 1810 was a golden age of stone carving. Before that, few people living beyond the larger settlements could afford to support the stonecutting trade and demand for costly gravestones was limited. The great thing about rural burying grounds—and we visit places few tourists ever see—are stones carved by stonecutters who served just a handful of adjoining towns. Their life's work is confined to those places and is as distinctive as a thumbprint.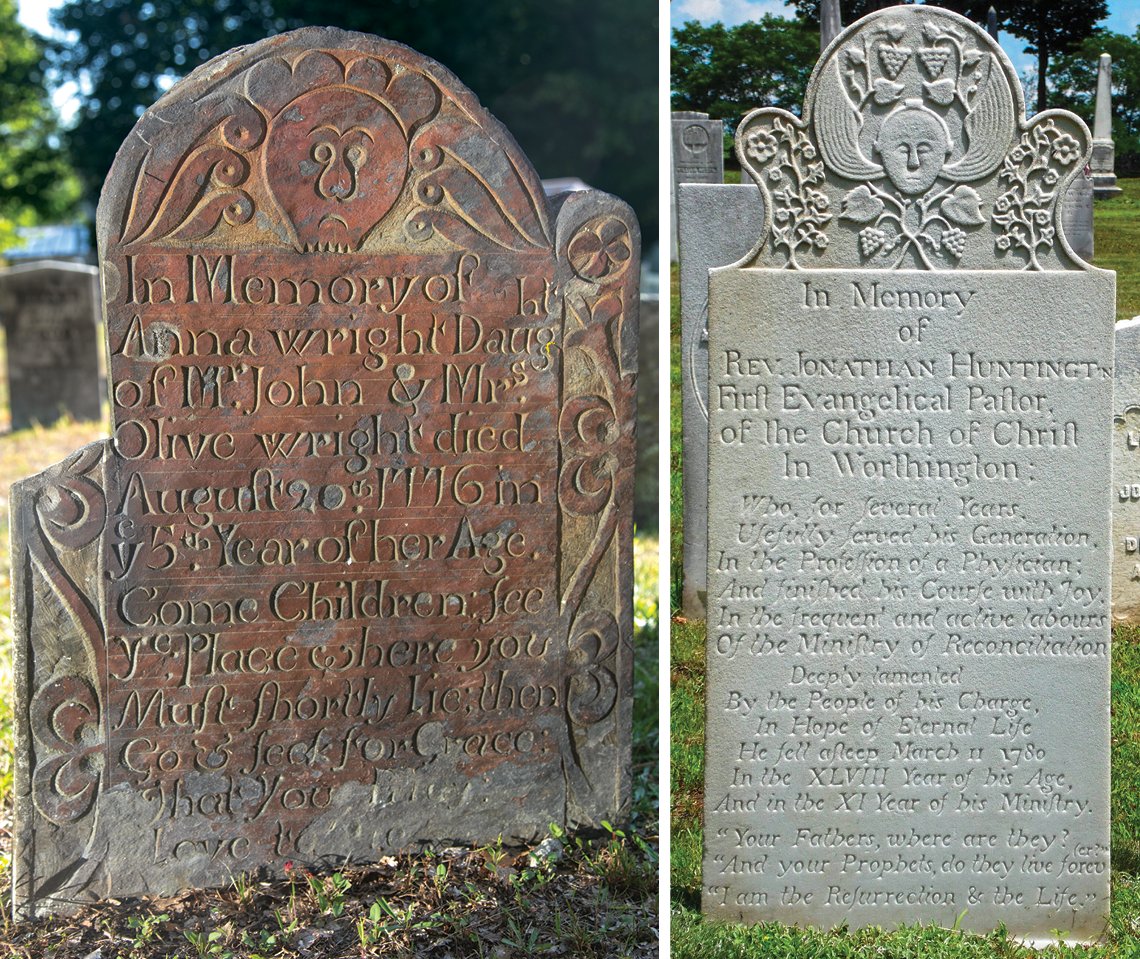 Left: Anna Wright (1771–1776). Red sandstone. Fairview Cemetery, Norwich VT. Attributed to Gershom Bartlett (1723–1796). Bartlett's carving style is very distinctive; prior to being identified, he was referred to as the "hook-and-eye" carver. Right: Rev. Jonathan Huntington (1733–1780). Marble. Worthington Center Cemetery, Worthington Mass. Unidentified maker.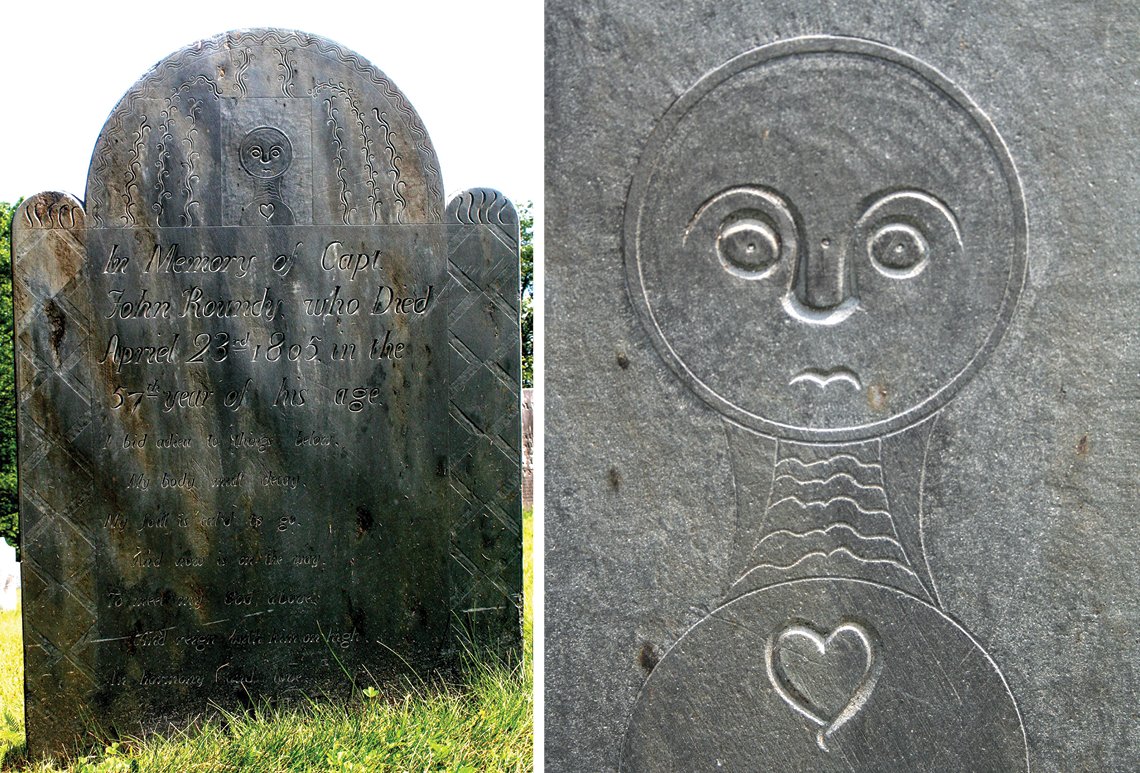 Capt. John Roundy (1748–1805). Slate. Rockingham Meeting House Cemetery, Rockingham, Windham County, VT. Attributed to Moses Wright (1758–?).
Through the years, scholars of gravestone studies, beginning with Harriet Merrifield Forbes' pathbreaking Gravestones of New England and the Men Who Made Them (1927), have documented hundreds of stonecutters—artists in stone. This portfolio of pictures is the tip of an iceberg. A look at the Farber Gravestone Collection online (AmericanAntiquarian.org) and the publications of the Association for Gravestone Studies will make you an expert in no time.
As museums reopen, you can visit and see that many of the motifs found on gravestones are also evident on furniture, needlework, and other decorative arts. The imagery and regional variation found on rural gravestones, however, in our minds is unmatched as a consistent expression of folk art in America. We have found our silver lining during the pandemic and encourage others to explore the countryside and the village graveyards where you'll find that #TombstoneTourism is the perfect way to spend a day outdoors surrounded by history. 
---
Christine Ermenc is the past executive director of the Windsor Historical Society, Windsor, Conn. William Hosley is principal of Terra Firma Northeast and a cultural resource development consultant.
Photography by the authors
This article was originally published in the Winter 2020 issue of Antiques & Fine Art magazine, a fully digitized version of which is available at www.afamag.com. AFA is affiliated with Incollect.com.