Art & Earth Influences Converge in J McDonald's New "Underground" Collection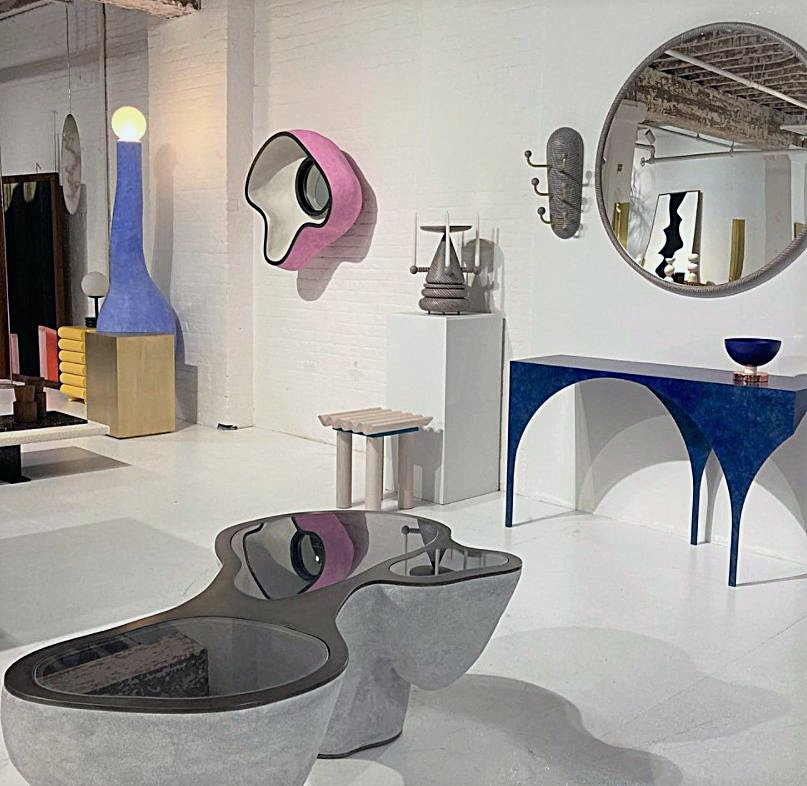 J McDonald's latest collection of furniture, pictured here at Love House in Brooklyn.
| | |
| --- | --- |
| | |
| | |
A
sculptor and metal fabricator, J McDonald launched his eponymous studio in 2018 with an avant-garde, ethereal collection grounded in pure geometry. Now, he has returned with the launch of his second line, "Underground." The pieces in the Underground release are inspired by concepts and shapes that lurk beneath the surface — from subterranean caves to the body's internal organs and the process of self-reflection. Like all his work, his new furniture and objects are in constant relationship to architecture, human anatomy, and nature.
"I like to discern between my furniture and work that mimics nature," he says. "One of the things that sets my work apart is that it is about bringing nature into conversation with contemporary humanity, industry, and modern society. It's not about a nature-inspired object, and it's not just minimalism. It's about how those ideas converge and the dialogue between them."
Each limited-edition work is available as is or can be altered to suit the client. Many of his objects are hand-sculpted, and coming from a background in art and architecture, he makes each object that he sells himself. "I wanted to bring art together with high design and high craft sensibility," he says of his brand.
Preview limited-edition pieces from Studio J McDonald below.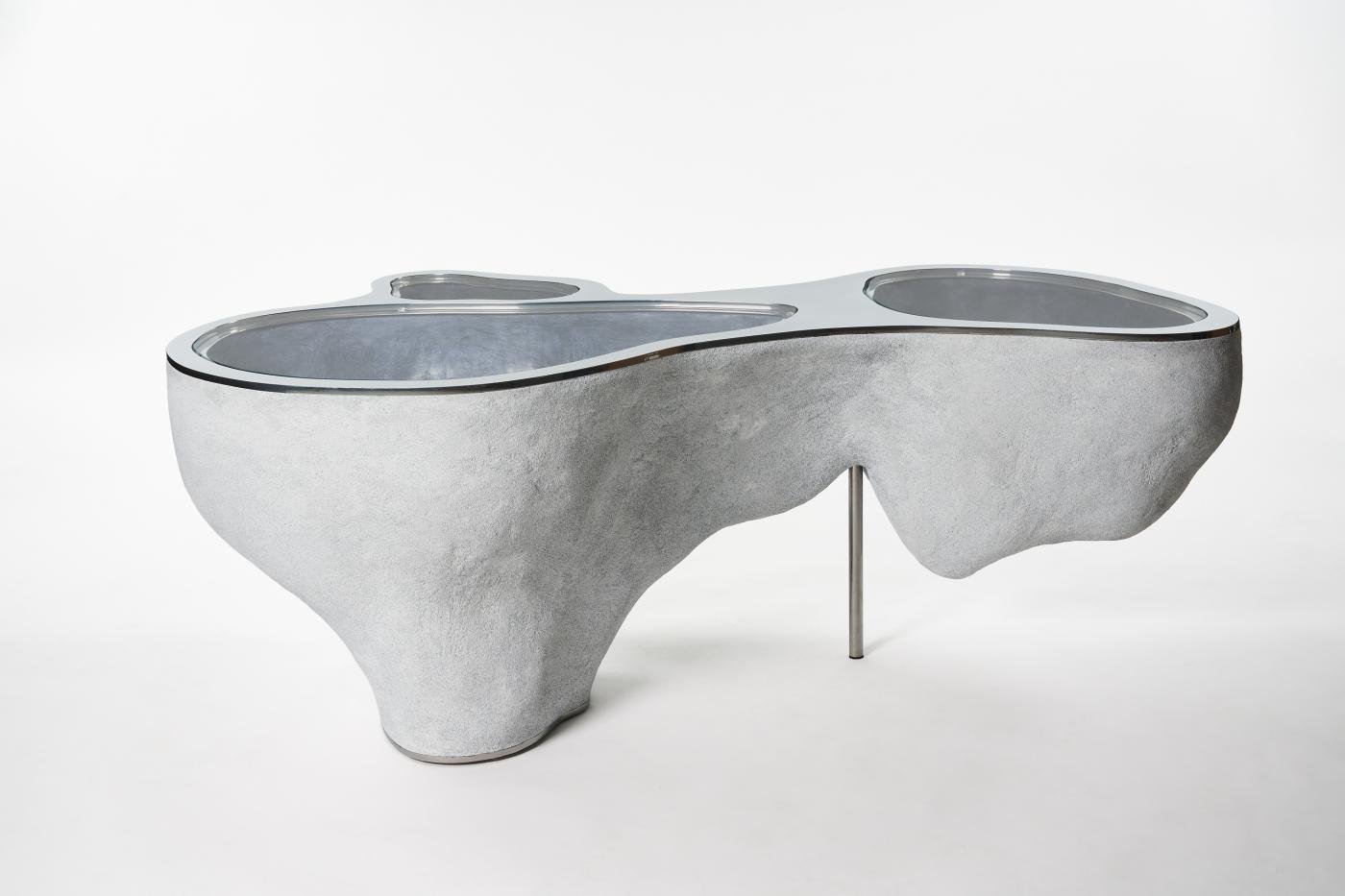 McDonald sculpted the lime plaster intuitively to achieve the design of the
Underground Table
.
What is your process like for designing a piece like this?
I use a combination of modern technology and more intuitive sculpture. In this way, my process is consistent with the themes of the work and is integral to the success of the piece. I begin with the intuitive processes of sketching and modeling, bring that into the digital world and create a 3D model and CNC cut parts, and then circle back to sculpting into final form and finish.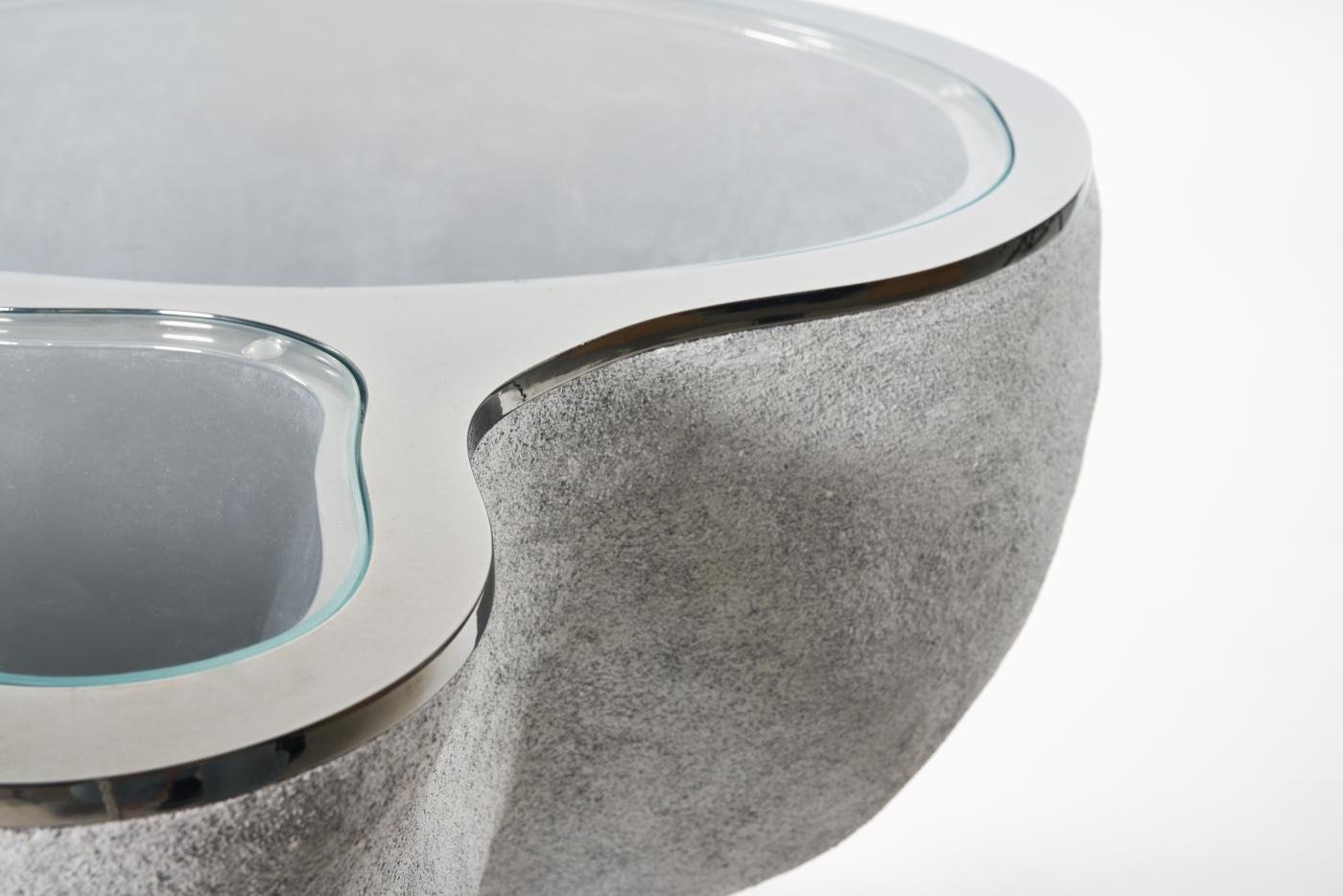 Chrome and glass panels on the surface of the Underground coffee table resemble pools of water collecting on a cave floor.
Where does the inspiration for these forms come from?
The forms are a combination between all of my collected impressions of the world and my own intrinsic inclinations. The Underground collection is particularly influenced by geology – caves, geodes, eroded formations, and the secrets that inhabit the voids in the earth so often thought of as a solid surface. But there is also inspiration taken from ancient ruins, the body, and architecture.



The Tentacle Lamp combines a side table and light in a single piece.
How did you come up with the idea for this lamp?
I was thinking about how side tables are used primarily as places for lamps. In this piece, the lamp is integrated into, growing out from, and clinging to the table. I can imagine the tentacle as a creature or living growth of nature emerging from the clean, minimalist, metal table. While each table is the same, each tentacle is hand sculpted and has its own character.



Originally designed as a floor light, the above fixture is now being released as a table lamp . "My instinct is to work at human scale," he says. "I'm challenging myself to keep it at a smaller scale."
What inspired your choice of materials?
My work is often about the interactions between the human and natural worlds, the rational and intuitive mind, the ancient and the contemporary. Metal is a modern industrial material, lending itself to sharp, clean lines and machine-like precision and finish. Lime plaster, on the other hand, is an ancient, natural material that works well with organic forms and possesses a tactility and a certain connection to our intuitive nostalgia for the earth. When I bring these contrasting materials together, each amplifies the other's innate qualities. I think of the tensions between the materials in the piece as an analog for those in ourselves and in our society.



As the

Cave Mirror

shows, McDonald enjoys working with plaster. "I was doing a lot of big earth installations for a while," he says. "Plaster is a way of maintaining that tactility and feel, and that essential, intuitive quality of the earth."
You've said that your work has a connection with nature. How would you describe that relationship in a piece like this?
With this piece, I was interested in the surrounding context that we see ourselves set against when we look in a mirror, and how that affects our experience of ourselves and our environment. Almost always, we see ourselves in a rectilinear architecture. I wanted to project the self into a different world — a sensual, curvaceous, and natural one. I think of this mirror as a portal into a different world. As it brings a sense of nature into the home, it simultaneously transports us back into nature.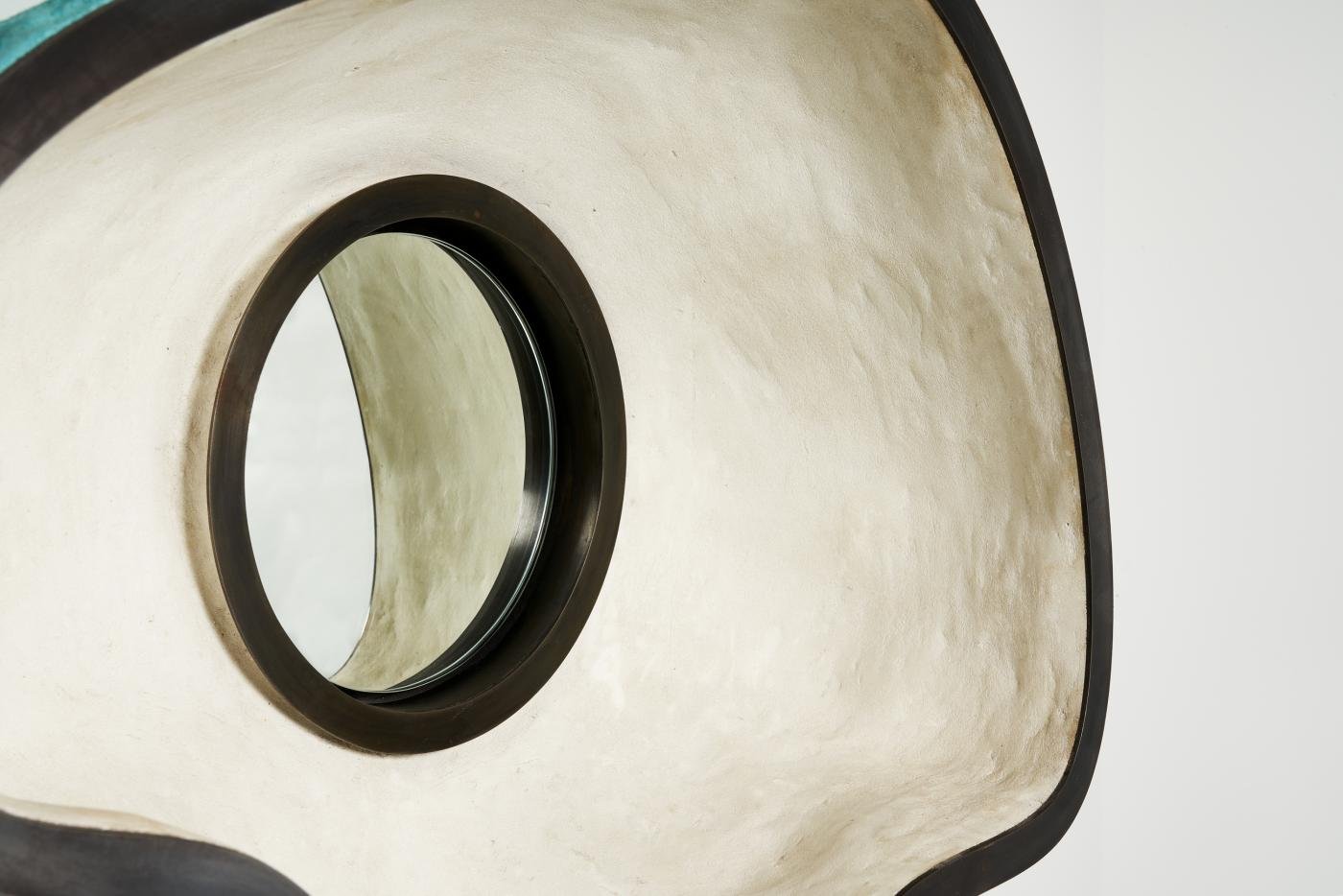 This sculptural mirror is made from blackened steel and gypsum cement.
How do you envision this piece being styled in a home?
I tend to like it best above a credenza or console table. The depth of the piece is unusual for a mirror, and I think relates nicely to low case pieces. But I do think of it as a wall hanging sculpture as much as a mirror, and so it can have a great presence hung anywhere.
How do art and design intersect in the Internal Chair?
I think of this chair, and most of the Underground collection, as sculptures that are strategically sliced and supported to become functional design objects. It is easy to imagine the leather skinned form of the chair continuing to create a sort of bulgy donut. But it is sliced at the seat plane and the backrest plane, and then it is supported by a geometry of bent steel. And so, it becomes a chair.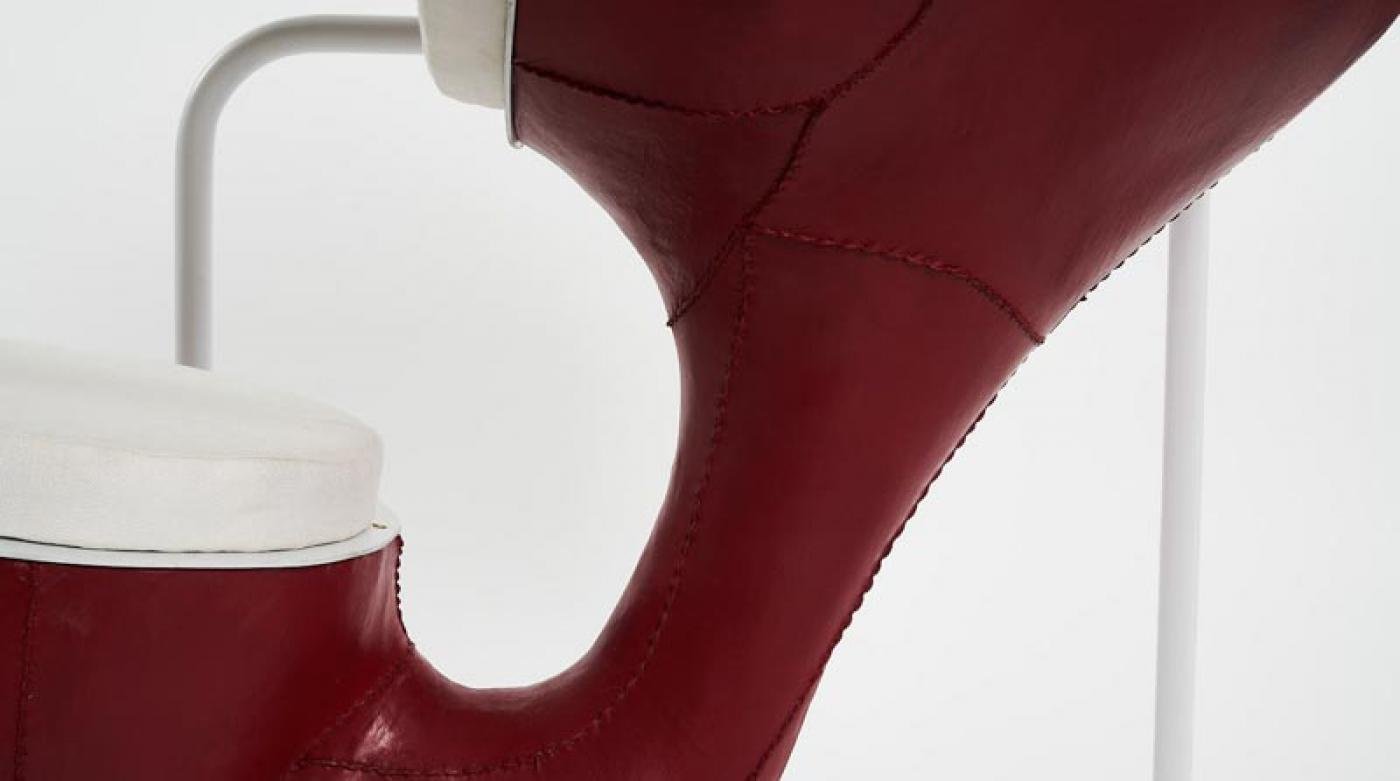 The detailed, external stitching gives the chair added personality.
Why the name "internal"?


The form, particularly encased by its tight, red leather skin, recalls an internal organ to me. I like to think of our environment as a body, the furniture and design its organs, its blood, its life. But as with most of my titles, there are multiple meanings intended. I also think of the chair as a place for introspection, in which to dwell internally for a time.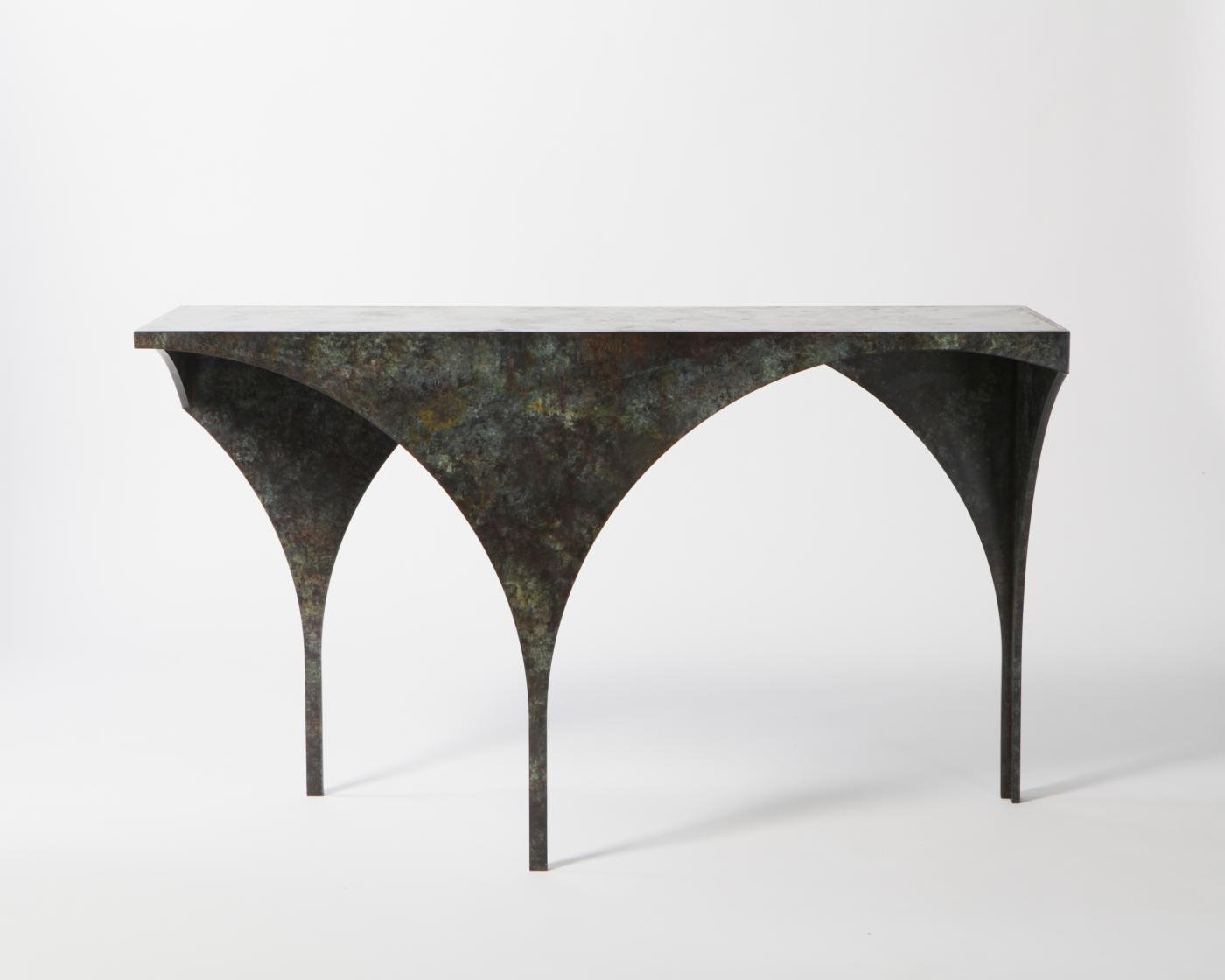 The Creature Table was designed as part of McDonald's original line. Its clear focus on geometry demonstrates the differences between the designer's earlier and current work.
How does your Underground collection differ from your previous work, like the Creature Table?
The Underground Collection expands and brings into greater focus some of the ideas from my original line. The Creature Table is a gesture of animating and giving life to pure and rational geometry, whereas the Underground Collection is almost the reverse of this, because it takes an organic and animated form and slices it to expose its inner geometry and logic. A lot of the ideas present in the Underground Collection come from the Cocoon Armoire — and I've started thinking of my bodies of work less as collections and more as families. I think of the Cocoon Armoire as part of the Underground family, even though they were made years apart. There will be a Creature Bench and Side Table released soon, and the Tentacle Lamp is also starting its own family with the release of the Table Lamp version.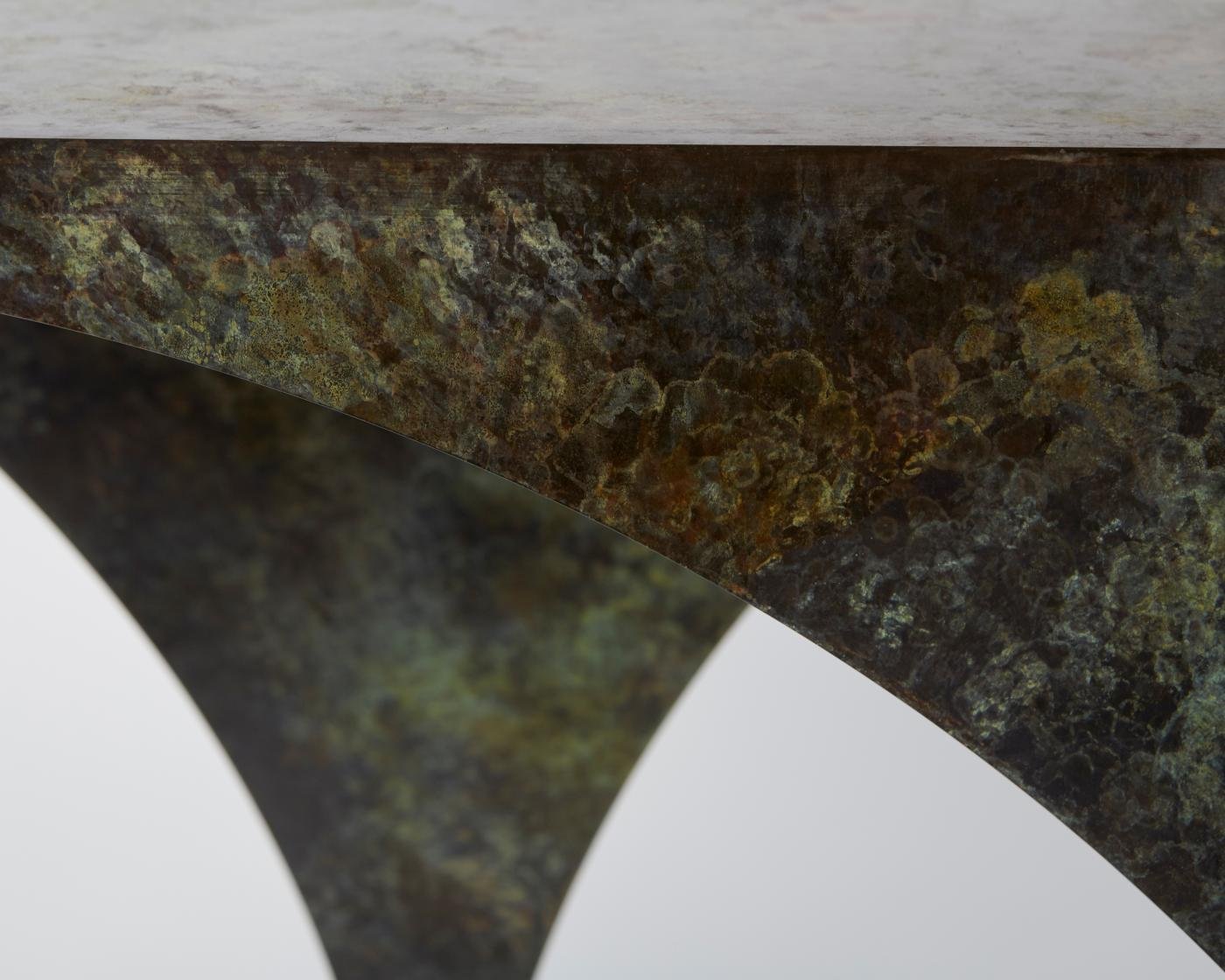 A close-up of the patinated steel.
How did you come up with this shape for the table?
I've always loved the logic and strength of the roman arch. But this strength and stability, combined with its antiquity also make it very still, unmoving. I wanted to bring a dynamism and emotion to it while retaining its geometric purity. The logic of the piece is simply three identical arches, projected over four sides.