Back to the Future: Sophisticated High-Tech Furniture & Lighting from Slovenian Brand Tokio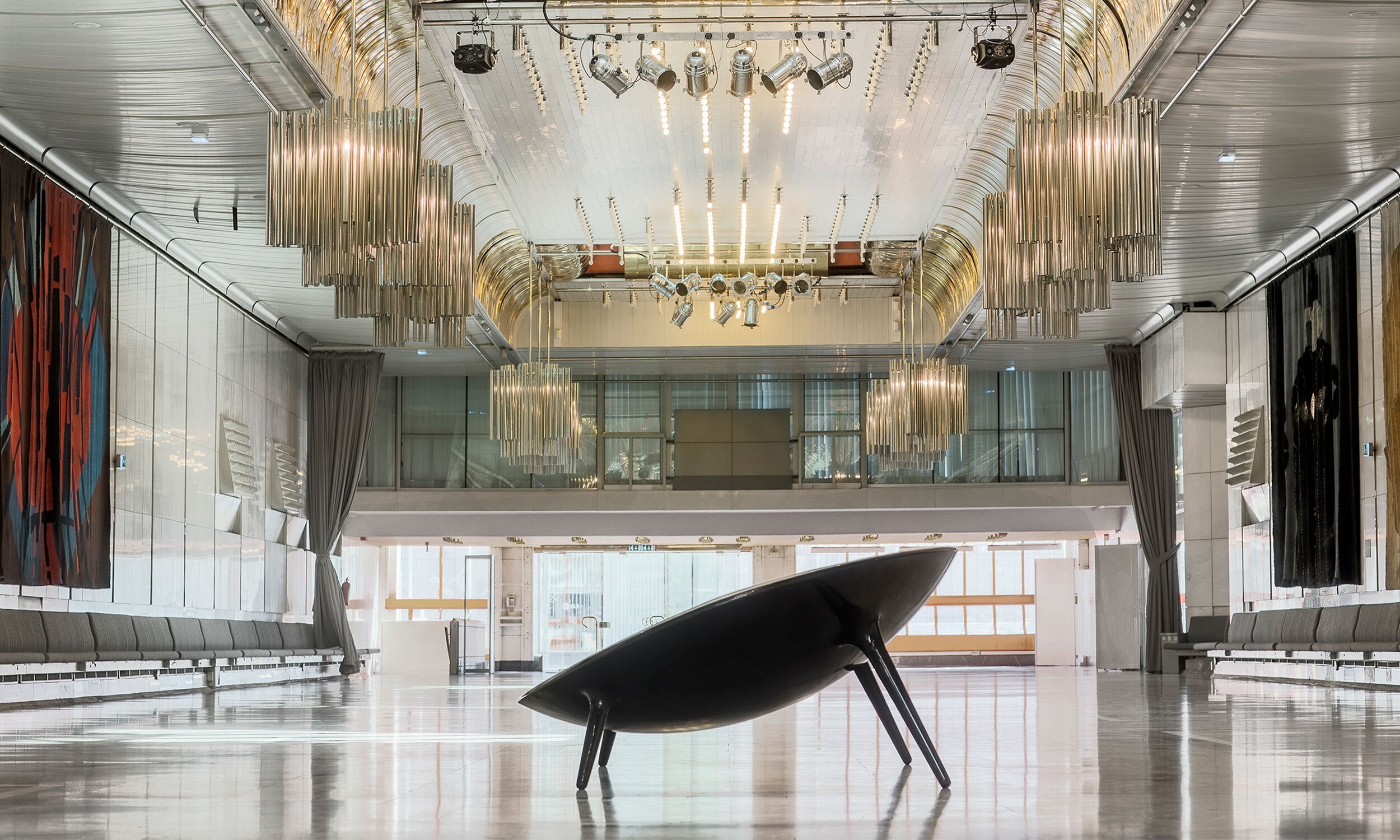 Available for indoors or out, the
Isle Lounge
is offered in a range of sizes and upholstery options. Photo by Mare Mutić.

| | |
| --- | --- |
| | |
| | Gorazd Malacic (right) and design team member Janez Mesaric |
A
visionary project from Slovenian designer Gorazd Malacic, Tokio experiments with the dynamic relationships between technology and design. Malacic approaches design like play: motivated by a passion for technology, he imposes limitations on his creativity that ultimately result in highly innovative, one-of-a-kind objects. To bring his imaginative designs to life, he often works with carbon fiber, a lightweight durable material used to manufacture cars that has recently intrigued avant-garde architects Zaha Hadid Architects and Kengo Kuma. His team's curious and creative practice empowers Tokio to develop furniture and lighting that is both futuristic and timeless, and extensively customizable.
Tokio's product line focuses on four collections: the Isle Lounge, Carbon Light, Carbon Claro Table, and Tri Light. Here, Malacic reveals how he approaches the design of each object series, and how he explores the possibilities of technology in each line.



An outdoor Isle Lounge on a private island in the Maldives.
What inspired you to create the curved oval shape of the Isle Lounge?
It is the shape that is natural to the carbon fiber it's created from. We were also searching for the limits of what certain materials can withstand, and we were questioning what furniture is. Originally, we didn't want to make a new piece of furniture, but something truly unique. The result is an object that works both as a functional piece and an art piece. It also became a piece of microarchitecture. Due to its unique shape and size as well as its unique function, the object defines the surrounding space in a new and innovative way.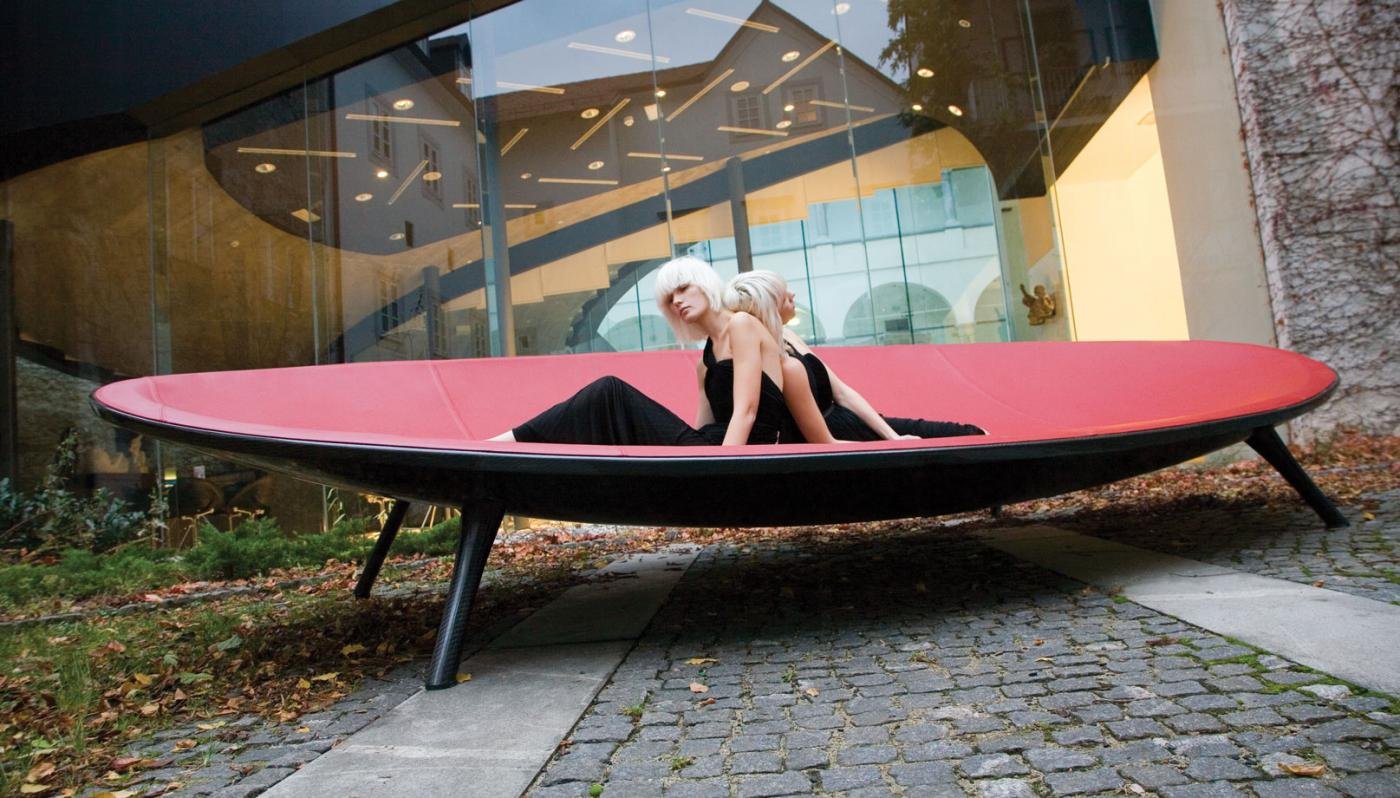 Offered in three sizes, the architectural outdoor
Isle Lounge
is crafted from a glossy carbon/epoxy composite. For indoors, it can be upholstered in 3D textile, and outdoor upholstery fabrics are UV and water-resistant. Indoor and outdoor versions. Photo by Tomaž Gregorič.
What options are there for upholstery fabrics?
There are many different upholstery fabrics available to choose from. The ones that really stand out are 3D woven fabrics that are technologically advanced, and paired with the amazing shape of Isle Lounge, these fabrics give the product its final iconic look.



Multiple configurations of the the Carbon Light were purchased for the Cultural Center of European Space Technologies (KSEVT) in Zreče, Slovenia. Designed by Bevk Perović Arhitekti, Dekleva Gregorič Arhitekti, OFIS Arhitekti, and Sadar and Vuga Arhitekti. Photo by Saša Hess.



What does it mean for you to incorporate futurism into your objects?
From an early age, I have been inspired by technology and the human ingenuity required to solve complex problems. I was also strongly influenced by science fiction. I am always fascinated by novelty — either as a new breakthrough in science or technology, or maybe just a creative way of solving old problems.
Since its launch in 2011, Tokio has won numerous design distinctions. Its customizable
Carbon Light
, shown above, was selected as finalist for the 2014 Architizer A+ Product Awards. Photo by Peter Giodani.
How do you develop new products? What's your process like?
It is a continuous process of finding ideas, and then nurturing and reevaluating them over and over again so that I am finally convinced I have something worth materializing. Each new design has to meet numerous criteria, from uniqueness to strong visual effect among many others, and it has to clearly communicate our brand values. Tokio's core values are sophisticated craftsmanship, attention to detail, minimalism, and uniqueness.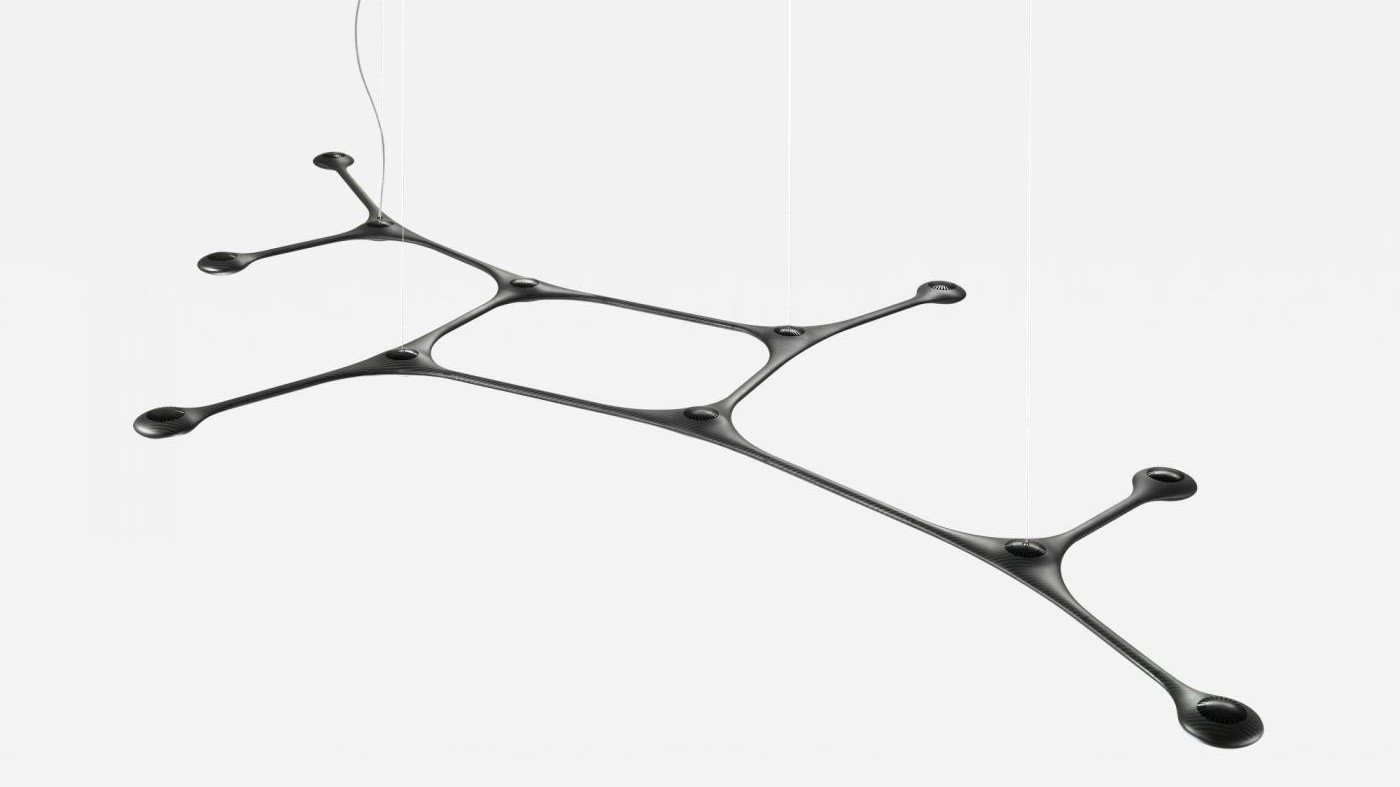 Top: The Carbon Light combines a high-performing modular structure with LED technology. Multiple LED spot options and configuration possibilities allow the design to adapt easily to meet different needs. Bottom left: Tokio created a custom white Carbon Light for an airy home in East Hampton designed by architect

Audrey Matlock. Photo by Peter Aaron.

Bottom right: The Carbon Light is suspended at the offices of MECANO ID in Toulouse, France, which develops mechanical and thermal-dominated systems for use in space, nuclear power, and other sectors. Project design and photo by Christelle Galinier.
How do you create the curved shape of the Carbon Light?
One of the advantages of using composite materials, like our case carbon fiber, is that it's possible to form it into any shape. The inspiration for the Carbon Light came from the complexity of biology and cell structures, hence the curved, almost biomorphic shape.



The CARB22 version of the Carbon Light, shown here at Porsche China headquarters in Shanghai.



Tell us about the technology behind the Carbon Light.
In fact, this is not just a simple light fixture, but a complex light system that enables a very high degree of customization, from some additional functionalities to size and shape. With this product, we wanted to convey that it's high-tech, because the material itself requires a high degree of technology, and because it would be impossible to make this fixture in any other material. Carbon fiber is a material indispensably connected with performance, aerospace, and automotive technologies, and now also with lighting and design.
The modular
Carbon Light
is available in a matte finish enhancing the appearance of the natural carbon fiber or in any RAL color.
Why the modular structure?
Modular structure unlocks great possibilities to architects and designers, so that they are able to customize it for their particular project. By being modular, the product cleverly uses all the possibilities of the material — in particular, its lightness and strength.
How do you create the lightness of the Carbon Claro Table?
It comes out of the combination of two very different materials — natural solid American walnut for the tabletop and engineered high-tech strong and light carbon fiber for the legs. It is a juxtaposition of heavy natural material and super-light/super-strong man-made composite.

Why did you choose Claro as the name?
The material we are actually using is American walnut, which we picked for its rich grain and vivid color. It was originally supposed to be Claro walnut, but during the production of the first piece the Claro tabletop was damaged by an error on the CNC machine. We had to make a new tabletop overnight. As Claro is very hard to come by, we had to do it in American walnut. At the end, we were really happy with the result, and we decided to keep the name.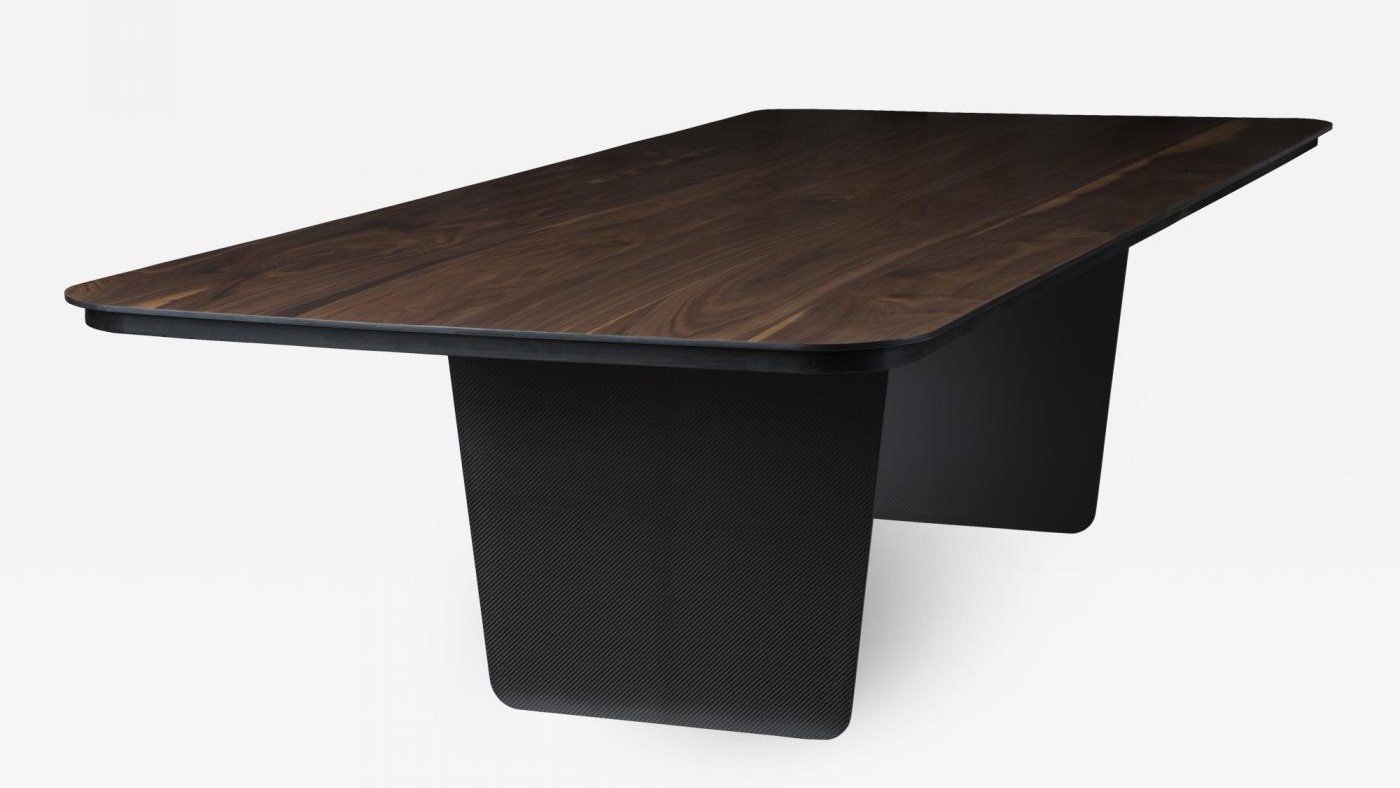 Combining a charred solid walnut top and carbon fiber legs, the
Carbon Claro Table
is both lightweight and sturdy.
What finish do you use on the legs?
The legs are made in carbon fiber finish. For a standard finish, we are using the natural carbon fiber look, where you can see the pattern of woven carbon fibers.
Because of its flexible modular design and widely dispersed illumination, the
Tri Light
can be custom crafted to suit different spaces. The TRI 82 size is shown above.
Which artists inspire you?
I find inspiration throughout the art world. Art and design have many things in common, and in recent years the boundaries between the two have really blurred. I am particularly fascinated by creators with a strong conceptual background like Olafur Eliasson and Anish Kapoor.



Top: The triangular elements of the Tri Light (pictured here in size TRI 36) can be endlessly joined to create the desired size for the fixture. Bottom left: Paired with a concrete base, the floor lamp iteration of the Tri Light was revealed at Euroluce, a renowned biennial lighting exhibition, for Salone del Mobile in 2019. Bottom right: The backside of a Tri Light showcased as part of Euroluce in 2019.
Why did you use anodized aluminum in the design of the Tri Light?
The Tri Light is a parametrically designed product made with triangular modules, where each module has different 3D geometry. We had to choose a material in which we would be able to manufacture the modules successfully. We were able to achieve this with manufacturing the modules from aluminum on a 5-axis CNC machine.



Top: The Tri Light was installed here in a wine cellar in Los Cabos, Mexico designed by PLB Arquitectos. Bottom left: In the Tri Light, LED technology is paired with contemporary aesthetics. Bottom right: Each Tri Light is made to order.
What appeals to you about its tiled honeycomb design?
I "borrowed" parametric logic from contemporary architecture, which would not be what it its today without parametric tools. Just think Zaha Hadid. Her complex shapes were unbuildable merely 30 years ago. It is the same with our Tri Light. I like the abstraction of form I get when I design a new Tri Light lamp with our triangular modules. Visually, it is also perfectly opposite from the organic design of our Carbon Light .