At home on Manhattan's Upper East Side or
their lakefront retreat, interior designers
James Aman and John Meeks live surrounded
by the art and antiques they love
| | |
| --- | --- |
| | |
| | John Meeks and James Aman |
| | |
| --- | --- |
| | |
ames Aman and John Meeks are partners in their thriving interior design business, Aman & Meeks, as well as partners in life. Together, they craft timeless, bespoke interiors for their A-list clients — leaders in business, entrepreneurs, and philanthropists — most of whom have spectacular art collections and multiple residences. Their commissions come largely through referrals, as well as legacies, designing for the next generation as their clients' children grow up and acquire homes of their own. They have described their design aesthetic as "glamorous serenity." Their goal, they say, is to create interiors that allow the artwork to shine, and to enhance their clients' collections with elegant furnishings and finishes that are harmonious with the art. Although most of their clients collect modern and contemporary art, a perusal of their design portfolio reveals the inclusion of magnificent examples of period furniture and decorative arts: George I, Chippendale, Biedermeier, Gustavian, Gothic, Gothic Revival, Neoclassical, Asian and Chinoiserie, Wiener Werkstätte, Art Deco and Modernist. Designing spaces with the utmost luxury and sophistication, and calling upon their connoisseurship of an extensive range of styles, they evaluate and source the most exquisite furnishings and accessories. Of course, we were intrigued to know how they, as interior design professionals, decorate their own homes. How and what do you choose when you've seen the best of everything?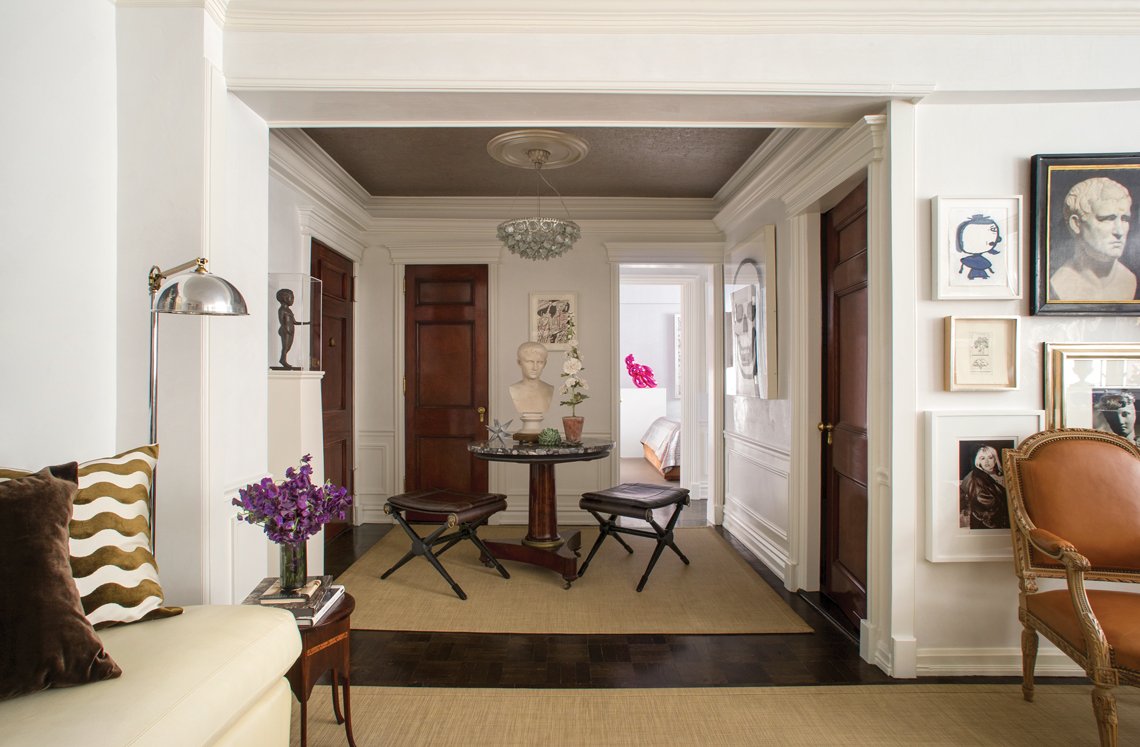 A view from the living room to the foyer, with a marble-topped French Empire pedestal center table and pair of neoclassical x-base stools. The antique marble bust of Caesar is from the early 19th-century; the print on the opposite wall is Untitled (Skull), 2010 by second-generation Pop artist Donald Baechler.
A gallery-style arrangement of artwork forms a backdrop for a pair of French chairs. The antique bronze sculpture, titled Pompeii Marathon Runner, is from Newel Antiques.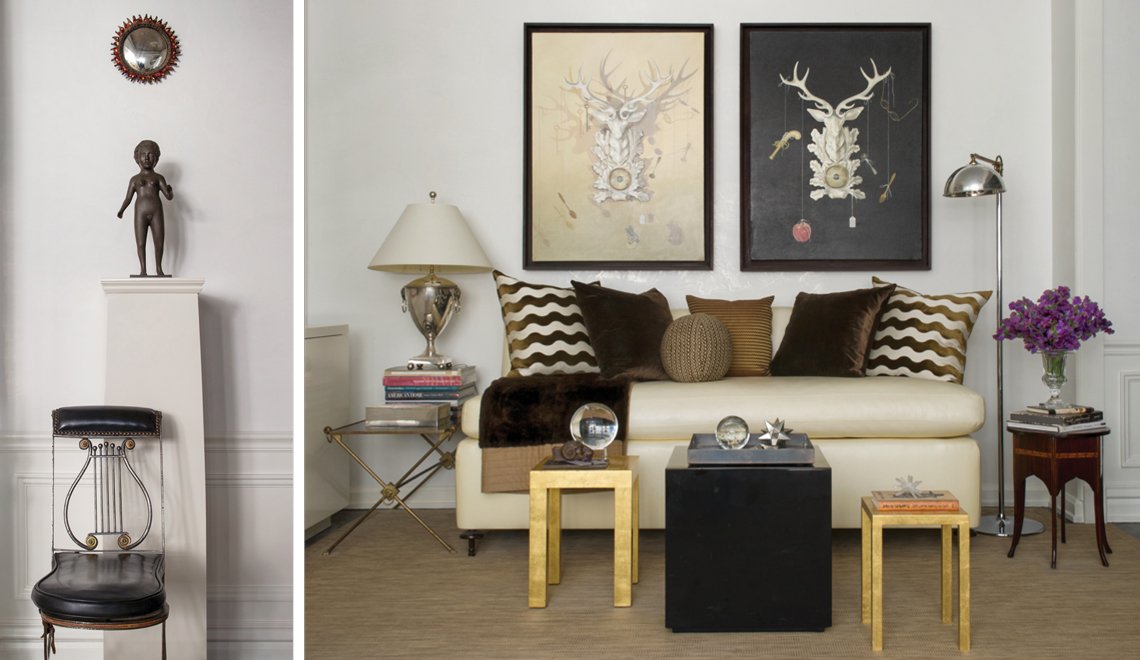 Left: An exquisitely composed vignette in the living room of their New York City apartment begins with a convex "Chardon" mirror, ca. 1950s by French artist Line Vautrin. Vautrin began as a parurière, or maker of fashion accessories, but today is better know for her highly coveted and collectible mirrors and objets. A ceramic figure by Kiki Smith, Io (Standing) 2005 stands atop a plinth. The triptych concludes with a lyre-back French campaign chair. Right: A pair of nature morte paintings by Australian artist Kate Bergin, from a series of works that explore wildlife themes in a whimsical way. A sleek banquette is flanked by a folding French campaign table at left and a petite hexagonal Anglo-Indian table with marquetry detail.
Left:
An 1820s marble-topped Italian console with ebonized and gilt embellished ram's head supports is paired with two French campaign chairs, the pieces linked thematically by their shared neoclassical motifs. The porcelain Sphinx sculpture, which was later spirited off to their country home, is by Kiki Smith. Pieces from their collections are frequently rotated between their residences, as new vignettes are developed in a continual swirl of creativity. Right: One of a pair of bespoke tufted leather chaises reinterpreted by John. The fireplace, like many in New York City apartments, is decorative rather than functional, and serves as a backdrop for the flexible and ever-changing furniture arrangement. A Tibetan tiger rug is layered atop a vinyl sisal rug. The black lacquer cube table and golden-hued Parson's tables play off the tones of the tiger rug. Shelves are styled with an eclectic mix: a limited edition
Calder
stabile, L'Elephant Noir, (1973), a collection of black basalt Wedgwood, a small figurative piece by sculptor Kiki Smith, books, and photographs.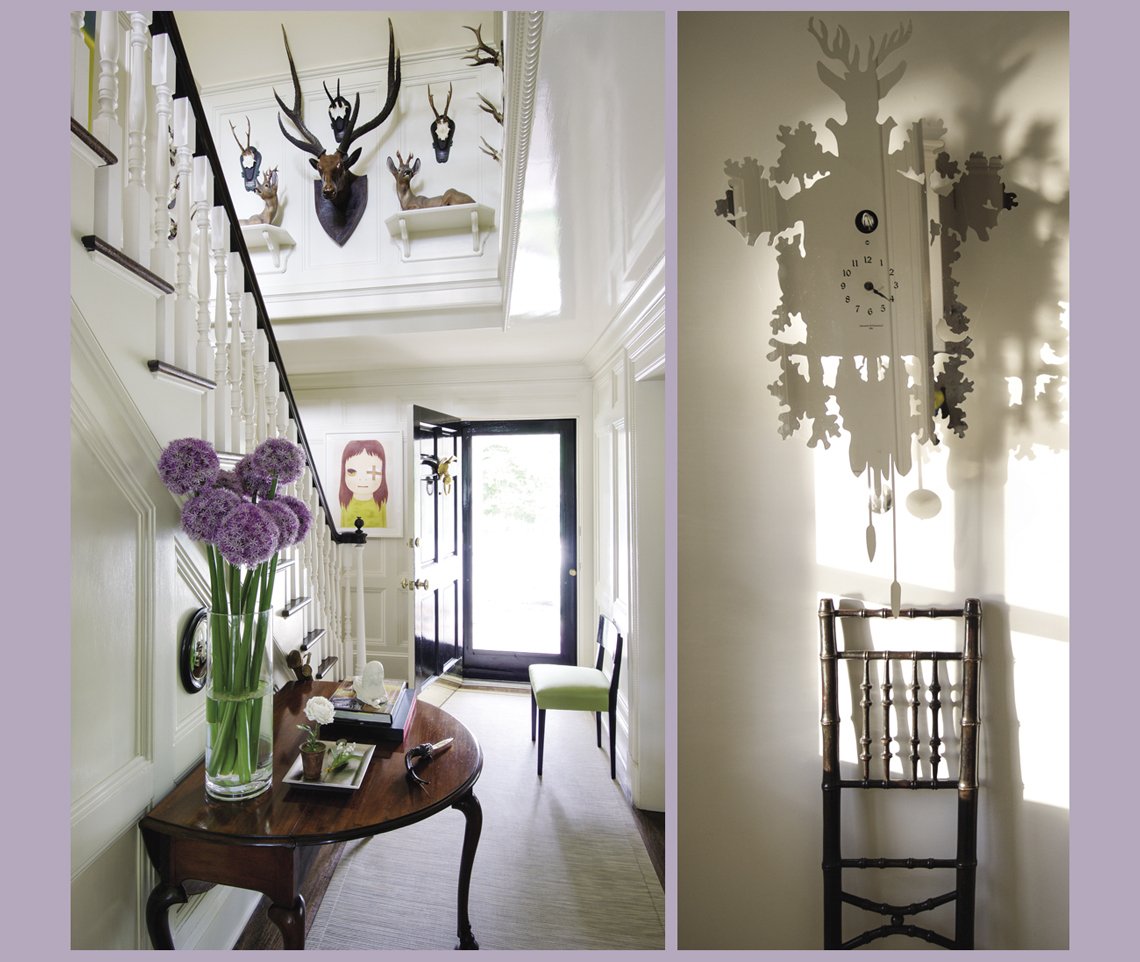 Left: Looking across the foyer toward the entrance of their country home, the stairwell displays a grouping of their extensive collection of antique and vintage antler trophy pieces. The ebonized side chair is from a suite of six acquired from the estate of legendary decorator Albert Hadley. At the left of the door is a piece by Japanese artist Yoshitomo Nara Untitled (Eye Patch) (2012). James and John have collected a number of the artist's traditional woodblock prints that depict decidedly untraditional themes. A Georgian hoof-foot, drop-leaf table, ca. 1740, is styled with flowers, an antler letter opener, and the Kiki Smith sculpture rehomed from their apartment in the city. An antique oval convex mirror anchors the tableau to its background. Right: A modern take on the cuckoo clock by Lebanese architect/product designer Pascal Tarabay. Below is an early 19th-century discipline chair, the original "time-out" chair. Also known as a deportment chair, it would have been located in a classroom or nursery, where naughty children would be sent to sit for lengthy periods of time. The high, narrow back and small seat required that the fidgety child sit very still — or fall off — and it promoted good posture, which was considered both healthy and morally proper.
The living room is suffused with abundant natural light, and has a color palette that is fresh and verdant, taking its cues from the surrounding landscape. An eclectic mélange of furniture profiles — traditional, antique, and contemporary — with a few charming, unexpected touches, creates a relaxed but very stylish ambiance. The pair of armchairs are French, from the 18th century.



Left: Billy Baldwin slipper chairs are covered with a woven African-motif fabric in one of Billy's trademark hues, a deep chocolate brown. An antique center table from the Isle of Man has unusual human form legs. The Manx coat of arms, which dates to the 13th century, is composed of three armored legs bent in a pinwheel composition, and the table references that ancient symbol, known in Manx as ny tree cassyn ("the three legs"). The painting is by Scottish artist Leora Armstrong, known for her paintings depicting color transitions, edges, and horizons. The bust of Julius Caesar is from the 18th century. Right: A witty choice — Country Home, (2011), a woodblock print by Yoshitomo Nara. The sleek sculptural lines of a contemporary camelback sofa contrast with the rustic carving on an antique walnut Black Forest table from Newel Antiques.
The family room is an eclectic mix of antique, traditional, and contemporary — a blend Aman and Meeks term "Transitional." The ceiling is lacquered to reflect the light that echoes the lake just steps away; the serene blue wall color also references the water.
| | | |
| --- | --- | --- |
| | | The fumed oak daybed is a rare form by Robert "Mouseman" Thompson, ca. 1920s. Thompson was a British furniture maker in the Arts and Crafts tradition, whose pieces are distinguished by his trademark carved mouse, seen here on the upper portion of the arm. The 19th-century antler-back chair has carved hoof feet with a padded leather seat — a welcome concession to comfort. Contemporary accents are mixed with antiques and traditional pieces: a sculptural floor lamp by Japanese fashion designer Issey Miyake, and Donald Baechler's silkscreen with collage The Long and Short (2004). The silvery tree stump tables are a refined take on a traditional rustic accent. |
The duo's much-beloved pug Judy is celebrated with a work by Kate Bergin, Pugs and Kisses. On the mantel, some favorites from their collection of diminutive 18th-century convex mirrors dangle from display stands. The vintage floors lamps are an iconic design by Cedric Hartman, which became an immediate classic when it was launched in 1966. Beloved of interior design titans, including Billy Baldwin and Mark Hampton, and revolutionary for its time when lamps were large and bulky, it's in the collection of the Museum of Modern Art. A pair of vintage Art Deco tub chairs on casters round out the seating options. As frequent hosts, they prefer small occasional tables and easy-to-rearrange seating, a flexible floor plan being a must for entertaining, whether on an intimate scale or for larger groups.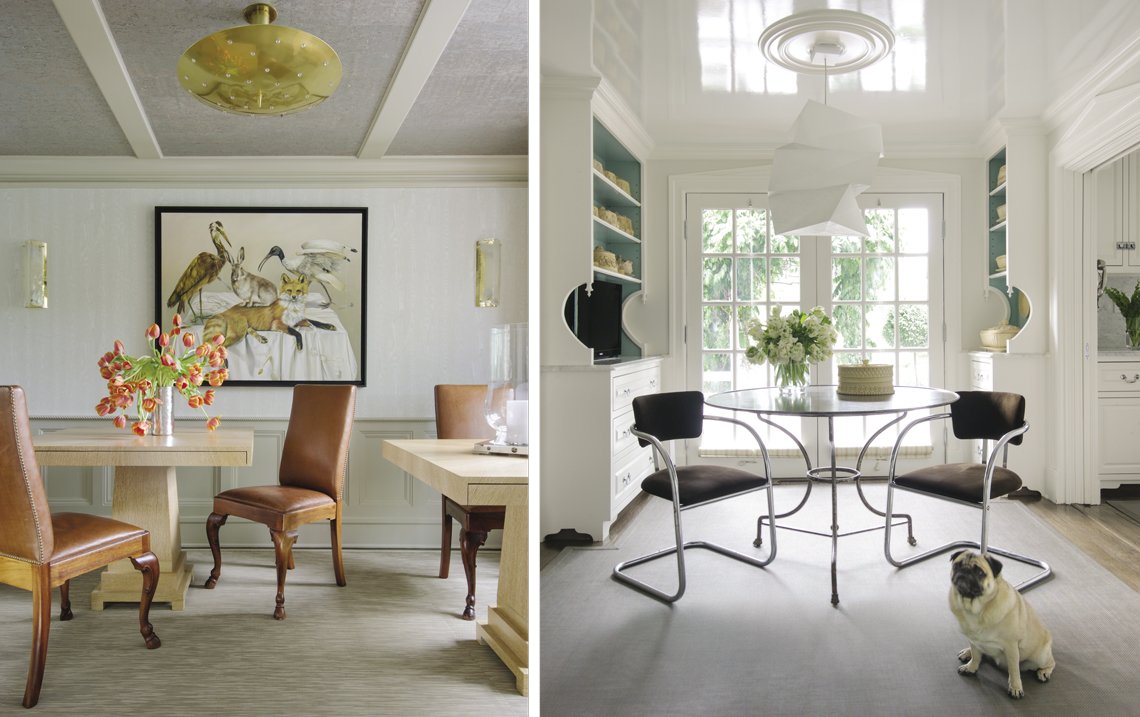 Left:
The dining room is the most formal room in the house, designed for festive entertaining. A large painting by Kate Bergin, the fox and rabbit sporting bemused expressions, commands attention. Two square pedestal tables of cerused oak offer a variety of options; they can be drawn together or expanded to seat up to twelve. Dining chairs are covered in patina saddle leather, with nailhead-trimmed high backs and hoof foot cabriole legs. The vintage mid-century brass chandelier has tiny glass orbs to emit sparkles of light downward, a design feature that evokes starlight, and the sconces, also mid-century modern designs, are vintage
Stilnovo.
A ceiling of silver-leaf cork paper and walls painted with a faux-bois woodgrain pattern create a magical forest ambiance. Right: Millie, James and John's constant companion, poses expectantly. The luminous breakfast room is a perfectly serene setting to ease into the day. French doors lead to a terrace, and can be opened to admit fresh country air. A glossy lacquered ceiling shimmers with reflected morning sunlight. The color palette is deliberately minimal, a requirement for creative minds as they awaken and the seeds of design schemes develop, unhindered by distraction. Furnishings are spare and of graceful form: a pair of mid-century tubular chrome-frame cantilevered chairs and an iron frame glass-topped campaign-style table are centered under an abstract Issey Miyake pendant light. Built-in china cabinets display an extensive collection of 18th-century caneware, a tawny-colored unglazed stoneware developed by Josiah Wedgwood. The most typical forms were game pie covered dishes with molded relief decorations intended to mimic and replace traditional decorative pastry crust; they were popularized during the flour famine caused by the blockade of British ports during the Napoleonic Wars. The intricate designs include basketweave or grapevine embellished bases, and highly detailed lids sporting chicks and eggshells, crouching rabbits, and the like.
James and John collect many things: contemporary artworks by sculptor Kiki Smith, Australian artist Kate Bergin, and Japanese artist Yoshitomo Nara; black basalt Wedgwood; antique and mid-century convex mirrors; caneware; Black Forest wares, including carved furniture, mirrors, and antler trophies; and Viennese bronze deer figures. Here, an arrangement of pieces from their collections.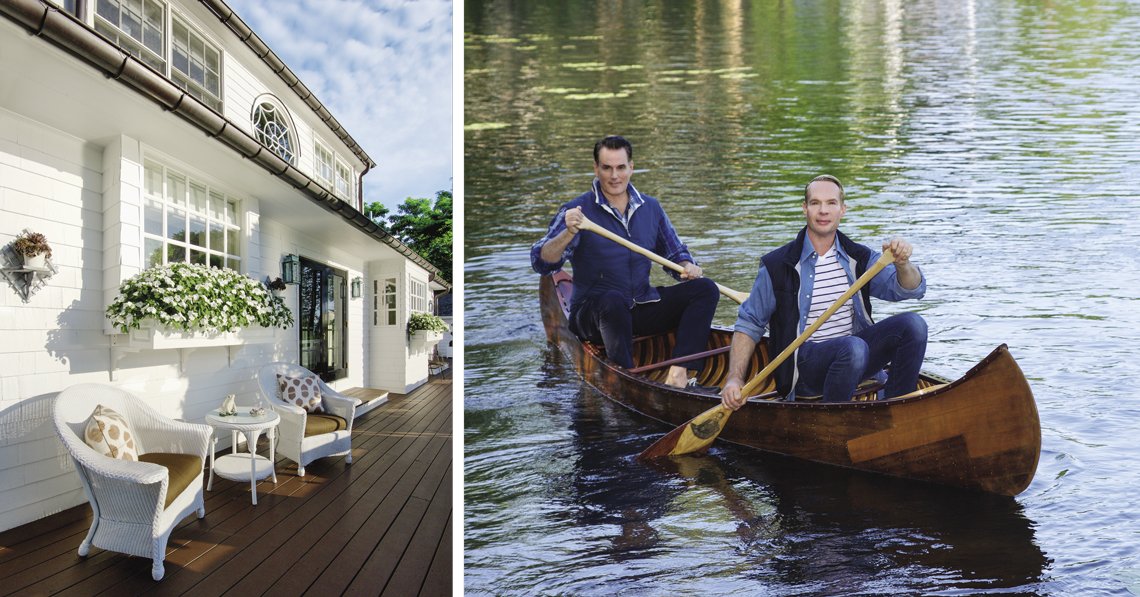 Left: The deck at the rear of the house overlooks the lake and is a peaceful place to chat about everything, or nothing at all. A round spiderweb window offers views from the upstairs hallway. Right: John and Jim paddle in style (of course!), in a vintage wooden canoe. Whether an ambitious circuit of the entire lake or drifting dreamily, it's a favorite activity.
| | |
| --- | --- |
| | |
| | Lush plantings, a perfectly positioned Lutyens bench, and a private dock. |
James Aman and John Meeks are passionately dedicated to their profession. The elegant homes they design for their clients contain significant art collections, for which they create their own works of art — the environments surrounding these collections. Understanding how their clients live, and designing homes to embellish their lives is what they aspire to do. And at the heart of each project, no matter how magnificent, is the understanding that what they are creating is a home, and that in their homes, everyone wishes to be surrounded with the people and the things they love. As Elsie de Wolfe, who is credited with establishing the profession of interior design said, "I am going to make everything around me beautiful — that will be my life." Not a bad idea, that.