Events of the Week: Serge Mouille lighting, Andy Warhol, Ellsworth Kelly, Frederic Church, & More
DESIGN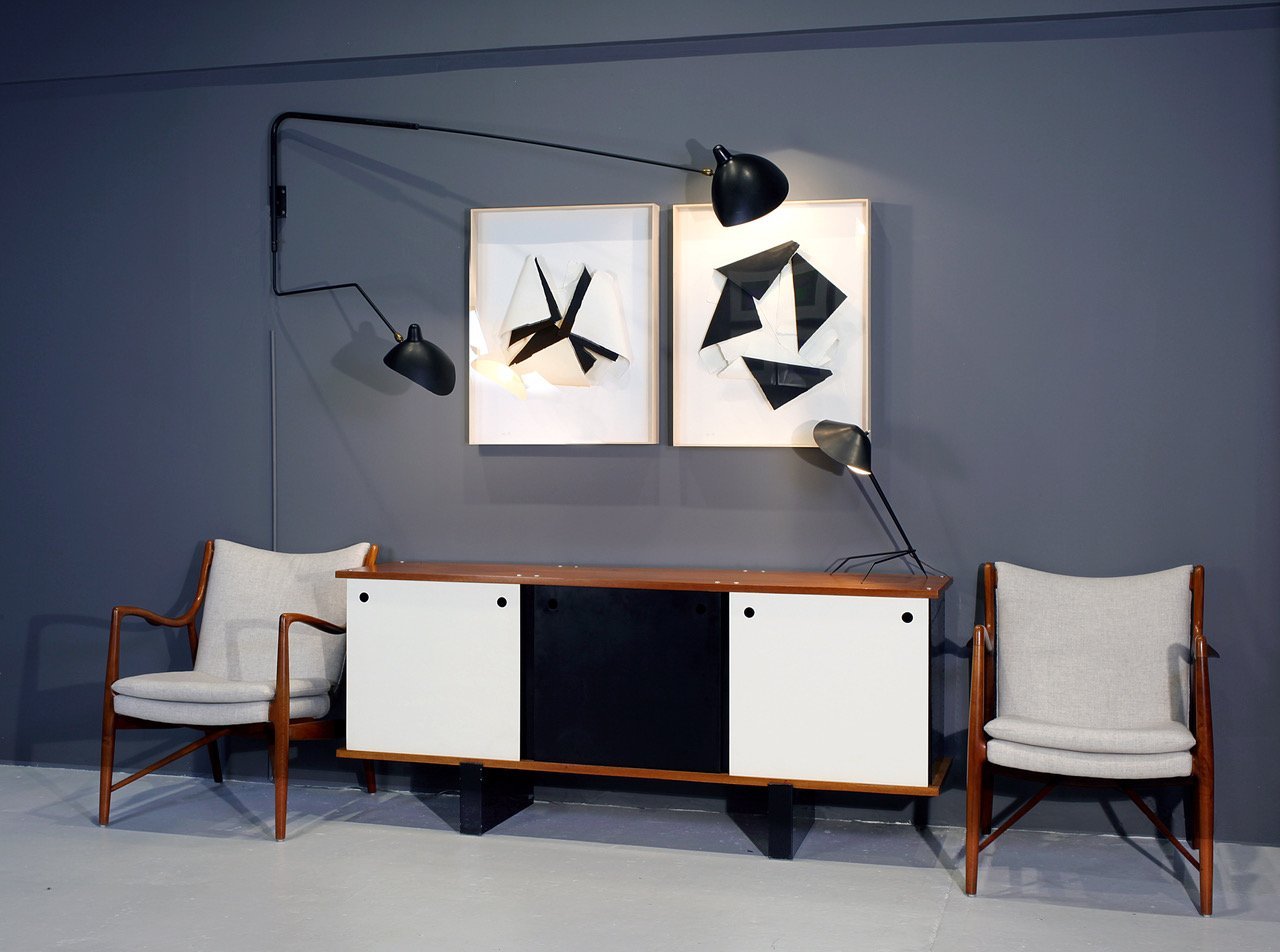 Serge Mouille Originals
May 31-June 30, 2018
Opening reception May 31
Dobrinka Salzman Gallery
532 West 25th Street, NYC
To celebrate the opening of Dobrinka Salzman Gallery, located in Chelsea, the city's most vibrant art district, owner Dobrinka Salzman is excited to present Serge Mouille Originals, a show dedicated to the iconic lighting forms of the French industrial designer and master metalcrafter Serge Mouille (1922-1988). On offer will be a curated selection of vintage pieces with over twenty rare, historic designs, handmade in the 1950s at Ateliers Serge Mouilles. With their strong silhouettes and bold monochromatic palette, they serve as both sculpture and lighting, conveying modern minimalism, while their insect-like armatures, sensual, curved shades, and low-tech handcrafting speak to organic form. Please join Dobrinka for an opening reception on Thursday, May 31, from 6:00-8:00pm.
Las Vegas Antique Jewelry & Watch Show
Las Vegas Convention Center
3150 Paradise Road, Las Vegas, NV
https://lasvegasantiquejewelryandwatchshow.com/#
Nearly 400 exhibitors will participate in the Las Vegas Antique Jewelry & Watch Show. The largest trade-only event serving the antique and estate jewelry and watch industry, exhibitors from around the globe will offer the finest material obtained from international estates and jewelers.
Among the dealers exhibiting at the show are Aaron Faber Gallery, Betteridge, Camilla Dietz Bergeron, Craig Evan Small, Frank Pollak & Sons, J.S. Fearnley, Fortrove, Jack Weir and Sons, Jacob's Diamond & Estate Jewelry, Moira Fine Jewellery, Odeon Jewelers, Pat Saling, Vivid Diamonds & Jewelry, and Ye Olde Timekeepers, Inc.
OF NOTE


Evocative Interiors
Book Signing
May 30, 6:00 PM
McKinnon and Harris, 211 East 59th Street, NYC
RSVP: mcalpinebooth.eventbrite.com
Join McKinnon and Harris, makers of estate, garden, and yacht furniture, and author Bobby McAlpine, to celebrate the publication of designer Ray Booth's first publication, Evocative Interiors. Booth has worked at McAlpine, an architectural and interior design firm founded by Bobby McAlpine, since 1999, balancing time between the firm's Nashville and New York offices. His projects have earned him national recognition and show his intuitive sensibility, generous aesthetic, and ability to make spaces that resonate with deep feeling and palpable intelligence. Evocative Interiors inspires and captivates with its overwhelming beauty, and features curated residences from Ray's most celebrated Nashville home, to never-before-seen projects in Palm Beach, Maryland, New York, Texas, and the Hamptons. Evocative Interiors includes a foreword by Bobby McAlpine; Booth and McAlpine will both be available for the book signing.
EXHIBITIONS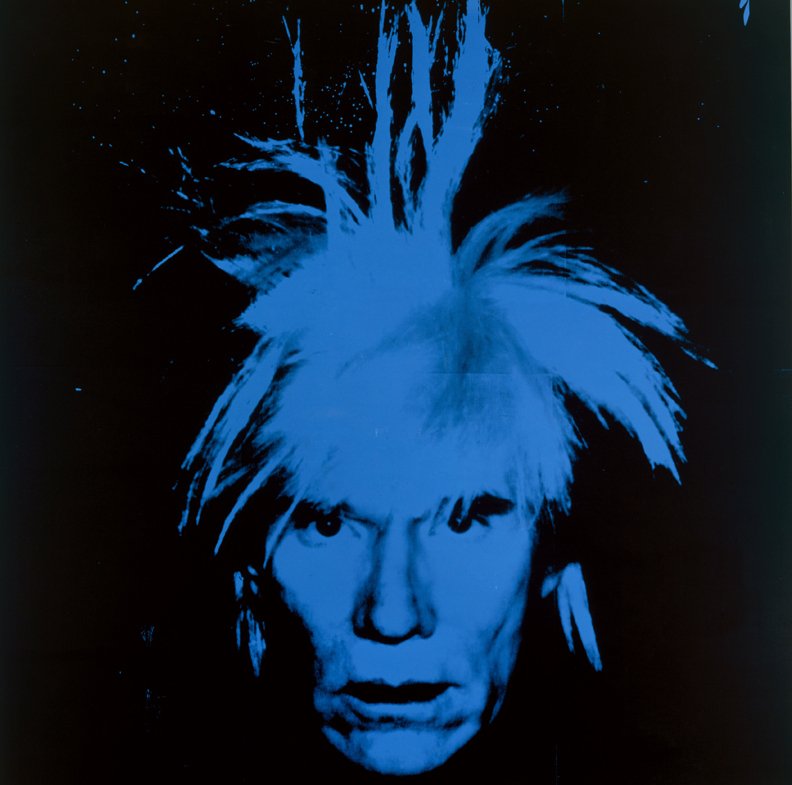 Warhol. Mechanical Art
May 31-September 16, 2018
Museum Picasso Málaga, Málaga, Spain
http://www.museopicassomalaga.org/en
Museum Picasso Málaga presents the complex artistic production of Andy Warhol in Warhol. Mechanical Art. The exhibition provides a complete and polyhedral journey that enables visitors to follow the creative development of this exceptional artist from his beginnings as a budding commercial graphic designer in Manhattan in the 1950s to his death in 1987.

Warhol. Mechanical Art contains the most emblematic and universal icons of the world created by Warhol: the Campbell's soup can, portraits of Marilyn Monroe, Jackie Kennedy, and Liz Taylor, experimental films such as Screen Tests, and the legendary multimedia installation he devised with The Velvet Underground. This exhaustive exhibition of the Pop artist par excellence is based on almost 400 items, comprising paintings, sculpture, drawings, silkscreen paintings, installations, artist books, films, record sleeves, posters, magazines, designer objects, and photographs, on loan from 45 sources and enabling visitors to immerse themselves in the fascinating world of Warhol's sophisticated images.
Image: Andy Warhol (1928-1987), Self-Portrait, 1986. The Andy Warhol Museum (c) The Andy Warhol Museum, Pittsburgh, PA, a museum of Carnegie Institute. All rights reserved. (c) The Andy Warhol Foundation for the Visual Arts, Inc./VEGAP, Málaga, 2017.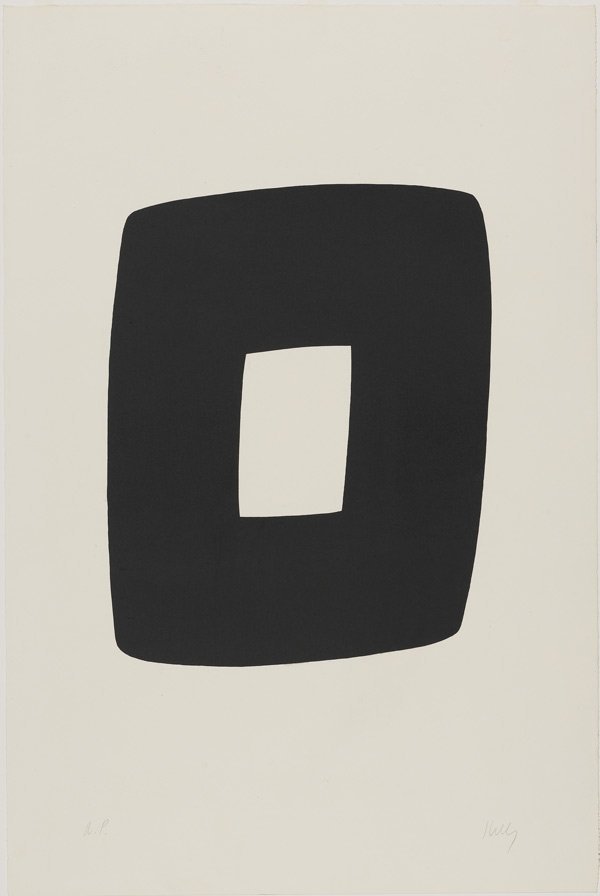 Line & Color: The Nature of Ellsworth Kelly
June 1-October 29, 2018
Norton Simon Museum, Pasadena, Calif.
In 1948, artist Ellsworth Kelly moved to Paris in order to be near all that European culture had to offer. There, he befriended fellow American artists while absorbing the artwork of the early 20th century. In the mid-1950s, he moved back to the United States, his vision of abstraction and creative vocabulary having been established. Kelly's foray into the medium of prints and multiples began when he exhibited again in Paris in 1964; the gallery owners were publishers of artist books and fine art prints. He thus began two series that started his lifelong relationship with lithography: Suite of Twenty-Seven Color Lithographs and Suite of Plant Lithographs. The fact that these two suites were created simultaneously is significant. Kelly wanted these two subjects of his art to be seen as correlative.
Bringing these two lithographic suites and two paintings together, Line & Color: The Nature of Ellsworth Kelly demonstrates the way in which the artist flattens the world around him. Whether featuring plants or colorful shapes, Kelly's oeuvre cements him as one of the progenitors of modernism.
Image: Ellsworth Kelly (American, 1923-2015), Black with White, 1964. Lithograph on Rives BFK paper; 35-1/4 x 23-5/8 in. (89.5 x 59.8 cm). Norton Simon Museum, Gift of the Artist (P.1969.012). © Ellsworth Kelly Foundation and Maeght Éditeur.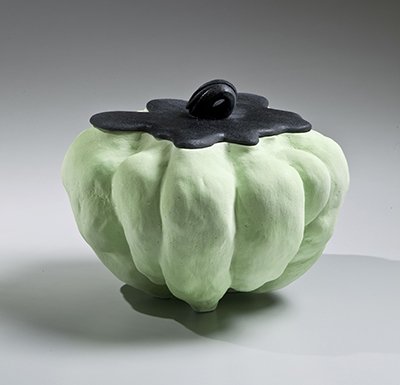 Mizusashi: Japanese Water Jars
June 1-December 14, 2018
Fairfield University Art Museum, Fairfield, CT
https://www.fairfield.edu/museum
Mizusashi: Japanese Water Jars from the Carol and Jeffrey Horvitz Collection offers a focused look at modern and contemporary interpretations of the water jar form within the medium of Japanese ceramics. Used in the traditional Japanese tea ceremony to hold the water that replenishes the tea kettle, water jars can vary in size and shape. On view in Mizusashi are 16 exceptional water jars selected by the late Honolulu Museum of Art curator Jay Jensen and Carol and Jeffrey Horvitz from their collection of around 40 such vessels. These range in shape from simple columnar and rounded forms to organic pumpkin-shaped vessels with undulating exteriors. The surface designs also vary widely: some are simply glazed, while others are incised or applied with expressionistic brushstrokes. This selection of 20th- and 21st-century mizusashi highlights two important trends—the perpetuation of longstanding tea traditions alongside the artistry and technical excellence that define modern Japanese ceramics.
Image: Katsumata Chieko (b. 1950) Pumpkin-shaped Water Jar, 2015. Hand-built, glazed stoneware.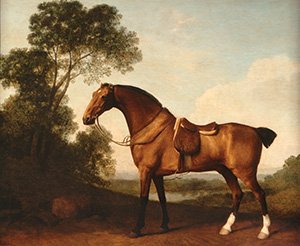 Treasures of British Art 1400–2000: The Berger Collection
June 2 – September 9, 2018
Jocelyn Art Museum
Treasures of British Art 1400–2000: The Berger Collection presents fifty masterworks from one of the most important private collections of British painting in the United States, housed at the Denver Art Museum. Spanning six centuries, the exhibition traces the unique and captivating development of painting in England from the medieval to modern eras, featuring devotional images, history paintings, portraits, landscapes, and sporting scenes by renowned artists including Anthony van Dyck, Thomas Gainsborough, Angelica Kauffman, John Constable, John Singer Sargent, and James McNeill Whistler.
Beginning in the sixteenth century, the arrival of foreign-born artists in England stimulated the development of new styles and subjects that reflected the achievements of painters on the European continent. Although history painting was esteemed as the highest art form throughout Europe and England, British artists particularly excelled at portrait painting, rendering their sitters with sensitivity and distinction. The sublime charms of the English landscape also inspired artists, as did the lively tradition of sporting art, which reached its greatest popularity in Britain.
Frederic Church: A Painter's Pilgrimage
June 2-August 26, 2018
Wadsworth Atheneum Museum of Art, Hartford, CT
https://thewadsworth.org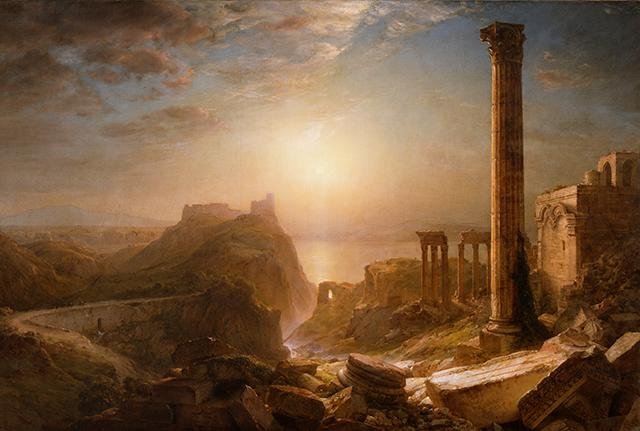 Frederic Edwin Church (1826-1900), Syria by the Sea, 1873, oil on canvas. Detroit Institute of Arts.
Frederic Edwin Church (1826-1900) was born in Hartford and had deep ties to the Wadsworth Atheneum, which maintains significant holdings of his early landscapes. Frederic Church: A Painter's Pilgrimage features approximately 50 of the celebrated Hudson River School painter's compositions of sacred terrain in the Middle East and the Mediterranean. The exhibit explores the enduring appeal of pilgrimage through a lesser-known body of work resulting from the artist's journey to powerful sites of spiritual and historical significance in the late 1860s.
A leading painter of 19th-century America, Frederic Church was the most popular and financially successful painter in the United States during his lifetime. As a young artist Church's first formal training was facilitated by Atheneum founder Daniel Wadsworth, who arranged for Church's apprenticeship with painter Thomas Cole, the father of the Hudson River School. As he further established his career, Church traveled to remote places to sketch majestic scenes unfamiliar to his American audience, turning them into dramatic, large-scale paintings. These travels provided Church with ideas and material to produce major paintings for his wealthy patrons, including prominent American industrialists and financiers such as Hartford's Timothy Mather Allyn, J. Pierpont Morgan and firearms manufacturer Elizabeth Hart Jarvis Colt.