Events of the Week: Design Hudson, Charles Russell, Norman Rockwell's Four Freedoms, & More
INTERIOR DESIGN, ART & ANTIQUES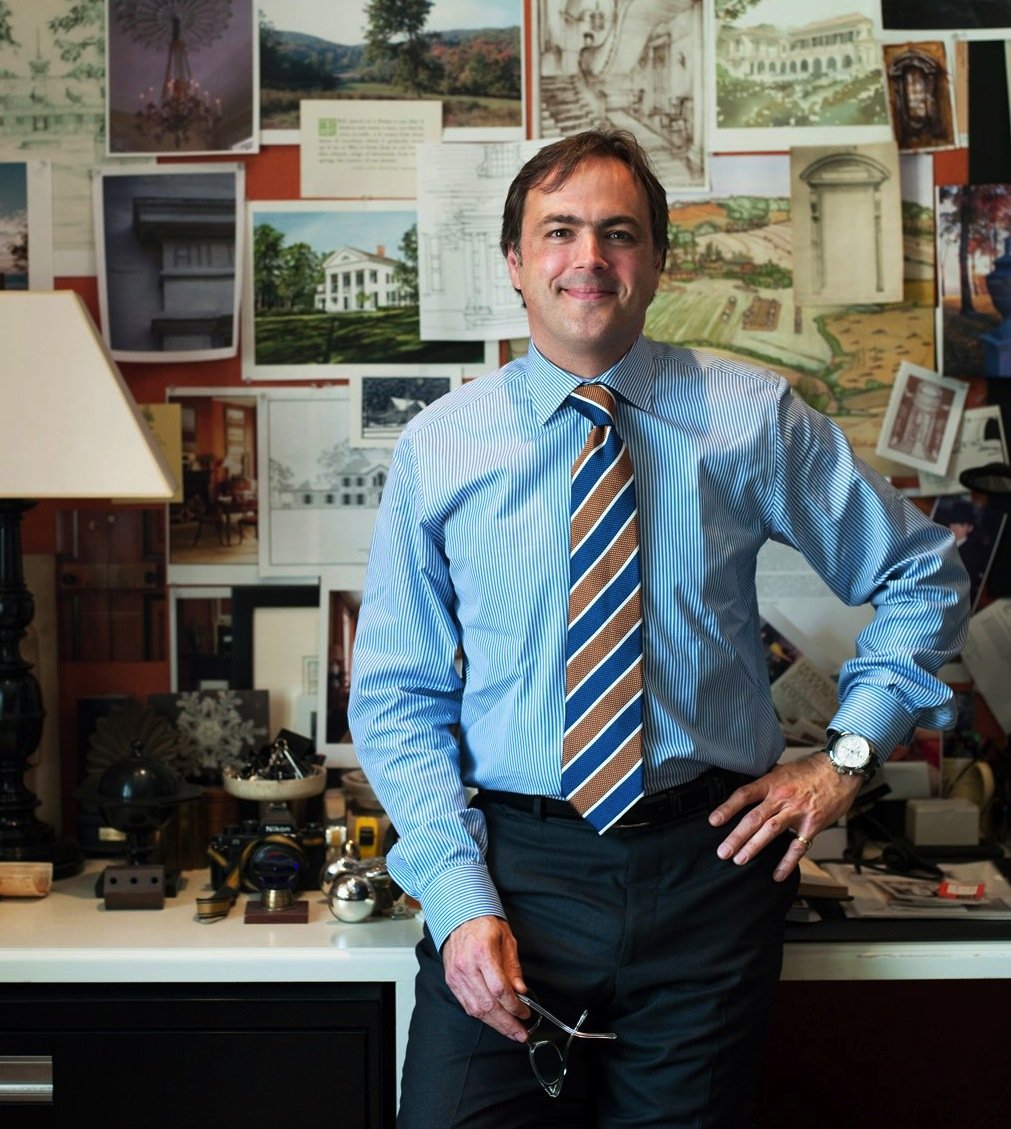 Gil Schafer Receives Julia Morgan Award
Presented May 21, 2018
Institute of Classical Architecture & Art
https://www.classicist.org/chapters/northern-california-chapter
Congratulations to Gil Schafer of G.P. Schafer Architect, NYC, for receiving the 2018 Julia Morgan Award for excellence in architecture presented by the Northern California Chapter of the Institute of Classical Architecture & Art. Schafer shares honors with three other recipients in interior design, craftsmanship, and historic restoration. The firm received the award for a collaborative project along with Chambers & Chambers of Mill Valley, CA, for the renovation of a stick-style house.
The biennial awards recognize and celebrate architects, designers, artisans and builders, students and patrons for their excellence in the contemporary practice and support of the classical traditions. Named for nationally renowned Bay Area architect and classicist, Julia Morgan, it is the goal of the Chapter that through continued exposure and recognition, these awards will laud practitioners for their work and educate both laymen and professionals about the enduring excellence, appeal and importance of the classical traditions in architecture, design, urbanism, the allied arts and those who contribute to its advancement. Awards are judged by a non-regional jury and awarded to design and craftsmanship that contributes to these traditions, building on the legacy of Julia Morgan.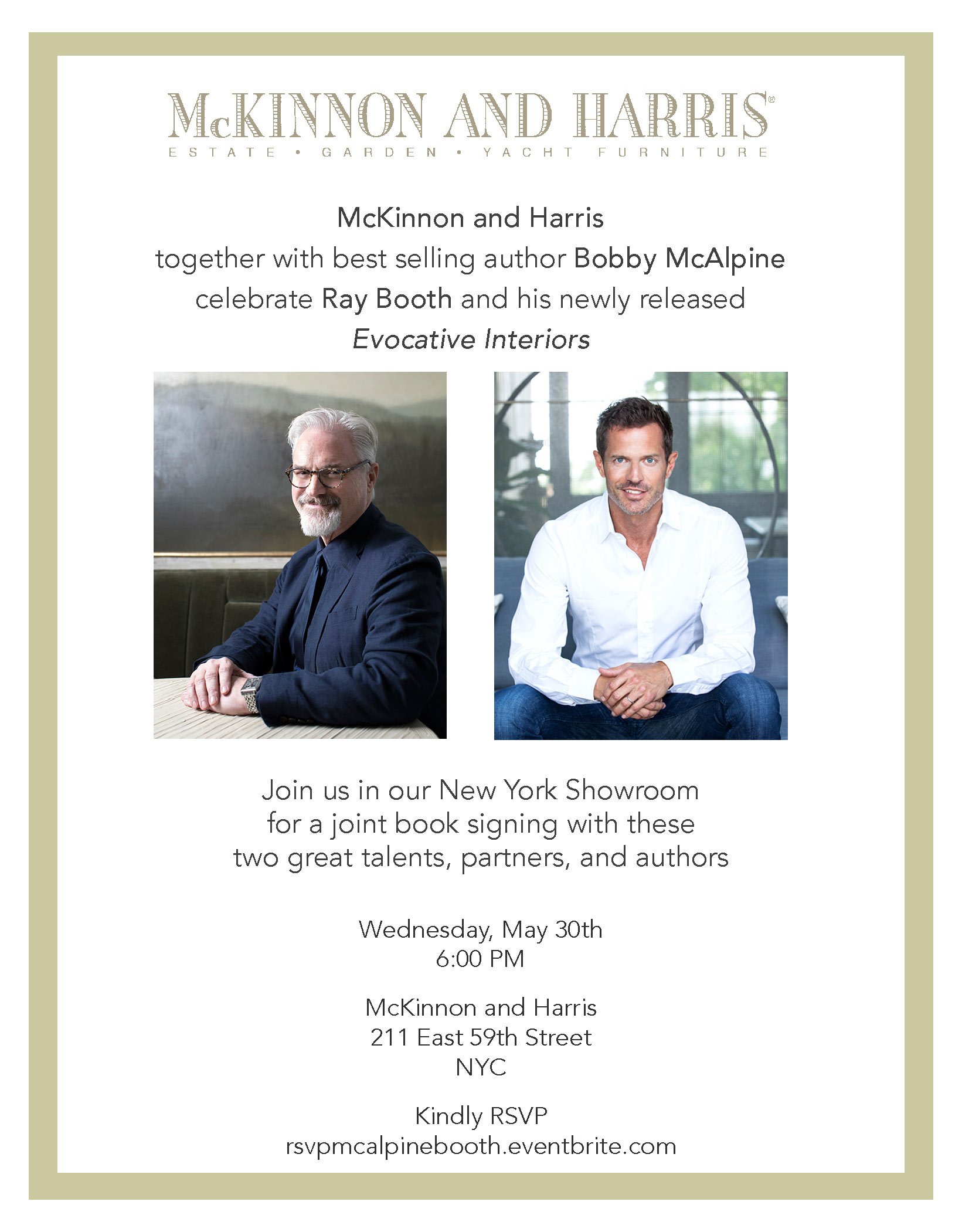 Evocative Interiors
Book Signing
May 30, 6:00 PM
McKinnon and Harris
211 East 59th Street, NYC
RSVP: mcalpinebooth.eventbrite.com

Join McKinnon and Harris, makers of estate, garden, and yacht furniture, and author Bobby McAlpine, to celebrate the publication of designer Ray Booth's first publication, Evocative Interiors.

Booth has worked at McAlpine, an architectural and interior design firm founded by Bobby McAlpine, since 1999, balancing time between the firm's Nashville and New York offices. His projects have earned him national recognition and show his intuitive sensibility, generous aesthetic, and ability to make spaces that resonate with deep feeling and palpable intelligence. Evocative Interiors inspires and captivates with its overwhelming beauty, and features curated residences from Ray's most celebrated Nashville home, to never-before-seen projects in Palm Beach, Maryland, New York, Texas, and the Hamptons. Evocative Interiors includes a foreword by Bobby McAlpine; Booth and McAlpine will both be available for the book signing.
London International Antiquarian Book Fair
May 24-26, 2018
Battersea Evolution, London
https://www.rarebookfairlondon.com
Now celebrating its 61st year, and being held for the first time in central London's Battersea Park, this major three-day event is one of the largest and most prestigious antiquarian book fairs in the world. Showcasing rare, unique and unusual items from more than 170 leading UK and international dealers, ABA Rare Book Fair London is the jewel in the crown of Rare Books London, which celebrates old and rare books, with special events and behind-the-scenes activities for bibliophiles during May and June.
In addition to regular and new exhibitors, there will be a series of live events run by specialist organizations and craftspeople. For the first time, the 2018 fair will feature Vintage Corner, where attendees can learn what makes a book rare and listen to talks on all aspects of book-collecting; Vintage Corner will also serve as the meeting point for expert-led guided tours.
Below: Japanese Two-Paneled Screen: Horses in Stable with Attendant, ca. 1900. Offered by Naga Antiques.
Pair of Italian mid-century chrome and velvet club chairs, ca. 1960s. Offered by Wells and Company.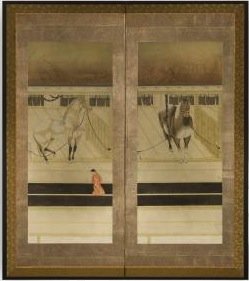 Design Hudson
May 25-27, 2018
Historic Hudson Designer Showcase Home Tour, Hudson, New York
https://visithudsonny.com/design-hudson
Join Design Hudson to celebrate the extraordinary design and architecture resources of Hudson and the surrounding region. Friday night's opening party is a rare opportunity to visit the 1812 Federal-era Bronson House (reinvented by architect Alexander Jackson Davis in 1939 and again in 1849), where historical architectural remnants will be juxtaposed with contemporary furniture, art and home decor created by 20 Hudson businesses. On Saturday and Sunday, go at your own pace on a self-guided tour of the Bronson House and six other architecturally significant Hudson homes, each with a room that showcases the work of a local designer. This intimate look inside Hudson's historic homes will be a unique experience for design enthusiasts and professionals alike. Design Hudson has partnered with Hudson Berkshire Wine & Food Festival on the same weekend.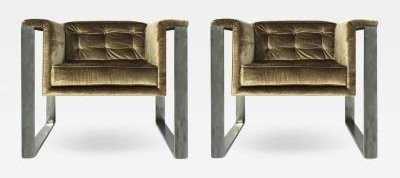 Hudson is recognized as one of the premier antiques and art centers in America, where clients can find a wide range of antiques, decorative objects, vintage and new jewelry, home furnishings, and more, all while enjoying the beauty of this scenic town. Among the more than forty galleries to visit are Naga Antiques, Modest Design, La Maison Supreme, and Wells & Company.
47th Annual Brandywine River Museum Antiques Show
May 26-28, 2018
Brandywine River Museum of Art, Chadds Ford, PA
http://www.brandywine.org
Fine antiques including furniture, rugs, porcelain, needlework and much more from 26 distinguished dealers from the mid-Atlantic and beyond will be on sale. Proceeds from this annual fundraising event benefit the Museum Volunteers' Purchase Fund, and Art Education and Programming.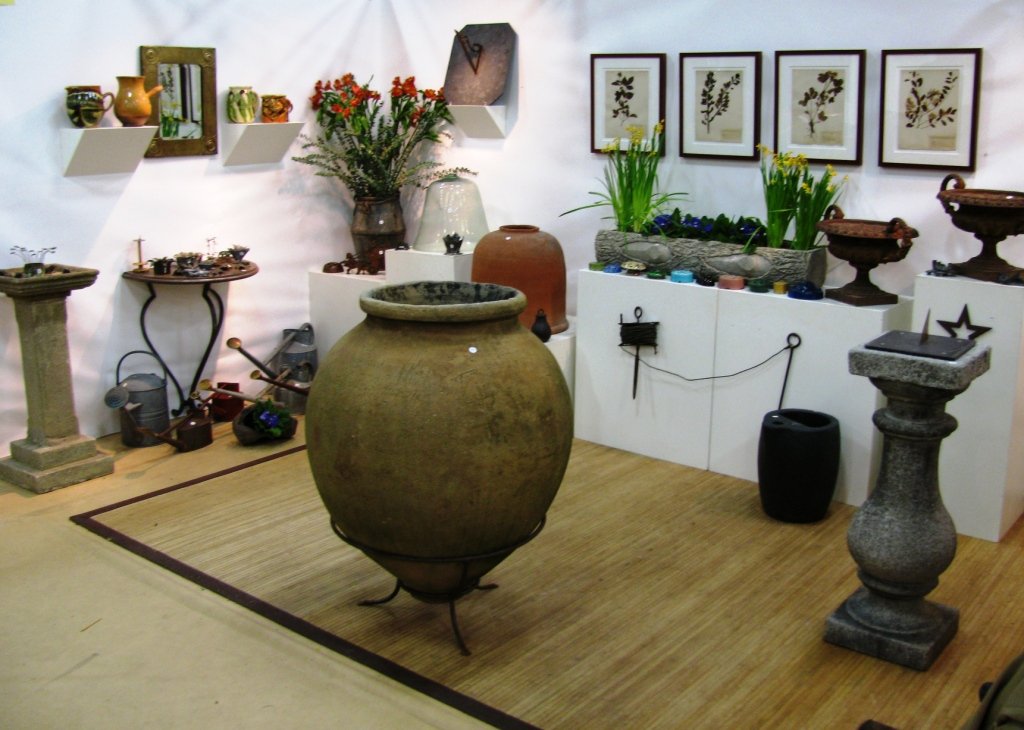 Antiques at Rhinebeck
May 26-27, 2018
Dutchess County Fairgrounds,
Rhinebeck, NY
http://barnstar.com/rhinebeckspring.html
Barn Star Productions presents its annual spring show on Memorial Day Weekend. You'll find many of your favorite dealers and new exhibitors as well among the 120+ dealers participating in the show.
OF NOTE
Below:Photo Credit: George Nakashima Woodworker, SA. New Hope, PA. www.nakashimawoodworker.com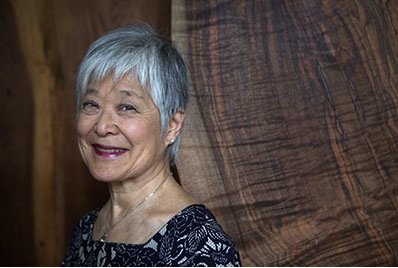 Mira Nakashima
May 30, 2018
Newport Art Museum, Newport, RI
Noted woodworker and furniture designer Mira Nakashima will speak at the Newport Art Museum's Annual Meeting on Wednesday, May 30. Mira is the daughter of woodworker and furniture designer, George Nakashima. "We're very honored to welcome Mira Nakashima as this year's Annual Membership Meeting guest speaker," said Norah Diedrich, Executive Director of the Newport Art Museum. "She epitomizes, as did her father George Nakashima, an artist insightful enough to allow the material to inform the eventual shape and character of the finished object. The discipline involved in mastering a craft to that degree is a practice long celebrated in Newport and at our Art Museum."
The program begins at 6 p.m. with refreshments served at 5:30 p.m. and will take place in the Museum's Ilgenfritz Gallery located at 76 Bellevue Avenue. Admission is free for Museum members and $10 for non-members. Seating is limited.
Below: Samuel L. Gerry (1813-1891), Echo Lake, 1876-1880. Oil on canvas. New Hampshire Historical Society, Gift of Gertrude M. Rea (1921.011).
Request for Information
Researching the Life and Work of Artist Samuel L. Gerry
Please send information to Wesley Balla, Director of Collections and Exhibitions,
New Hampshire Historical Society, 30 Park Street, Concord, NH 03301 or wballa@nhhistory.org
Artist Samuel L. Gerry (1813-1891) is the subject of an exhibition planned by the New Hampshire Historical Society, which requests the help of interested readers, scholars, and collectors in identifying the works of Gerry in public and private collections.
The exhibition will be based on Charles O. Vogel and Allen Vogel's research about the life and work of Gerry, an important but little studied figure in 19th- century American regional landscape painting. Among the subjects the exhibition and related publication will explore are: Gerry's early work and career as an ornamental and portrait painter; connections to Centre Harbor; trips to Europe; work in the White Mountains, Mount Desert Island, the Hudson Valley, and coastal Massachusetts; affiliations with the Boston Art Club and other organizations; the sale of paintings; and the artist's patrons, writings, and students.
EXHIBITIONS
Below: Charles M. Russell, Waterhole, 1906, oil on panel, 11 1/2 x 18 1/2 inches. Petrie Collection, Denver, Colorado. Image courtesy of the CM Russell Museum.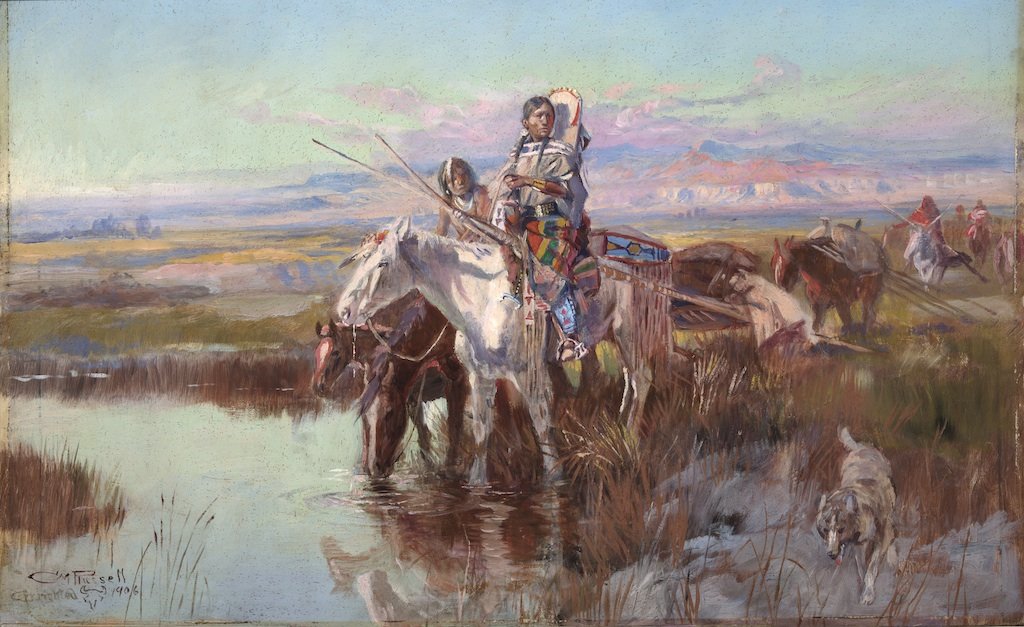 Charles M. Russell: The Women in His Life and Art
May 19-September 30, 2018
C.M. Russell Museum, Great Falls, Montana
Charles M. Russell: The Women in His Life and Art brings to light the significant roles of women in the American West as captured in the art of Charles M. Russell. From his mother and grandmother to his wife, close friends and colleagues, women influenced and shaped Russell's artistic view of the West. The exhibit expands and deepens the understanding of Russell's art in the context of the women who encouraged his creativity and helped shape his career. The women who surrounded Russell influenced his artistic vision as well as his ideas of the place of women within it.
This exhibition features over 60 works in oil, watercolor, bronze and pen and ink. Many are from private collections and have been rarely viewed by the public. Over 30 years in the making, the exhibition groundwork was laid by the late Ginger K. Renner, a founding member of the museum's national advisory board and a Russell scholar. In her article "Charlie and the Ladies in His Life" published in 1984, Renner was the first to start a discussion on the significance of women in Russell's West. Among the most important was Nancy Russell, who became not only his life partner but his business manager and marketing guru. Her persistence resulted in Russell being the highest paid artist in America at his death in 1926.
Below: Norman Rockwell (1894–1978), Golden Rule, 1961. Oil on canvas, 44 ½" x 39 ½". Cover illustration for The Saturday Evening Post, April 1, 1961. Collection of Norman Rockwell Museum. ©SEPS: Curtis Licensing, Indianapolis, IN. All rights reserved. www.curtislicensing.com.
Rockwell, Roosevelt & the Four Freedoms
May 25-September 2, 2018
New-York Historical Society, NYC
The first internationally touring exhibition devoted to Norman Rockwell's depictions of President Franklin Delano Roosevelt's "Four Freedoms," Rockwell, Roosevelt & the Four Freedoms will be opening at New-York Historical. Organized by the Norman Rockwell Museum, in Stockbridge, MA, the exhibition celebrates the 75th anniversary of Rockwell's 1943 paintings Freedom of Speech, Freedom of Worship, Freedom from Fear, and Freedom from Want, illuminating their historical context and exploring how a series of illustrations evolved into a national movement, with the iconic image giving visual voice to Roosevelt's call to the defense of freedom worldwide.
Also on view are paintings, drawings, and other original artworks by Rockwell and his contemporaries, as well as historical documents, photographs, videos, artifacts, interactive digital displays, and immersive settings with virtual reality elements. A companion exhibition, Reimagining the Four Freedoms, is on view simultaneously at Roosevelt House, Public Policy Institute at Hunter College.
Loyalties Through Revolutionary Times
Through June 1, 2018, by appointment; 267.414.1235
Freeman's, 1808 Chestnut Street, Philadelphia, Pa
https://www.freemansauction.com
Philadelphia is the only stop for Loyalties in Revolutionary Times, a loan exhibition from a British private collection of fine art, historic documents, and objet of rarely exhibited works from the Allen family archive. The exhibition spotlights both the key role the Allen family played in the early career of Benjamin West, P.R.A. (1738-1820)—a young artist Chief Justice William Allen deemed "a very extraordinary person in the painting way"—and the contrasting roles enjoyed by a powerful Loyalist clan in the years before and after the American Revolution. The centerpiece of the show is The Cricketers by West, the first of two expressions of this famous work that has remained in the family of two of the sitters—James and Andrew Allen—since it was painted in 1763.
For many reasons, this exhibition is most appropriate in Philadelphia, known as the 'cradle of cricket' in the United States, the birthplace of Benjamin West, the location of America's first art school (with West's help), and once home to the Allen family. Loyalties in Revolutionary Times marks a homecoming for The Cricketers and coincides with the annual Philadelphia International Cricket Festival and the Pennsylvania Academy of the Fine Arts current exhibition, First Academies: Benjamin West and the Founding of the Royal Academy of Arts and the Pennsylvania Academy of the Fine Arts. This small-scale exhibition will also include, via high-quality photographic reproductions, other rarely exhibited works West painted for the Allens between 1761-64, plus additional portraits by Gilbert Stuart and Richard Brompton. Original correspondence and historic artifacts never previously seen in public will complete this compelling story.