Events of the Week: Mark Rothko, Making Africa, Musical Clocks, Portraits of the World, & More
EXHIBITIONS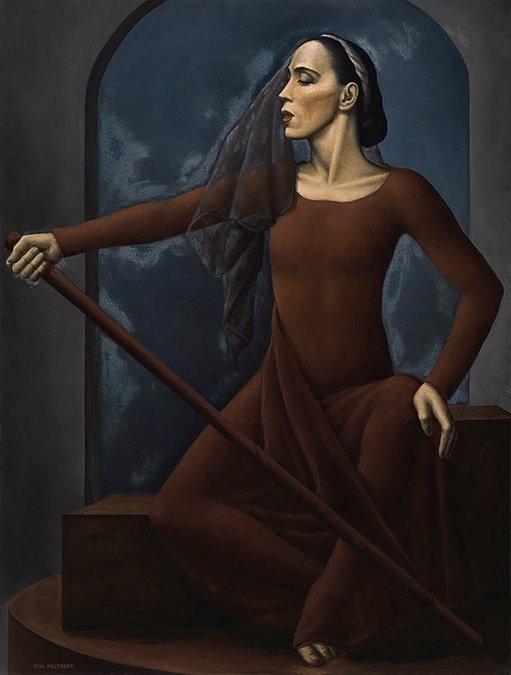 Portraits of the World: Switzerland
Through November 12, 2018
National Portrait Gallery, Washington, D.C.

Portraits of the World: Switzerland is the inaugural exhibition of a series that will highlight the global context of American portraiture. Each year, the National Portrait Gallery will showcase a portrait created by an international artist affiliated with the lending country. The featured work for 2017-18 is Femme en Extase, a portrait of the Italian dancer Giulia Leonardi by the great Swiss painter Ferdinand Hodler, on loan from the Museum of Art and History in Geneva. Hodler's experimentation with the abstract elements of color, line and expression created a vibrant new mode of Swiss art at the dawn of the twentieth century.
Femme en Extase embodies the Swiss modernist approach to expressing emotion through movements of the body—a theory known as eurhythmics—which had an international impact and transformed dance in America. The Swiss painting will be complemented by works from the Portrait Gallery's collection representing American dancers influenced by this theory of eurhythmics.
Paul R. Meltsner, Martha Graham, 1938. Oil on canvas. National Portrait Gallery, Smithsonian Institution.
Mark Rothko: Reflection
Through July 1, 2018
Museum of Fine Arts, Boston
An immersive display of 11 masterpieces by Mark Rothko (1903–1970), on loan from the National Gallery of Art in Washington, DC, invites visitors to contemplate the power of art to shape human experience. The installation opens with Rothko's early painting Thru the Window (1938), on public view in the US for the first time, and Artist in his Studio (about 1628) by Rembrandt—portraits of artists reflecting on the act of painting. Contrary to notions that Rothko's work represented a dramatic break from past traditions, the side-by-side comparison positions him within the broader history of Western art. The exhibition's other Rothko paintings showcase the full sweep of his career—from early surrealist work to multiform compositions to classic color field paintings—and trace his exploration of the expressive potential of color. Enveloped by the large-scale paintings in an intimate setting, viewers can experience Rothko's work as the artist had originally intended.
Finding Form
Through February 11, 2018
Getty Center, Los Angeles, CA
Line by line and layer by layer, artists conjure three-dimensional worlds from two-dimensional sheets of paper. Selecting from an array of media and techniques—hatched ink lines, varying densities of wash, white chalk highlights—they generate form, likeness, and depth to create an arresting sense of presence. This exhibition features works from the 1500s to the 1800s, all from the Getty Museum's collection.
Works in the exhibition reveal how artists utilized media such as chalk, ink, and different pens to yield form. "The immediacy of drawing brings us into direct contact with the creative process as we seem to peer over the artist's shoulder," says Getty Museum Director Timothy Potts. "This display of a wide range of master drawings from our collection focuses on the seeming magic of creating an image of three-dimensional reality on a two-dimensional surface, and the various techniques artists use to convey the effects of light and shadow on our 'reading' of form."
CLOSING SOON
Proof: Francisco Goya, Sergei Eisenstein, Robert Longo
Through January 7, 1018
Brooklyn Museum, New York
https://www.brooklynmuseum.org
Robert Longo (American, born 1953). Untitled (Mecca), 2010. Charcoal on mounted paper, 166 x 252 in. (421.6 x 640.1 cm). © Robert Longo, Private Collection. (Photo: Courtesy of the artist and Galerie Thaddaeus Ropac; London, Paris, Salzburg).
At particular moments in history, artists use their artwork to reveal social, cultural, and political complexities, responding to the times in which they live. Bringing together the work of three innovative chroniclers, Proof: Francisco Goya, Sergei Eisenstein, Robert Longo offers insight into the energy, empathy, and creativity with which these artists recounted and reimagined their realities.
Together spanning four centuries and three continents, Spanish artist Francisco Goya (1746–1828), Russian filmmaker Sergei Eisenstein (1898–1948), and contemporary American artist Robert Longo (born 1953) each witnessed a turbulent transition from one era to another and the profound repercussions of revolution, war, and civil unrest. Within a broad chronological framework, Proof traces the historical lineage of a visual language and artistic impulse.
Leonardo to Matisse
Master Drawings from the Robert Lehman Collection
Through January 7, 2018
The Metropolitan Museum of Art, NYC
This exhibition traces the development of European drawing from the Renaissance to the early 20th century through works by celebrated masters such as Leonardo da Vinci, Dürer, Rembrandt, Tiepolo, Ingres, Seurat, and Matisse. Approximately 60 drawings from the Museum's acclaimed Robert Lehman Collection present a dynamic array of styles, techniques, and genres—from panoramic landscapes and compositional studies for mythological and biblical narratives to arresting studies of the human form.
The selection illustrates different facets of the artists' creative processes—from Leonardo's keen anatomical observation in his Study of a Bear, to Dürer's awakening self-consciousness as an artist in his Self-Portrait study, to Rembrandt's reinterpretation of Leonardo's painted masterpiece, The Last Supper. The exhibition is the first to explore Robert Lehman's significant activity as a 20th-century collector by highlighting the full range of his vast and distinguished drawings collection, which numbers more than 700 sheets.
Antonello da Messina (Antonello di Giovanni d'Antonio), attributed, Group of Draped Figures, early 1460s. Tip of the brush and brown ink, 4 5/16 x 5 7/8 inches. Robert Lehman Collection (1975.1.265).
Making Africa: A Continent of Contemporary Design
Closing January 7, 2018
High Museum of Art, Atlanta, GA
The High Museum of Art is the first venue in the United States to present this major touring exhibition, which offers a fresh look at African design through a myriad of diverse works by more than 120 artists. Ranging from playful to provocative to political, the works include sculpture, prints, fashion, furniture, film, photography, apps, maps, digital comics, and more.
The exhibition offers a vision of Africa in the twenty-first century as a place of unbounded optimism, rapid growth, and massive cultural transformation and presents the continent as a hub of experimentation that generates innovative design approaches and solutions with worldwide relevance. Making Africa focuses on a generation of entrepreneurs, thinkers, and designers from and within Africa who address a global audience and provide the world with a new vantage point on their continent. The exhibition also illustrates how the artists use their work to effect significant economic, social, and political change.
Ikiré Jones, The Madonna, from The Untold Renaissance series, 2014. Wool and silk. Collection of Vitra Design Museum. © Walé Oyéjidé.
THE BOOKSHELF
Musical Clocks of Early America, 1730-1830
Gary R. Sullivan and Kate van Winkle Keller
The Willard House & Clock Museum
Pre-orders being taken; published late January 2018
The 130 remarkable clocks documented in this ten-year study represent a high point in the careers of American craftsmen between 1730 and 1830. Only a few artisans had the expertise and skill to produce such intricate mechanisms as clocks that played music. This is their story—the story of gifted immigrants from Europe and of clever local artisans who contrived clock mechanisms of uniquely American style. The story includes biographies of 180 craftsmen and traces apprenticeships and style connections from maker to maker. Over 500 color images bring the clocks to life. Schematic charts are followed by an in-depth analysis of every known musical clock movement and case.
A companion volume, The Music of Early American Clocks, 1730-1830, is a This book is a compendium of 185 complete scores of the tunes played by the early American musical clocks examined and discussed in Musical Clocks of Early America, 1730-1830. This book includes transcriptions of actual performances of many of the clocks.