Events of the Week: Palm Beach Art, Antique & Design Show, Picturing Mississippi, Dreams of Kings, The Silver Caesars, & More
SHOWS
Palm Beach Art, Antique & Design Show
December 15-17, 2017
Palm Beach Art, Antique & Design Showroom
500 N. Dixie Highway, Lake Worth, FL

Located near Palm Beach's historic Antique Row, the Palm Beach Art, Antique & Design Showroom offers a year-round selection of antiques, works of art, vintage and modern furnishings, and more. This week, there's even more reason to visit—the debut of the Palm Beach Art, Antique & Design Show. Held within the 25,000-square-foot showroom, the Antique & Design Show is the latest addition to the Palm Beach Show Group's portfolio of quality fairs. A curated selection of prominent exhibitors from around the globe will be featured, offering high-end fine art, antiques, sculpture, furniture, and decorative items from traditional to contemporary. Save the date for the PBSG's next show, the LA Art Show, held January 10-14, 2018.
EXHIBITIONS
Picturing Mississippi, 1817-2017: Land of Plenty, Paine, and Promise
Through July 8, 2017
Mississippi Museum of Art, Jackson, MS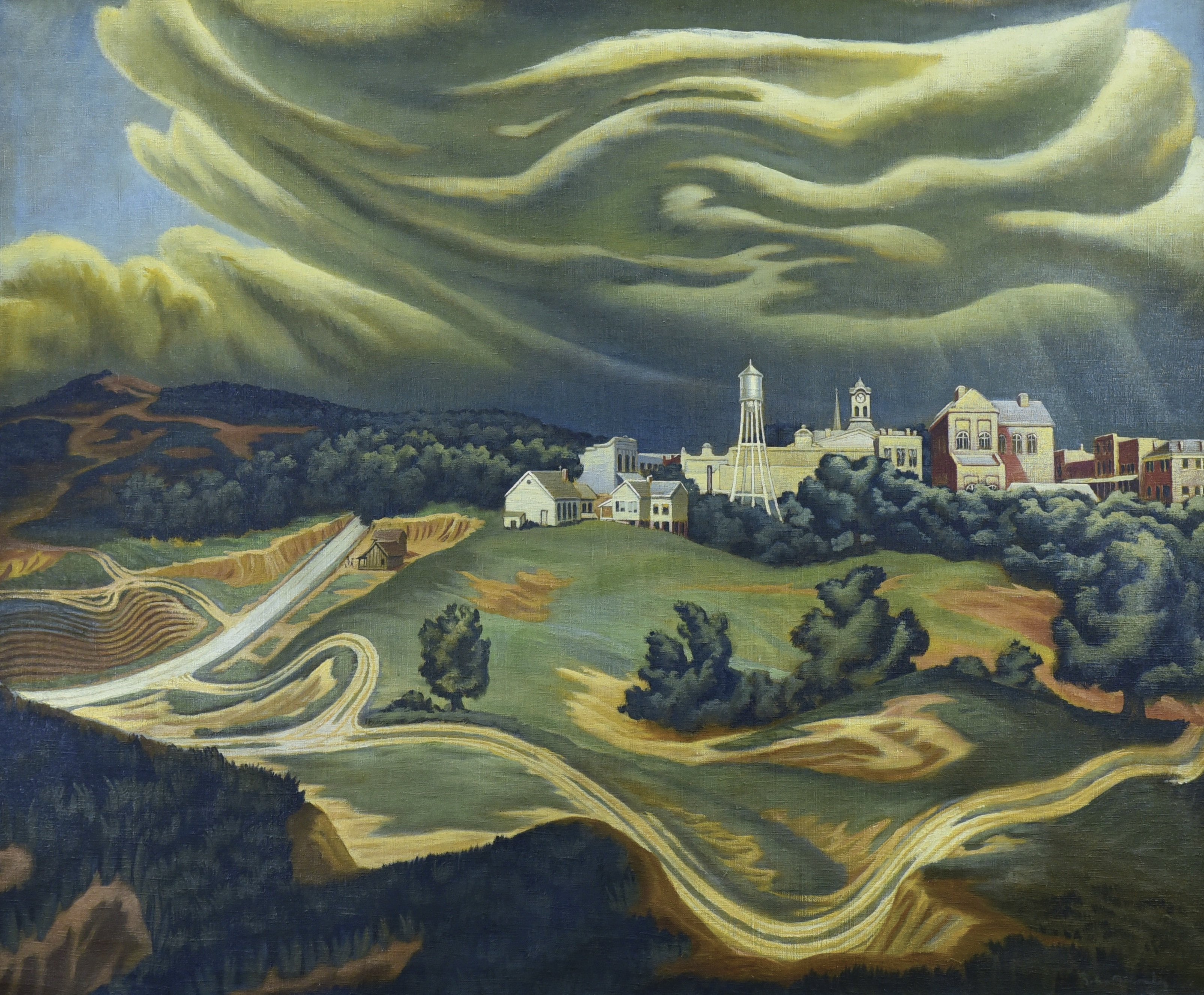 John McCrady (1911–1968), Oxford on the Hill, 1938. oil on canvas. 32 x 39 in. Collection of the City of Oxford, Mississippi.
Land of Plenty, Pain, and Promise, the landmark exhibition exploring Mississippi identity, commemorates the 200th anniversary of Mississippi's statehood. Illuminating the perception and depiction of Mississippi over more than 200 years, the exhibition showcases 175 works by 100 artists who either resided in the state, visited, or lived elsewhere and were compelled to respond to a multiplicity of subjects. From Choctaw objects and sweeping landscapes to portraiture and contemporary work, the exhibition reveals that Mississippi has continuously resonated with artists in powerful ways as lived experience, memory, and imagination.
"An unprecedented event for our state, Picturing Mississippi provides the unique opportunity to look at our history through the creative lenses of artists working across time, place, and media," said Betsy Bradley, Director of the Mississippi Museum of Art. Organized thematically and chronologically into eight chapters, the exhibition enables visitors to consider artworks not just as objects but resonating within the context of their times as testimonials and as potential agents for change. Vignettes throughout the galleries heighten the inherent paradox of Mississippi, where art traditions, movements, content, and aesthetics collide.

The Silver Caesars: A Renaissance Mystery
December 12, 2017-March 11, 2018
Metropolitan Museum of Art, NYC
The Aldobrandini Tazze—a set of 12 magnificent silver-gilt standing cups, surmounted by a figure of one of the Caesars—are among the finest and rarest examples of 16th-century metalwork, yet the circumstances of their creation are cloaked in mystery. Who made this virtuosic work? When? Where? Why? And for whom? The Silver Caesars presents the most recent scholarship into all aspects of the creation and later history of this masterpiece.
The complete set has not been seen together since the mid-19th century, when it was disassembled and dispersed, its parts misidentified and mismatched. In the exhibition, the elements of all 12 tazze will be displayed in their original configuration—a unique opportunity for modern viewers to appreciate one of the most enigmatic monuments of 16th-century goldsmiths' work.
Off the Beaten Track: A Road Trip Through the Archives of American Art
Through June 3, 2018
Reynolds Center for American Art & Portraiture, Washington, D.C.
Jackson, Sandford, and LeRoy Pollock at the Grand Canyon, 1927. Jackson Pollock and Lee Krasner papers, ca. 1905-1984. Archives of American Art, Smithsonian Institution.
A new exhibition from the Archives of American Art, Smithsonian Institution, is showcasing material from its expansive collection showcasing from every state and the District of Columbia. Off the Beaten Track: A Road Trip through the Archives of American Art features video recordings, photographs, sketches, diaries, and correspondence dating from 1830 to 2006. Together they reveal how artists have shaped and are shaped by their surroundings, illuminating uniquely American narratives state by state. The selection provides unexpected insights into local and regional histories, as well as personal stories about the artists. Further, the exhibition offers a glimpse into the diversity and depth of art-making in the United States—including art-world luminaries and lesser-known practitioners—and the extraordinary holdings of the Archives.
"While it is impossible to encapsulate any state in a single item," said Kate Haw, Director of the Archives of American Art, "Off the Beaten Track offers a fascinating road map highlighting intriguing aspects of the country's artistic identity. Each document tells a compelling, multi-layered story about American history, artists' lives, and regional characteristics.
All that Glitters: Williams Ehrlich and Clément Massier
December 14, 2017-January 28, 2018
Jason Jacques Gallery
All that Glitters­ combines the talents of contemporary jeweler William Ehrlich and ceramist Clément Massier (1845-1917), a pioneer of modern French ceramics. The pairing of masterworks by the two artists, presented side-by-side for the first time, seeks to explore the connections between art pottery and jewelry as a homage to Art Nouveau design. Ehrlich is an avid collector of contemporary art and modern decorative arts. Says Ehrlich, "My collection of Clément Massier ceramics has been assembled over the past 30 years; it is a real source of inspiration to which I relate with my own artistic practice." The exhibition opens this Thursday: a reception with the artist from 6:00-9:00.
Dreams of the Kings: A Jade Suit for Eternity
December 16-April 2018
Nelson-Atkins Museum of Art, Kansas City, MO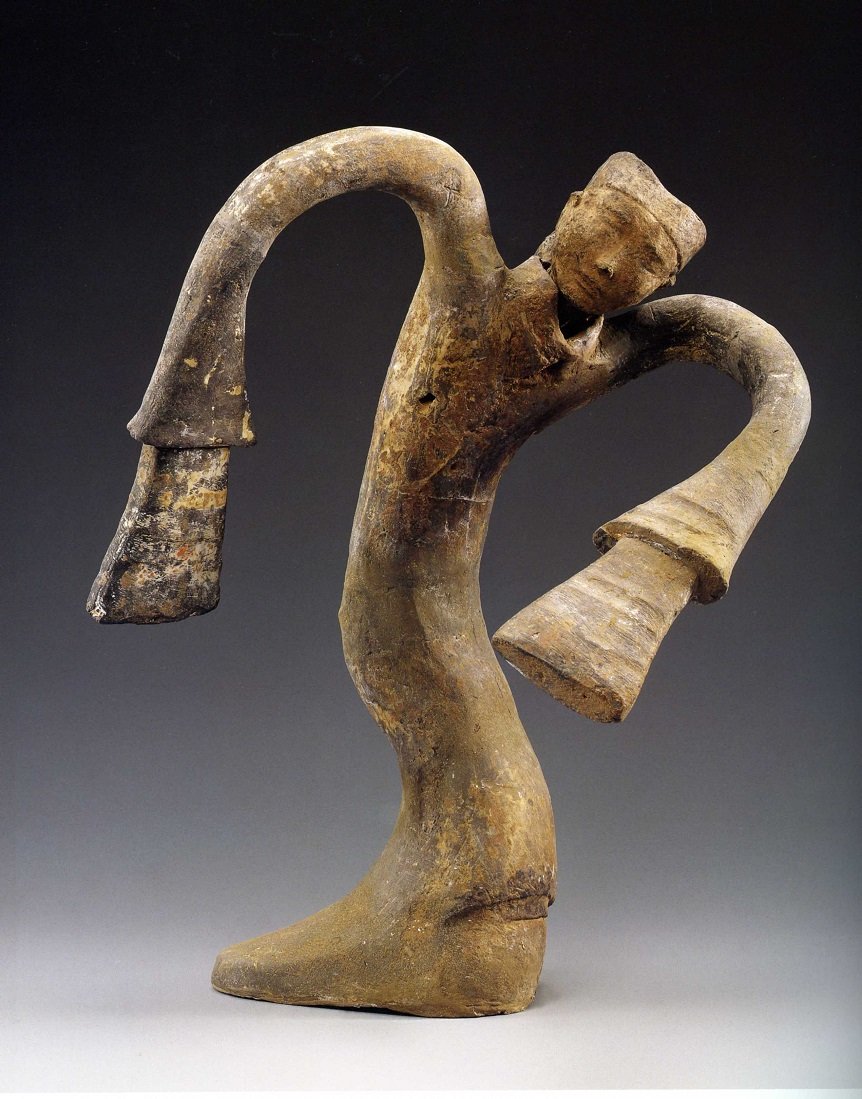 Earthenware figure of a dancer excavated from the tomb of the King of Chu at Tuolanshan, H. 52 cm (20.47 in); W. 40 cm(15.74 in).
In ancient China, death was believed to be such a continuation of life that burial tombs were plotted as elaborate afterlife arenas, complete with large security forces made of clay, horse-drawn chariots, precious stones and jade figures. Dreams of the Kings: A Jade Suit for Eternity offers a remarkable window into ancient Chinese burial rituals following the discovery of nearly 100 tombs in the mid-20th century onwards in northern Jiangsu Province.
The exhibition is divided into three sections: Court Ceremony, Feasting, Dance, and Ritual; Warfare and Authority; and Jade for Eternity. The first section displays a remarkable selection of ceramic figures of dancers and musicians; Warfare and Authority features a full suit of iron armor, along with miniature versions of the famous Terracotta Warriors, jade sword fittings, and a group of gold, silver and bronze seals of Chu rulers and officials; and Jade for Eternity explores the roles of China's most precious material, particularly jade's moral symbolism and its efficacy in preserving the body in burial.