Events of the Week: The Armory Show, Collective Design Fair, TEFAF Maastricht, Lands of Asia, Wyeth and Ruskin, & More
SHOWS
The Armory Show
March 8-11, 2018
Pier 92, West Side Highway, NYC
The Armory Show is one of New York City's premier art fairs and a leading cultural destination for discovering and collecting the world's most important 20th- and 21st-century art. Staged on Piers 92 & 94, The Armory Show features presentations by nearly 200 leading international galleries from 31 countries, innovative artist commissions, and dynamic public programs. This year, 64 new galleries will be exhibiting. Since its founding in 1994, The Armory Show has served is a nexus for the art world, inspiring dialogue, discovery and patronage in the visual arts.
This year sees an expansion of the Focus sector, a themed section dedicated to solo or dual artist displays by emerging contemporary artists. This year's theme examines the ways in which technology has mediated representation of the physical body. The Contingent, the Platform section (large-scale works), will highlight a number of pivotal works responding to the unfolding Zeitgeist of the century. A Curatorial Leadership Summit highlights Armory Live.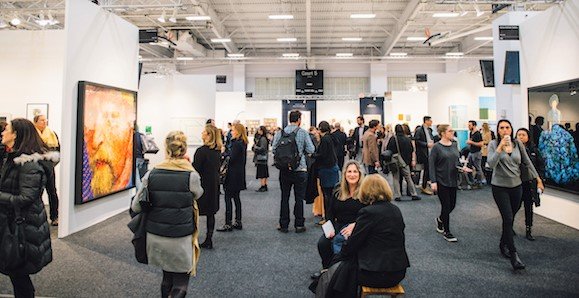 Art on Paper
March 8-11, 2018
Pier 36, NYC
Art on Paper returns to downtown Manhattan's Pier 36 with galleries featuring top modern and contemporary paper-based art. Art on Paper's medium-driven focus lends itself to significant projects - unique moments that have set the fair apart and established an important destination for the arts in New York City. The fourth edition will include 85 national and international galleries presenting photography, drawing, sculpture, and large-scale installations, all from, by, or on paper, and all challenging the notion of what a work on paper can be.
58th Annual New York International Book Fair
March 8-11, 2018
643 Park Ave., Park Avenue Armory, NYC
https://www.nyantiquarianbookfair.com
Over 200 American and international dealers will exhibit at The ABAA New York International Antiquarian Book Fair, bringing a vast selection of rare books, maps, manuscripts, illuminated manuscripts and ephemera. The diversity of specialties includes art, medicine, literature, photography, autographs, first editions, Americana, and much more. All books, manuscripts and related material have been carefully examined for completeness and bibliographic accuracy.
Collective Design Fair
March 9-11, 2018
Skylight Clarkson North, 572 Washington St., NYC
http://collectivedesignfair.com/index.html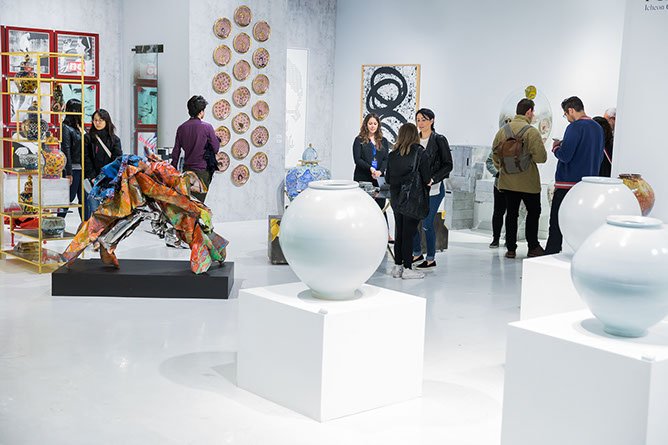 Based in New York City and active in the creative community throughout the year, Collective Design culminates in the annual fair each spring with an international selection of galleries presenting masterworks of the 20th and 21st centuries alongside experimental works from the next generation of global talent. Building upon a growing audience for collectible design and art, Collective Design has become a vital part of New York's cultural calendar; the fair illuminates both the design process and the diversity of our material culture, promoting a spirit of discovery that resonates with new and seasoned collectors alike.
Collective Design is preparing a new vision for the 2018 edition of the fair, fostering young galleries and engaging prominent international curators. The show continues to encourage thoughtful, tightly curated presentations through the introduction of new and evolved exhibitor sections and programming that emphasizes solo-artist presentations, new projects and commissions.
TEFAF Maastricht
March 10-18, 2018; early access March 8; preview day March 9
MECC Maastricht, The Netherlands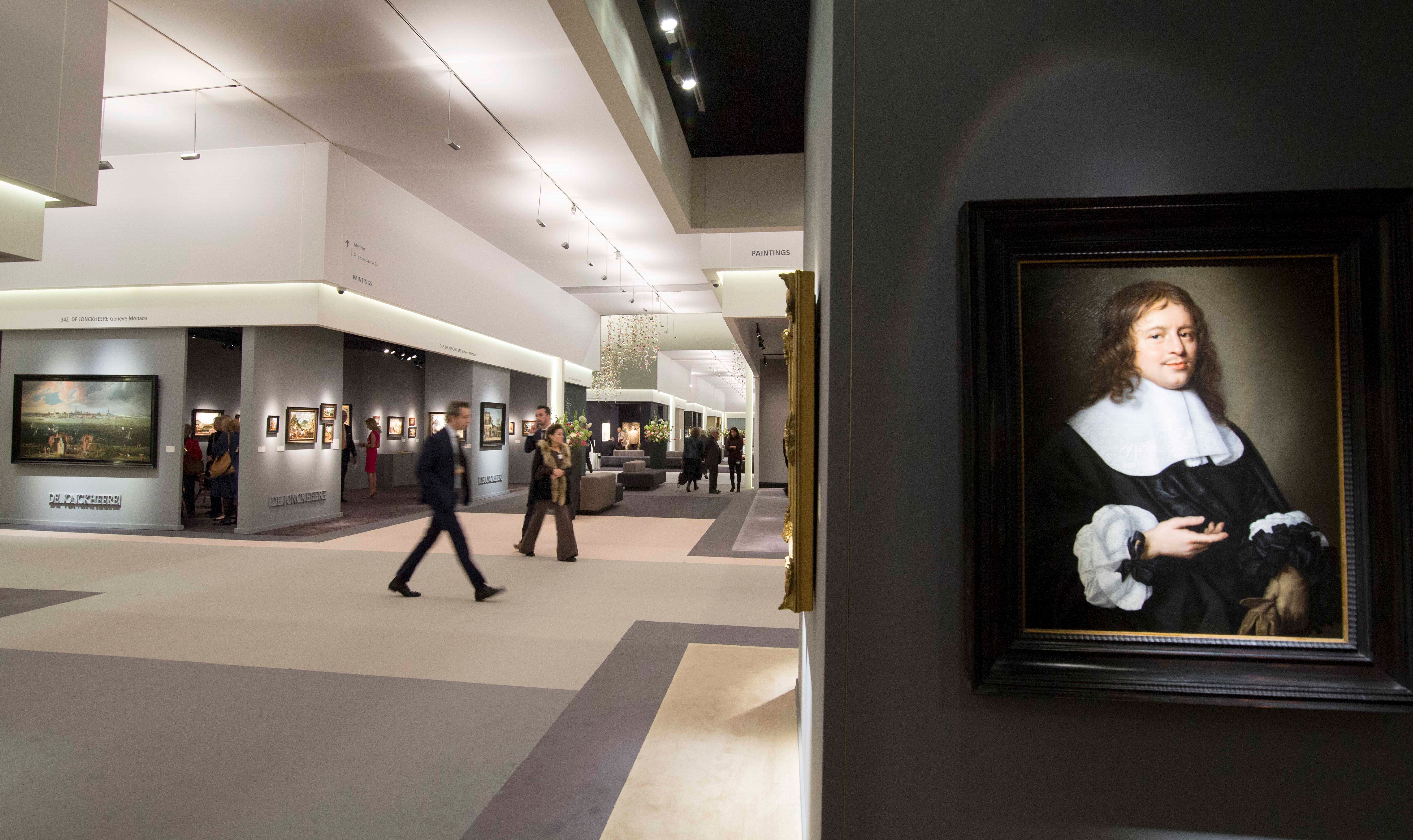 Rafael Valls Ltd. TEFAF Maastricht 2017. Courtesy TEFAF. Photography by Loraine Bodewes.
Located in a picturesque Medieval city in the southern Dutch province of Limburg, The European Fine Art Fair (TEFAF) in Maastricht is widely regarded as the world's premier fair for fine art, antiques, and design. Featuring more than 275 prestigious dealers from some 20 countries, TEFAF Maastricht is a showcase for the finest art works currently on the market.
TEFAF Maastricht continues to set the standard for excellence in the art market. More than 35,000 objects in nine sections are spread across 100,000 square feet of the MECC. Alongside the traditional areas of Old Master paintings, antiques and classical antiquities that cover approximately half of the Fair, modern and contemporary art, photography, jewelry, 20th century design and works on paper are also offered through the galleries.
TEFAF continues to expand the breadth and depth of its offerings. Showcase was created in 2008 and gives younger businesses the opportunity to experience a top-level international art fair at relatively low cost. In addition, it became an incubator for new talent and many previous participants in TEFAF Showcase are now fully-fledged exhibitors at TEFAF Maastricht.
OF NOTE

Lecture and Book Signing: Barclay Butera
March 8, 2018
Seattle Design Center, Seattle, WA
http://seattledesigncenter.com/events
The Seattle Design Center invites you to join us for an inspired afternoon as Barclay Butera discusses his fourth book—Barclay Butera: Past Present Inspired. Barclay will take the audience through the 20-year journey and tour of the interiors crafted for his own private homes-all lovingly designed, all still very au courant. You will be guided by Barclay on how his style has evolved over the years in the interior design industry. From his humble beginnings in the charming Bette Davis cottage on the coast of California, to the chic and contemporary mid-century ranch once owned by Desi Arnaz Jr., to his current beloved Newport Beach escape, each spectacular home Barclay presents is sure to delight. Following the presentation, Barclay will be available for a brief Q&A and book signing during a no-host cocktail hour. Attendees receive a free copy of this gorgeous coffee table book, Barclay Butera: Past Present Inspired, while supplies last.
Outdoor Design Conference
March 8, 2018
Design Center at the Merchandise Mart, Chicago, IL
http://merchandisemartdesigncenter.com/events/outdoor-design-conference
Discover products and techniques for designing distinguished outdoor spaces at the third annual Outdoor Design Conference. Discover multiple programs including CEUs, featured presentations, product debuts, and showroom events that will inspire and educate as we spring into summer. Chicago's Merchandise Mart is the ultimate destination for all things Outdoor – furniture, fabric, shade products and accessories.
NEW SHOW
Antiques on the Hudson at Lyndhurst
April 7-8, 2018
Lyndhurst Mansion, 635 South Broadway, Tarrytown, NY
http://lyndhurst.org/events/spring-blossoms-flower-show-weekend
Or http://www.barnstar.com/lyndhurst.html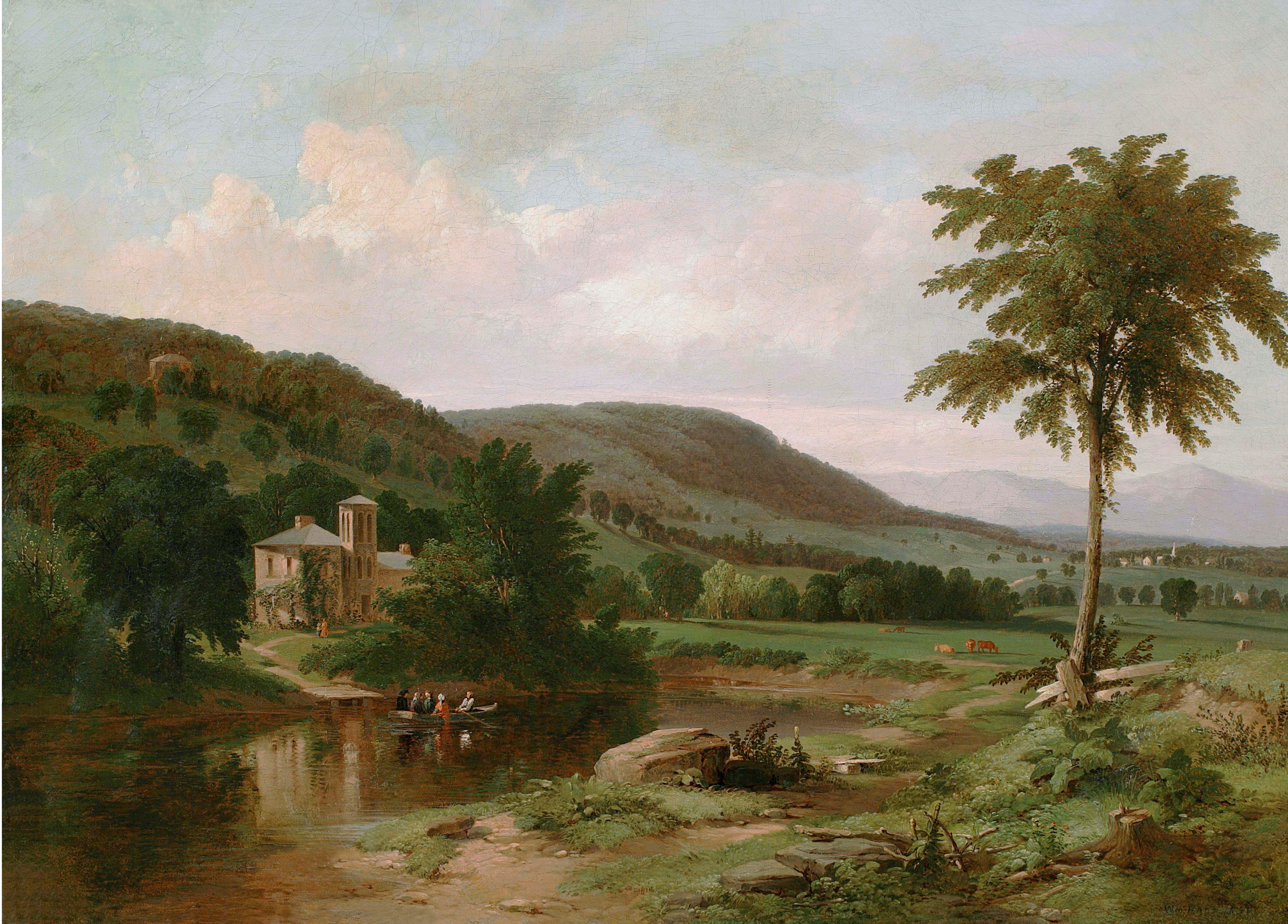 William Hart (1823-1894), Summer Idyll in the Hudson Valley, 1849. Oil on canvas, 22 x 30 inches. Signed and dated 1849, lower right. Offered by Hawthorne Fine Art.
The first annual Antiques on the Hudson at Lyndhurst, antiques, vintage, fine art and jewelry show and sale will take place during Lyndhurst Mansion's season opening and Spring Blossoms Flower Show, at the historic site. Antiques on the Hudson will showcase glorious garden décor, period furnishings, estate and designer jewelry, fine and folk art, mid-century modern and more in a festive, carpeted, chandelier adorned and climate-controlled tent pavilion at the Carriage House.
Among the dealers will be Hawthorne Fine Art, Barbara Israel Garden Antiques, DK Farnum, Withington and Company, Port N' Starboard Gallery, Knollwood Antiques, Hanes and Ruskin, Village Braider, J. Gallagher Antiques, Saratoga Fine Art, Soheil Oriental Rugs, Bob Smith Fine Art and Antiques, James Levinson, Inc., Eisener-Hoyt, plus many more. Among the special events is "Jewels in Bloom," where Rago Art & Auctions of Lambertville, NJ, present an enlightening talk and complimentary jewelry evaluation; offered Sunday from 1-4 pm.
Lyndhurst is located one half mile south of the Tappan Zee Bridge on Route 9, and approximately 24 miles north of Midtown Manhattan. Originally built in 1838, Lyndhurst is considered by many to be the most important American home of the 19th century.
EXHIBITIONS
From the Lands of Asia: The Sam and Myrna Myers Collection
Through August 19, 2018
Kimbell Art Museum, Fort Worth, TX
https://www.kimbellart.org
Objects from this remarkable collection represent key periods in the history of the art of China, Japan, Tibet, Mongolia, Korea and Vietnam. From the Lands of Asia features nearly 450 objects that cover a broad historical range, from the Neolithic era to the 20th century. The material is also highly varied in nature, from porcelain, ivory and precious stones such as jade and rock crystal to Buddhist art and textiles and stunning costumes from Central Asia, Tibet, China and Japan. Each treasure is exceptional in its shape, rarity, quality, function or inherent message.
The exhibition recounts fascinating historical events through themes such as the symbolism of Chinese jade, the trade in blue-and-white porcelain, Buddhism, Noh theater, the Japanese samurai, the tea ceremony and the scholar's studio. The astonishing array of outstanding works of art in the Myers Collection is testimony to Asia's rich cultural and religious heritage and unique customs and offers a broad panorama of Asian history in all its beauty and diversity.
Eye on Nature: Andrew Wyeth and John Ruskin
March 10-May 27, 2018
Delaware Art Museum, Wilmington, Delaware
Left: John Ruskin (1819 – 1900), Mountain Rock and Alpine Rose, 1844 (or 1849). Pencil, ink, chalk, watercolor and gouache, 11 3/4 x 16 1/4 inches. Ruskin Foundation (Ruskin Library, Lancaster University) (RF 1395). Right: Andrew Wyeth (1917-2009), Sycamore Tree, Study for Pennsylvania Landscape, 1941. Ink and watercolor, 29 3/4 x 39 3/8 inches. Delaware Art Museum, Gift of Mr. and Mrs. William E. Phelps, 1964. © 2018 Andrew Wyeth/Artists Rights Society (ARS), New York.
"Summer is delicious, rain is refreshing, wind braces up, snow is exhilarating," wrote British critic and artist John Ruskin. Nearly one hundred years later, Brandywine Valley artist Andrew Wyeth advised artists to simply, "hold a mirror up to nature. Don't overdo it, don't underdo it." Even though Ruskin came of age during the Industrial Revolution, and Wyeth after the World Wars, the two artists shared a life-long obsession with the close observation of nature. The exhibition Eye on Nature: Andrew Wyeth and John Ruskin, explores how both artists portrayed nature and the environment during tumultuous eras in human history.
This major exhibition will shed new light on both artists' long standing legacies and the periods of upheaval and doubt in which they both works. Eye on Nature presents approximately 30 rare watercolors by John Ruskin between 1838 and 1883, the largest number of Ruskin drawings seen in the United States for 25 years. The exhibition will also include 28 watercolors and dry brush by Andrew Wyeth between 1940 and 2008.
SYMPOSIUM: Advanced Notice
Albert Bierstadt: Witness to a Changing West
Whitney Western Art Museum at the Buffalo Bill Center of the West, Cody, Wyoming
June 16, 2018
https://centerofthewest.org/explore/western-art
In conjunction with the upcoming special exhibition Albert Bierstadt: Witness to a Changing West, an all-day symposium will be held to examine the life, legacy, and art of Albert Bierstadt. Says Karen McWhorter, the Scarlett Curator of Western American Art for the Whitney Western Art Museum, "Bierstadt's name likely conjures visions of sweeping landscapes, but with this symposium we hope to foster a greater appreciation for Bierstadt as a history painter." The six speakers offer fresh perspectives on the artist and the era in which he painted. The day's discussion sheds new light on the artistic, social, and environmental histories of America in the late 1800s. Click hereto register.
FEATURED BOOK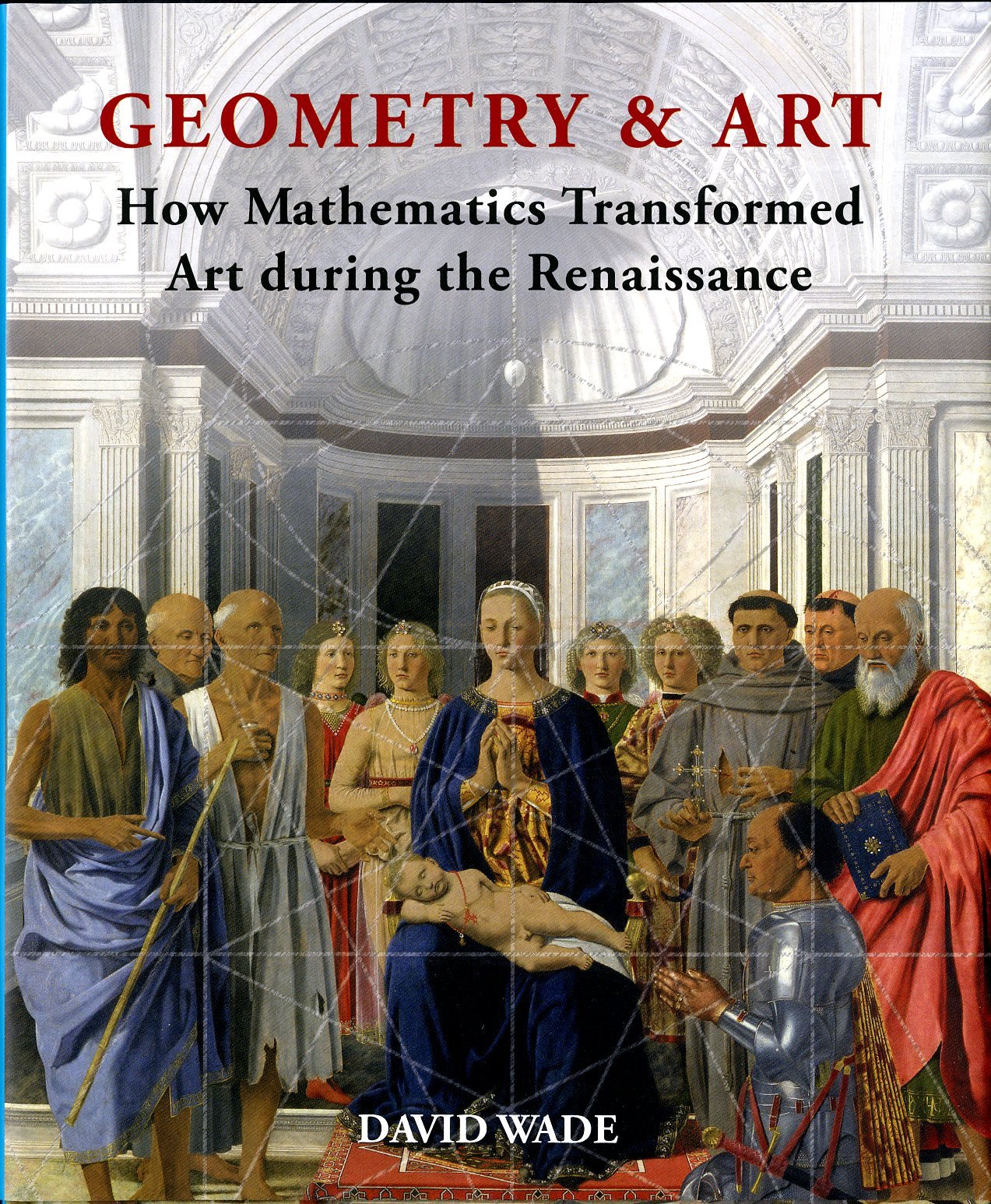 Geometry & Art: How Mathematics Transformed Art During the Renaissance
By David Wade
Published by Shelter Harbor Press, NYC
224 pp.; 250 color ills.; hardcover; $25.95
ISBN: 978-1-62795-105-0
Geometry & Art follows the artists of the Renaissance, whose search for perspective and visual depth led them to the study of geometry. A period of enormous political and cultural change, the Renaissance empowered artists to draw on a blossoming revival of classical art, philosophy, and culture. In their quest for inspiration beyond the mundane world, artists of this period looked to geometry; in particular, the Pythagorean notions of ratio and harmonic relations. This interest blended with the science of optics and human perception, specifically the field of inquiry referred to as "Perspectiva." To the mind of an artist during the Renaissance, the problems of creating a convincing representation of three dimensions onto a two-dimensional surface exerted a particular and sustained fascination. This volume takes the reader through five chapters: The Divine Beauty of Geography; The Revival of the Latin West, Geometria & The Northern Renaissance; Polyhedra & the Creative Imagination; and The Continuing Influence of Geometria. Click here to order.