From Renaissance Art to Futuristic Forms Railis Design Creates Furnishings that Draw Upon a World of Limitless Imagination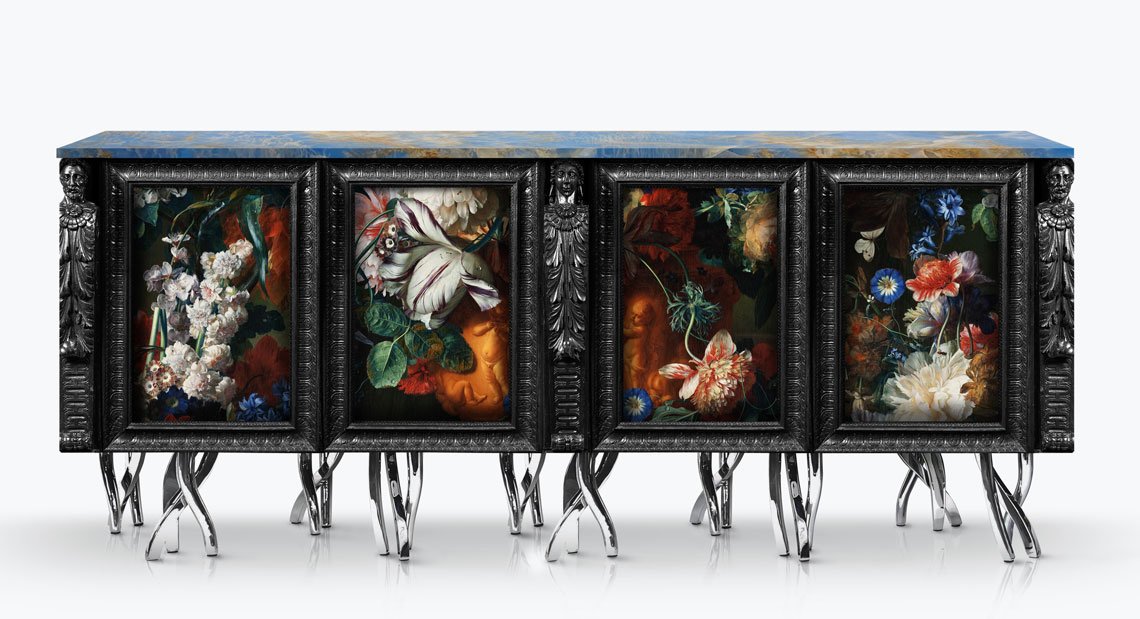 The show stopping statement piece EIFØR sideboard by Railis Design is tour de force and an inspired exploration of luxury and materiality, with an ornately hand-carved solid oak structure, a richly veined blue onyx top, mirror polished stainless steel sculptural legs and panels of imagery combining the extravagant beauty of Renaissance putti and Dutch Golden Age florals.

From Renaissance Art to Futuristic Forms, Railis Design Creates Furnishings that Draw Upon a World of Limitless Imagination
By Benjamin Genocchio
Incollect sat down with the multi-talented Railis Kotlevs, the Latvian-born artist, designer and founder of Railis Design, now based in Iceland, to talk about the power of contrasting materials, Renaissance art, and the importance of imagination-based drawing.
| | |
| --- | --- |
| | |
| | Latvian-born Icelandic furniture artist Railis Kotlevs. |
What do you specialize in as a designer?
At the moment I am in furniture design, but I started my career as a graphic designer. I got bored with graphic design and wanted to create something touchable and big.
How did you come to be a designer?
I've been drawing a lot since I was 3 years old. I was drawing everyday for many hours. My most vivid memory from childhood is one time when I put on pause a video tape with Disney cartoons and then I drew them, very quickly, because the pause function only worked for about a minute and then motion started again.
When I was a teenager I was interested in music and photography. My mom gave me my first synthesizer. I spent long hours at the synthesizer, making my own bits and melodies. I still do a lot of photography.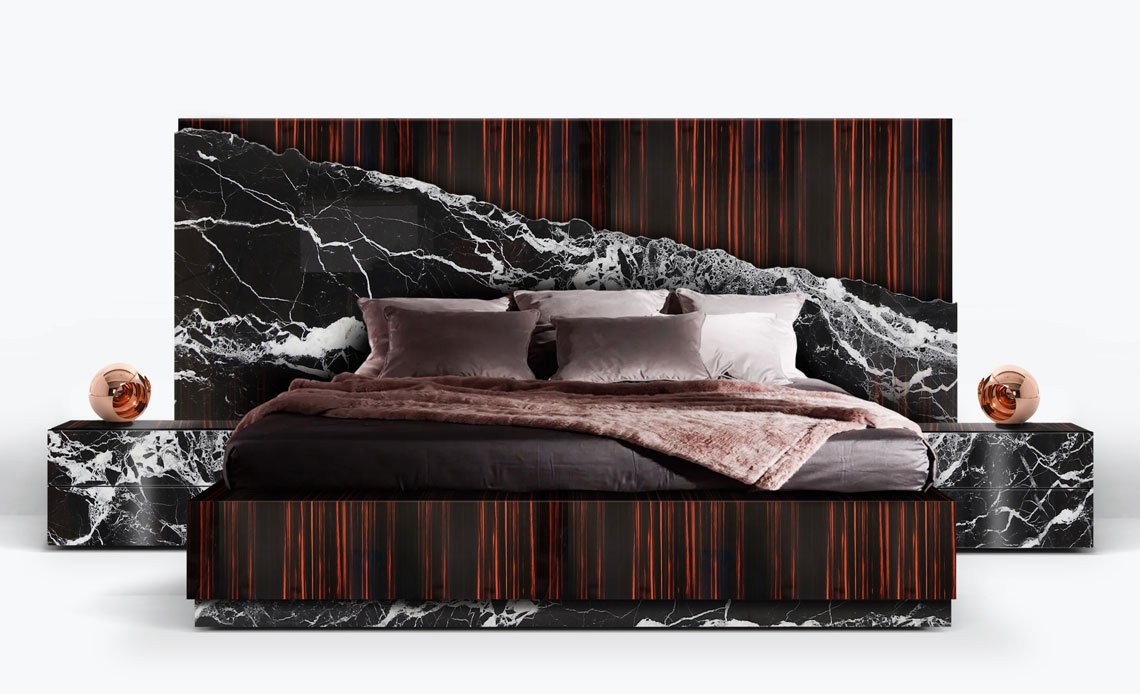 Dramatic contrasts and rich materials are a hallmark of Railis Designs. Named for the Godafoss waterfall in northern Iceland which is nicknamed "The Waterfall of the Gods" for its exceptional beauty, the Godafoss platform bed is custom designed to the client's choice of materials and finishes. This bespoke creation is executed in Macassar ebony and Nero Marquina marble, with a live edge marble feature incorporated in the headboard design.

Tell us about what you are working on right now. Is there a piece you especially are excited about?
I'm working on new designs on a weekly basis. However, I'm excited about the custom sideboard that we are making at the moment for a client in Texas. Sideboard Eifor is what it is called. Also we are in the process now, in the work studio, of creating a bed using marble and ebony called Godafoss. These projects are exciting and challenging for me.
What material or materials do you generally work in and why?
I like to experiment with material combinations. Stone, wood, metal and even graffiti elements as part of the overall surface decoration. Also I love Renaissance art from Europe and try to incorporate elements in my designs. I use a lot of Renaissance art in my designs, actually. There is something magical about the artistry from this era.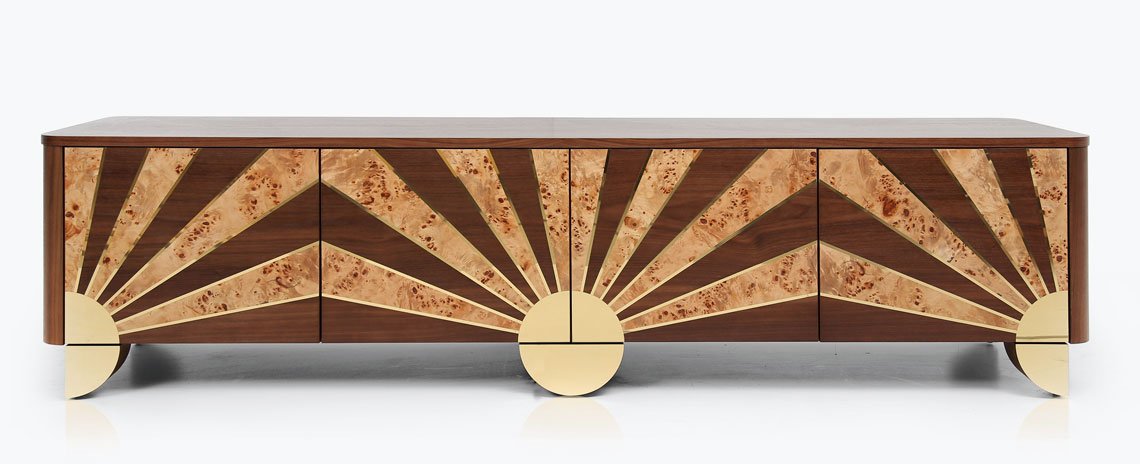 The Art Deco-inspired Sinatra Sideboard in polished brass, poplar root and walnut.

Your designs are sought after by connoisseurs, what do you consider is the distinctive appeal?
I think it's because I like to mix and match all sorts of things and I mix media in my designs. I don't have any borders or barriers in my imagination. I like combining old and modern things, fine woodcraft especially, and from my experience it works and is highly original and beautiful. People today at least want one statement piece in their homes; this is what I like to create and so I am here to help!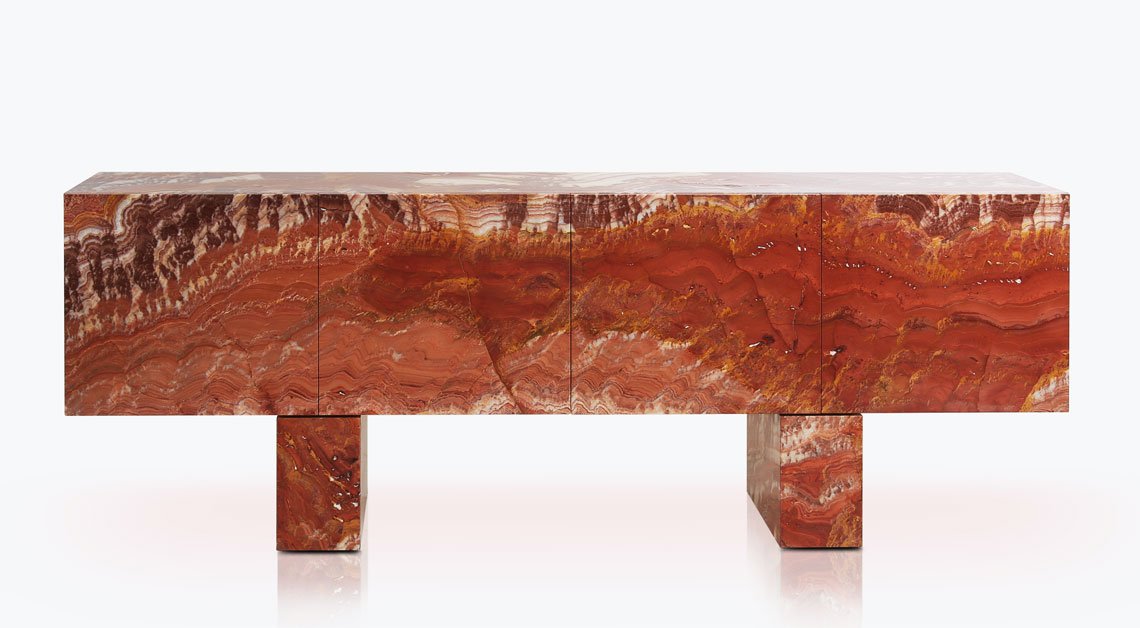 Crafted in fiery Red Passion onyx, the Diablo sideboard is inspired by the red-hot lava that flows from Iceland's volcanic eruptions.

Which other designers do you admire and why?
I admire fashion designers mostly, like Vivienne Westwood, Rick Owens, Demna Gvasalia. I like them because their designs are provocative.
The Strawberry Drinks Cabinet combines classic and contemporary elements in a glamorous statement piece. There are many custom options available, including custom artwork to adorn the cabinet doors.

How do you begin designing?
It all goes back to my childhood. Many hours of drawing is the basis for everything. I draw everything from imaginary fashion shows to modern cities and on and on! Some of these ideas are real now, actual designs but most are just from my imagination.
Do you design in collections or individually?
I have some collections, but most of the time I like to design a special piece for my clients which is produced only once.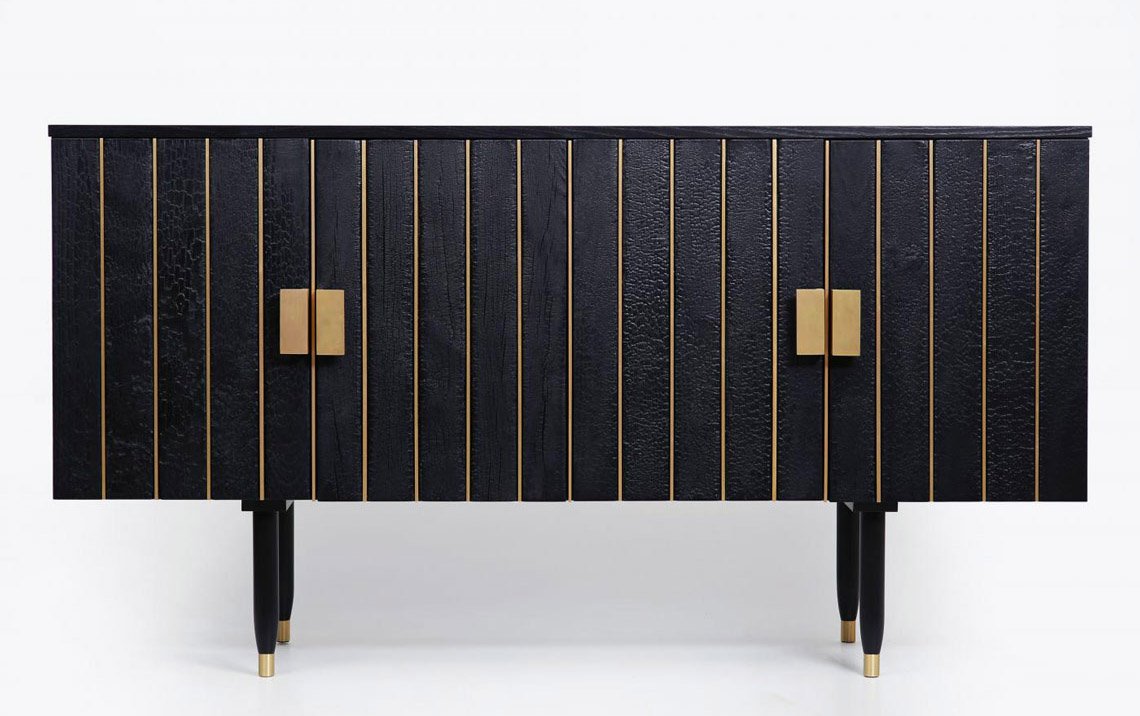 The Bardarbunga Sideboard is created using the Shou Sugi Ban charred wood finishing technique, a nod to the Icelandic volcano Bårdarbunga, the surface of which is covered with black lava crust. The solid brass pinstripe detail creates an elegant contrast.

I love the way you combine materials in many of your works, creating contrasting surfaces and textures — why do you like to do that?
I like contrast in general. As I mentioned before I like combining old and modern woodcraft in particular. Mixing traditional shapes with simple geometric forms is something I often like to do, for example a busy textured piece of marble put with a horizontal ebony veneer object, on top of that adding polished brass elements.
Nature seems like a constant inspiration for you. Can you speak about that?
Yes, definitely. At the moment I live in Iceland, in a small town called Husavik. I'm surrounded by mountains and lava fields. It is 90 km from the Arctic Circle. It's quite solitary here, but at this stage of my life I quite enjoy it. It is also cold. The average temperature we have is +8°C all year round.
If you weren't a designer what can you imagine yourself doing?
I was actually really good at soccer, but my coach said I had to choose to either study or play football. If not a soccer player, I would definitely be in the music industry.