How Javier Robles References the Past to Create Lumifer's Forward-Thinking Furniture & Lighting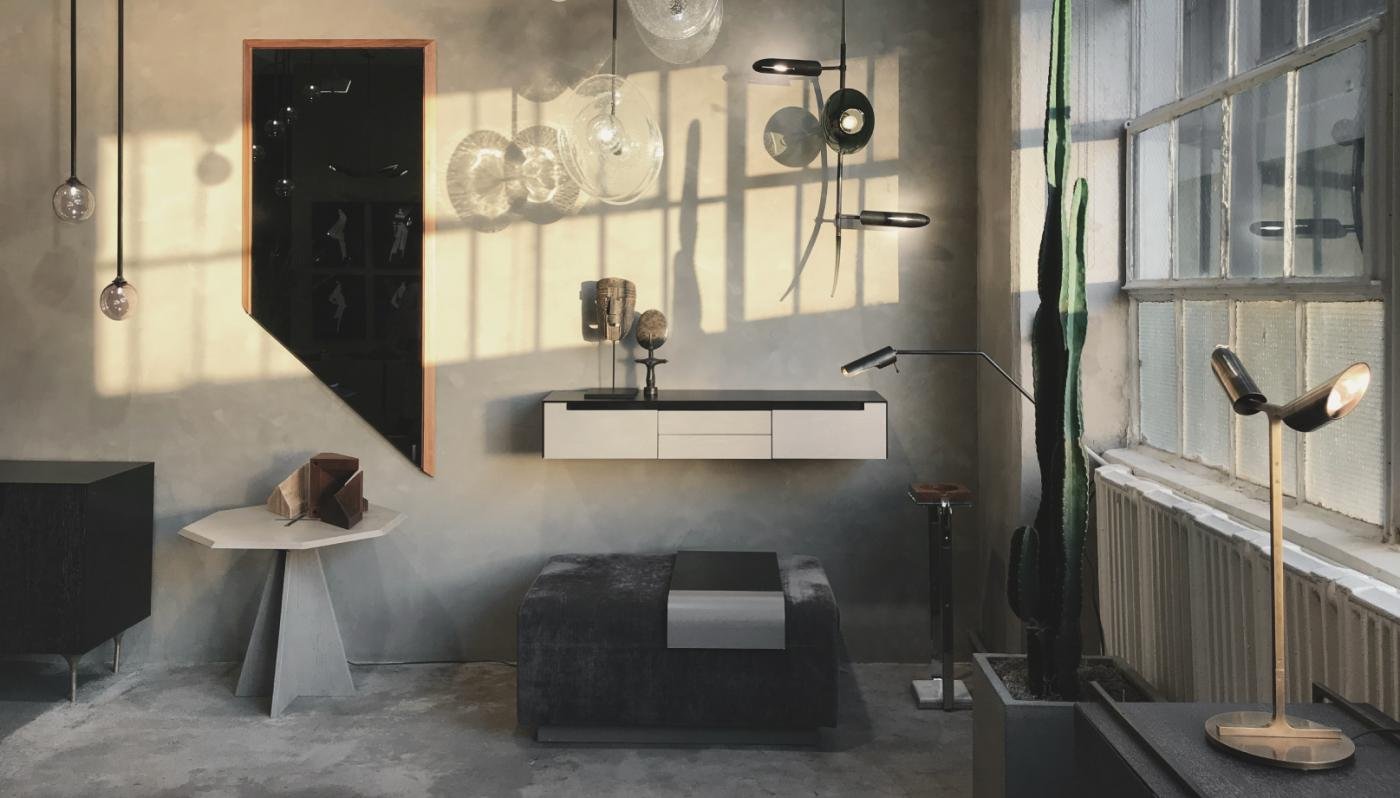 Architecturally designed furniture and lighting from Lumifer.
Born in Peru and educated in Brazil and the United States, architect Javier Robles is known for designing culturally informed buildings at historic sites, from the Visitors Center at Chan Chan — the largest city in pre-Columbian South America — to housing for research teams in the Dakhleh Oasis of Egypt. Now based in New York, his interest in history shows itself in his furniture and lighting designs for Lumifer, the product line he launched in 2014. At Lumifer, he uses his cultural work to explore why certain human-made places and objects of the past, like the architecture and artifacts of Chan Chan, still inspire people today. According to Robles, "design, materiality, technology, or uniqueness" can make tools or decor relevant thousands of years after they were innovated. "These items become artifacts that have transcended their bygone era," he says, explaining his design process. "Likewise, I strive to create products that aspire to the idea of timeless." In his work at Lumifer, historic allusions are deftly incorporated into modern, collectable pieces.
Here, we travel with Robles through some of the places and time periods that have influenced his furniture and lighting for Lumifer.
The lobby of an apartment complex that Robles designed in Long Island City, Queens, New York. In 2016, he opened Javier Robles Inc., which manages his interior design projects.


Inspiration 1: Architecture of São Paulo
As a student at the University of São Paulo in the 1990s, Robles began to develop his sense of form and material preferences that would define much of his career. Although originally imported, modern aesthetic movements — particularly Brutalism — have been innovated upon and deeply explored in the Brazilian context. While in the West, Brutalism declined in the 50s to 70s as a response to sagging economies and diminishing empires, it thrived in the global south, especially in Brazil, where it came to express more than opposition to modernism's perfection. "Built from inexpensive, readily available materials, equatorial Brutalism was as accessible and functional as it was symbolically potent, resulting in buildings that would define new societies growing around them like vines," writes Michael Snyder for The New York Times.
Architects experimenting with Brutalism like Paulo Mendes da Rocha, Lina Bo-Bardi, and Vilanova Artiga, and the structures they left behind, have had monumental influence on his work. "Their built/un-built legacy — mostly in the form of concrete monoliths — is pure poetry to me," says Robles.



The

Sampa

series, inspired by São Paulo. The name "Sampa" is the locals' nickname for their city.



Often visiting São Paulo, Robles decided to create lighting designs that would reflect the industrial materials of Brazilian Brutalism, as well as the repetitive trapezoidal and triangular geometry of the city's architecture. The resulting Sampa Light is constructed from an angular bifold sheet of metal. "When grouped in large number of modules, its geometry creates a rich cascade of lights and shadows that can be arranged in endless possibilities," he says.
A mock-up of the Chan Chan Tourist Station by Robles's architecture arm, Utopus Studio.


Inspiration 2: Indigenous Cultures of Peru
In Peru, Robles designed buildings at World Heritage sites, including visitors' centers at Huaca de la Luna (an adobe temple built in the early years of the first millennium) and Chan Chan (a Chimor city first established in 850 AD). While modernism and Brutalism influenced much of his education, Robles is also careful to understand and respect the Indigenous cultures for which he designs historically specific architecture and objects. "Whereas mainstream architecture tends to evaluate buildings on elements such as style, function, and form, the measure of Indigenous form is around its cultural meaning," writes Theodore Jojola in an essay for a 2017 exhibition pamphlet at Cooper Hewitt, called By the People: Designing a Better America. In Peru, "monuments surround you," Robles says. "Monuments are part of the daily life of people." The prevalence of historic buildings helps to generate cultural meaning and identity for Peruvians. In some cases, they even suggest resistance to globalization and colonization. The Kusicancha in the middle of the city of Cusco, for example, served as the palace of an Inca King, and was buried under a Spanish convent until an earthquake revealed its remains.
In his work at monuments and archaeological sites, cultural meaning is emphasized alongside formalistic considerations, marrying modernism with local culture. He sees modernism and Pre-Columbian vernacular architecture as similar. "Monolithic volumes and the focus on expression of the materials — that has a lot in common with ancient architecture," he says. "Modernist architects also looked at history as their source of inspiration and reference," he says. "Those references can inform and generate new architecture or other forms of design."
The cane and bamboo latticework entryway to the visitors' center at Chan Chan reflects global architecture references as well as local building techniques. Alongside the influences of modernism and local history, Robles adds a whimsical reference to hummingbirds in the furniture he designed for the cafeteria at Chan Chan, which later became his Quinde collection for Lumifer. "It references the lines and geometry of Chan Chan, but also has a playful side," he says. In other works like the Quilla Five-Point Sconce, Robles blends the modern and Brutalist inspiration indigenized in Brazil — the exposed form of the light and use of steel — with a reference to the Inca who charted the moon cycles in its name, Quilla, meaning "moon shine" in Quechua.



Left: A field study archaeology lab designed by Robles in the Dakhleh Oasis in Egypt, which boasts three millennia of remains from Egyptian and Roman cultures. The Dakhleh Oasis project is designed to explore how humans interact with their environment. Right: The

Lotus Table.

Inspiration 3: Archaeology of Egypt
Although specialization may influence architects to choose different technical fields in architecture, construction, or product design, many of the most iconic designers from Alvar Aalto to Zaha Hadid have moved comfortably between different spheres. This practice has historical precedent throughout different cultures. "In an Egyptian temple, you see an articulated interior that's related to the building," says Robles. "It's an intimate connection that you establish between a chair, a coffin, a headrest — it reflects the building's design." The lotus theme, he notes, ran through the various elements of an Egyptian temple's interior decor, from low-placed elements like the details of chair feet to items seen at eye level like sculpted figurines, and to objects viewers need to step back from to comprehend, like a sidewalk or exterior archway. "Architecture and product design are extremely interrelated," he says. "It's the scale or medium that changes."
After working at Egyptian archaeological sites, Robles further explored his products' references to Egyptian architectural and decorative typology. Historically, the white lotus was worshipped as a symbol of creation and was believed to connote power — pharaohs like Ramses II were buried with the lotus flower — as well as the union of Upper and Lower Egypt. In Lumifer's Lotus Table, the design concept alludes to both the geometry of the lotus flower and the Nile river.
Inspiration 4: Folk Culture of Mexico
Robles has three citizenships — British, American, and Peruvian. He speaks several languages and travels constantly across the globe, finding inspiration in local histories and global contemporary culture. One of his pieces, the Llorona Floor Lamp was based on his admiration for Mexican culture and the folk song "La Llorona," covered by Costa Rican-Mexican artist and muse to Pedro Almodóvar, Chavela Vargas. Like Robles's work, "La Llorona" features a range of references. In Spanish, llorona means weeping woman, and in Mexican culture, La Llorona was a banshee who grieved the loss of her children. The song is equally mournful, from the narrator's discussion of flowers at a cemetery to his wish to die. In the Llorona floor lamp by Robles, arms curve away from the stem like tears, leaving a wet trail in their wake, simultaneously stretching upward and bending downward toward the subconscious.



Glass-tipped brass arms extend out from the Kyoto Pendant's central node of hand-blown glass shades. The fixture is accented by brass pivot shades to produce a diverse array of lights.


Inspiration 5: War Artifacts from Kyoto, Japan
The Kyoto Pendant was created after a trip to Japan, where he became enamored with ancient weapons and traditional calligraphy. "I was fascinated by their ancient architecture and design, mainly its ancient temples and war artifacts, and how detailing created a narrative of bygone technology and rich yet simple materiality," he says. As Robles explored the city, admiring shrines and temples, he sketched in his notepad, collecting ideas for what would become the Kyoto light. In his final design for the fixture, the linear spokes of the pendant move with the sweeping grace of a curved sword.
"As an architect and designer, I like to use products that have their own 'identity,'" he says. "I believe objects can tell a story, and that, to me, gives character to the surrounding space. Through Lumifer, I strive to include this heritage in every piece I create."