How Nina Edwards Anker Incorporates Biophilic Design Principles
Design that enhances our wellbeing
The Cocoon House on
Long Island, New York by nea studio.
Skylights above the bedroom corridor create a range of colors within the house
, with each color chosen to convey an emotional environment. The deep yellow skylight, placed near the living room, enhances activity by mirroring the color of the sun at its zenith, while the brilliant red near the master bedroom symbolizes the color of sunset and inspires rest. Photo by Caylon Hackwith.
| | |
| --- | --- |
| | |
| | |
S
ustainable design is often touted as necessary for the planet, rather than as an imperative for human health. Refocusing on the reciprocal relationship between humans and the natural world, late scholar Stephen R. Kellert coined the term "biophilic design," which recognizes that humans have evolved over millennia to respond to natural environments and processes. Although many of us now spend most of our lives indoors, often within poorly ventilated spaces lacking natural light, our health and productivity is still innately impacted by our experience of nature. "We are just beginning to find that these environmentally impoverished habitats foster fatigue, symptoms of disease, and impaired performance, and the simple introduction of natural lighting, outside views, and vegetation can result in enhanced health and productivity," Kellert wrote in a 2015 essay for Metropolis.
Using biophilic practices, designers and architects create spaces based on our affinity for nature. Architect Nina Edwards Anker of nea studio has built her career on biophilic residential design and public projects. Through her architecture studio and sustainable product lines, as well as her involvement in technology innovation groups Terreform ONE and New Lab, she helps to further the exploration of nature-influenced design industry-wide. Here, we explore how Edwards Anker incorporates biophilic elements into her design practice.
Nature-Influenced Objects



Left: Designed to look like a wave in the ocean, the stainless steel

Cantilever Table from nea studio reflects light. Photo by Caylon Hackwith. Right: Nea studio's Algae Lamps are crafted from seaweed. Photo by Caylon Hackwith.
When incorporating natural elements into a project, it's easiest to design new constructions on the shore or in the country, with the opportunity for landscape views and flowing natural light. Every project, however, brings its own potential. Sustainable architects — especially those that, like Edwards Anker, specialize in limited square footage — maximize natural light and improve air quality even in cramped city apartments lost in the shadows of high-rises. In products, organic forms also help to reflect nature. "Even in a basement you can add natural materials and nature-inspired shapes," says Edwards Anker. Nea studio's translucent Algae Pendants, for example, are crafted from seaweed, connecting the space they hang within to the ocean.
Purpose-Driven Minimalism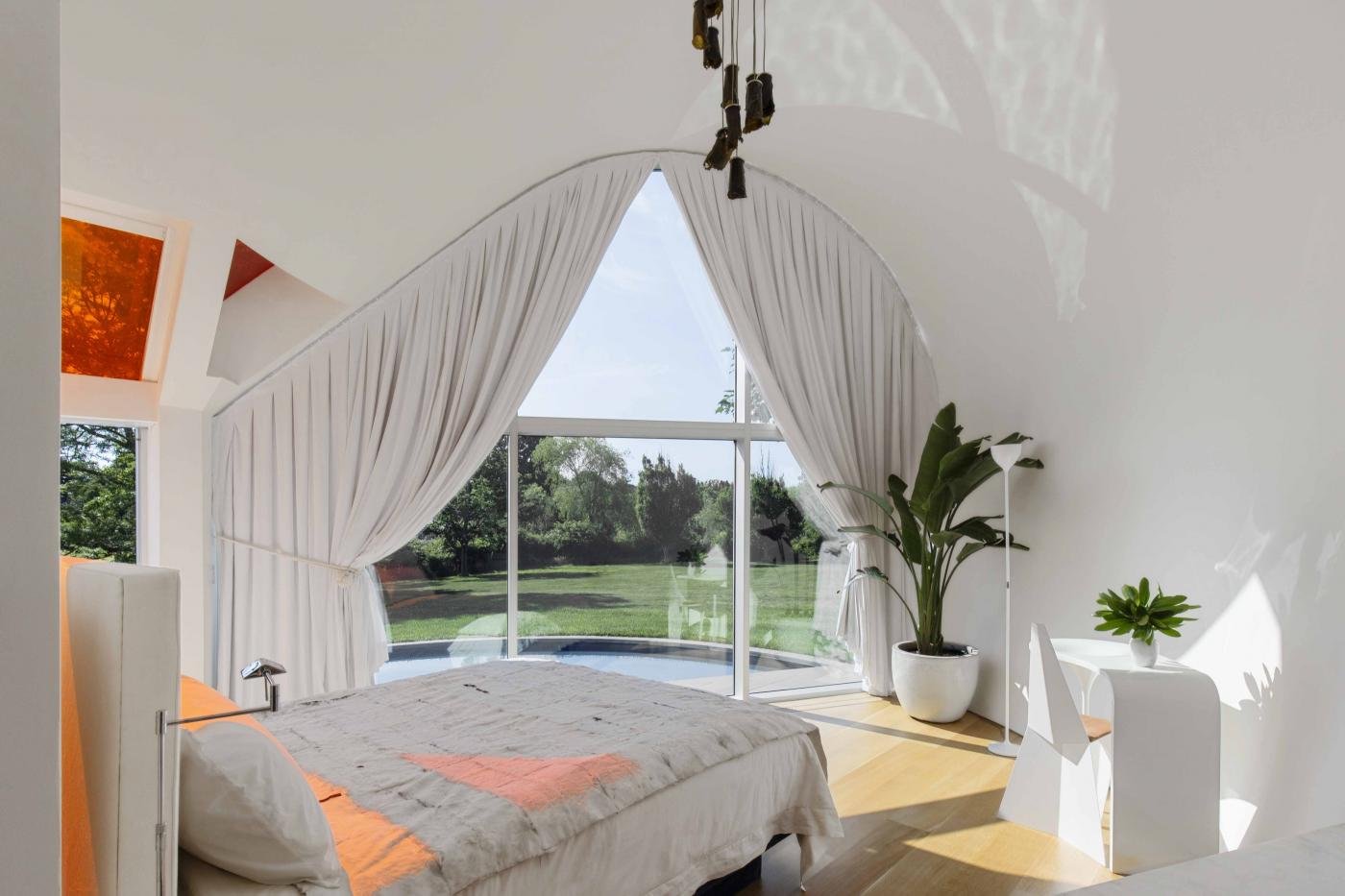 The curved window of this bedroom looks out over the lawn. A red skylight is visible on the left-hand side of the image; products include the Algae Lamps overhead — styled here as pendants — as well as the Crystallised Chair and Vanity Table, the latter of which was inspired by the vast snowscapes of Norway. Photo by Caylon Hackwith.
Biophilic design involves an integrated, holistic environment in which each element complements the other to benefit the occupant of the space. For Edwards Anker, as with other designers, Scandinavian and Japanese-style minimalism pair well with healthful design through their clean, open areas and meaningful objects. "It's like a Japanese tearoom," the architect says. "There's not much there, but when a flower vase is there, it's placed purposefully." Clients who own a lot of furnishings may not have the capacity to create a relationship with each object, which would help them to appreciate and feel at home in a room. Whenever possible, Edwards Anker emphasizes minimalism, along with its necessary counterpart — expansive storage space.
Innovative Technology
Edwards Anker is a founding partner at innovative tech firm New Lab in Brooklyn, which collaboratively develops technology that responds to shared social, environmental, and health challenges across the world. Partnering with industry leaders like Ford and Verizon, New Lab is currently using pilot projects to develop solutions for safer workplaces, applications for 5G technology, and equitable transportation strategies, among other areas of exploration.
Within technology, solar lighting particularly interests Edwards Anker, a field she explored in her doctorate degree at the Oslo School of Architecture and Design in Norway. She designed the Solar Chandelier for the award-winning Cocoon House, a Gold LEED-certified project in Southampton, New York, featuring exposed photovoltaic modules that illuminate the mirrored panels of the lighting fixture. Functional even on cloudy days, the chandelier reflects the outdoor environment, and like a wind chime, it makes gentle sounds when positioned near an open window. She notes that the chandelier stimulates the auditory and visual senses; similarly, the solar functionality helps clients to consider the rhythms of nature in their daily lives.



Left: With the

Latitude Light, clients can change the angle of the photovoltaic panel depending on the latitude of their location. Right: Warm yellow light in the bedroom of the Cocoon House. Photo by Caylon Hackwith.
The architect's solar lighting fixtures are programmed to turn on as soon as dusk fills the room with shadows. A soft, white glow like moonlight emanates from the translucent shells of the Solar Chandelier during bright nights. When the lights flash on at the end of a day, reminding inhabitants of the sunset outside, "It's this magical moment of connecting with the sun that happens unexpectedly," she says.
Organic Materials



The

Beanie Sofa

from nea studio. Right: Photo by Caylon Hackwith.
Because elements of sustainable design, like the Solar Chandelier, tend to appear futuristic and technological, she recommends combining ultra-tech objects with natural accessories like seashells. Plush furniture, too, makes a room comfortable and livable. Designing each product in-house with her team, she experiments with replacements for harmful materials like polyurethane, which can cause allergic reactions, and works alongside manufacturers invested in innovative, organic materials. Her sculptural Beanie Sofa, for example, is crafted from organic latex and lentils; with its artistic design and comfortable structure, Edwards Anker calls it a "sofa for wellbeing." The Beanie's sustainable and contemporary design garnered it an Honorable Mention in The Architect's Newspaper's 2019 Best of Products Awards.
Thinking Toward the Future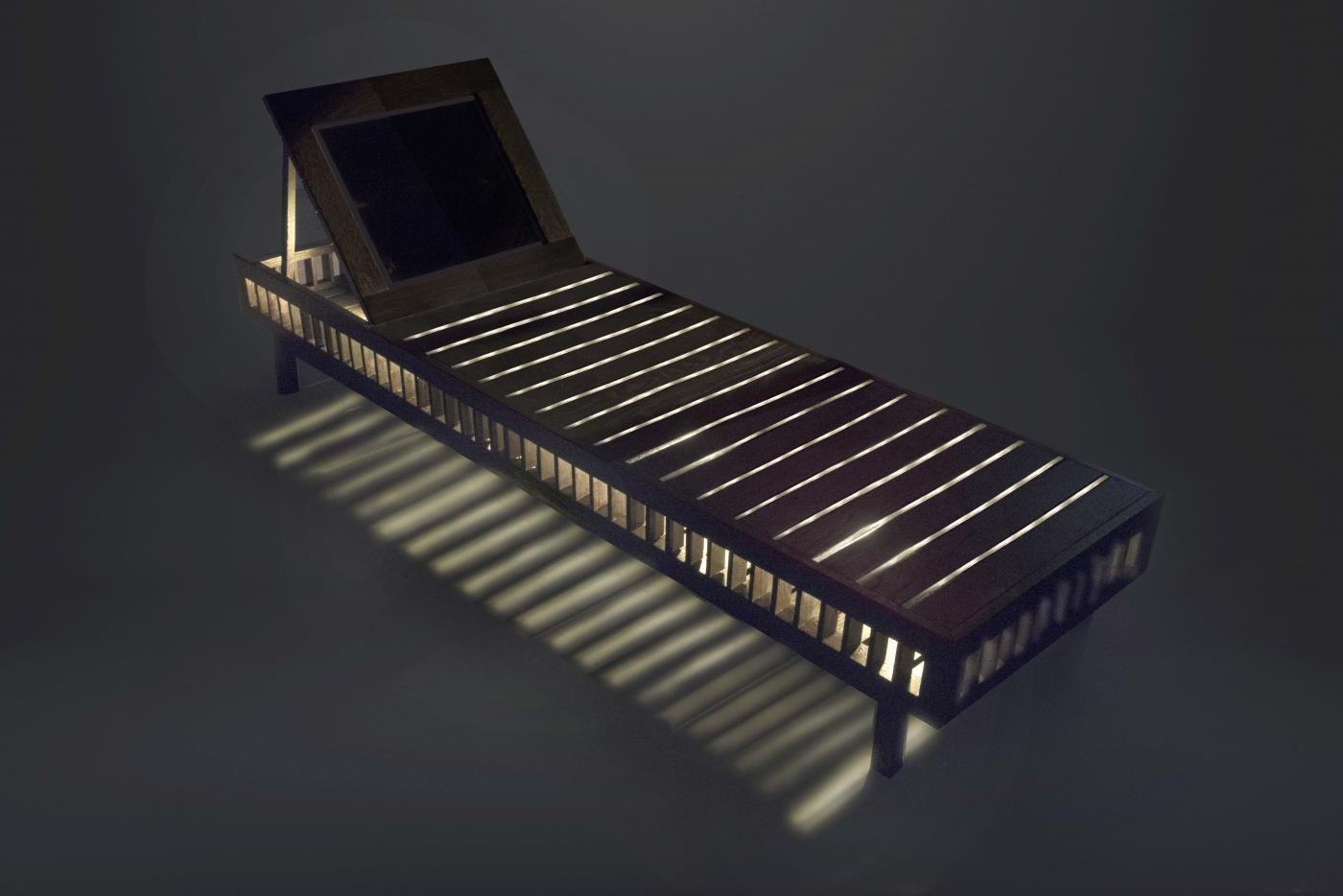 During the day, the Solar Lounger from nea studio absorbs light through its photovoltaic panel so that it can illuminate itself at night.
Through her architectural and product design, as well as her work with New Lab, Edwards Anker imagines how biophilic technology and design can improve clients' lives in the future, not just the present moment. Next year, her forward-thinking product design will be the subject of a solo exhibition for Archtober — a month-long festival in New York City and its environs that celebrates architecture — at the New Canaan Museum and Historical Society in Connecticut, as well as a group exhibition on innovative design at the Venice Architecture Biennale. At the show, she plans to include a number of objects still in the production process, such as her newly designed Sun Calendar. Tilted to follow the sun, the calendar will be made up of hanging photovoltaic panels assembled into a grid pattern. When facing a view, the panels seem to shatter the landscape. In the architect's words, "The small, square mirrored PV panels represent the way technology fragments [digital] time versus biological time."



Left: the flexible

Bird Bed from nea studio is made from recycled metal. Photo by Caylon Hackwith. Right: the Crystallised Chair from nea studio. Photo by Caylon Hackwith.
Previously, the architect has designed installations for other exhibitions, especially in the Bronx. For the 100th anniversary of the Bronx Exposition of Science, Art, and Industries in Starlight Park, her studio received a grant to build a six-part bench segmented by solar-powered star panels in the shape of the Big Dipper. In the Riverdale section of the Bronx, she designed an S-shaped network of solar pyramids for waterfront visitors to appreciate or lounge against. Public-use projects expand her repertoire and give her new, biophilic ideas to experiment with, and eventually, many of the works that she designs for parks and exhibitions may also be incorporated within residential contracts. The Solar Loungers, featured outside the Cocoon House, were first designed for the Riverdale section of the Bronx Greenway.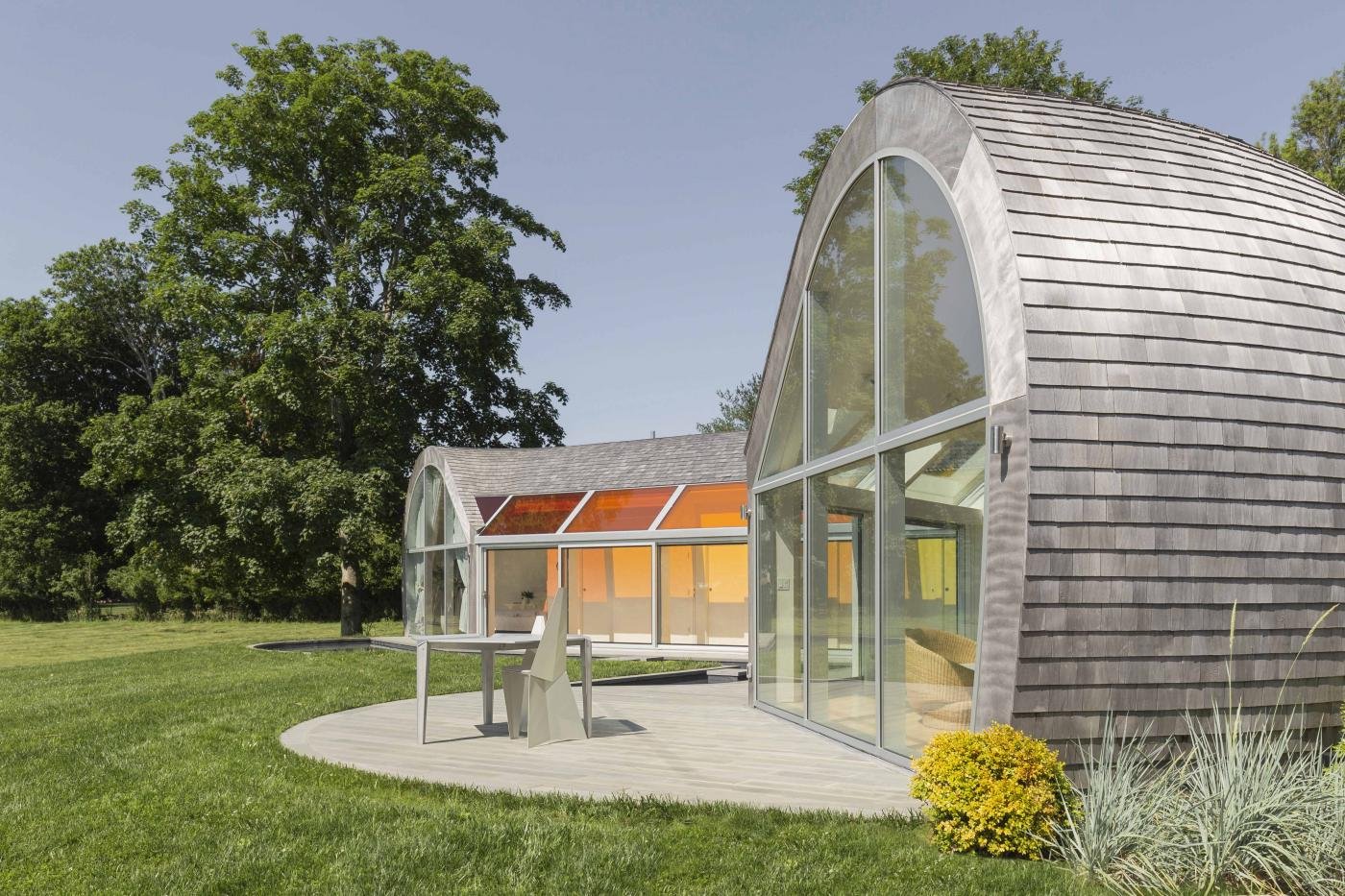 Cedar shingles decorate the north side of the Cocoon House. Photo by Caylon Hackwith.
From public installations to Manhattan apartments, and from architecture to product design, the same principles of biophilia animate each project that nea studio takes on. Her design work helps clients remember that humans used to live as part of nature, rather than apart from it, and that they can do the same.
VIEW THE COCOON HOUSE FROM NEA STUDIO