Handcrafted Details Bring Warmth and Elegance to Mawlana's Fine Furniture
A collection of handcrafted furniture from Mawlana decorates owner Brett Paulin's studio. From left to right: the Hypatia Side Chair, the Constantine Cabinet, the Vincent Lounge Chair and Ottoman, the Dietrich Side Table, and the Kudra Console Table.
| | |
| --- | --- |
| | |
| | |
T
oronto-based designer Brett Paulin is the one-man powerhouse behind the artisanal furniture brand, Mawlana. Trained as an interior designer and fine artist, Paulin designs and builds each piece himself. His line is based around easy, instant classics, from updated leather lounge chairs to cocktail cabinets with a twist — modern furniture that looks at home in a range of interiors and forms the foundation of a curated collection for years to come. "I think what I'm trying to achieve is to create a connection," says Paulin. "I believe everything we surround ourselves with should be meaningful, or something we love."
Creating beautiful, heirloom furniture requires skill, time, and patience. We talked with Brett about his dedication to fine hand craftsmanship and his approach to designing collectable objects for Mawlana.



In this version of the Vincent Chair, a hand-woven seat brings added depth to the design.
The Vincent Braided Leather Lounge Chair
First created: 2018
Materials: Black walnut, hand-braided and hand-stitched leather
How long it takes to build: Three weeks
Lead time: Four to five weeks
How did you come up with the idea for the Vincent Braided Leather Lounge Chair?
Vincent is my grandfather's name — he had a lounge chair in his basement clubhouse when I was a kid, and he loved lounging in it. He was a very important person to me. This design was one of my first for the company, and it made sense to dedicate the chair to one of the most special people I will have ever known.
What does braided leather bring to the piece? What are other standout details?
The braided leather takes a long time to make. Each piece is cut to one-inch thick, and then you have to make a jig or a frame to get the shape of the seat right so that when you're braiding, all the pieces are aligned and stay together. It's a tedious job, but I think it's well worth the outcome. I hope first and foremost that the amount of work it takes communicates why I make furniture — because I love it. I want my pieces to be special and loved, and passed on through generations. In person, you really get a sense of the handmade details in the chair, from the hand-cut, painted, and braided seats to the hand-stitching and beautiful walnut frame.
WATCH: Brett Paulin crafts the Vincent Chair.
Who do you envision using this chair?
I envision people reading books in this chair. I see a dog sitting at their feet near or on the ottoman, along with low lighting — but enough to read by — and candles, incense, art, some Bill Evans on the stereo.... I see a happy, fulfilled, loving, and enriched life.



The Dietrich Side Table can be customized with different lacquer colors and types of marble.
Dietrich Bauhaus-Inspired Round Marble Side Table

First created: 2020
Materials: Carrara marble, maple with lacquered finish
How long it takes to build: Two weeks
Lead time: Four to five weeks
The asymmetric style is unusual here. What was the inspiration for the silhouette?
The silhouette combines a German Bauhaus-style of order and minimalism, but it's skewed and features a bold color. Strength and individualism clearly are exhibited while co-existing alongside form and structure.
Where do you source materials for your furniture, like Carrara marble and maple?
I get all of my wood from a Canadian supplier, Exotic Woods, in Burlington, Ontario. The Carrara marble comes from a source that is probably the oldest marble supplier in Toronto. They work with me to get cuts and pieces from larger projects that would end up destroyed if unused. In this way, I have access to a lot of different and unusual types of marble and granites in addition to Carrara marble.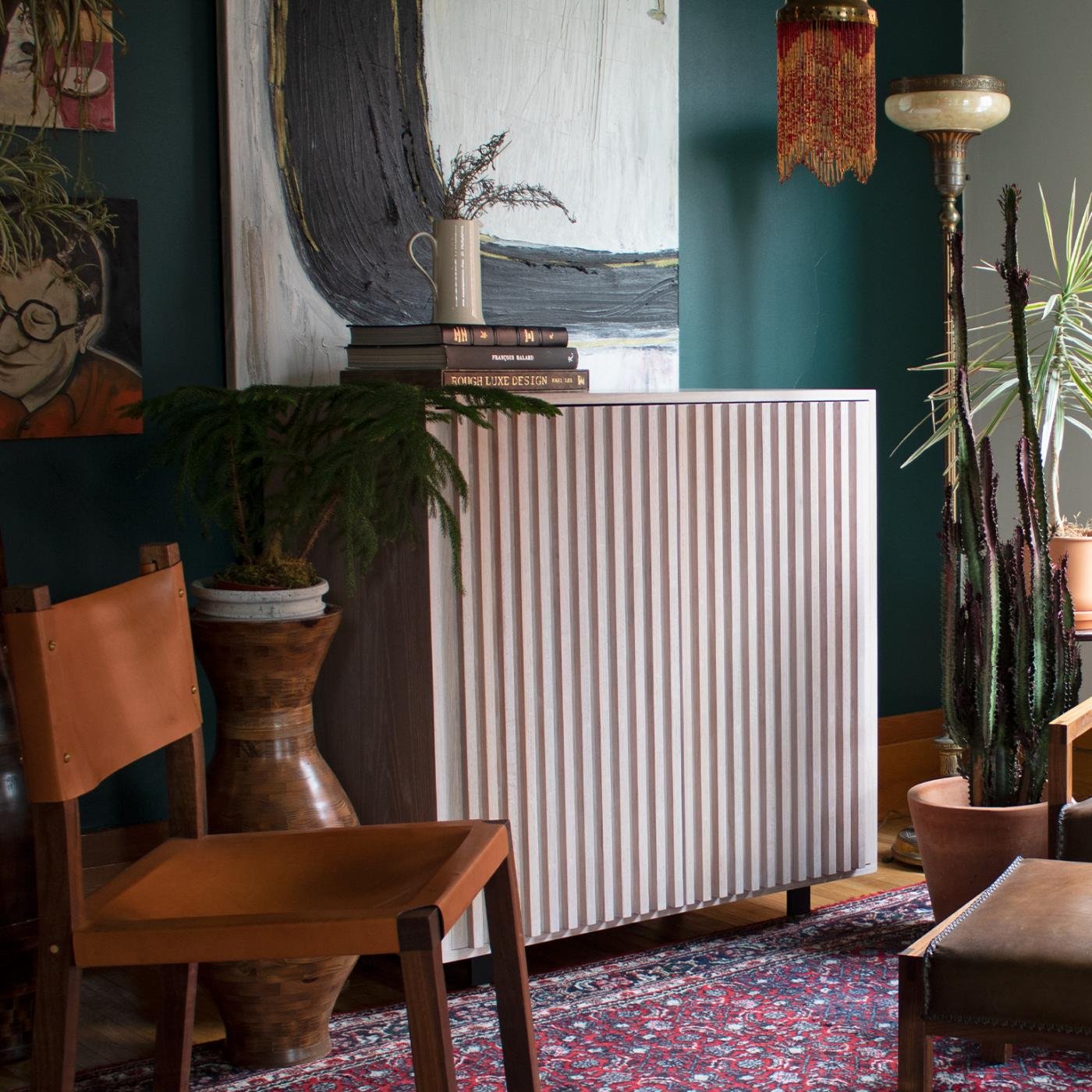 The Constantine Cabinet features vertical ribbed detailing across the front.



The silver finish adds a subtle glow that gives the piece an artful effect. Interior fittings can be customized to suit with drawers and shelving.
Constantine Oak Cabinet in Silver Finish
First created: 2020
Materials: Stained oak, brass, steel
How long it takes to build: Three weeks
Lead time: Four to five weeks
How do you see the Constantine Cabinet being used?
This cabinet is a great storage piece — especially for entertainment needs, like records, amplifiers, etc. These cabinets are exciting for me because each one is customized for the client. We can add drawers, shelving, adjust the size, and do whatever is best for the intended use.
How do you create and apply the silver finish?
The finish is from a great company called Rubio, which I also source from Exotic Woods. This is a great product because it's environmentally responsible with 0% VOC, and it has a beautiful look.



The Ma'shar Light Fixture is hand-gilded with gold leaf.
Ma'shar Gilded Flush Mount Light Fixture

First created: 2018
Materials: Hand-gilded steel
How long it takes to build: One week
Lead time: Two to three weeks
How do you envision this fixture being used?
This light is a great accent for moody spaces. The gold glow and the shadow cast on the wall behind the diffuser add a neat element of shape and color to a room, especially when mixed in with some art. They also look cool on a ceiling.
Who was the person, Ma'shar, whom the table is named after?
Abu Ma'shar was one of the earliest recorded Persian astrologists. I have a lot of reverence for ancient Persian scholars. I am interested in the human history of knowledge, education, and experimentation, and how we still reference the findings of these early scientists and artists. I want to stay connected to our human desire for wonderment, our understanding of our place in the universe, and how we interact with the natural world.