Orbita Handcrafted Furniture Gives Us More of What We Need and Less of What (We Think) We Want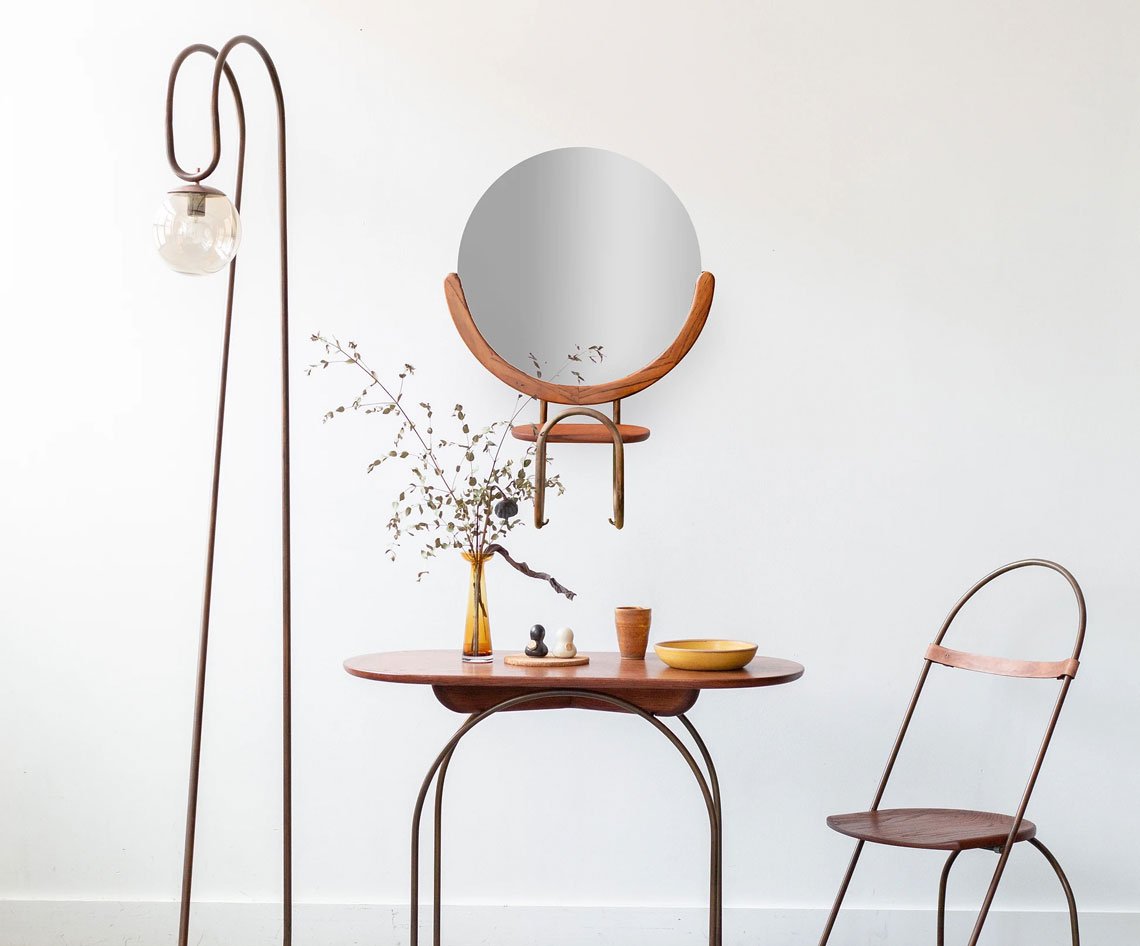 Orbita Furniture's minimalist aesthetic is a balance of pared-down forms blended with graceful curves and warm patinas.
Orbita Handcrafted Furniture Gives Us More of What We Need and Less of What (We Think) We Want
By Benjamin Genocchio
| | |
| --- | --- |
| | |
| John Schluter, founding designer of Orbita Furniture. | |
You are the founding designer behind Orbita Furniture, please tell us about your background and how you came to found the company, and why?
My background stems from a lifetime of exploring the world through art. For as long as I can remember I have been excited and intrigued by art and how you can use it to explore the extent of our physical reality. This exploration led me to find furniture and how furniture can be used in the home to create harmony and balance in one's life — balancing the chaos of the world with a sense of peace and harmony inside your home. Orbita was created as a vessel for this exploration, a mothership so to speak, that funnels these ideas into new designs for the home.
You are based in Northport, in New York, is that where the furniture is made?
Orbita Furniture is all made in our shop in Northport, New York. A majority of the construction is done by me. I pass each piece through a rigorous process from the raw material to the finished product. Everything from cutting and milling the wood, bending and welding the metal, applying the patina and finishing of the piece is all done in-house to ensure the utmost quality in the final product.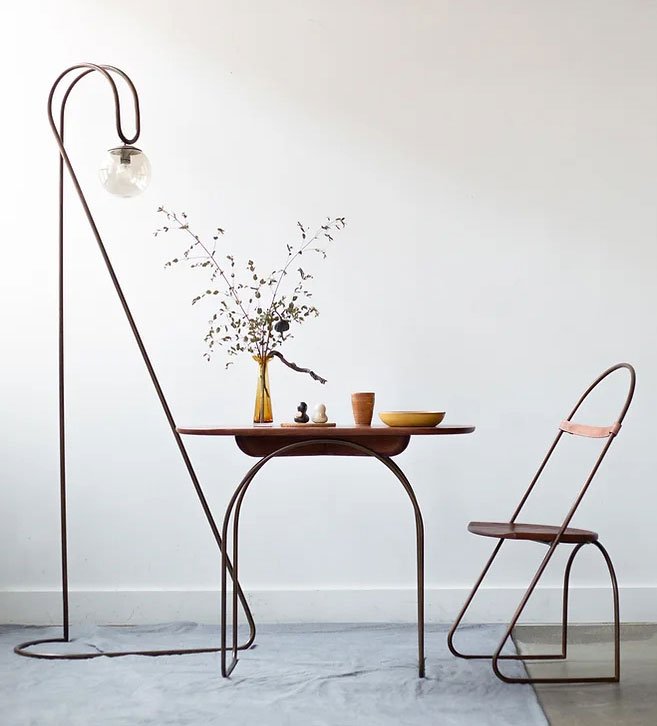 A serene dining setting featuring the Path Lamp, Path Table and Path Chair, or add a second Path Chair for intimate dining à deux.
Tell us about the process of creating a design. How do you begin?
Everything starts with pencil, paper, and an idea. To me, this is the easiest method to get ideas down and develop a design that can be built. After a few sketches and the design is somewhat finalized I start to figure out exact measurements and then put it into 3D rendering with a computer.
Bent steel tubing and oak are often your preferred materials, is there a specific reason for this?
In the Path collection, I use the bent steel tubing specifically to achieve the look of a line drawing in 3 dimensions. The oak is used to provide utility for each of the pieces, a surface to achieve the original purpose, and the need for furniture in the first place.



The Path Cabinet and Path Mirror round out the collection. The collection comes in two colorways: solar flare (sepia/ copper tones, shown here), and dark matter (tinted/ black tones). Custom color options are available.
Are there any materials you haven't worked with but would like to experiment with?
I've been interested in cast cement to create a heavy stone feel. I want to create a collection that has a strong presence of cast cement sculpture with the elegance to keep in your house as a piece of furniture. I'm also looking to get into a little bit of upholstery with this next collection, in juxtaposition with the heavy cement.
It seems to me that a strong sense of aesthetic harmony is an important idea for your designs and design process overall. Can you explain what harmony means to you?
Harmony is a term I use a lot to describe Orbita and the furniture that we produce. To me, this is what furniture is all about. Finding this harmony within your home helps us to face the outside world with reassurance and vigor that a disorganized, disharmonious internal home cannot provide. Our home grounds us and provides us with a sense of security.
What are you working on now?
I'm experimenting with a few techniques for casting concrete. I'm also working on a Path chair with a walnut seat and a chrome frame, as well as a chrome frame floor lamp. I am extremely excited to see the results. There is also a Trunk style cabinet that will express the same language as the rest of the Path collection.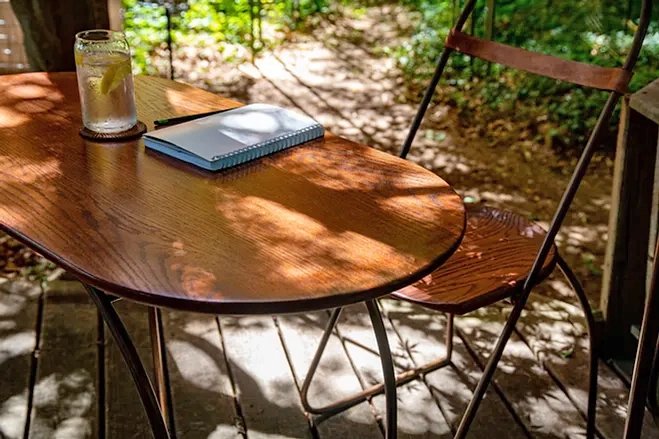 The Path Collection is built by hand with solid oak and hand-bent and burnished tubular steel.
What is distinctive about the way we live today and are there specific products in your line that are intended to try to meet the challenges of life in the 21st century?
I think we live in a hyper-fast-paced environment today and it seems like it's only going to continue to get faster. Everything from food to products to advertisements comes and goes in the blink of an eye. I try to offer the chance to create a harmonious home environment that balances the energy away from the fast-paced world outside. This is becoming more and more nourishing as we continue into the 21st century. This simplicity through design extends all the way through to the manufacturing of each of the furniture pieces as well. If we minimize our carbon footprint and use more sustainable practices, we can create a similar sense of simplicity and less impact.
| | |
| --- | --- |
| | |
| The Path Collection home office — all you need and everything you want. | |
You have designed several innovative designs, but one I like the most is your floor lamp, the Path Lamp, which is customizable. Is all your furniture customizable?
The Path Lamp is a favorite of mine. Even the process of building it is fun, and there are a lot of angles and measurements to take into consideration with this piece. I appreciate customization; I like to have a conversation and formulate the intent and purpose. Whether it's a different finish on a piece, or a new idea all together.
The Path Cabinet is also innovative, mixing old and new ideas and various materials. How did that design come about?
When thinking of the Path Collection as a whole I felt like it needed a piece to hide everyday essentials. With this piece, you can put away the things that you deem to be essential whether that be a bar cart, a bookshelf, or a knick-knack shelf. The cabinet itself has a lot of room to maximize this use.
What are your sources of design inspiration?
My sources of inspiration primarily come from nature with the main focus on the macro scale, such as looking at visual examples in outer space and beyond. I also look to a more micro scale, things up close and even invisible to the human eye. Space exploration has always been a huge curiosity and the idea of the unknown gets me excited for what's to come as we explore beyond our earth. There are so many patterns and geometric systems that are right in front of our eyes. If we think creatively, we can use this to our advantage and craft a world of beauty.
You work with clients all over the world. From your perspective, what do you see as the prevailing taste or trends in international interior design right now?
I like to think that we are on a quest back to nature, combining this with a simplistic approach to live a more harmonious life overall. I am looking forward to seeing a resurrection of integrity and a mindful eye on what's important to be truly happy. Maybe all this "noise" we have been victim to could be left behind for a clearer path ahead. A path of least resistance is becoming more and more necessary.