An Abundance of Inspiration: Statement-Making Fine Art from Irena Orlov
A black and white mixed-media artwork from Irena Orlov. Born in Ukraine and based in Los Angeles, Orlov is a fine artist, architect, designer, illustrator, and photographer.
International hotels, wellness settings, and office buildings have acquired her personality-rich work.
| | |
| --- | --- |
| | |
| | Irena Orlov |
L
os Angeles-based artist Irena Orlov approaches fine art as an exploratory process. Originally trained as an architect, she now makes sense of her changing emotions and environment through various artistic mediums on wood and canvas. "Creating art gave me what I ultimately wanted — endless ways of expressing myself," she says. Her pieces often incorporate mixed media, acrylic, oil, pastel, watercolors, and pencil to interpret a concept or feeling. Despite its diverse materials and techniques, her artworks communicate a similar message: they celebrate life and invite viewers to reflect on their memories of joy.
Her artworks run the gamut from cheerful florals and vibrant abstracts to collage and "new media," a modality encompassing digital art, computer animation, and 3D printing. Most recently, the rise of cryptocurrency inspired her to translate the concept of digital money into mixed-media graffiti art. Below, she talks about her how she translates her perceptions into fine art.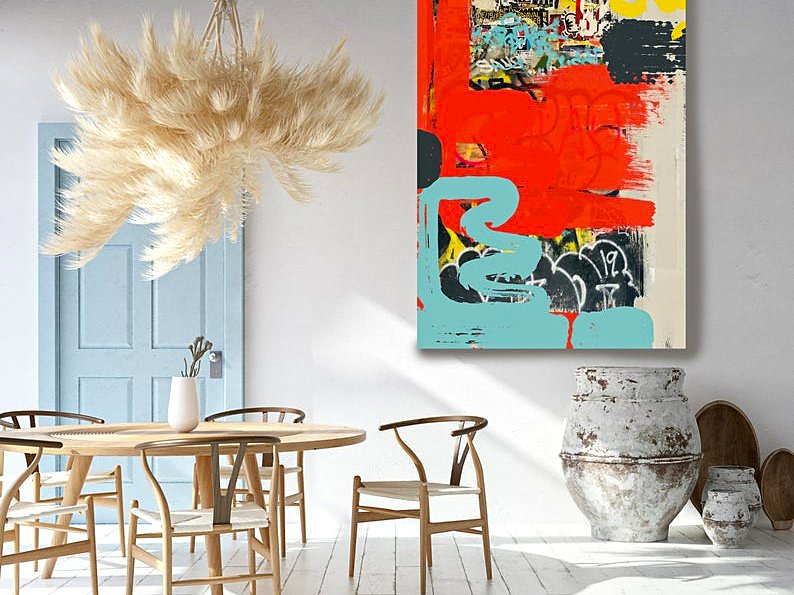 Orlov's paintings and mixed media pieces investigate color through different types of line and brushwork.
What are you communicating with your work, and how does it reflect your life experience?


My world is very colorful. Through my work, I try to convey the beauty of life and improve reality. Everything in the world changes so fast — from second to second, I'm never living in the exact same world as I was before. Life unfolds in moments. Capturing those moments that are full of emotion is the key to my art.
Shop the Style:





Red Grey Abstract No. 6
45" x 45"




What Did You See?
44" x 72"






Natural forms often inform her artworks.


When you have an idea for an artwork, how do you choose a medium?


It often feels like my medium chooses me. The range of mediums that I work with is quite wide, it encompasses painting, graphic art, and digital media. There are no boundaries for me. Because I enjoy experimenting, I learn techniques and new kinds of media quickly. And whenever I start a new painting, I never know what will come of it, even up until the last moment.
Shop the Style:



Vibrant Colorful Abstract
40" x 60"




Sage Pink Grey Mid Century Modern Painting
40" x 60"
Many of her pieces, such as the one above, incorporate a range of materials.

How many styles do you integrate into a single piece?

As many as it takes! I never limit myself to a specific style or medium.



Here, floral and abstract pieces complement a living area, dining room, and bedroom.
You're a prolific artist. How are you able to produce as much work as you do?

I am constantly creating and generating new ideas for my work. I can't live without producing art — it's a strong inner need. I paint to relax as well. Whenever I'm painting, that's the most enjoyable part of my day.
Shop the Style:





Gold Leaf Silver Contemporary Abstract
36" x 48"




Green Bunch 3
45" x 45"



tt

Some of her latest works include the black and white paintings pictured above, including

Outbreak (bottom, right)

. "Contemporary and thought provoking, my black and whites will stir the senses and add a sense of movement to walls," she says.
Your black and white paintings represent a new direction for you. What inspired you to create those artworks and which techniques do you use?


These artworks are inspired by technology. In these pieces, I'm combining new media with other artistic mediums. I first paint a digitally created design directly onto the canvas, and then I paint over it with ink, acrylic gels, texturing mediums, and varnishes.
Shop the Style:





Step Outside
45" x 60"




Abstract Poetry in Black and White 3
40" x 60"




Searching for You
45" x 60"





Street art-inspired pieces and mixed-media artworks decorate the rooms above.
Name a few techniques you've experimented with in your artwork.
I love playing with digital art, street art, and acrylic painting in the same piece. Street art particularly appeals to me because it expresses thoughts and emotions, and sends messages to people.
Shop the Style:





Equivalent Exchange 19
45" x 45"




Everything and Nothing
45" x 60"




Beauty Spring Woman

24" x 24"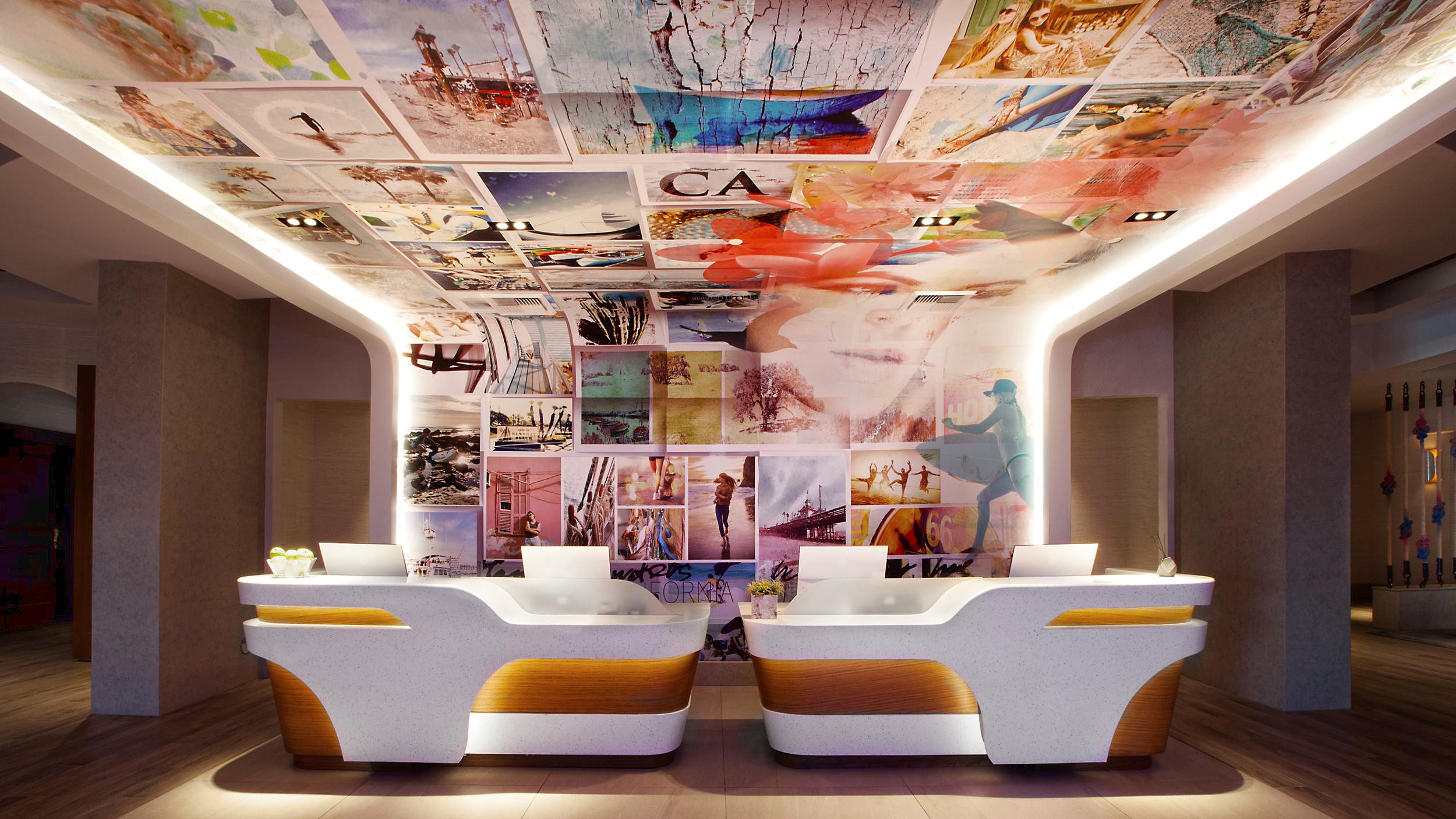 The Renaissance Hotel in Newport Beach, California, commissioned various artists including Orlov to design custom art installations incorporating southern California imagery. Orlov designed the ceiling and back wall at the reception area.

Where are some of the most interesting places that your artworks live?


My artworks are displayed at the Ritz Carlton in Tokyo, on several cruise ships, and at a resort in Las Vegas, among other places. I also created a custom ceiling installation for the Renaissance Hotel in Newport Beach, California, in collaboration with an art curation and interior design firm.



Shown above, her most recent series was inspired by cryptocurrency.

Could you talk about your new paintings inspired by cryptocurrency? What inspired you to create those, and how did you choose which styles to use in the artworks?


I am interested in the concept of innovation. Bitcoin was created in our century, just 12 years ago, and has disrupted the current financial system. The idea of decentralized money completely blows my mind. Since digital art is my favorite approach to media, I also like that bitcoin is a digital currency. It works well in my art.