This Week's Events: VIENNA DESIGN WEEK, Fine Art Asia, Contemporary Glass, J. Pierpont Morgan's Collection, Reynolda & More
SHOWS, DESIGN, MUSEUM EXHIBITIONS
SHOWS
VIENNA DESIGN WEEK
September 28-October 8, 2017
Festival HQ, North: Blaue Haus, 15 Europaplatz 1
Festival HQ South: Sparkassaplatz 15, Sparkassaplatz 4
Vienna, Austria
http://www.viennadesignweek.at

Left: Programmpartner - THE SIXTH SENSE OF A BRAND - Studio Riebenbauer. © Studio Riebenbauer. Courtesy of VIENNA DESIGN WEEK. Right: Vermittlung - Tour 2: Architektur AM Sparkassaplatz - Corona Gsteu © Robert Ruf. Courtesy of VIENNA DESIGN WEEK.

VIENNA DESIGN WEEK is Austria's largest design festival. With more than 190 events in the fields of architecture, graphics, and design, the festival occurs within a variety of locations within Vienna, the focus districts being located around the two headquarter venues (see above) where an abundance of exhibitions and presentations will be held. In its 11th year, the program is meant to open up creative processes and provide opportunities for experimentation. The program includes a varied range of projects, talks, workshops, tours, educational programs, and events.
Last year nearly 40,000 visitors engaged in activities within Vienna, where the city became a platform and showcase for design. This year even greater crowds are expected and the festival will continue its mission to be a platform to showcase design and its essential role within cultures, illustrating how design shapes our world and influences our aesthetic senses and judgments.
Vermont Antiques Week
September 28-October 1, 2017
Weston, Ludlow, and Stratton, VT
http://www.vermontantiquesdealers.com/vermont-antiques-week.html
The Vermont Antiques Dealers' Association hosts Vermont Antiques Week, which starts with an opening preview on Thursday at the Weston Antiques Show held through Saturday at the Weston Playhouse, followed by previews Friday at the Okemo Antiques Show and Ludlow Antique Show and Sale, both open Saturday. Antiques at Stratton Mountain runs the weekend, and the new Vermont Pickers Market at Okemo will be open Sunday.
Fine Art Asia
September 30-October 3, 2017
Hong Kong Convention and Exhibition Center
1 Expo Drive, Wanchai, Hong Kong
http://www.fineartasia.com/index.htm
Fine Art Asia 2016. Courtesy Fine Art Asia.
Asia's leading annual fine art fair crowns the peak of the October art season in Hong Kong. Along with art exhibitions and events across the city, the vibrant art scene attracts a sophisticated audience of dealers, collectors, curators, and art lovers from throughout Asia and the world.
Hosting one of the strongest displays seen in an international art fair, nearly 100 exhibitors from Hong Kong and international galleries will present museum-quality works of art spanning 5,000 years of cultural history, from antiquity to the present day. Exceptional offerings of Himalayan art will be showcased along with a wide range of collecting categories including Asian and Western antiques, jewelry, silver and timepieces, photography, and impressionist, modern, and contemporary art and design. Special exhibitions include "Sculpted Asia," highlighting the exceptional talents of contemporary artists; and "Union and Reunion," which reunites objects originally made as one but separated through time. A series of lectures and educational programs are also scheduled on topics ranging from Tibetan panels, photography in Asia, contemporary Chinese jewelry, and perspectives from female art dealers.


DESIGN
Discover ADAC
September 26-28, 2017
351 Peachtree Hills Avenue, NW, Atlanta, GA
http://adacatlanta.com/discover-adac
Celebrate design as only the South can, with presentations, panel discussions, book signings, and parties with top design talents and editors. Nearly thirty program topics include style secrets, new directions in Southern design, the world of handcrafted fabrics, philanthropy and design fashion, and more.
IDS, Interior Design Show
September 28-October 1, 2017
Vancouver Convention Centre West,
Vancouver, British Columbia
http://www.interiordesignshow.com
IDS Vancouver is the Pacific platform for all things design and the premier showcase of new products and furniture, designers and avant-garde concepts from North America and beyond. Launched in 2004, the show presents current design-forward products and services to consumers and trade professionals and continues to showcase the best in international and local design. Not "just" a fair, the week at IDS is a total design experience with inspirational exhibits, offsite installations and events, influential speakers and leading products.
DC Design House
September 30-October 29, 2017
9004 Congressional Court, Potomac, MD
The 10th annual DC Design House, benefitting the Children's National Health System, includes twenty-three designed spaces, four boutiques, a Decade of Design celebration, and special events. Decorated rooms within the 28,000-square-foot home include bedrooms and baths, dining and living rooms, studies, family rooms, breakfast room, kitchens, and a poolside oasis.
MUSEUM EXHIBITIONS
Fired Up! Contemporary Glass by Women Artists
Through March 18, 2018
Toledo Museum of Art
2445 Monroe Street, Toledo, OH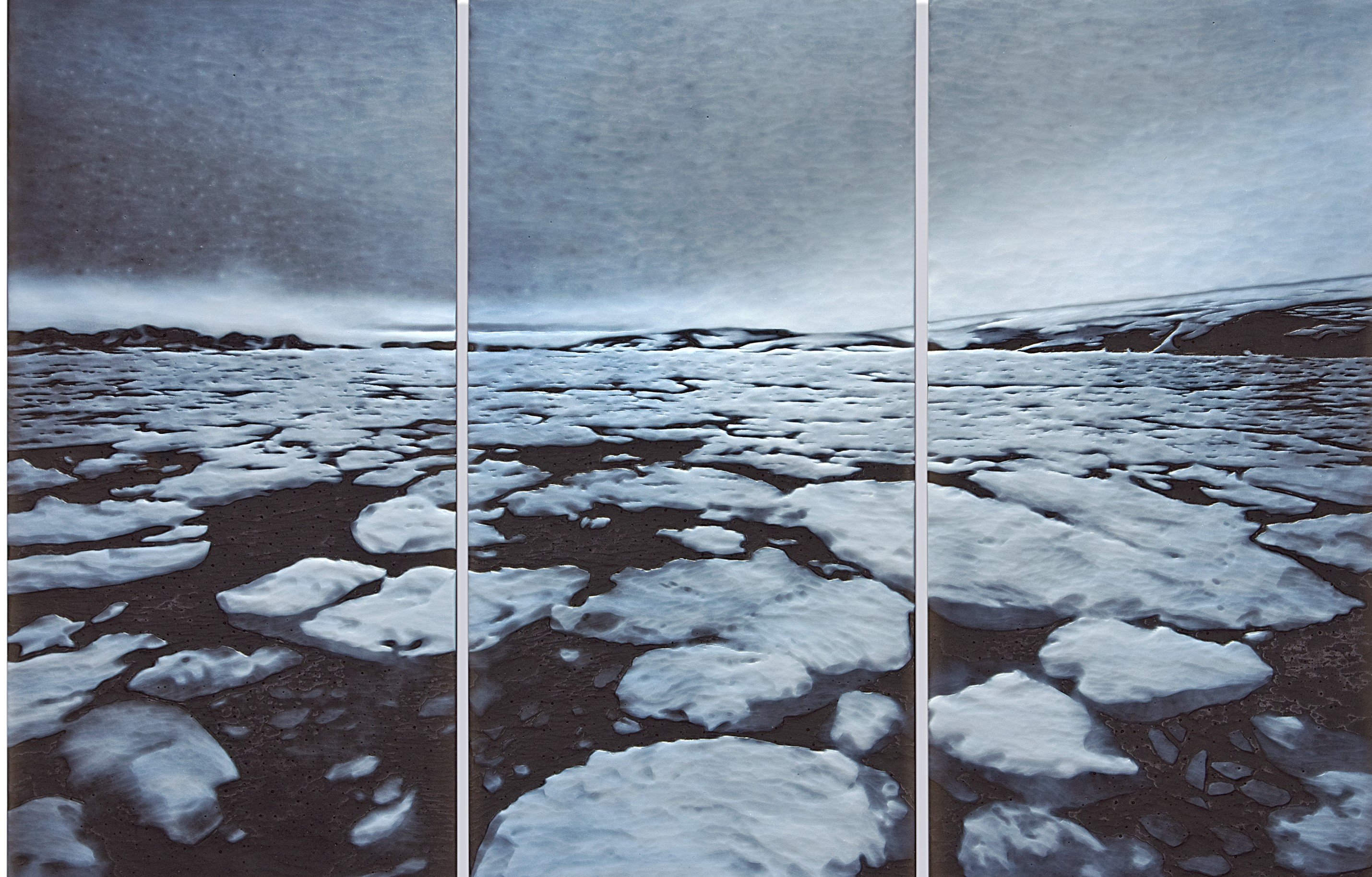 April Surgent (American, born 1982), Sea Ice Moves in Spring - Arthur Harbor, Western Antarctic Peninsula, 2015. Cameo-engraved glass, 18 3/8 x 27 1/2 x 3/4 in. Toledo Museum of Art (Toledo, OH); Purchased with funds from the Libbey Endowment, Gift of Edward Drummond Libbey (2016.1A-C).
Drawn from the Toledo Museum of Art's internationally renowned glass collection, with key loans from notable private collections, Fired Up! is the first exhibition in an American museum to focus on glass art by women artists. The fifty selected works range in size from small scale to life-size and are crafted in a variety of glass techniques documenting nearly six decades of work.
The period covered stems from the Studio Glass Movement of the 1960s—that originated at the Toledo Museum of Art—to 21st-century innovations. The storyline reflects the uphill battle many female artists have faced in the male-dominated craft and the significant contributions, impact, and vision these and other women have made to the field.
Morgan: Mind of the Collector
Through December 31, 2017
Wadsworth Atheneum Museum of Art
600 Main Street, Hartford, CT
Left: Pot-pourri vase, ca. 1752–53. French, Vincennes Porcelain Factory. Soft-paste porcelain. Wadsworth Atheneum Museum of Art; Gift of J. Pierpont Morgan (1917.982). Right: Spartan warrior, ca. 510–500 BCE. Greek.Bronze. Wadsworth Atheneum Museum of Art; Gift of J. Pierpont Morgan (1917.815).
Financier J. Pierpont Morgan (1837-1913) was unprecedented in his thirst for collecting. In Morgan: Mind of the Collector, the Wadsworth Atheneum celebrates the more than 20,000 works of art this man-of-the-world amassed in a twenty-three year period of traveling the globe. From rare books and manuscripts to sculpture, paintings, works on paper, silver, porcelain, glass, etc., etc., more than 100 of these rare objects are brought together in this exhibition to illuminate Morgan's interest in the decorative footprint of international culture.
The Atheneum's connection with Morgan reaches back to his grandfather, Joseph, one of the museum's founders. Born in Hartford, Pierpont and his father contributed $150,000 to the museum, with Pierpont later commissioning and funding the $1.4 million Morgan Memorial in his father's honor, more than doubling the museum's size. In 1917, Pierpont's son, Jack, donated nearly 1,400 objects from his father's collection to the Atheneum, forming the core of the museum's European decorative arts collection. Morgan: Mind of the Collector corresponds with the centennial anniversary of the gift.
Reynolda House Centennial
Reynolda House Museum of American Art
2250 Reynolda Road, Winston-Salem, N.C.
In 1917, Katherine Smith Reynolds and her husband, Richard Joshua (R. J.) Reynolds, moved into their newly furnished estate outside of Winston-Salem, North Carolina. Fifty years later, the 64-room bungalow opened to the public as a museum dedicated to American Art. Since this summer, a yearlong celebrations began to celebrate these two milestones, with landmark exhibitions and events, including the publication this September of Reynolda: Her Muses, Her Stories, the first book to chronicle the history behind the acquisitions of select works, which stemmed from the original nine paintings to the current collection of more than 250 works spanning more than two centuries of American art. For information on the publication, click here.