Twenty First Gallery presents IMMERSION, a Solo Exhibition of Works by Emmanuel Babled
Opening Thursday, October 8th, 6–9pm
TWENTY FIRST GALLERY will be kicking off of the fall season at their new Tribeca location with Emmanuel Babled's second solo exhibition titled IMMERSION. The opening reception will be Thursday, October 18th, from 6:00-9:00 pm at Renaud Vuaillat's newly relocated design gallery, a stunning 2,500-square-foot space located at 76 Franklin Street. On display will be Babled's iconic pieces as well as the unveiling of major new designs. Please join us and meet this fascinating artist, who melds the finest tradition of traditional craftsmanship with the latest in innovative technologies, from 3D printing to digital sculpting to robotic milling.

QUARK WOOD, 11 elements, elm wood, limited edition of 7 + 2 AP
The Quark series of low coffee tables blends the exploration of materials and production techniques to give birth to unique monolith tables. Quark explores prime materials such as wood and marble, as well as using materials like Plexiglas, bronze, and copper, challenging traditional methods of Italian craftsmanship and design. This is combined with the use of digital tools, whose precision gives the tables' form. Quark can be customized with different materials and sizes from 3 elements up to 20 elements.
Emmanuel Babled's method is driven by mental immersion, emotional engagement, and human interactions. He is deeply committed to the integrity of the design process, to understanding and experiencing the culture and social conditions of the territory where the work is produced, and to seeing the materials and observing the techniques that exist together only in that place. To that end, he has worked with glass in Murano for many years, and with marble in Carrara, and carpets in northern India and Nepal. This inclusive design approach combines authenticity and originality. The result is a blend of tradition, modernity, artisanal production, and sustainability which gives his work a contemporary, poetic and transcultural character.
Interior designers who routinely acquire work by Babled include Jacques Grange, Robert Couturier, Jamie Drake, and Tony Ingrao. Discerning art collectors and architects as well hold Babled's diverse design examples in their private collections.
The exhibition runs through November 10th, 2018
TWENTY FIRST GALLERY
76 Franklin Street
New York City, New York
212.206.1967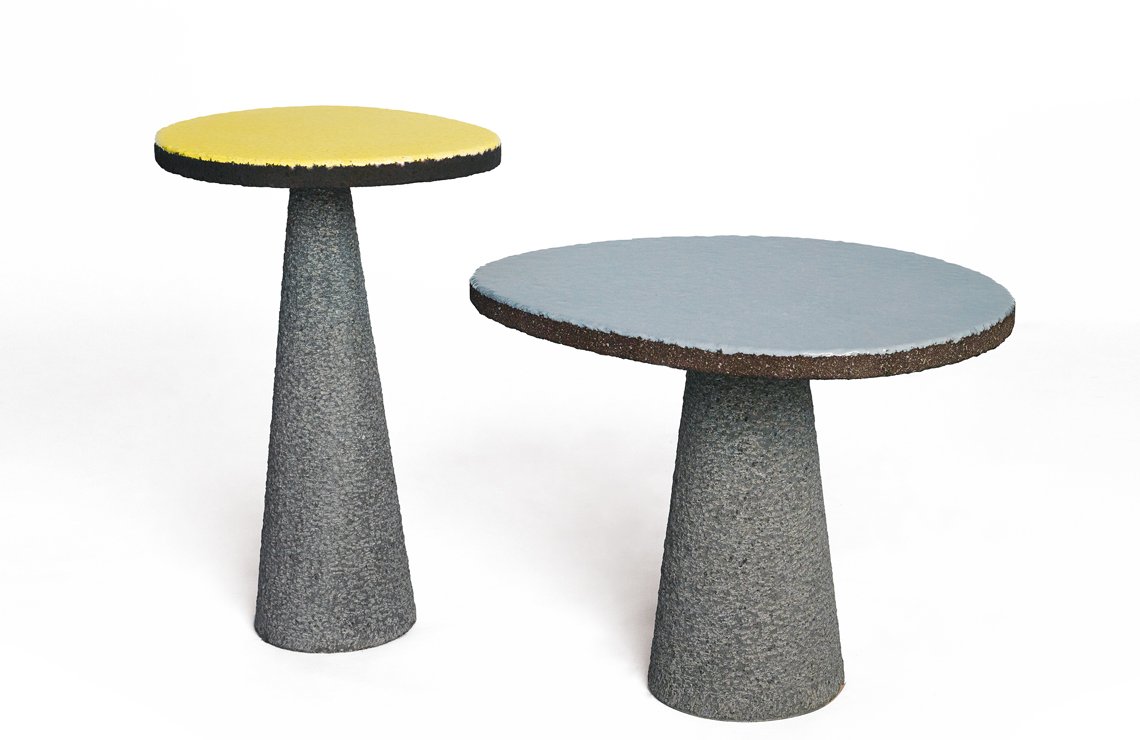 ETNASTONE GUÉRIDON I in wolf grey and ETNASTONE GUÉRIDON II in lemon
Etnastone comes from Mount Etna, the volcano in Sicily, where lava blocks are extracted to create the tables that make up the collection. This is a direct reference to the lava stone and ceramic industry, a tradition at Caltagirone, a collection that once again witnesses the bond and the interest Emmanuel Babled has in working with craft techniques that are only possible to find in a single place in the world. The tables are shaped by the union of different pieces of lava, which are then delicately enamelled to give a unique finish to the volcanic texture. The design concept is based on the experimentation of puzzle compositions, a singularity that together with the manual manufacturing process and a palette of glazes composed of more than 40 colours, gives endless customization possibilities to the pieces. The Etnastone collection was created in collaboration with the Italian company Made a Mano, who specialize in stone, tiles and other coatings produced using traditional techniques. Available as Coffee Table, Side Table, Round Table, Guéridon, Dining Table, and Chair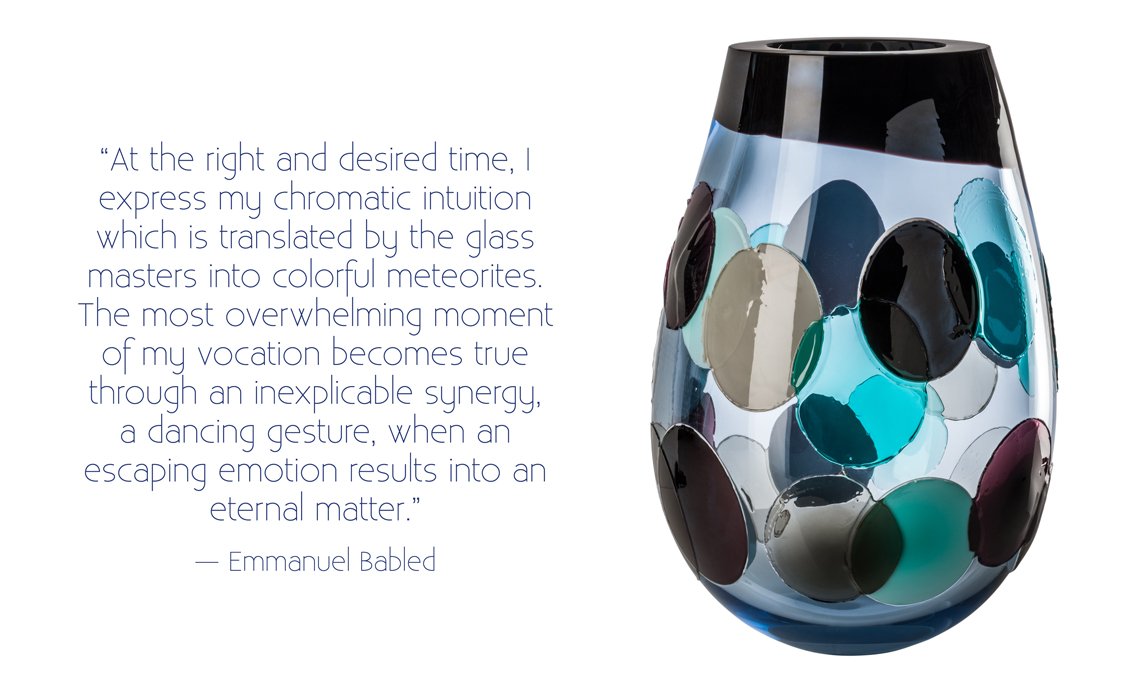 PYROS Vase IV, limited edition of 49 unique artworks + 9 AP / 10 unique works signed in roman numeral
Working in the furnace often means to seize the moment, it takes an instant to crystalize materials and colors eternally. That is what happens during Emmanuel Babled's direction, when masters create the Pyros artworks. Surfaces become memories that recall colors. Color is thrown on glass as if a meteorite, following the artist's intuition and recalling the movements of action painting. Fast gestures, teamwork and the overlapping of unique colors, carefully selected from the VENINI palette, are the main features of this amazing artwork that embodies light and emotions. Pyros artworks express the perfect symbiosis between VENINI's unique craftsmanship and the artist's creativity. Each Pyros is a unique artwork that symbolizes a unique day at VENINI, with its masters, colors and contemporary inspiration. Pyros is a limited edition, dated on the same day of its production.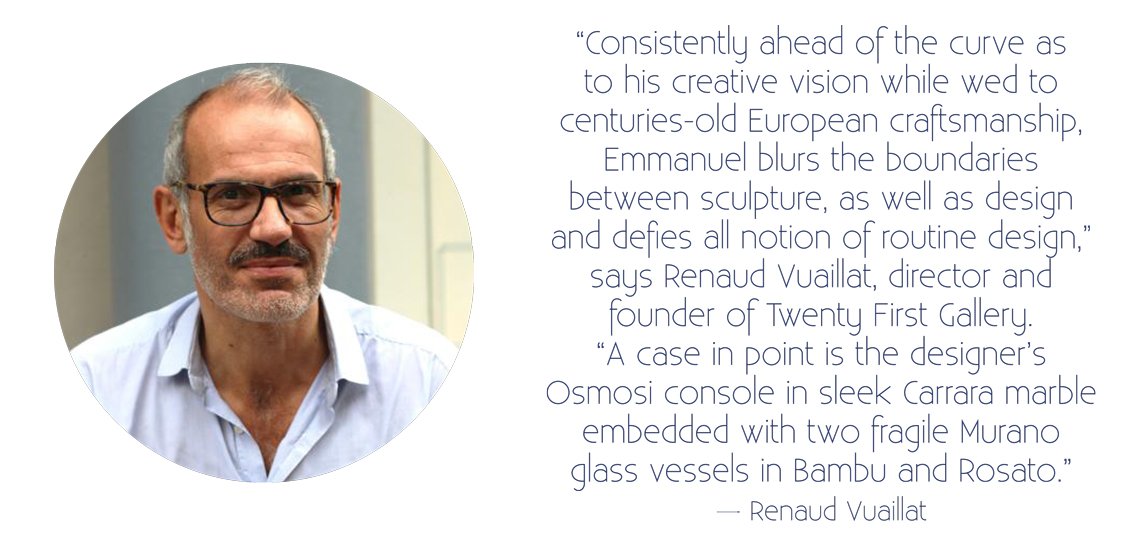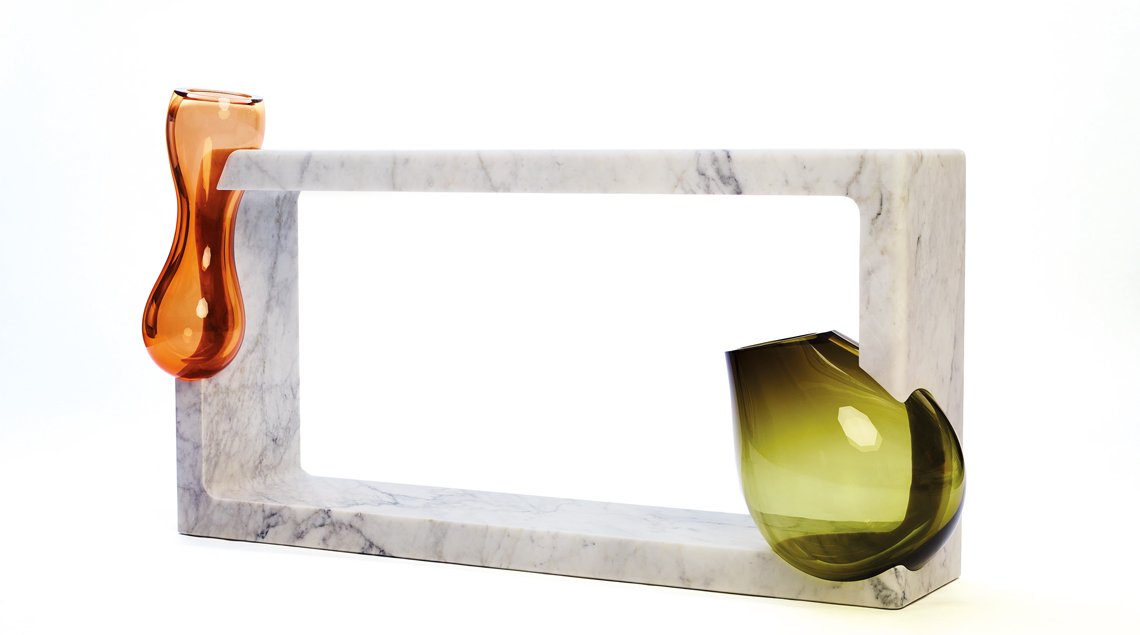 OSMOSI CONSOLE
A virtual fusion of Carrera Xtra C marble and hand-blown glass. These materials are put together with a precision that is only possible thanks to high-level digital technology.The process begins with making the glass. The hand-blown form is then captured by a 3-D scanner. Through the digitalization of the form, the matching shape is CNC (computer numerical control) milled into the marble, creating two unique pieces that match each other perfectly. They are separate pieces, but each has no meaning without the other. They fit together through gravity alone. Like Cinderella and the glass shoe, there is only one unique piece of glass that can fit into one unique piece of marble. The effect is a perfect symbiosis between materials.



DIGIT LIGHT, a limited edition of 12 + 2 AP

Inspired by 1960's pop culture, the Digit breaks away from the traditional Murano style of chandelier. Each chandelier is composed of 23 spheres made of hand-blown glass. These spheres are put together with the level of accuracy possible with computer technology, although the intentional impression is one of randomness. The spheres barely graze one another, which highlights the dynamism, harmony and density of the whole. Luminous and reflecting spheres are mixed together. The white spheres diffuse a soft light that is infinitely reflected by the colored elements, resulting in joyful and celestial illumination, as if the spheres were floating in the air. Digit exists in different sizes and in ceiling or standing versions, customizable in several colors. Each edition is limited and numbered.




SUPERNOVA LIGHT Model I, Carrara C marble

Supernova is an iconic metal lamp shape reinterpreted in a delicate layer of Carrara marble. It is designed with an asymmetrical and organic shape calculated through a complex 'center of gravity' algorithm to give a magic balance. A super thin and light marble lamp, it would be impossible to create with traditional methods. Produced in collaboration with TorArt of Carrara, Italy, which specializes in marble digital sculpting, and thanks to a new generation of advanced robotic milling, it has been possible to bring such a lamp shape to life. It's a slow process, milling the interior and then turning it around to work the exterior, while the craftsmen carefully sculpt with the help of the digital tool robot. The surface is then hand-finished.
TWENTY FIRST GALLERY is a stand out space among TriBeCa's growing design destination. Created for the design enthusiast who seeks limited collections and made-to-order pieces, Twenty First Gallery offers an ever-changing display of art and furnishings exclusively created by European artists. Founded by esteemed collector Renaud Vuaillat in 2006 in the Chelsea art district of Manhattan, the gallery relocated in 2018 to an inviting 2500-square-foot space with hardwood floors laid out in a classic style open loft design at 76 Franklin Street. Here, Vuaillat hones his passion for discovering talent, sourcing treasures and engaging with an extensive, exclusive and global clientele, many of whom were among his first acquaintances during his tenure at the Carré Rive Gauche Gallery in Paris.
View all of Emmanuel Babled's pieces on Incollect