Visions of Home: Timeless Design, Modern Sensibility
In celebration of their new book, Visions of Home: Timeless Design, Modern Sensibility
Historical Concepts Architectural Sketch Sale of Original Artwork
Proceeds to benefit The Georgia Trust for Historic Preservation
Presented by

A sample of the original, hand-drawn sketches by the
architects at Historical Concepts
Award-winning architecture firm Historical Concepts has a longstanding firm tradition of starting each day with a studio-wide 15-minute sketch, designed to exercise creativity and strengthen the connection between the architect's hand and mind. As time has gone on, this daily sketch practice has created an expansive collection of original sketches, many of which are shared on the firm's dedicated Instagram page @historicalconcepts_sketches.
To celebrate the launch of their new book Visions of Home: Timeless Design, Modern Sensibility, Historical Concepts is partnering with Incollect to sell 100 of these beautiful, original drawings from their daily sketch practice to benefit The Georgia Trust for Historic Preservation, one of the country's leading statewide, nonprofit preservation organizations, known for their preservation, revitalization and protection of historic buildings and resources.
Every dollar of your sketch purchase goes directly to The Georgia Trust for Historic Preservation. We hope to help their noble cause of preserving historic buildings that enhance the cultural fabric of our cities today, and also that these unique sketches will bring beauty and joy into each individual home they go to.
ABOUT THE GEORGIA TRUST FOR HISTORIC PRESERVATION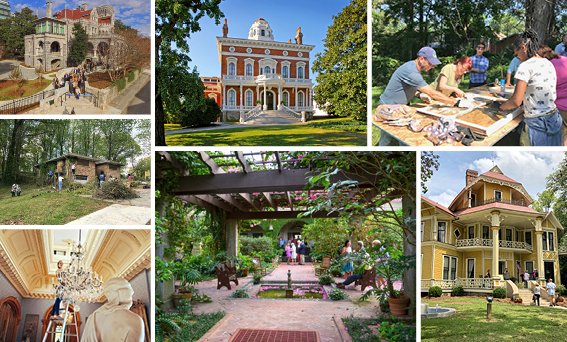 | | |
| --- | --- |
| | |
Founded in 1973, the Georgia Trust for Historic Preservation works for the preservation and revitalization of Georgia's diverse historic resources and advocates their appreciation, protection and use. As one of the country's leading statewide, nonprofit preservation organizations, the Trust generates community revitalization by finding buyers for endangered properties acquired by its Revolving Fund and raises awareness of other endangered historic resources through an annual listing of Georgia's "Places in Peril." The Trust honors preservation projects and individuals with its annual Preservation Awards and recognizes students and professionals with the Neel Reid Prize and Liz Lyon Fellowship. The Trust offers a variety of educational programs for adults and children, provides technical assistance to property owners and historic communities, advocates for funding, tax incentives and other laws aiding preservation efforts, and manages two house museums in Atlanta (Rhodes Hall) and Macon (Hay House). To learn more, visit www.georgiatrust.org.

ABOUT HISTORICAL CONCEPTS & VISIONS OF HOME
For nearly forty years, Historical Concepts has created enduring beauty through architecture and planning that improves the lives of people and their communities. Based in Atlanta and New York, the firm has received numerous awards for architectural excellence, including the prestigious Arthur Ross Award from the Institute of Classical Architecture and Art. Historical Concepts' new book, Visions of Home: Timeless Design, Modern Sensibility, shows how this architectural partnership weaves the client's vision of home with the history, patterns and subtleties of place to create modern residences with thoughtful detail and traditional craftsmanship. To learn more, visit www.historicalconcepts.com.
Visions of Home is a must-have for anyone who loves houses — whether it be your new house, your reimagined house, or your dream house. Nine extraordinary residences are explored, from a Vermeer-inspired Dutch "village" on Long Island, with winding gardens and paths connecting the house to a series of outbuildings, to a South Carolina riverfront home where every room reveals views of Lowcountry natural beauty, a design that is the essence of simple, pure luxury. Each home tells the story of the journey from the owners' dreams through the architect's process to bring those dreams to reality.
Available now to purchase online through Amazon, Rizzoli, or support your local bookseller.