altreforme
Viale Alcide de Gasperi 16
Lecco 23801
Italy
390.341.6381
Member of the following market(s):
Italy

          altreforme is an Italian company that produces collections of high-end furniture and made to measure projects mainly made of aluminium and aimed at those who like to stand out. altreforme was founded in 2008 as an ambitious diversification project of Fontana Group, since 1956 the world leader in the design and production of luxury cars aluminium bodies, including Ferrari and Rolls Royce.
altreforme is considered a point of reference for architects, interior designers and contractors: the line altreforme sartoria allows them to realize customized products and projects, in series or unique pieces, that challenge the properties of aluminium with sinuosity never seen before, original finishes and elaborate surface decorations.
altreforme has won major international awards as the Elle Decor Design Award, and every year, at Salone del Mobile in Milan, presents new exclusive collections.
The catalog collections are signed by famous designers and archi-star: Aziz Sariyer, Marco Piva, Garilab, Elena Cutolo, Antonio Aricò, Serena Confalonieri, Marcantonio, Alessandro Zambelli, Giorgia Zanellato and Daniele Bortotto, Elena Salmistraro, Doriana and Massimiliano Fuksas and by two extravagant Fashion brands like Yazbukey and Moschino.        
Staff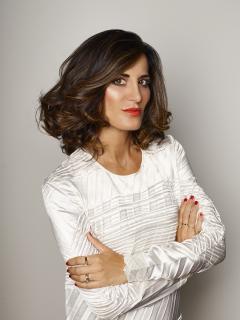 Valentina Fontana
founder and art director

Valentina Fontana is Vice President and first representative standing for the 3rd generation of the family business Fontana Group, multinational Company based in Lecco and leader for over 60 years in the production of the most prestigious car bodies.
in 2008 Valentina Fontana starts-up the altreforme design project, where aluminium sheets turn out into refined pieces of furniture, giving shape to the most daring design ideas. As from her first steps Valentina has literally jumped a stage: in 2009 altreforme is selected by Design Miami, besides getting the "Elle Decor International Design Award" in Istanbul; in 2010 introduces successful textures patented for aluminium only and at the end of 2011 Valentina strikes a prestigious collaboration with Fashion: she is asked by Moschino to manage the start-up of its first home collection.
Valentina has been selected as "Mercedes Classe A" ambassador. She has been a contributor for the Condé Nast magazines Traveller and AD China, collaborates as project leader with Domus Academy and is a mentor at Bocconi University for the Business Strategy department.