Carvers' Guild
PO BOX 198
Groton, MA 01472
United States
978.448.3063

          Our Designer Carol Canner

Carol Canner leads the industry with her award winning, innovative designs. Hailing from a long line
of artists, Canner grew up in Newton, MA. After graduating from the Rhode Island School of Design with
a BFA in painting, she began as a portrait artist, opening her own galleries in Provincetown and Boston.
A passion for decorative arts and art history led her to choose the mirror as her art form. Her painting
background came in handy in developing over 60 original finishes.

Throughout her career, Canner has created designs that excite and endure. Her ground breaking Modern Mirrors,
using plexiglass and chrome, won the New York Times' "Best Design of the Year Award" in 1969. In 2006, one
of these Modern Mirrors appeared in Elle Décor.

A darling of the trade magazines, Canner made a splash with her bold black and white tile mirrors. In 1998
she won a Pinnacle Award from the American Society of Furniture Designers for her "[Songbirds](/our-mirrors/number/1150)," inspired by the natural beauty that surrounds the Canner home and Carvers' Guild.

Today, Canner continues to find a rich source of motifs in her neighbors -- the birds, deer, fish and
foliage. In addition, several of the country's top decorative arts museums, including the [Newport
Historical Society](/our-mirrors/collection/newport-mansions) and [Colonial Williamsburg](/our-mirrors/collection/williamsburg), have invited Canner to design pieces inspired by their
priceless collections. From stunning to humorous, from fanciful to architectural, Carol Canner's designs
define our times.        
Staff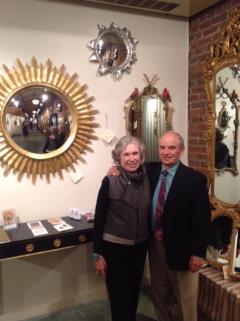 Carl & Carol Canner
Owners
Carvers' Guild Owners