Charlecote Antiques
337 East 55th Street
Kansas City, MO 64113
United States
816.444.4622

          Kaye Miller grew up hearing stories from her maternal grandmother, whose maiden name was Lucy of Charlecote Park, a manor house overlooking the River Avon near Stratford, England and now owned by the National Trust. Consequently, Kaye loved all things English and England. In college, she studied English history and afterwards spent as much time as possible in England. Kaye now has a shop in the historical Crestwood neighborhood of Kansas City, Missouri and proudly handles some of the most amazing pieces of 18th century period English furniture. A number of these pieces can be found in homes throughout Kansas City and in regions of the United States.


Stepping into the shop is like taking a step back in time where talented cabinetmakers proudly made pieces by hand. Kaye was fortunate to have mentors who guided her to seek the best and to educate her in the construction of English furniture. Every piece of furniture acquired by Charlecote is rigorously vetted for its authenticity and chosen for its merits of quality, colour, and condition. With these ethics, Charlecote has built up a reputation of trust and integrity within the antique community and is known for handling some of the best, and at times, the rarest pieces of English furniture.


Charlecote has exhibited in several invitation only shows from New York to San Francisco and has gained loyal customers around the world. Being a family business, her son Todd joining in the 1990's, allows for personalized customer service. In 2004 Todd became a board member of the Art and Antiques Dealers League of American before becoming President in 2008 until 2011.    The passion he has for the business is amazing.   The Millers take great pride in their inventory and give attention to each piece chosen by their clients to ensure that it is perfect for their homes and suits their personal needs.  In February 2019 Todd announced the passing on his mother Kaye to a brain tumor leaving the business to her son Todd who has taken the business to another level with emphasizing in English tea caddies.    Todd has always loved wood so after inheriting his mother's private collection of caddies he knew he wanted to add boxes to the inventory.    Todd counities his mother's legacy…. always on the search for the best!     


Today, Charlecote offers a variety of services including antique restoration, interior design, and custom reproductions for modern use. Charlecote is a member of the Antique Council, LAPADA (Association of Art & Antiques Dealers) and CINOA (International Confederation of Art & Antiques Dealers). All are invitation only organizations representing the finest dealers around the world.


We invite you to come and visit us. Find out for yourself how a gallery in Kansas City can be so special but at the same time be friendly and easy to browse allowing you to find that special piece. Stay long enough to have a cup of tea and visit with the CEO, Sir Bentley Churchill.        
Staff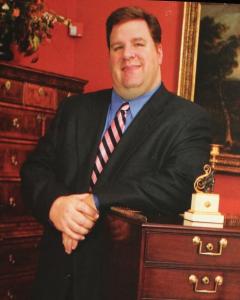 Todd Spencer Miller
Owner
Todd Spencer Miller | Owner
Todd joined his mother full-time in 1990, but made his first buying trip in 1979. He credits Frank Lumb (Charles Lumb and Sons - Harrogate, North Yorkshire) who helped him develop an eye for detail in beautiful pieces.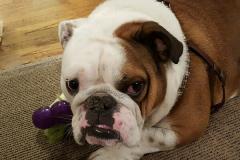 Sir Bentley Churchill
CEO
Sir Bentley Churchill, the CEO of the store...a lovable and charismatic English Bulldog is always present to assist you in trade for a scratch on the head or a biscuit