Ella Gafter NY
580 Fifth Avenue, suite 3000
New York City, NY 10036
United States
212.398.0101
Member of the following market(s):
New York City

          Ella Gafter is recognized as one of the world's leading pearl jewelers, even earning herself the epithet of "The Queen of Pearls". She is known both for sourcing these organic gems directly in Australia and for her exclusive use of pearls of high luster and uncommonly large size. In 2001, an extraordinary corsage brooch by Ella Gafter was one of the very few contemporary pieces included in the American Museum of Natural History's "Pearls" exhibition which traveled around the world for 10 years. The Museum has recently asked Ella to donate the brooch to their permanent collection, and it will be prominently and permanently displayed in the new Hall of Gems and Minerals to open in the fall of 2020. Ella's work has always enjoyed tremendous editorial coverage from world-class photographers and stylists in every type of publication.

Every item is handcrafted in Naples, Italy. Skilled maestri, who combine the sculptor's artistry with the engineer's understanding of materials and techniques, dedicate their talent to realizing her daring, original designs. 
This marriage of the artisans' guild-like discipline and Ella's bold inventiveness often culminates in creations that transcend their purpose as high-end luxury products and pierce into the realm of genuine artistic expression.

Ella Gafter has remained an independently owned family business since its inception in 1978. The business is run by Ella's daughter, Talila Gafter, PhD.        
Staff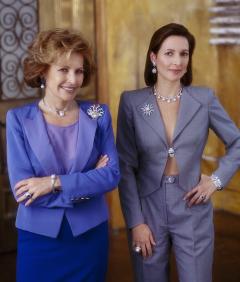 Ella Gafter and Talilia
Owner
Mother & Daughter