Smith & Robinson
By Appointment, South West London SW6
London
England
00447770453597
Member of the following market(s):
London

          For enquiries please email us at contact@smithandrobinson.com

London based & specialising in rare & wonderful objects aimed at the collectors & designers market, our luxury decorative antiques have been carefully selected for their natural fine condition and beauty, ensuring they hold their value as excellent investment pieces. Our collections include a broad range of styles with items from the 18th century onwards. Focusing on materials including antique sterling silver, glass, antique shagreen & tortoiseshell.

Smith & Robinson have been featured in many high-end media publications, including: Tatler, Financial Times, Rolls Royce Yearbook, Country Life, Antiques Trades Gazette to name but a few. As members of LAPADA, the trade association specifically for professional antiques and art dealers, and the British Antiques Dealers' Association – the leader in antiques dealing in the UK – we are the ideal company to approach when you seek delightfully unique antiques.        
Staff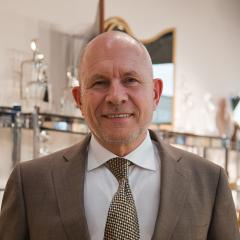 Colin Smith
Colin Smith, founder