Studio 6F
2857 W Diversey Avenue
Chicago, IL 60647
United States
773.904.7068
Member of the following market(s):
Chicago

          Studio 6F and principal designer Gil Melott have been recognized for an unapologetic approach to seamlessly blending disparate textures and periods into a well-curated story for homes and public spaces. Named Best New Design Gallery by Modern Luxury Magazine, Studio 6F has continued to grow and curate their presence in Chicago as well as across the country. As an interior design firm Studio 6F works on both a residential and boutique hospitality level, and is well suited for projects of any size and scope.

Gil Melott has served in c-level executive roles in both private and public companies. He's worked as an art director for a global advertising agency and as an advisor for key product development and ideation companies. He has also started three creative lifestyle companies, filtered through the lens of art, music and fashion. Together with his studio manager Claire Patterson, the 6F team is close knit and focused on personalized attention and creative solutions tailored to each specific client's wants and needs.

We find it only fitting to start any project with a blank slate, an empty space, a 'whiteboard' devoid of preconceptions or expectations. We offer solutions – not without ideas, mind you – just without opinions so heavy that they might cloud the creative solution; giving people aesthetic experiences that they can live with every day.

Featured in The Wall Street Journal, AD Pro, Modern Luxury, Dwell, Crain's, Sophisticated Living, and Luxe Interiors + Design.        
Staff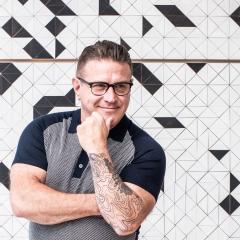 Gil Melott
Principal Designer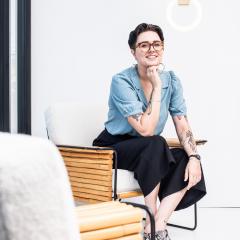 Claire Patterson
Studio Manager