The Best of Day One of The 2021 Twelve Days of Christmas Virtual Holiday Antiques Show
Powered by Incollect

The First Day of Christmas
In reponse to the popularity of our recent online art and antique shows — Twelve Days of Christmas and the Spring Online Show — the Twelve Days of Chistmas have returned! This show features the highest quality art, antiques, jewelry and design — all available for purchase.
The fun twist on the Twelve Days of Christmas Show is that each dealer in the show will post one fresh piece each day, beginning on December 5th and running through December 16th. Be on the lookout for a new feature — video! Some dealers will have videos to accompany their objects — if you don't tune in, you'll miss out!
The AADLA membership represents the best of the best in the business, and you can buy with absolute confidence. Enjoy our selections on this First Day of Christmas.
Van Cleef & Arpels Cosmos ring in 18k yellow gold with diamonds.
Offered by Brad and Vandy Reh Fine Jewelry. For further information call 203.920.1755 or email
brad@bradreh.com.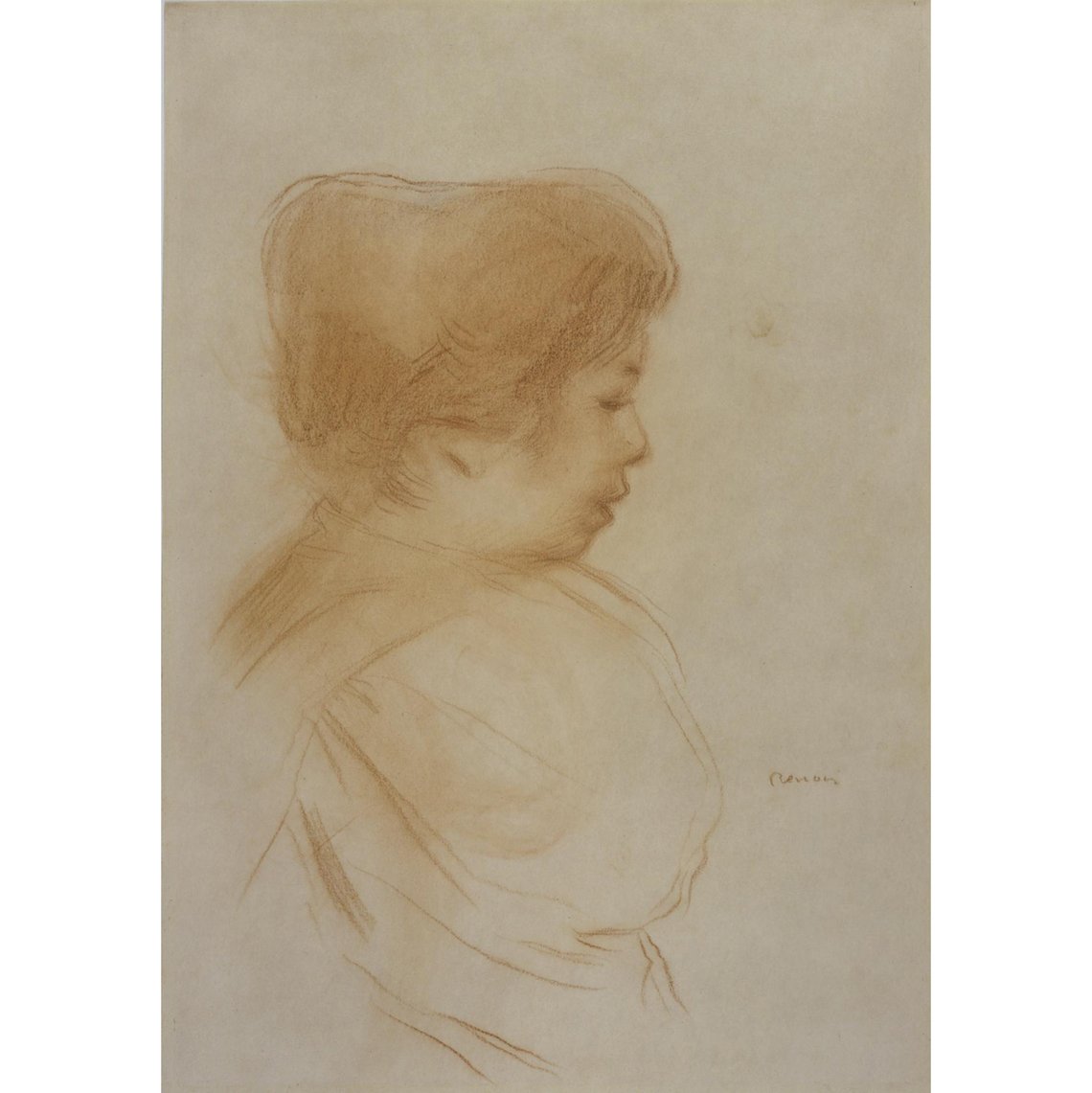 Pierre-Auguste Renoir, Mademoiselle Yvonne Lerolle. Drawn ca. 1897-98.
Offered by Schillay Fine Art, Inc. For further information call 212.861.8353 or email
richard@schillay.com.

Powerful Ming Period (1368-1644) Jade Rhyton with dragon handle.
Ex-Hans Weinberg 1975; Ex-Ashkenazie & Co., San Francisco.
Offered by Robyn Turner Gallery. For further information call 424.335.0105 or email robynturnr@aol.com.
Set of eight Regency candlesticks of Greek and Egyptian inspiration
after a design by George Smith, c. 1805-1810.
Very fine carved and giltwood George III mirror in the manner of John Linnell. $22,500
Offered by Yew Tree House Antiques. For further information call 212.249.6612 or email
ythantiques@yahoo.com.
Exceptional antique Persian Heriz "Serapi" runner, northwest Persia, ca. 1900, 3'10" x 20'3".
American andirons, c. 1900, with crossed golf clubs, hearts and ball log stops. $3,750
Offered by Find Weatherly, LLC. For further information call 203.858.3087 or email
ann@findweatherly.com.

Jean-Pierre Cassigneul (b. 1935), La Robe Vert, 2020. $98,000
Offered by Galerie Rienzo. For further information call 212.288.2226 or email madisonart@aol.com.
A superb quality George IV fiddleback mahogany folio table incorporating sliding trays and ratcheted easels. English, first quarter of the nineteenth century.
Statue of Armide: main figure from décor Le Jardin d'Armide. Designed by painter Edouard Mueller.
Wood-block printed by Jules Desfossé, Paris, 1855. H. 6'2" x W. 31.5". $20,000
On the first day of Christmas my true love gave to me… one Syamatara.
Green Tara (Syamatara) Tibet, 14th Century. Gilt-bronze with semi-precious inlaid stones.
Piero Fornasetti Afghan Hound Umbrella Stand, "Levriero Afgano", 1950s. $7,800
Offered by Earle D. Vandekar of Knightsbridge. For further information call 212.308.2022 or email
info@vandekar.com.

An Art Deco Onyx & Diamond Circle Brooch, ca. 1925. Diameter: 2-5/8". $18,500
Offered by S.J. Shrubsole Corp. For further information call 212.753.8920 or email
jim@shrubsole.com.

Hans Namuth (1915-1990), Jackson Pollock Seated by his Car. Silver print, 1950; printed ca. 1960. $15,000
Offered by Paul M. Hertzmann, Inc. For further information call 415.626.2677 or email
susan@hertzmann.net.

Early 19th century Regency brass inlaid mahogany side table and pair of pedestals,
after Thomas Hope, ca. 1820. $120,000

Adoration of the Magi, Boxwood, Early 16th Century. Malines. 3 x 2.5 inches.
Offered by European Decorative Arts Company. For further information please call 516.643.1538 or email
eurodecart@gmail.com.

Mary Kollock (1832-1911), River Scene with Bridge. Oil on canvas, 12-3/4 x 22-3/8 inches.
Ō
hara Koson (1877-1945), Red carp and two other fish swim beneath waterlilies,

1935.

13 x 19 in. $5,400
Offered by Joan B. Mirviss LTD. For further information call 212.799.4021 or email
info@mirviss.com.

A 17th Century Spanish Mirror, 24 x 19 inches.
Offered by Engs – Dimitri Works of Art. For further information call 310.429.4190 or email
info@engsdimitri.com.

A Chic and Stylish Neoclassical Ebonized Commode.
Ebonized fruitwood veneer with maple perimeter detailing. Vienna, 1810. $26,000
Offered by ILIAD New York. For further information call 212.935.4382 or email
info@iliadny.com.
Peruvian, 18th Century, The Three Kings, Huamanga stone, 7.5 x 6.5 inches each. $25,000
Offered by Robert Simon Fine Art. For further information call 212.288.9712 or email rbs@robertsimon.com.
Superb Antique French Silver and Crystal Drageoir by Jean Pierre Bibron. Paris, ca. 1819. $4,000
Tapestry-woven gold-and-silk purse, French, early 18th century. $4,500
Navajo silver butterfly pin, possibly made at Maisel's. $695
Offered by Marcy Burns American Indian Arts. For further information call 212.439.9257 or email info@marcyburns.com.
Albert Carrier-Belleuse(1824-1887), Buste de jeune Bacchante, circa 1860. Terracotta.
Offered by Framont. For further information call 917.562.6262 or 203.661.9675 or email
framont@optonline.net.

After Anthonis Sallaert (1594-1650), Glorification of the Name of Jesus, ca. 1640. Oil on canvas. $4,500
Painted beech wood (faggio) work box (scatola di lavoro). Tuscany, circa 1690-1710. $5,500
Offered by L'Antiquaire & the Connoisseur. For further information call 212.517.9176 or email
info@lantiquaire.us.
Henry Thomas Alken (1785-1851), Going out in a Snow Storm, after 1835. Oil on canvas.
Victorian Sterling Silver & Scottish Chalcedony Footed Vinaigrette set with a Cabochon. $8,200
Offered by James Robinson, Inc. For further information call 212.752.6166 or email
info@jrobinson.com.
Hepplewhite mahogany chest of drawers c.1785. Ht. 36", W 35", Depth 23", $9,500
A George II Walnut Settee in the manner of Giles Grendey, circa 1730.
Large Georgian Three Pedestal Flame Grain Cumberland Mahogany Dining Table
with Reeded Edge and four original leaves, English circa 1800.
Click any Day Below to View More Featured Objects