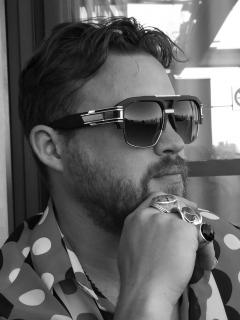 By Appointment Only
Toronto, ON
Canada
647.968.8769
Troy Smith epitomizes the definition of a modern day Renaissance man. His singular furniture creations are garnering international attention from notable galleries, as well as individuals who covet and curate innovative, timeless design. He travels extensively to the foremost international design and fashion capitals, and regularly visits world famous museums, galleries and architectural landmarks to explore and experience emerging trends, and iconic creations in art and design. These influences, as well as his life experiences, are a constant source of inspiration and are apparent in his many stunning pieces, as well as his abstract acrylic paintings.

Troy is constantly exploring new expressions for his creativity. His original, one-of-a-kind and limited edition pieces are a rare and remarkable fusion of enduring and evocative materials. By imaginatively integrating elements such as textured rebar, ingenious light-shifting glass, exotic woods and luxurious leather, in unexpected ways, he has elevated rebar to an art form, innovated with an incredible light shifting glass and created the grand dame of sofas, the Flute Sofa.

 Troy's passion for all things beautiful ensures each piece is the embodiment of extraordinary inspiration, meticulous craftsmanship and quintessential beauty.

 "You can't just create art you must give life." – Troy Smith