John B. Murray Architect
48 West 37th Street, 10th Floor
New York City, NY 10018
United States
212.242.8600

          Since the formation of John B. Murray Architect, LLC, the firm's work has been lauded by their clients, recognized by their contemporaries, and featured in many publications, such as Architectural Digest, Period Homes, New Old House, Beautiful Homes, and Town and Country. Now entering its eighteenth year, the firm has continued to grow by relying on their enduring client relationships and practiced ability to collaborate with landscape architects, designers, and other building professionals. Starting with hand-drawn plans, clients receive personal attention that results in a residence that reflects its context, while seamlessly integrating sophisticated details and unique hardscapes. A John B. Murray Architect residence reflects a commitment to the traditional aesthetic — a simplicity of form and supreme craftsmanship.        
Staff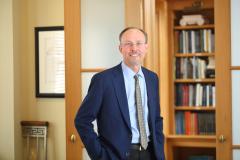 John B. Murray
John B. Murray was born in California and grew up in Philadelphia. Upon graduating with honors from Carnegie Mellon University, he moved to New York City in 1979 to begin his architecture career. Early in his apprenticeship, he discovered a love for residential architecture, which led him to join the prestigious firm of Parish-Hadley Associates. It was during his tenure with Parish-Hadley that he began to refine his understanding and appreciation of the vital relationship between traditional architecture and interior design and decoration, which he has continued to explore and cultivate.

With the support and endorsement of Albert Hadley, John embarked upon his own practice in 1988, with the formation of Ferguson Murray Architects. The growth of his firm evolved into the founding of his own independent practice in 1997, John B. Murray Architect, LLC.