The Best of Day One of The Spring Show Online
The Virtual Art and Antiques Show presented by Incollect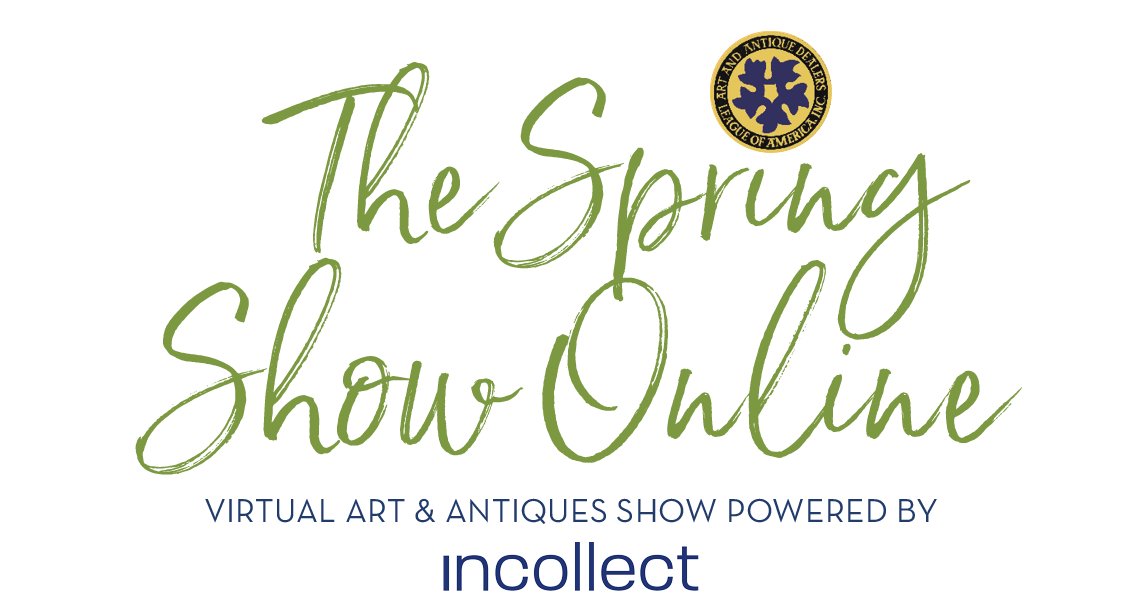 The First Day of Spring
In response to the popularity and success of the Art and Antique Dealers League of America's (AADLA) Twelve Days of Christmas online show, the Twelve Days of Antiques have returned! Our online Spring Show features the highest quality art, antiques, jewelry and design — all available for purchase.
The fun twist on the Spring Show is that each dealer in the show will post one fresh piece each day, beginning May 7th and running through May 18th — if you don't tune in, you'll miss out!
The AADLA membership represents the best of the best in the business, and you can buy with absolute confidence. Enjoy our selections on this first day of Spring!
A Charles II antique silver Chinoiserie tankard, London 1684. $125,000
Offered by S.J. Shrubsole Corp. For further information call 212.753.8920 or email
jim@shrubsole.com.

William IV extending circular table by Johnstone and Jupe. $65,000
Offered by Yew Tree House Antiques. For further information call 212.249.6612 or email
ythantiques@yahoo.com.
Monica Silva, Kewa (Santo Domingo) large storage jar.
Offered by Marcy Burns American Indian Arts. For further information call 212.439.9257 or email info@marcyburns.com.
Eugène Atget. Bagatelle-Roses. Albumen print, 1921.
Offered by Paul M. Hertzmann, Inc. For further information call 415.626.2677 or email
susan@hertzmann.net.

Holy Water Bucket, Peru, 18th century.
Offered by Engs-Dimitri Works of Art. For further information call 310.429.4190 or email
info@engsdimitri.com.

Anselm Feuerbach (1829-1880), Self Portrait, oil on canvas.
Offered by Framont. For further information call 917.5626262 or 203.661.9675 or email framont@optonline.net.
Utagawa Hiroshige (1797-1858), from the series Thirty-Six Views of Mt. Fuji, Ōban tate-e, 1858. $3,250
Offered by Joan B. Mirviss LTD. For further information call 212.799.4021 or email
info@mirviss.com.

Alexander Calder, Checker, 1965. Gouache and ink on paper.
Offered by Schillay Fine Art, Inc. For further information call 212.861.8353 or email
richard@schillay.com.

Georgian old mine diamond cluster earrings, set in silver and gold. English, late 18th century. $28,000
Offered by A La Vieille Russie, Inc. For further information call 212.752.1727 or email
alvr@alvr.com.
A set of six walnut side chairs, Lombardy, Italy, circa 1740-1760.
Offered by L'Antiquaire & the Connoisseur. For further information call 212.517.9176 or email
info@lantiquaire.us.
Louis XIV walnut center table mounted with rare petit point floral needlework top and valance. $55,000
An 18th century green glazed Meiping vase. $9,500
Jean-Pierre Cassigneul (b. 1935), La Robe Vert, 2020.
Offered by Galerie Rienzo. For further information call 212.288.2226 or email madisonart@aol.com.
Jules Pierre van Biesbroeck (1873-1965), Portrait of a Blind Arab, 1927. $38,000
Fetes de la Grèce et Jeux Olympiques, scenic panoramic in grisaille.
Wood-block printed
by Joseph Dufour, 1818, Paris, France. Designed by Mader. $40,000
Attributed to Marion Perkins (1908-1961), Skywatchers, ca. 1957.
Chanel, Paris, Camélia earrings in onyx. $5,400
Offered by Brad and Vandy Reh Fine Jewelry. For further information call 203.920.1755 or email
brad@bradreh.com.

Master of the Louis XII Triptych Circle. Pax with Annunciation. France, Limoges, 16th century.
A finely woven Shah Savan tribal soumak technique bag face, northwest Persia or Caucasus, ca. 1885.
Unique Pair of Exceptional George II Windsor Armchairs, England, ca. 1740-60.
Carving of Christ emerging from tomb, South German, ca. 1600.
Offered by European Decorative Arts Company. For further information please call 516.643.1538 or email
eurodecart@gmail.com.

Konchog Bang, Tibet, 18th century.
House of Bernard (f. 1905), Délices, 1926. $785
Albrecht Dürer (1471-1528), Melencolia I. Engraving; 1514. $280,000
George Armfield (1808–1893), Spaniels Putting up a Pheasant, 1864.
Offered by Red Fox Fine Art. For further information call 703.851.5160 or email
tr@redfoxfineart.com.
A Fine Regency Brass-Inlaid Rosewood Writing Table, ca. 1820.
Chinese rare 18th century agate double cats in black and white. $7,800
Offered by Robyn Turner Gallery. For further information call 424.335.0105 or email robynturnr@aol.com.
Superb antique French silver and crystal Drageoir by Jean Pierre Bibron, Paris, ca. 1819. $4,000
George II mahogany Library Table, English ca. 1740.
A rare English mahogany reading chair with swivel mechanism, ca. 1755.
Victorian Period 15kt Gold mounted Emerald and Diamond Butterfly Brooch, England, ca. 1875. $10,000
Offered by James Robinson, Inc. For further information call 212.752.6166 or email
info@jrobinson.com.
Elie Anatole Pavil (1873-1948), Porte St. Denis. $22,000
Offered by Rehs Galleries. For further information call 212.355.5710 or email
howard@rehs.com.

Domenico Piola, Three Angels, oil on canvas. $22,500
Offered by Robert Simon Fine Art. For further information call 212.288.9712 or email rbs@robertsimon.com.
Workbag face embroidered with animals and flora. English, ca. 1700-1710. $9,500
English Pottery Creamware Cauliflower Teapot & Cover, ca. 1755-75. $3,750
Offered by Earle D. Vandekar of Knightsbridge. For further information call 212.308.2022 or email
info@vandekar.com.

English 18-Inch Terrestrial Floor Globe. Smith & Son, c. 1845-48. $38,000
A Sterling Silver Georg Jensen Bonbonnière in the shape of an egg, 1908.