12 Standout Luxury Pieces to Discover on Incollect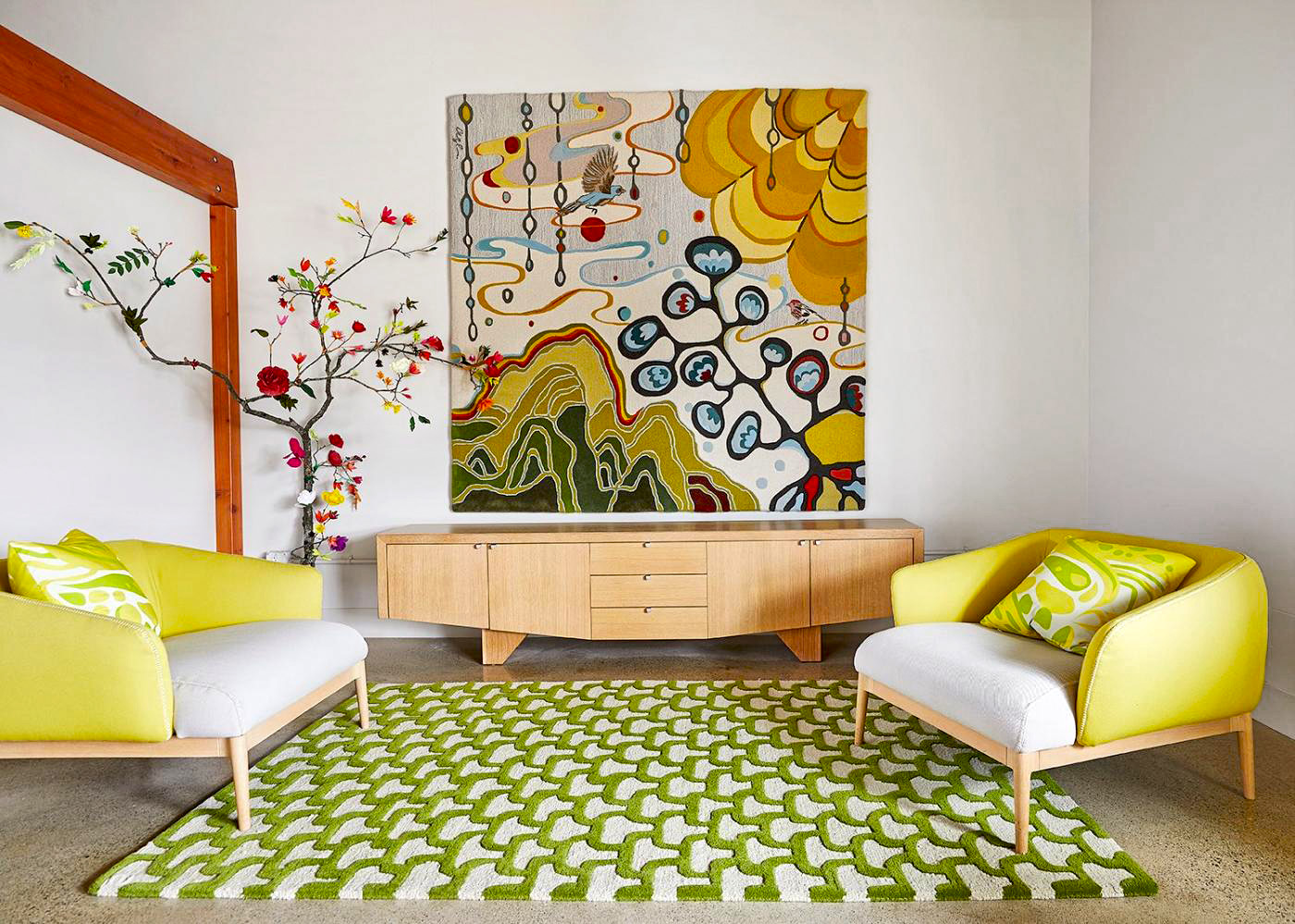 Featuring a woven landscape, the
Rain Area Rug
from Angela Adams brings life and color to a room.
W
hether they're pushing boundaries or refining a classic, designers are always pursuing new ways to perfect their visions. In this dazzling array of case goods, seating, lighting, and more, artisans and brands offer their best fresh takes on luxury design, to the benefit of collectors of all tastes.



The Sitz Bench from Barberini & Gunnell demonstrates both architecture and artistry.
Architects Francesco Barberini and Nina A. Gunnell founded Barberini & Gunnell with a focus on luxury materials and a meticulous approach to detail. Their latest sculptural collection includes the limited-edition Sitz Bench, with only 15 produced for sale. Hand-welded stainless-steel arches tether the bench to the ground; the metal is polished by hand, maximizing its reflectiveness. Measuring nearly ten feet across (118 inches), the top of the bench is built from European nutwood and finished with beeswax.




With the Bongó Bar Cabinet, automatic doors and triggered LED lighting offer a hands-off experience.
The front doors of the elaborate Bongó Bar Cabinet from Portuguese brand Greenapple are constructed from Sahara Noir marble shaped like a drumhead. Due to the weight of the marble, automatic doors were installed to ensure that the stone doors open and close smoothly. Upon opening the walnut framed cabinet, LED lights trigger on to reveal walnut veneer shelving and a polished Patagonia granite back, as well as racks for bottles and glasses and a pair of drawers. Oxidized brass legs and handles serve as the finishing touch. "Since brass is an alloy often used in musical instruments, it was the right material choice to accompany the Sahara Noir marble doors and contrast with its beautiful deep dark color and beautiful, intricate veins," says Sérgio Rebola, CEO of Greenapple. The frame is finished with a high-gloss bronze powder.



Demure lotus-style sconces from Apsara.
Specializing in plaster lighting fixtures, interior designer Tracey Garet launched Apsara after having designed chandeliers for her clients for years. The recently designed Double Lotus Sconce measures 13 inches in height and features two blossoming lotus-shaped bobeches, one branching out from the other at a right angle. The plaster of each sconce is textured for a touch of character and can be finished in a range of colors including bronze and gold.



The Levitaz Volante Dining Table by Isaac Katz was inspired by the movement and power of wind.
Based in Mexico City, Isaac Katz of Katz Studio uses physical simulations and 3-D printing technology to design collectible furniture and accessories, as well as studio art. His pieces, like the Levitaz Volante Dining Table pictured above, tend toward surrealism and abstraction, combined with highly skilled craftsmanship. The Levitaz Volante features bronze sculpted legs, each carefully cast to resemble the draped folds of fabric. Shown here in marble, the tabletop material is selected by the client. "The table was inspired by the flowing wind and how it can shape simple forms into the most amazing objects," says Katz. "The idea was for the table to appear as if 'floating,' suspended in the air by draping fabric that was itself in constant motion."



The Rain Area Rug and Tapestry is woven by hand from New Zealand wool.
A one-of-a-kind textile hand-crafted in Portland, Maine, the Rain Area Rug and Tapestry from Angela Adams depicts hand-woven birds decorating an idyllic rain-drenched mountain scene. Texture brings additional luxury to the New Zealand wool. Of the piece, celebrated designer Angela Adams explains that she wanted to create an idealized environment. "I am inspired by the idea of utopia as a place where wildlife, plant life, and people coexist in a loving way," she says. "The birds represent freedom and song. Bird songs have a healing quality, and they make the world feel optimistic, even in times when we question everything."




The Alfama sideboard is available in matte black, satin white, and gold.
Italian interior and product designer Carlo Cumini collaborated with Albedo on its most recent collection of contemporary furniture handcrafted in Italy. For the Alfama 1 sideboard, Cumini created a two-door lacquered sideboard available in three colors: matte black, satin white, and gold. The top of the cabinet features back-painted glass. Across the surfaces of the Alfama runs a textured pyramidal design reminiscent of the marble exterior of the Palazzo dei Diamanti in Ferrara, Italy, built at the turn of the 16th century. Inside, a glass shelf allows for storage, and clients can request additional details including drawers, a mirrored back, and red or gold lacquered interior paint.



The Impact Table is designed around its central element, a sculptural cluster of intricately formed crystal.
Earlier this year, Studio Greytak released their Universe collection. "Our early designs were inspired by minerals in more traditional furniture forms such as tables, screens, and mirrors," says conceptual artist John Greytak, the founder of the atelier. "The Universe collection, which the Impact Table is part of, moves away from those forms and explores the forces at play on earth, in the sky, at sea, and in space." Carved from Desert Rose selenite, the pedestal is the table's most dramatic feature, the crystal arching 30 inches upward through a circular slumped glass tabletop and anchored within a bronze base.
Finn Redux Credenza | Irwin Feld for CF Modern
In the Finn Redux Credenza, unique forged metal legs complement the midcentury frame.
With the Finn Redux Credenza, designer Irwin Feld of CF Modern updated a vintage walnut midcentury credenza with a dark rich espresso paint and custom handmade "Finn" legs. For this version of the Finn legs, which CF Modern has tweaked to complement other case goods, Feld was inspired by Brutalist designs. To create the aged appearance of the metal, he forged the metal legs using a hammer and added an antiqued patina. "This credenza is one of a kind," says Feld. "There won't ever be another one like it."
Fiveness Console | Mark Brazier Jones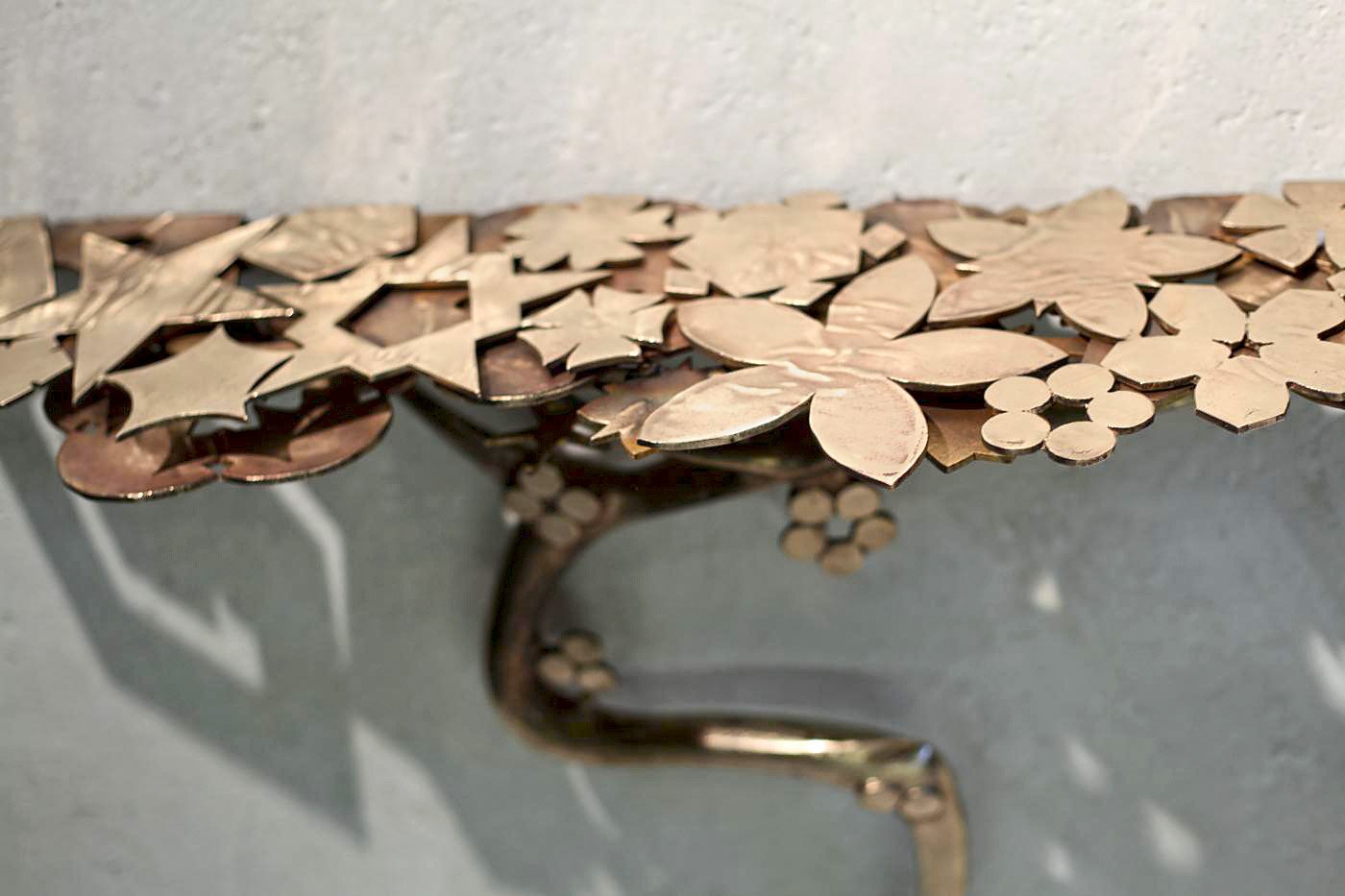 Designed by Mark Brazier-Jones, the Fiveness Console offers an homage to the geometry found within nature.
In Hertfordshire to the north of London, renowned designer Mark Brazier-Jones creates ornate limited-edition pieces with a small team of makers. For the Fiveness Console, Brazier-Jones was inspired by five-fold geometric arrangements throughout nature, from five-pointed daisies to star fish to fingers. "I believe 'fiveness' is innately imprinted in us all as recognizable geometry of beauty," he says. Unfolding in a star-like and floral pattern, the wall-bracketed bronze piece explores the boundaries between sculpture and design. "I created the piece by first making as many pentagonal forms as I could think of," the designer adds. "These became the ingredients that, when cast in bronze, were assembled to make the final console."



Solid walnut and leather create contrast in the Jericho Chair from Allan Switzer.
With a nod toward both Art Moderne and the late Biedermeier period, Solo by Allan Switzer's latest version of his popular Jericho Chair is built from solid walnut. The feet and armrest are both rounded, creating symmetry. "I wanted the curve of the feet and base to be referenced in the arms," Switzer notes. Two struts create interest across the backrest. As an avid antique collector, the Vancouver-based designer often references the past in his work. "My inspiration is not replication," he says. "It is taking experience and personal history, and filtering it through my own sensibilities. When the piece emerges, it is something quite new." Another iteration of the Jericho Chair is upholstered in parchment in honor of Karl Springer, who helped bring parchment back into high-end design in the second half of the 20th century.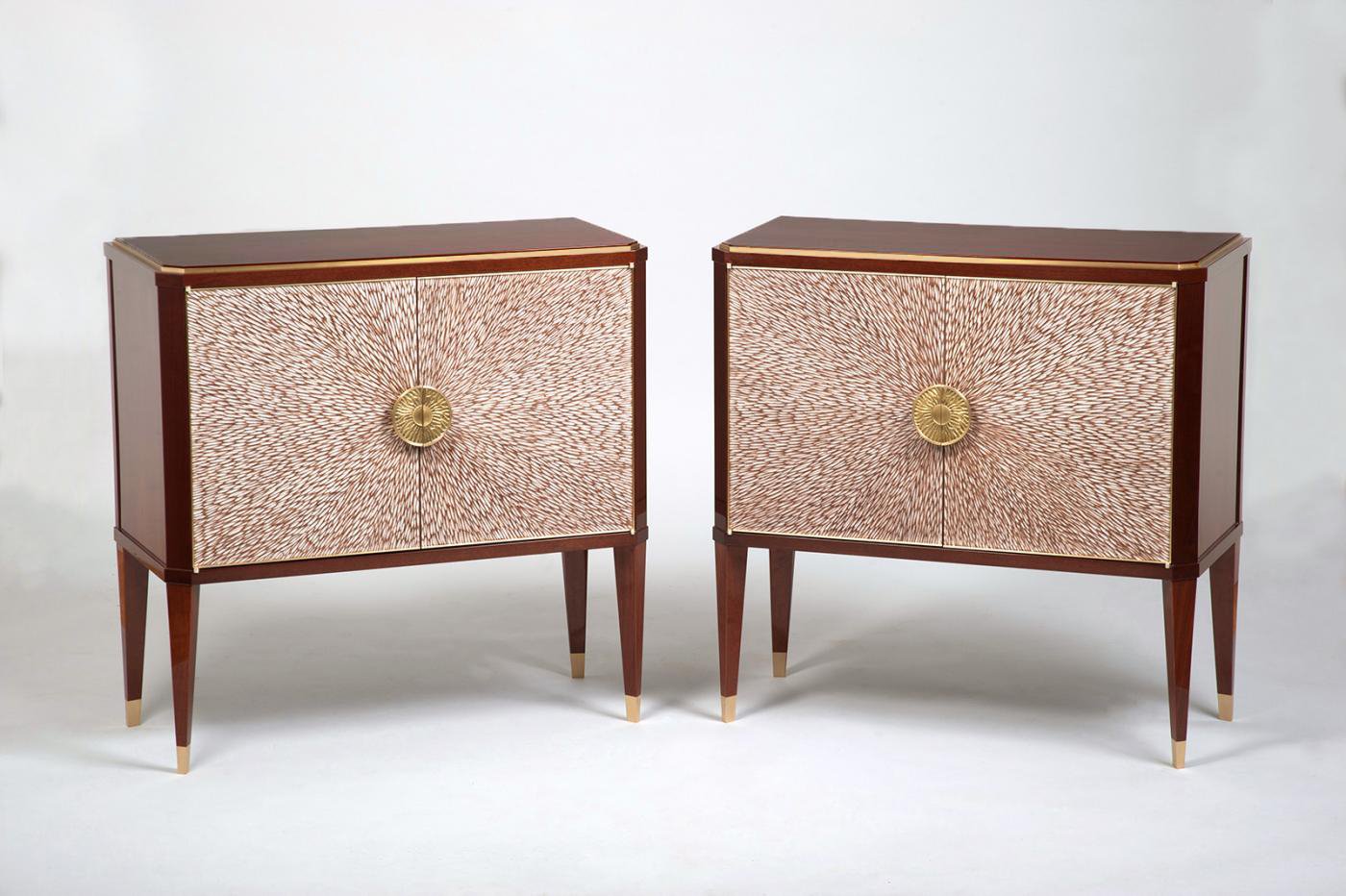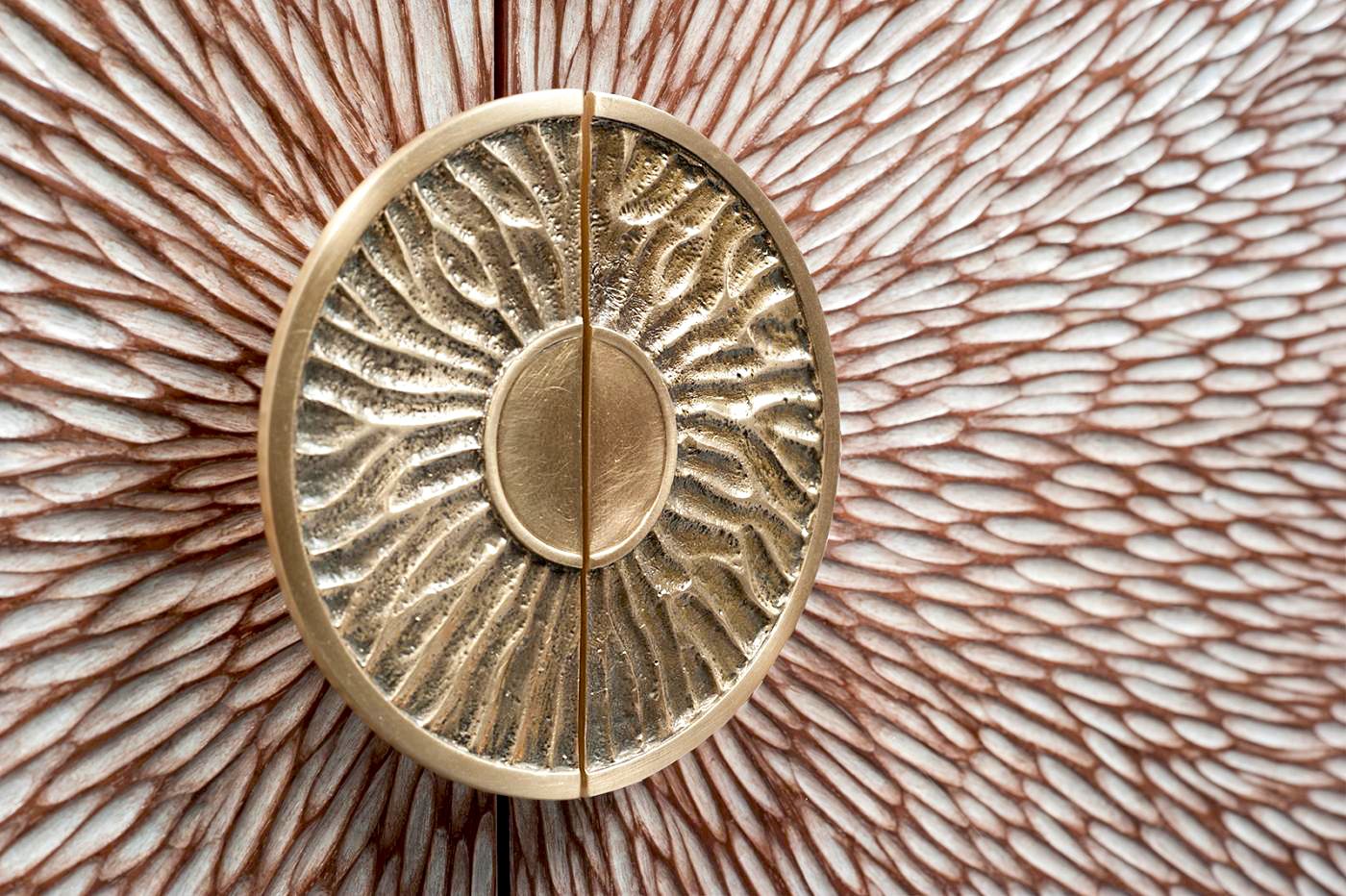 The Sun Ra Cabinet from Iliad Design is rich with texture.
As purveyors of Austro-Hungarian Biedermeier, French Art Deco, and Art Moderne antiques, New York-based Iliad Design pursues period inspirations — from French Modernist to Swedish Neoclassical — to craft its in-house line of furniture. The solid walnut Sun Ra cabinet was influenced by classical design, revamped with unique emotive elements. Ceruse-finished doors are adorned with cast brass split-starburst medallion pulls, as chamfered legs and solid brushed brass sabots reveal skilled craftsmanship and thoughtful detail. The interior features a single drawer and adjustable shelving. "The Sun Ra cabinet is directly inspired by the neoclassicism of the Italianate style of 18th-century case furniture and then given a twist, says Andrea Zemel, an interior designer and founding partner at Iliad Design. "Its modernist design was a conscious effort to defy one's expectations by modestly juxtaposing different narratives."
De Lisle Cabinet | John Lyle Design



Luxurious materials and meticulous details set the De Lisle Cabinet apart. Here, the pulls are shown in yellow bronze.
Interior designer John Lyle has been creating glamourous high-end furniture and accessories for more than three decades. His new De Lisle cabinet features a curved front and graceful chamfered legs, with linear metal pulls. Like many of his products, the cabinet is highly customizable, and can be constructed in a variety of the brand's wood finishes — which include santos rosewood, Macassar Ebony, and zebrawood —as well as shagreen, lacquered linen, mother of pearl, pen shell, and more.