A Blizzard Emergency Overnight in Alexander Calder's Studio Set Gordon Auchincloss on the Path to Sculptural Lighting Design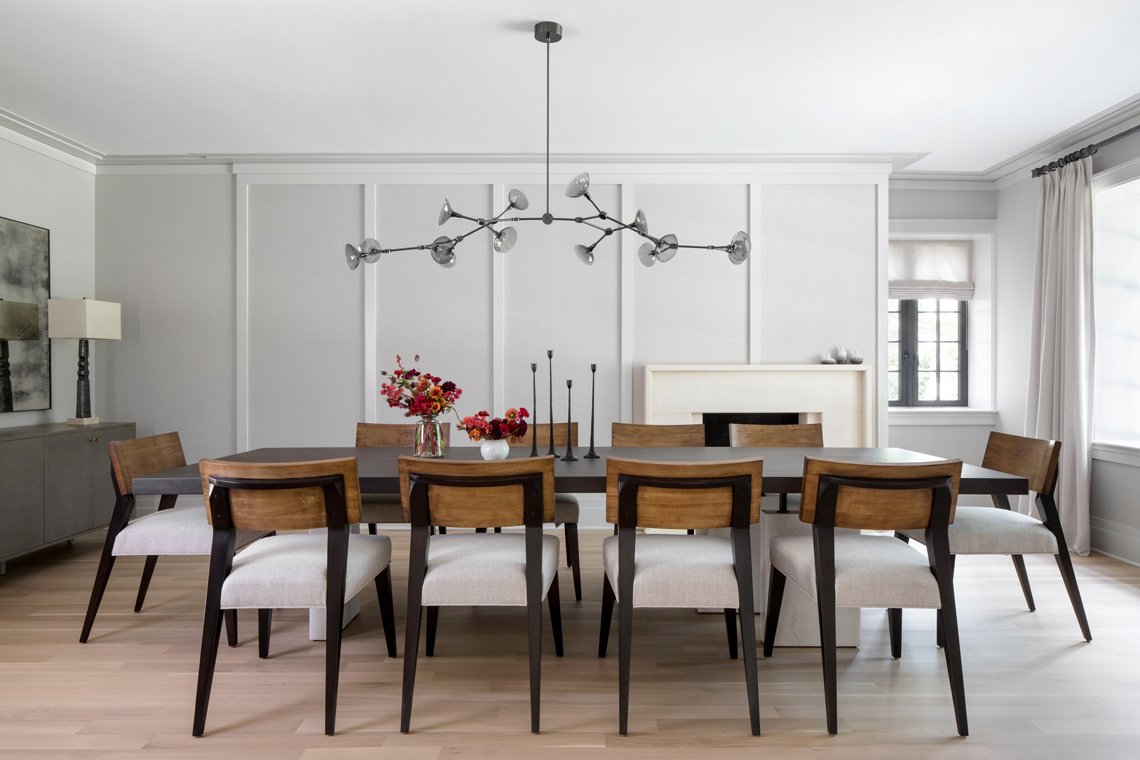 Auchincloss Lighting offers precision-crafted, low voltage dimmable LED lighting. Modern chandeliers and ceiling lights, sconces, and standing floor lamps composed of rich black walnut, metal, and hand-blown glass with luxurious finishes. Each is hand-crafted from our studio in Vermont.
An Overnight in Alexander Calder's Studio Set Gordon Auchincloss on the Path to Sculptural Lighting Design
Gordon Auchincloss Lighting is 100% designed and handcrafted in Vermont, and has become one of the most sought-after custom lighting brands on the market. Incollect Magazine Editor-in-Chief Benjamin Genocchio sat down in conversation with Gordon, the creative mind behind the brand.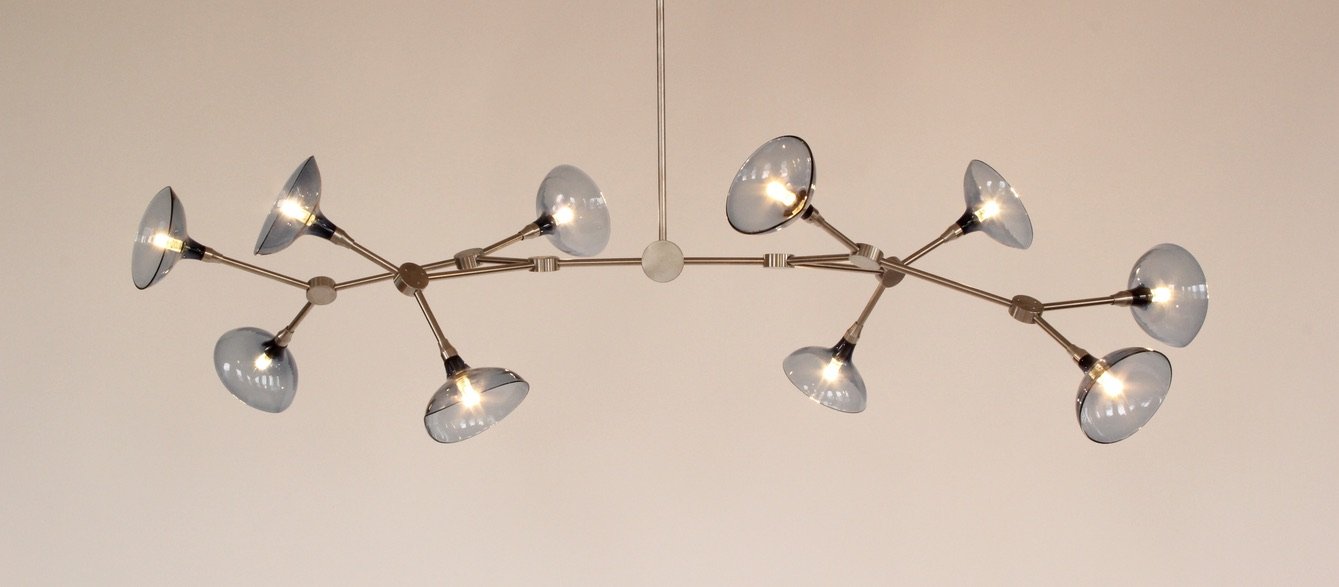 Elsa 10 Articulating Chandelier with handblown glass shades. Image courtesy of Gordon Auchincloss Lighting.



Our distinctive hand-blown glass shades are crafted in Vermont, and can be selected from our standard colors or custom-matched to Pantone colors.

Images courtesy of Gordon Auchincloss Lighting.
| | |
| --- | --- |
| | |
| | Gordon Auchincloss |
What do you specialize in as a designer?
Auchincloss Lighting is known for clean, well-proportioned, modern light fixtures. I take an artistic approach to lighting design and am inspired by the imagery of chemical compounds when creating the branch components in our chandeliers.
Hand-blown glass is also a signature component of Auchincloss Lighting designs — it brings that sense of lightness and balance and space to our light fixtures. Everything is sourced and manufactured here in Vermont. I work closely with interior designers to create custom sculptural light fixtures that relate to each individual space.
How did you come to work with lights and lighting?
For as long as I can remember, I have loved classic mid-century European lighting artists, but I did not initially set out to become a lighting designer. My career began as an artist making kinetic sculptures. Through my art, I developed an awareness and appreciation for structural forms. Over the course of 20 years as an artist, I developed a process for creating balanced and aesthetically pleasing sculptures.
My true passion for lighting design was uncovered when a friend challenged me to design a light for an art show. The response to my first lighting design was overwhelmingly positive and the experience inspiring. I immediately recognized that this is what I wanted to be doing.
I am continually inspired by the challenge of merging the function of lighting with the form of sculpture to create custom pieces that relate to architecture and interior design.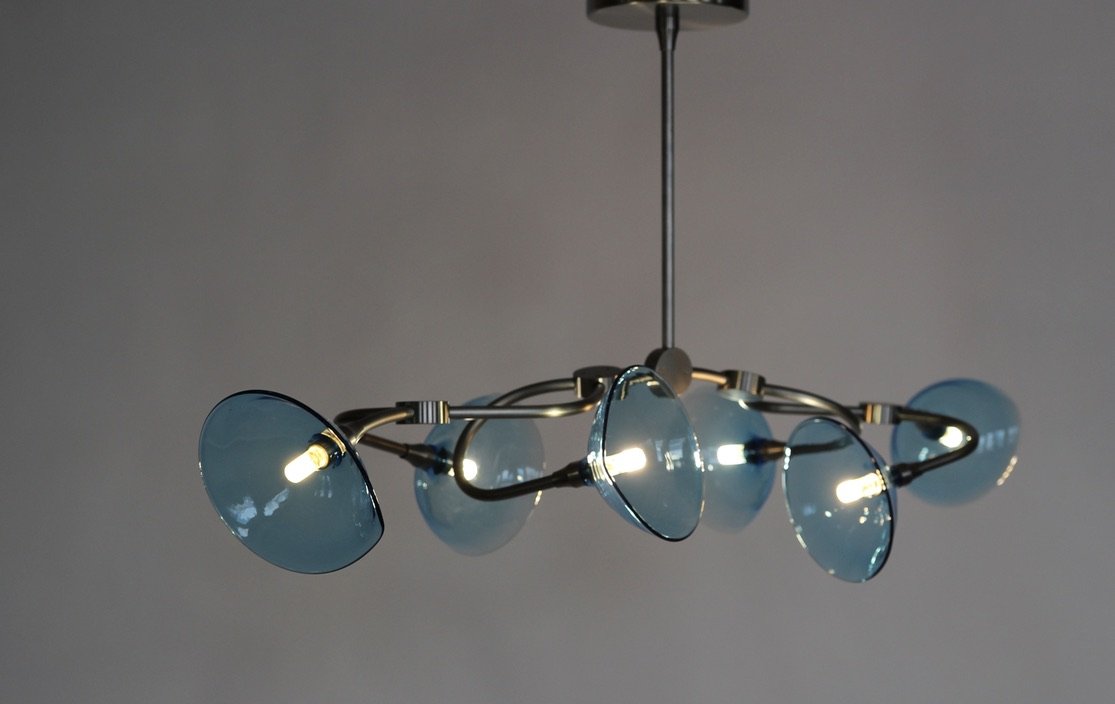 Chloe Articulating Chandelier with handblown glass shades. Image courtesy of Gordon Auchincloss Lighting.

| | |
| --- | --- |
| | |
| | Elsa 12 Articulating Chandelier with handblown glass shades. Image courtesy of Gordon Auchincloss Lighting. |
How are your lights different from other contemporary light designs?
Auchincloss Lighting is all made to order and I employ custom-machined, unique parts and locally sourced hand-blown glass that are all made here in Vermont. By making everything locally we are removed from the supply chain issue.
Our custom approach is also unique, as I bring an artistic sensibility to the process and am inspired by the client's design vision for a space.
A sense of simplicity, lightness and luxury are qualities you seem to strive for in your products. How do you achieve that aesthetic?
Beautiful, luxe simplicity in lighting is born out of the balance and harmony in how the parts are configured. The best interior designers and architects are experts at balancing scale and pulling together design elements for an overall look that is harmonious and pleasing. This takes a great eye for design, as well as an expertise that is developed over time. These are the same qualities and skills that I draw upon to create the lightness and luxury that defines and distinguishes Auchincloss Lighting.
My artistic practice for recognizing how to achieve sculptural balance and harmony was perfected through trial and error over the decades I worked as an artist making mobiles. With time, I developed an innate sense of balance points and an understanding of how components work together as load-bearing elements. Quality of materials and precision in the studio is a very big part of that as well.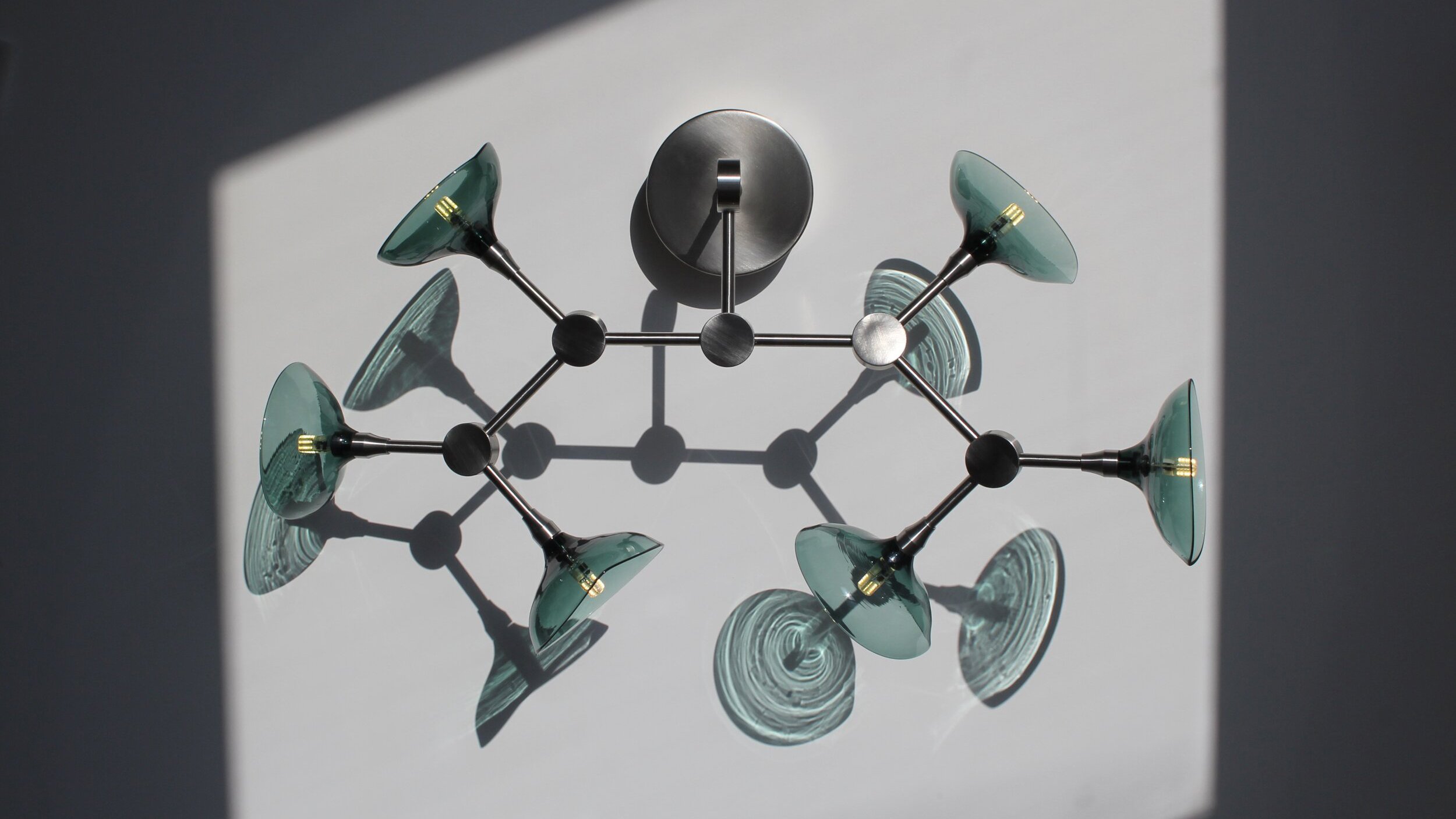 From top left: Hand assembly of a fixture, a close-up image, hand-blown glass shades casting lovely, delicately nuanced reflections.

Images courtesy of Gordon Auchincloss Lighting.
Atlas 3 Custom Chandelier with walnut wood shades. Image courtesy of Gordon Auchincloss Lighting.

Is there a specific piece in your collection which you especially admire?
I honestly love all the Auchincloss Lighting pieces, they are like children and it's hard to single out one. That said, the Elsa and Olivia lights are the first pieces that I took to the Architectural Design Show in 2017. That was the year I launched Auchincloss Lighting. The response to the Elsa and Olivia was very strong and they continue to be our most popular lines, I consider them the core collections for the brand.
As an artist, of course, I am always enthralled by the piece that I am currently working on — that is the most compelling to me. My favorite at the moment is a prototype here in my office that I'm developing for a client in Spain.
Who or what are some of your main inspirations as a designer?
The midcentury iconic lighting designers are a continuous source of inspiration but above all, I can credit Alexander Calder for setting me on the path to art and design. Many years ago when I was just out of college, I was serendipitously invited by the caretaker of Calder's Roxbury, CT property to stay the night after a sudden and severe blizzard. I lived nearby, and a group of us went night skiing at a local ski hill and afterwards we had apres-ski drinks and got icebound/snowbound at the caretaker's cottage; the caretaker was a friend of a friend. It was an amazing experience. Being up close and personal with Calder's famous mobiles, many of which I had long admired in pages of books, was a transformative experience. This encounter with Calder's art ignited my serious passion for building mobiles and sculptures. Now as a lighting designer, Calder remains an important influence in my work.


Left: Frederick Metal Sconce with handblown glass lamp. Right: Chloe Curved Metal Sconce with handblown glass shades. Images courtesy of Gordon Auchincloss Lighting.
Tell us about the process of making a light? How do you begin a design?
There are three key considerations to the process of creating the sculptural components that define an Auchincloss Light: size, color and finish.
First, I consider the size of the space where the fixture will be installed. I discuss the height of the ceiling with the designer as well as other elements in the room. The purpose of the space is also important. For example, the size of the light will be influenced by the type of room, such as an entry hall, or above a dining table.
Selecting the color and the material for the light fixture is informed by the interior design. I will match our glass to any color, whether it's a Pantone or a fabric sample. This dialogue with the designer is an inspiring part of the process and has led me to discover many hand-blown glass colors that have become part of the Auchincloss Lighting collection.
The finish is the final component to consider. Currently satin brass is the most popular. It is the interplay between scale, color and finish that creates the foundation for a compelling lighting design. With all of that decided, I then have the pieces in place to create the light's sculptural components.
Is there a material you have not worked in that you would like to try and if so why?
You never know when inspiration will strike. I was in a friend's wood furniture studio about a year ago and I spotted a piece that he wasn't using — I got to thinking about what I could make with it. This led to a unique collection of walnut floor lamps that are now in the Auchincloss Lighting catalog.
Currently, I am experimenting with natural tanned leather and formed lamp shades. I am still exploring this, so we'll see how it evolves. New materials jump out at me all the time, it's all part of being an artist.




Left: Wallace Metal Standing Floor Lamp with walnut wood shade. Center: Cosmo Metal Standing Floor Lamp with walnut wood shades. Right: Skyler Metal Standing Floor Lamp with walnut wood shades. Images courtesy of Gordon Auchincloss Lighting.
What is selling from your collections in the broader market at the moment, and how do you see that as a reflection of a sense of taste and life in 2022?
There is a trend for lighting to have a sculptural, artistic quality, which is something that I embrace. In these past years, there is a greater value in the importance of home and a newfound appreciation for interior design. Our surroundings have the power to elevate our well-being. Why have boring lighting when you can have a fixture that inspires like a true work of art?
If you weren't a designer what can you imagine yourself doing?
Stone masonry. I love working with stone walls and it's a rewarding process to see how stones fit together to create a whole. There is something so satisfying about finding that perfect rock that fits the space just so. It simply feels good to look at. As with my lighting design, it all comes back to balance and form.