All Eyes on Bonhams Skinner For Spectacular Fall Americana Sales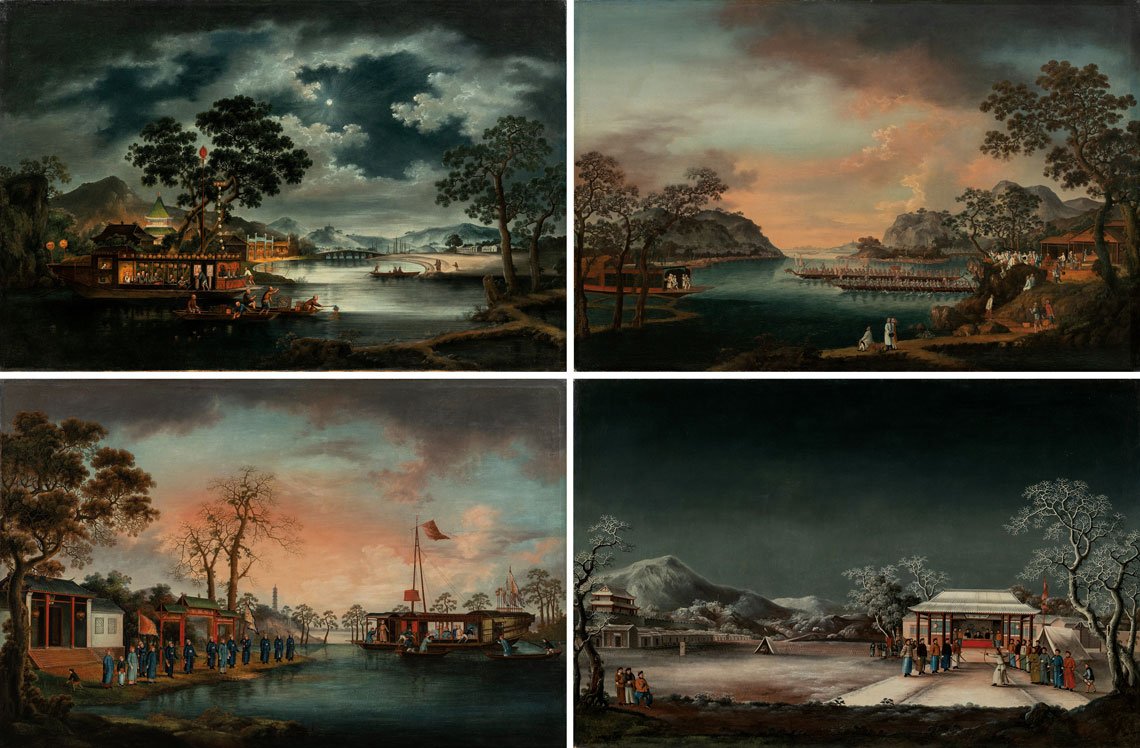 The Four Seasons Suite, attributed to Fatqua, Canton, China, 1805-1815. Four oil on canvas paintings, (unsigned, unframed), each, 38½ in. wide, 32¾.in. high. Fatqua's Four Seasons Suite represents some of the best-executed work in the canvas medium by a Chinese artist in the early 19th century. Chinese genre paintings of this era are rarely so ambitious in their subject matter and normally depict much simpler domestic activities. Scenes like these set at night and in the snow are especially rare. The paintings are also quite large compared to most other Chinese works on canvas of the time, particularly those made to be hung as sets. The Suite depicts important events from daily life in Imperial China, with special attention to activities that characterize each season of the year. Lot 158, Est: $150,000–$250,000.

All Eyes on Bonhams Skinner For Spectacular Fall Americana Sales
By Benjamin Genocchio
Live and Online Sale
November 18, 10am
Americana Online: Hearth & Home
Online Sale
Ending November 21, 7pm
Fans of American history, folk art, and craftsmanship will take delight in Americana: The Autumn Palette, an upcoming sale at Skinner Auctioneers in Marlborough, Massachusetts on November 18. Skinner is also hosting concurrently Americana Online Hearth & Home, an online auction of Americana through November 21 that includes a variety of items from American Federal furniture, domestic andirons as well as burlwood bowls to imported European brass and Chinese export porcelain.



Large and impressive inverted sand picture in a bottle by Andrew Clemens, McGregor, Iowa, 1887. With text reading "Merry Christmas" surrounded by flowers on one side and an uncommonly detailed view of an approaching ship at full sail on the other, with a visible striped American flag flying atop the ship. Both images are surmounted by a rare intricate floral and foliate frieze in contrasting black and pale yellow. Above the frieze are concentric circles with geometric motifs at the edges progressing upwards to the top of the bottle. Below and between the two images are some of the polychrome geometric motifs that characterize Clemens' work, though in a finer and more complex manner than is usually seen. The sides of the bottle also feature a very uncommon bellflower motif. 4 in. in diameter, 9 in. high. Lot 172, est: $150,000–$250,000.
| | |
| --- | --- |
| | |
| | Thomas Ware (American, fl. c. 1820), Two Portraits: Thomas Burroughs and Lora Martin Burroughs, unframed oil paintings on board depicting Thomas Burroughs (1778-1829) and Lora Martin Burroughs (1792-1870) of Walpole, Hampshire, in three-quarter profiles holding a pine bough and book of psalms, respectively, artist signature on reverse, (boards warped along grain), 21 in. wide, 26 in. high. Lot 54, est: $4,000–$6,000. |
Americana: The Autumn Palette contains substantial items both in terms of price and quality with several highlights including some important 18th- and early 19th-century American furniture, weathervanes, an exceptional pair of early 19th-century portrait paintings, and a large, impressive inverted sand picture in a bottle by Andrew Clemens, from McGregor, Iowa, produced 1887 with text reading "Merry Christmas" surrounded by flowers and other wonderful decorative details.
The piece was created in 1887 for Mary Walter as a gift for her son and daughter-in-law, and this provenance gives the work added importance and value. This one is unusual as it sits on a pedestal and is quite large and the variety and complexity of the design is unmistakably the work of Clemens, according to Stephen Fletcher, Skinner's Americana specialist. "It is quite extraordinary as a work of decorative art and the detail boggles the mind," he says. The piece is also documented in books.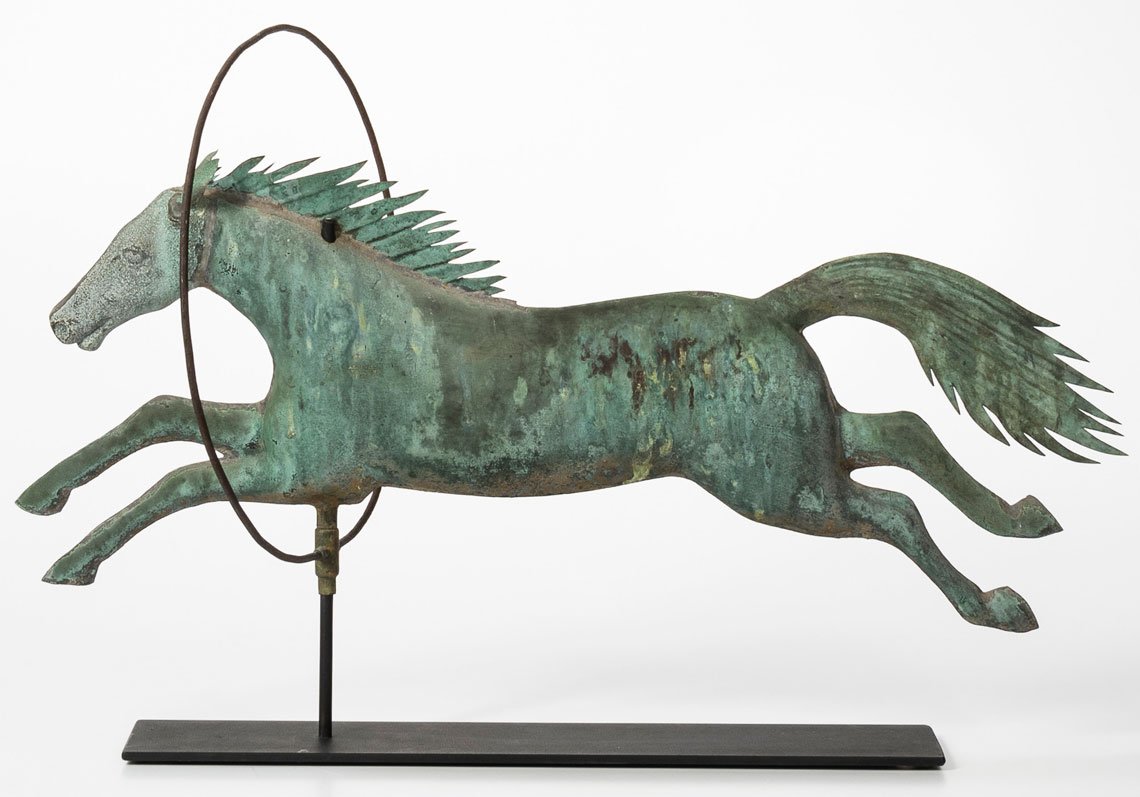 Molded Copper and Zinc Horse and Hoop Weathervane, attributed to A.L. Jewell & Co., Waltham, Massachusetts, late 19th century. Flattened full-body form of a jumping horse with soldered sheet copper tail, mane, and ears, with zinc head and mounted within an iron hoop, verdigris surface, includes custom iron stand, (oxidation), 30½. in wide, 16¼ in. deep, 19⅛ in. high. Lot 146, est: $15,000–$20,000.
The bottle is estimated at $150,000–$250,000 and is one of two bottles by Clemens in the sale, the other is a smaller patriotic sand picture in a bottle estimated at $20,000–$30,000. Sand paintings were once uncommon at auction but have become more popular given the growing interest in Clemens's work among folk art collectors. "Nobody knows how many have survived," Fletcher says, "Clemens packed the sand in there tightly and so the ones that have survived today are in really good shape."
| | |
| --- | --- |
| | |
| | Painted Dome-top Box, Vermont, c. 1835. Nailed and dovetailed dome lid opens on steel wire hinges on dovetailed case with quarter-round-molded flange attached to inside edge with wrought iron nails, painted on all sides with yellow, orange, and brown ground, feathered patterns in contrasting white, yellow, and green, including inscription, "H.L. PURDY" in shaded block letters across front, 16¾ in. wide, 8¾ in. deep, 9 in. high. Lot 98, est: $3,000–$5,000. |
The most important piece in the sale is The Four Seasons Suite, attributed to Fatqua, an early 19th-century artist from Canton, China, from 1805–1815, consisting of four oil on canvas paintings of uncommon size and complex subject matter. Some of the scenes are set at night and also in snow, depicting in minute detail important events from domestic life in Imperial China that characterize the four seasons of the year: the winter scene is magical, depicting a military archery competition.
The fact that all four pictures survive as a suite is special and unusual Fletcher says. Unsigned and unframed, the piece is strongly believed to be by the painter due to the quality of the painting. The works are also mentioned, he notes, in Carl Crossman's book The Decorative Arts of the China Trade, published in London, 1991 and were, according to Crossman probably purchased in London, c. 1955 and then repurchased from Child's Gallery, Boston, Massachusetts, a few years later.
The sale contains over 172 lots, the bulk of which come from a single source, the Massachusetts collection of Maryellen and Brendan O'Toole with a focus on rare and collectible New England Americana. Color predominates, including painted American tinware, such as coffee pots and a variety of other forms, Nantucket baskets, painted miniature toys, along with many excellent 18th and early 19th century painted blanket chests and boxes and frequently decorated to resemble expensive wood and inlay.
Maryellen and Brendan sought out the best of what they could find from dealers and at auction over many years — and it shows. Many of the wooden items retain original paint such as a dome-top box that was likely made in Worcester, Massachusetts, in 1840 and decorated with arches and tassels. Then there are side chairs believed to be from Maine, probably made in the 1830s and 40s, which retain their original paint, depicting stylized flowers and fruit. The couple loved beautifully painted wood objects.
Four Comb-back Windsor Side Chairs, America, 19th century. Carved crests on extended top over bentwood bow back, tenoned through carved seat, on turned splay legs and stretchers, all painted green, (dents, paint loss, old seat repairs), 20 in. wide, 18½ in. deep, 46 in. high. Lot 1012, est: $1,500–$2,500.
| | |
| --- | --- |
| | |
| | American School (circa 1800), General Israel Putnam on Horseback. Putnam is depicted in a blue uniform with red facings with sword in hand on a brown horse with stone structure behind a tree, with applied molded black- and yellow-painted frame. Unsigned. Oil on panel, 17¼ x 21¼ in., sight. Lot 1027, est: $1,500–$2,500. |
A major category in the sale is an excellent group of weathervanes. The bulk of them come from the collection of Kimberly Walin. Her father, Bob Walin, was an antique dealer from Woodbury, Connecticut, a center for antique dealers, and he guided her in her collecting. Her weathervanes possess wonderful color and surface — qualities that appeal to weathervane enthusiasts — the hallmarks of having been exposed to many New England storms over the years. There are quite a variety of animal designs. An obvious favorite is a molded copper and zinc horse leaping mid-air through a hoop.
The Americana Online: Hearth & Home sale contains a greater diversity of material with an emphasis on "brown" furniture, which tends to highlight the beauty of the material and the craftsmanship. There is also a strong grouping of Liverpool creamware, jugs and plates and other kinds of ceramic objects made in England for export. One of the items is a pitcher decorated with a portrait of George Washington — a testament to the fact that English manufacturers were making items that they believed Americans wanted to own.
Bonhams Skinner Auctioneers
Marlborough, MA