Art of Design Wexler Gallery is Expanding in Philadelphia and New York to Showcase Art and Design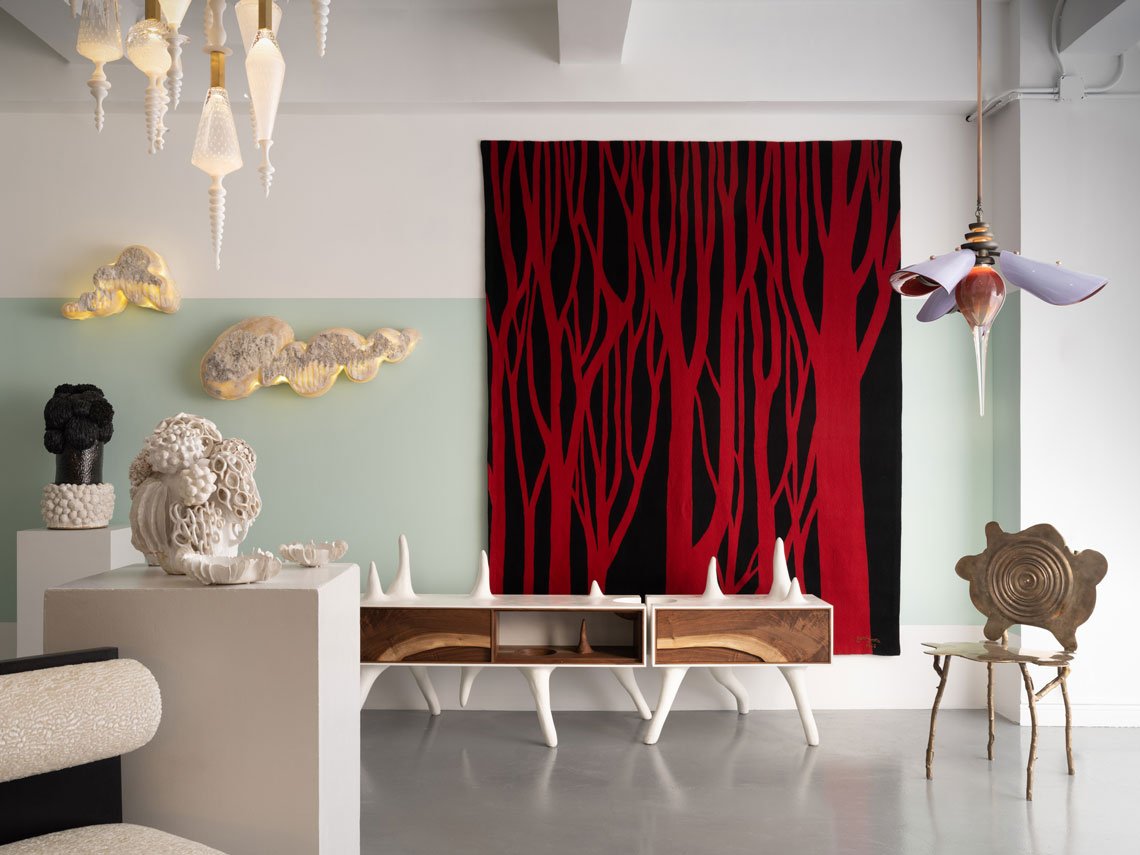 Forbidden Garden, curated by Rodney Lawrence, September-December 2022, Wexler Gallery New York.
Botanica: Inspired by Nature, May-August 2022, Wexler Gallery New York.
Wexler Gallery is Expanding in Philadelphia and New York
to Showcase Art and Design
by Benjamin Genocchio
"It is going to be pretty exciting," says Lewis Wexler, as he walks me through plans for a massive new gallery in Philadelphia slated to open in spring 2023 — an 11,000 square-foot former pretzel factory at 1811 Frankford Avenue in the edgy Fishtown neighborhood. The new gallery building is designed by DIGSAU, the architecture firm that recently designed the new home of The Clay Studio, a ceramics atelier, educational and exhibition space in Philadelphia's Kensington area.
Lewis can't wait to talk about the atrium. "The first floor will have exhibition space and storage. The exhibition space is not super large but we can showcase pieces in a more interesting way — we are cutting a hole in the ceiling to create a 35-foot high floor-to-ceiling central exhibition space, with offices up on the second floor. This will allow us to show virtually anything — a large sculpture or lighting from ceiling to floor."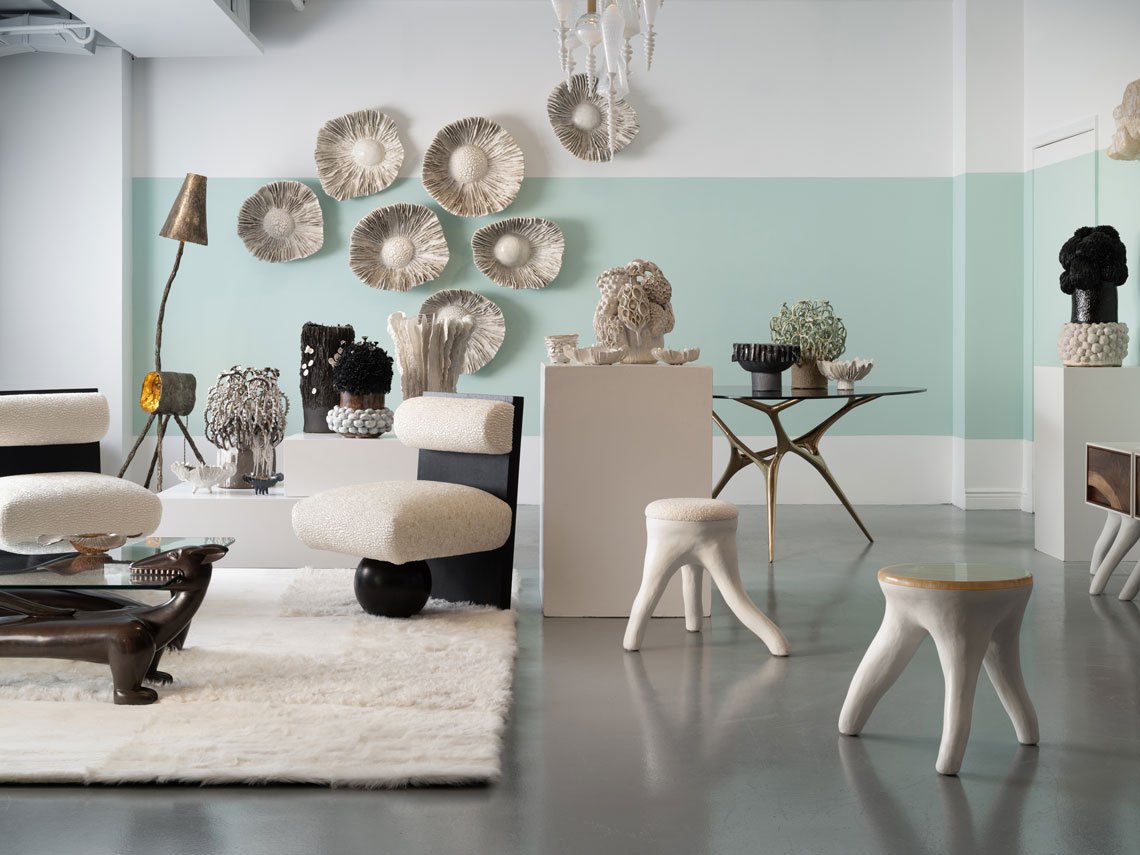 Forbidden Garden, curated by Rodney Lawrence, September-December 2022, Wexler Gallery New York.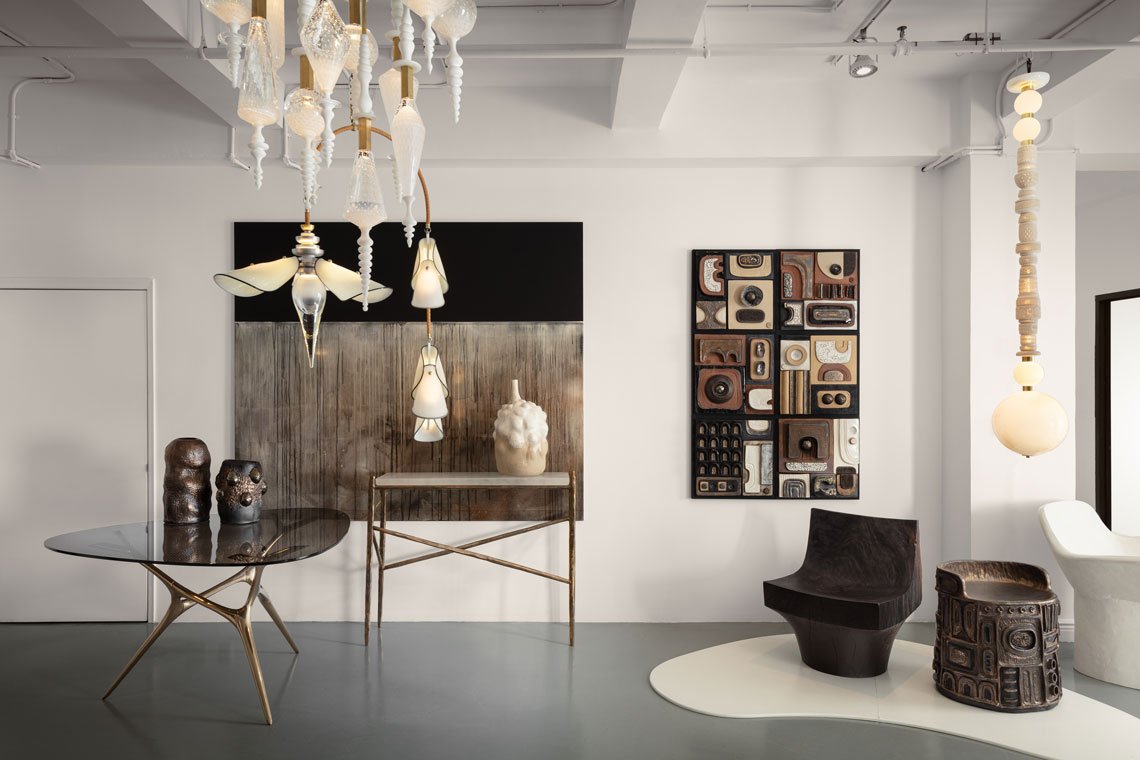 New Works / New Space, January-April 2022, Wexler Gallery New York.
The roof is on the building and right now Wexler says they are pouring the concrete floors. "Concrete floors mean we won't have to worry about a weight limitation for exhibition objects," he says. The current gallery has a wooden floor and basement storage, meaning there is a weight restriction. "With the new concrete floor, we have way more latitude on what we can show and no limitations on the scale."
In designing and building the new expanded space, Wexler says he was responding in part to the needs of his artists. But also issuing them a challenge. "We are doing it to accommodate the scale of much new work, but also giving artists an opportunity to do pieces that can scale up and that we wouldn't have been able to show previously," he says, adding "lighting, in particular, has become more ambitious in scale and materials." He hopes that the space will inspire artists to create things that are "impactful."
Wexler Gallery opened in 2000 in Philadelphia and in 2018 expanded its presence to New York with a gallery in the New York Design Center at 200 Lexington Avenue. "A gallery in New York allows us to serve existing New York clients, but to also engage with new clients," he says. "We knew it was important to have a New York presence. We picked the location because Jim Druckman is such an amazing landlord. It was a no-brainer to be there after meeting with him — he is so enthusiastic about design."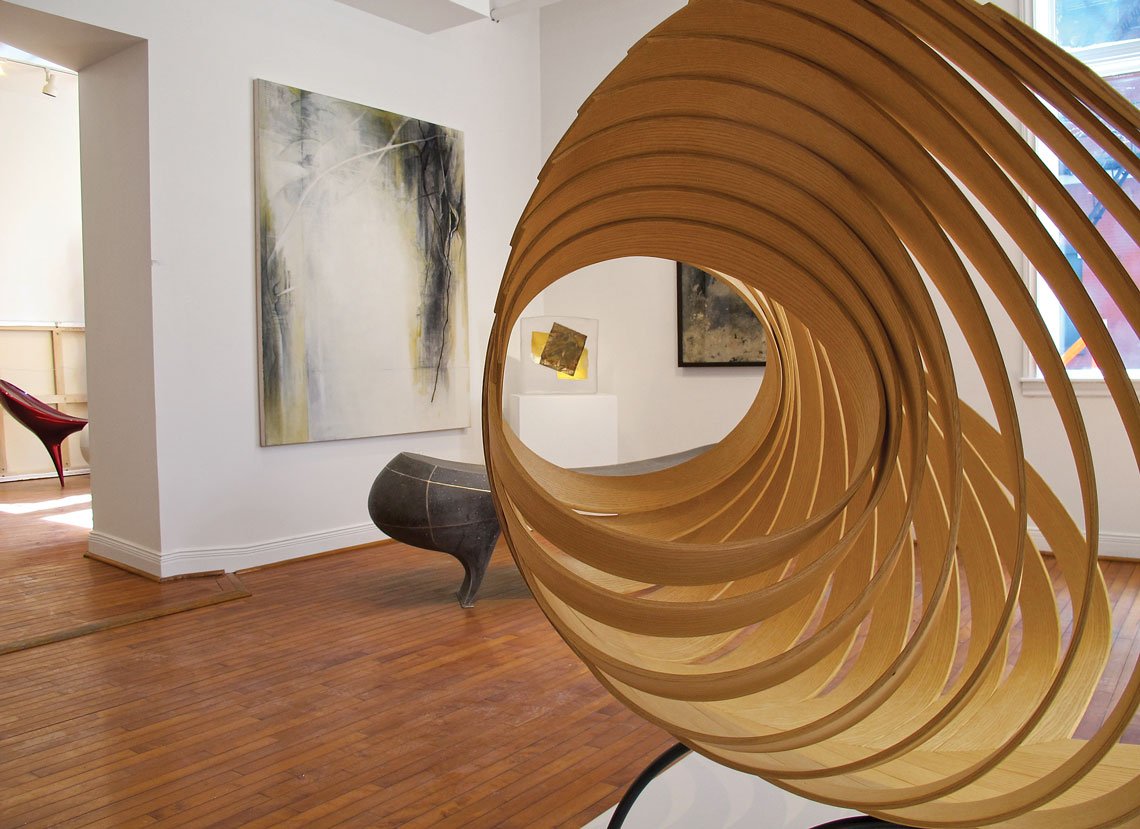 Relationships: In Situ Environments, March-May 2015, Wexler Gallery Philadelphia.
Since its inception, the gallery has presented work by both designers and artists and, co-owner Sherri Apter Wexler says, has never drawn a hard, fast distinction between the two — in this regard, the gallery was way ahead of its time. "The gallery program always mixed art and design and today the lines between the two fields have never been less defined. This year we exhibited vintage tapestries by Belgian artist Jan Yoors, and modern African design by Jomo Tariku, both new artists for the gallery."
| | |
| --- | --- |
| | |
| | On the Surface, January-April 2023, Wexler Gallery New York. |
Lewis and Sherri began their careers working in galleries and later auction houses. "The best art and design," Sherri believes, "challenges labels and coexists in different disciples" and for that reason, the gallery has always had a commitment not only to mixing art and design but supporting the most ambitious contemporary creativity — what can be described as the emerging talent of today. "The magic for us as dealers," she says "is discovering new talent and sharing it with our collectors, asking them to consider how the work can be perceived as art, design or both at once."
The New York gallery, run by Cate Andrews, continues to challenge and defy labels with a constant and changing mix of art and design items. "I can't concentrate on one thing," Lewis says, "it lacks the excitement of doing multiple things at one time. We have always played with design and fine art and are active in the secondary market for art and in the auction world." He even took a year and a half off, a few years back, to concentrate more on private high-end dealing of contemporary art.
| | |
| --- | --- |
| | |
| | On the Surface, January-April 2023, Wexler Gallery New York. |
Lewis and Sherri have also been experimenting in the New York gallery by inviting contemporary interior designers to curate exhibitions and exhibit their own work. "We had a show Rodney Lawrence curated and it was really successful and Rodney created a couple of pieces that we showed in the Salon + Art and Design," he says. "Jean Michel Frank and designers of their day created things that are now coming up at auction, long after having gone straight into a private home. We have an interest in giving interior designers an opportunity to show their designs to the general public."
What Lewis is most excited about right now is a couple of the new artists that they are showing. "We believe they are really important and are going to have a positive trajectory in the marketplace," he says. One is the Ethiopian-American artist and industrial designer Jomo Tariku, a pioneer of modern African design whose first collection, launched in 2017, received rave reviews in multiple publications. Beauty, craftsmanship and culture combine to imbue his creations with striking visual power.
New Work by Wendell Castle; Works on Paper by Chuck Close, January-March 2008, Wexler Gallery Philadelphia.
Tariku worked for the World Bank for many years and committed himself to sculpture and furniture late in life. "He is one of a kind," Lewis says, "he's smart, humble, and has an amazing talent, he is a unicorn!" Tariku produced some furniture for the new movie Black Panther and has been collected by museums throughout the country. He also had a successful showing in December at Design Miami where his work sold out.
Harry Morgan is another artist-designer that Lewis and Sherri believe deserves more attention. The 28-year-old graduated from Edinburgh College of Art in 2014 and since then has exhibited widely throughout the UK and internationally and won several top prizes. "He combines glass and concrete, and that juxtaposition of materials is really exciting," Lewis says. The results resemble blocky geometric chunks of igneous rock formations, icicles or stalagmites, hovering somewhere between sculpture, art, and design. Defying all categories, they perfectly encompass the gallery and its vision.