At Adesso, An Enduring Love Affair with Brazilian Modern Design



A pair of vignettes at the Adesso showroom, celebrating the best of Brazilian Modern design and exemplifying how the style animates an interior, mixing beautifully with other genres. At left, a spectacular long bar cabinet by Giuseppe Scapinelli of Brazilian jacaranda, circa 1960s. The decorative ceramic panels have swiveling shelves behind, and the back is lined with cabinets and a sink. Above hangs an Italian chandelier from the 1970s, in brass with 13 pebbled glass balls. A pair of 1960s-style Italian lounge chairs upholstered in blue mohair and featuring brass legs is mated with a nest of three Italian brass and smoked glass tables, vintage 1980s. The Brazilian torchiere floor lamp is brass, copper and wood, and the mirror is a custom piece available in a slew of options; this one is half silver, half apricot-tinted glass with a copper frame. At right, a 1960s Novo Rumo sideboard of Brazilian jacaranda has two shelved cabinets and one set of drawers. The rocking chair is from Liceu De Arte circa 1960s, with a frame of highly polished Brazilian jacaranda and creamy leather upholstery. On the sideboard, a 1950s lamp from German American ceramic artist Marianna Von Alllesch in charcoal ceramic with two figures etched over brown and yellow glazes, and has its original sculptural shade. All pieces are offered by Adesso on Incollect.

| | |
| --- | --- |
| | |
| | Selma Cisic, owner of Adesso and passionate connoisseur of Brazilian modern design. |
Selma Cisic, owner of Adesso in Los Angeles, has a uniquely passionate connection to vintage Brazilian furniture. More than mere admiration for the style, it resonates with her strongest aesthetic leanings. Selma was trained as an architect, and began her career designing industrial furniture; that first-hand experience has contributed greatly to her connoisseurship. In the ensuing 14 years, she traveled extensively and lived in seven countries on three continents. And then, destiny brought her to Brazil in the late 1990s, where she fell in love with the organic and sensual forms that characterize the genre, and most especially, the mysterious beauty, rich colors and mesmerizing grain of their tropical hardwoods. She returned to the US in January 2005, eager to share her love for fine design, and especially, her ardor for Brazilian modern style. Selma immediately set to work finding an appropriate gallery space, made improvements to better suit the display of her collection, and opened Adesso in October of that year.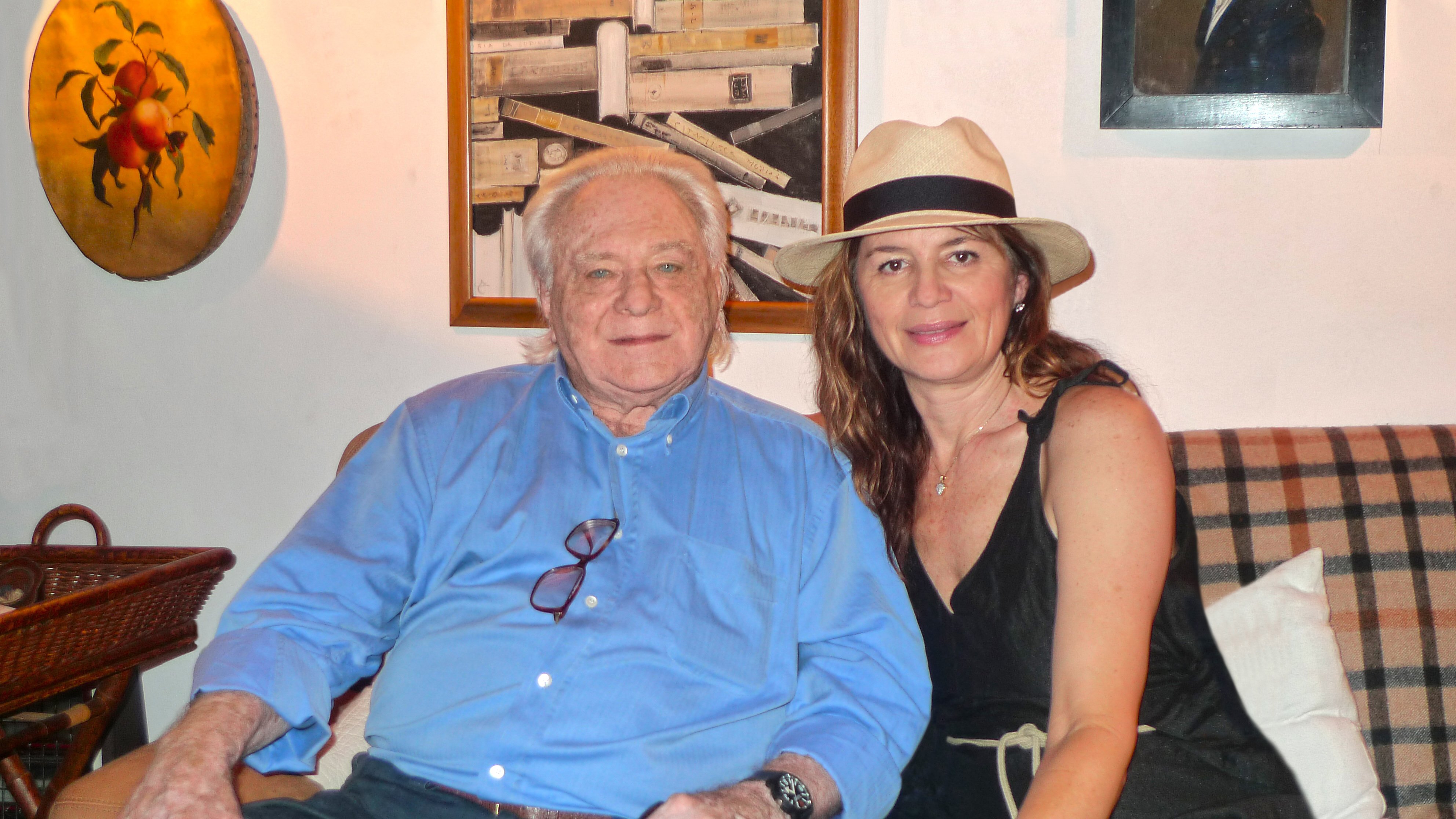 Coffee and conversation at the home of Jorge Zalszupin




Above left: Petalas Brazilian jacaranda coffee table with spectacular grain, 1960s by Jorge Zalszupin. The octagonal design was inspired by origami flowers and developed to utilize the pieces left from his Andorinha table. Above right: Zalszupin's Presidencial sofa invites lounging Brazilian style. Bottom: The impossibly sensual Banco Onda, (Onda means "wave" in Portuguese) three-seat bench, ergonomically designed from a single curved and molded piece of Brazilian jacaranda laminate, with a white leather sling magazine rack, circa 1960s. All pieces are available from Adesso on Incollect.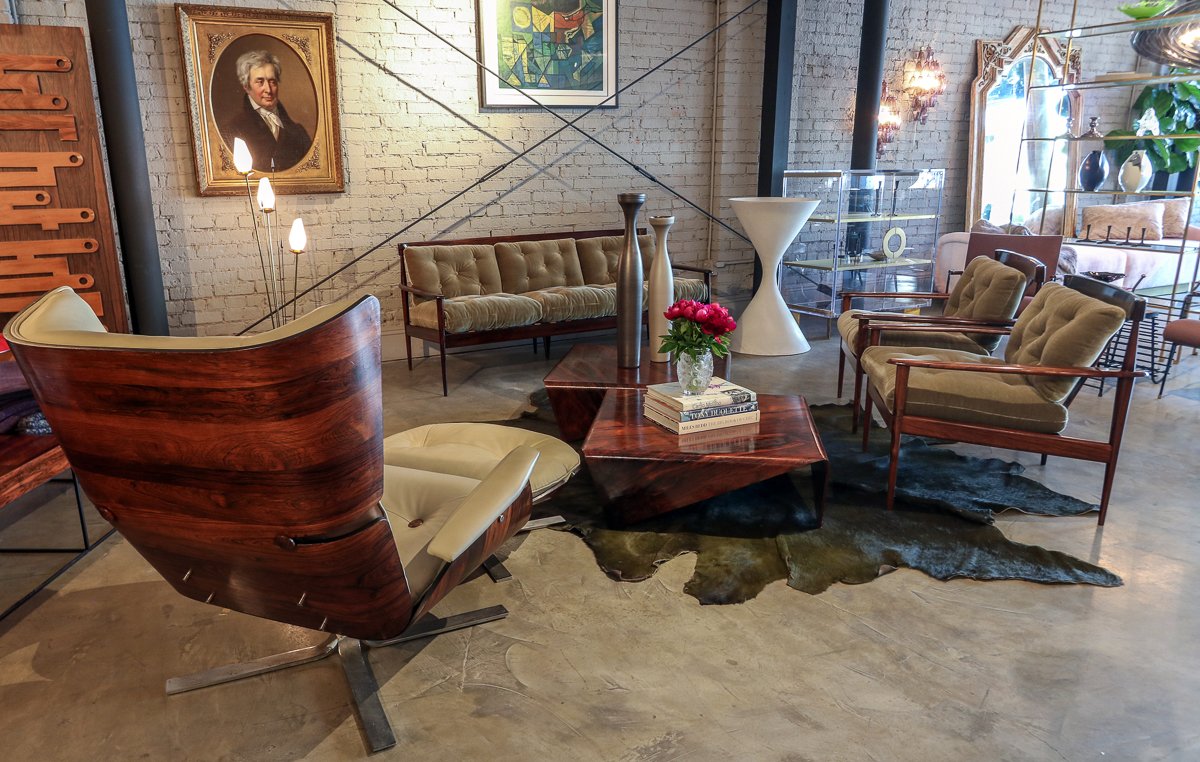 A room setting at Adesso, with a three-piece suite circa 1960s by Rino Levi consisting of a Brazilian jacaranda slat-back sofa and two armchairs, all upholstered in green mohair, and a 1960s Paulistana Brazilian jacaranda armchair and ottoman by Jorge Zalszupin in light beige leather with jacaranda buttons, arranged around two Zalszupin square 1960s Brazilian jacaranda
Andorinha
coffee tables. A pair of handmade
Angel
vases by Italian ceramic artist Rina Menardi dialogue with the streamlined profiles of the furnishings to artful effect. At left is a decorative panel of Brazilian jacaranda, vintage 1960s, which could also be fitted as a door. The floor lamp is 1950s French and the spindle-shaped
Diabolo
planter is by Willy Guhl for Eternit. All pieces are offered by Adesso on Incollect.

Tell us how you came to live in Brazil, and about your first exposure to vintage Brazilian modern furniture.
My husband was an executive with a US engineering company that acquired a Brazilian company based in São Paulo, so we all went there (husband, two kids, and I) as a family. While looking for a place to live, I started visiting furniture galleries, and immediately felt a connection. Once I got established in São Paulo and learned the language, I made many friends with designers, dealers, and connoisseurs of vintage Brazilian furniture, as I was constantly looking to find interesting pieces and learn about them.


Left: With Percival Lafer in Sao Paolo, 2017, when Selma was invited to speak at an exhibition of vintage Brazilian furniture. Right: One of a pair, 1960s Percival Lafer Brazilian jacaranda lounge chairs with black leather sling seats, available at Adesso on Incollect.

| | |
| --- | --- |
| | |
| | With Sergio Rodrigues, the father of modern Brazilian design, at one of his last exhibitions. |
You have met and spoken with a number of the greatest Braziian furniture designers. How did you come to meet them and what did you learn about their creative process?
Brazilians are such nice people, and they love meeting people from other countries and cultures, especially if you are interested in their work and have something to share. For instance, I met Jorge Zalszupin through a mutual friend, and was invited for an afternoon coffee and conversation to his home in São Paulo. It was wonderful not only to meet him, but also to hear all the stories about his beginnings as a young architect in France, and his move to Brazil because he wanted to break with the European tradition and start fresh in a new country. I met Sergio Rodrigues at one of his last exhibitions, and we spent almost an hour talking about his work, his inspirations, and what he was going to do next. Those are some of the most memorable moments, as those bards of Brazilian design were never thinking of retiring — their enormous creative energy kept them going well into the late years of their lives. And two years ago I was invited to speak at an exhibition on Brazilian vintage furniture in São Paulo, and I had the pleasure of meeting Percival Lafer. We talked about his famous chair and sofa designs, and his furniture factory in Campos do Jordao.


Left: Sergio Rodrigues shows us how to relax, Carioca style, in his iconic "Mole" chair. Photo courtesy Instituto Sergio Rodrigues. Right: One of a pair of 1960s Brazilian jacaranda "Lia" chairs by Sergio Rodrigues, with velvety soft beige cowhide seats, offered by Adesso.






Designed in 1959 by Jorge Zalszupin, the

Carrinho de Cha

tea trolly/bar cart was inspired by the 3-wheeled baby buggies Zalszupin saw in his native Poland. The diminutive front ball foot and oversized polished brass wheels are strongly contrasted in size, but balanced in appearance, owing to the delicacy of the open wheel design with only four spokes. The distinctive triangular sides of the bottom tray add to the fluid, almost aerodynamic feel of the piece. This truly distinctive icon of Brazilian Modern design can be found at Adesso on Incollect.

Which are some of your favorite pieces and what about them appeals to you?
The Three-Legged Chair by Joaquim Tenreiro for its expression of the materials and the rare connection between geometry and freedom of form, and the Zalszupin bar cart because it has the combination of the most noble wood and brass. This is definitely the most sculptural piece that demonstrates the play between lines and lightness.
What is your personal "Holy Grail" in Brazilian modernist furniture — a rare piece that you are seeking?
It's the Three-Legged Chair by Joaquim Tenreiro, made of five different woods circa 1947.
What do you see as the legacy of this style — the takeaway for the designers of today?
It's the symbiosis of material and design — one blends perfectly with the other. It reminds me of composing music around lyrics, and conveying those feelings expressed in words through sounds. The only difference in this case is that the lyrics are the materials you're working with.


Selma's "Holy Grail," the three-legged chair by Joaquim Tenreiro (1947). "Cadeira de tres pes", made of imbuia, roxinho, jacaranda, ivorywood and cabreúva.

CLICK HERE TO VIEW BRAZILIAN MODERN FURNITURE AT ADESSO