New York remains the world's largest market for art and design, so it comes as no surprise to discover that several English design companies have set up shop in the New York Design Center. We now can access the best of British design here in the United States with a visit to the nation's premier dedicated building for interior design. British design has long been known for excellent quality craftsmanship, distinctive color and pattern, and comfort combined with style. If you are an existing fan or new to British design, pop 'round and check out these fabulous brands. >>>
FBC London

SUITE 401

Award-winning designer and entrepreneur Fiona Barratt-Campbell was born and raised in Northumberland, England and is the granddaughter of property developer Sir Lawrie Barratt, founder of Barratt homes, one of the largest housebuilders in the United Kingdom. With many years of experience in the industry, Barratt-Campbell draws on the history of the rugged landscape of Northumberland, and her designs are shaped and influenced by the area's underlying geology. Fiona introduced her product line FBC London in 2013 and features bespoke luxury furniture, lighting, kitchens and interior accessories that are manufactured in British workshops by artisans selected for their techniques and expert, impeccable craftsmanship.






Jennifer Manners Design

SUITE 911

Jennifer Manners Design specializes in exquisite handmade rugs with a distinct focus on sustainability. The brand works with the world's most influential interior designers and Britain's own celebrated designers Veere Grenney, Salvesen Graham and Martin Brudnizki are amongst their prestigious clientele. "The studio celebrates a uniquely English take on residential interiors that has come to be defined as an aged, almost aristocratic cool. Think layers and interest and well-made pieces that are built to be handed down to the next generation. The studio has become synonymous for its subtle color usage and honoring the handmade craft of rugs," Manners says. Earlier this month the studio won "The Sustainability Award" by Homes & Gardens UK, adding to their "Best Sustainable Product" award by Decorex International.
The Rug Company

SUITE 1515

The Rug Company was founded in London by Christopher and Suzanne Sharp in 1997 and, they like to say, "was born out of passion for quality, design, craftsmanship, and service." Each hand-knotted rug is meticulously woven by Nepalese weavers, championing heritage and ancient techniques. Collaborations have been carried out with revered British designers including Paul Smith, Vivienne Westwood, and Alexander McQueen, translating each of the collaborators' work to a new medium of respect for high quality and design.






Fromental
SUITE 427
Fromental is a maker of hand-painted, embroidered, and printed wallcoverings, framed artworks and objects. Founded by designer/makers Tim Butcher and Lizzie Deshayes in 2005, the business's ethos is rooted in deep love and respect for beauty. "Beauty is fundamental to a good life, and Fromental's artists empower each customer and collaborator to welcome it generously into their every day," says Carolina Castro, Marketing Manager at Fromental.
House of Hackney
SUITE 909
House of Hackney was founded by the husband and wife team Frieda Gormley and Javvy M Royle in 2011. They wanted to start an interiors brand that draws inspiration from nature, balancing design with sustainable production and putting a modern twist on traditional British interiors. Frieda and Javvy play with print, color and texture in confident ways. The interiors at the brand's London flagship, House of Hackney St Michael's act as a miniature museum for irreverent British design, and some of this has traveled across the pond to the brand's NYDC showroom. House of Hackney works extensively with the William Morris archive and pays honor to his legacy with modern twists on William Morris classic prints.



de Le Cuona

SUITE 1618

de Le Cuona makes luxury textiles for interiors. They are renowned for the beauty and quality of their understated natural fabrics, which are responsibly crafted from the world's finest fibers — flax, cashmere, wool, alpaca and silk. This pioneering fabric house combines traditional techniques and the craftsmanship of specialist artisans with the latest technology and innovation to create some of the most beautiful textiles imaginable.




Founder Bernie de Le Cuona is not only a textiles expert but a sustainability trailblazer, from the fabrics she creates to the ethos of her company. She was the first to launch GOTS-certified 100% organic linen collections and bed linen — the most sustainable luxury for interiors. Everything is made in the UK by in-house specialists.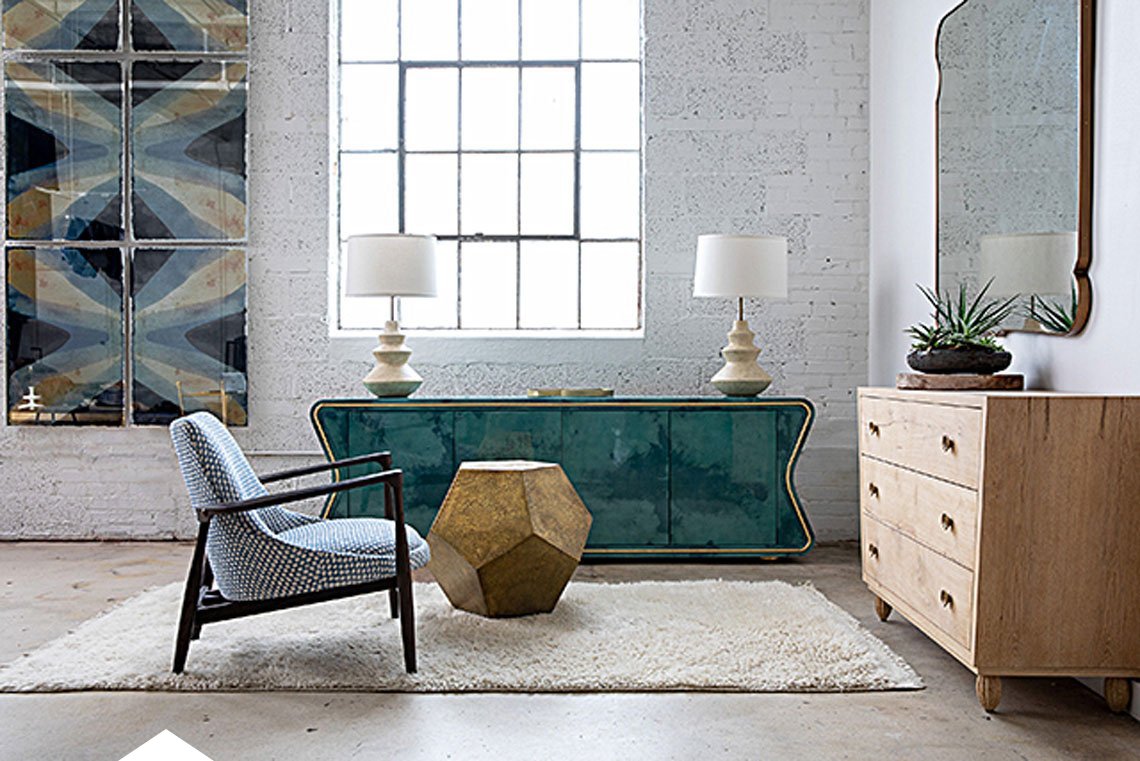 Julian Chichester
SUITE 604
Julian Chichester
reinvents traditional forms to create modern masterpieces — new originals with historical provenance — with unique materials, artisan finishes, and a modern English sensibility. This is furniture with a personality, must-have classics mixed with new designs that will look amazing in any contemporary space, and equally at home alongside traditional pieces. Their philosophy is to be inspired by the past in order to create the future, developing new innovative and advanced finishing techniques and combining them with designs inspired by past tastemakers, in such a way that creates a distinctively unique piece. Specialist finishing techniques include verre églomisé, faux shagreen, vellum and parchment, gesso, brass wrapping, cerused oak, and nickel-plated brass. Hand-crafted items can include specialist paint finishes, wrapping in fine saddle stitched leather or covering in brass. Having their own factory enables them to achieve finishes and bespoke specialization to their exacting standards, creating pieces that exceed your expectations and fulfill your vision.




Vaughan

One of the world's most eminent designers and manufacturers of decorative lighting, furniture and accessories, Vaughan is renowned for exceptional craftsmanship and quality. Traditional and authentic manufacturing methods are utilized and products are made, assembled, or finished in Britain. Using the very finest materials, Vaughan lighting and furnishings have a rare depth and richness of finish. Along with the skilled craftspeople at their Hampshire factory, they also call upon some of the best independent craft experts, from blacksmiths to makers of hand-blown crystal. Founders and artist-designer couple Lucy and Michael Vaughan have always been united by a collective passion for art and antiques. Their shared sense of style is eclectic, drawn to the riot of textures and tones common in English country houses, as well as the contrast of mixing classic design within modern spaces, combining old and new.