By the Book: New Books from Interior Designers Suzanne Tucker and Jean-Louis Deniot
New books from interior designers Suzanne Tucker and Jean-Louis Deniot explore the private worlds within residences, and residences all over the world.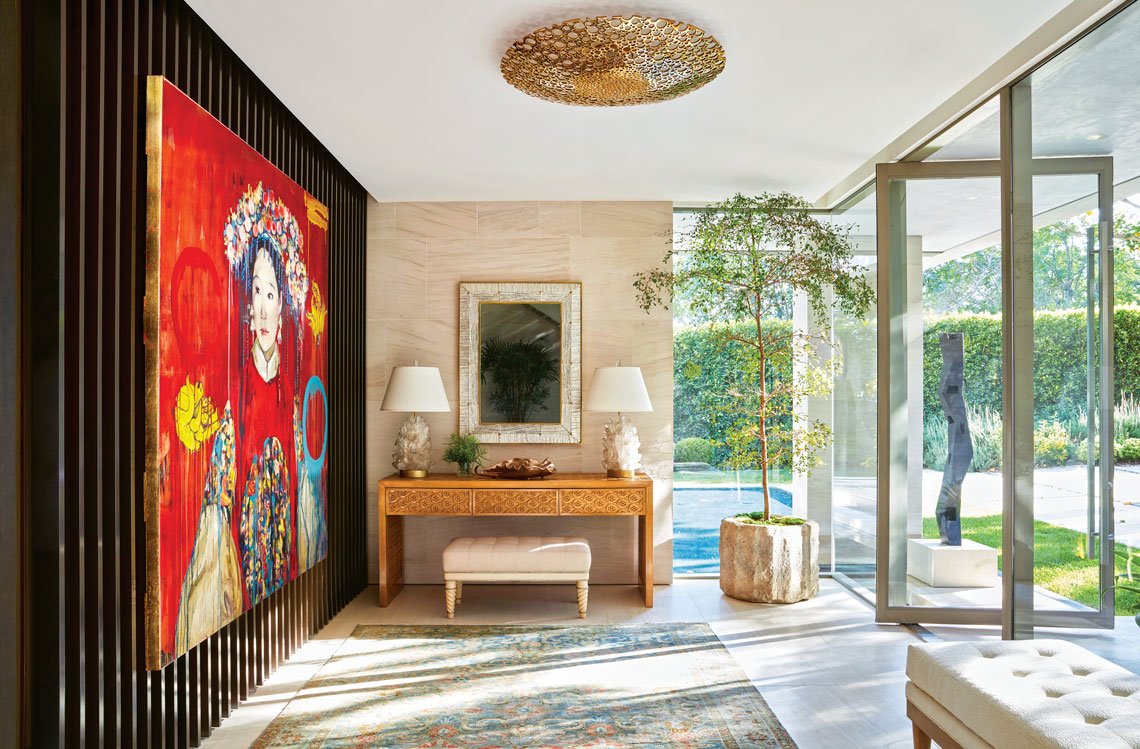 The entrance gallery of this contemporary Southern California house blurs the line between interior and exterior spaces, creating a seamless arrival experience. A pivoting door and glass walls allow visual and transitional flow, you can almost feel you're floating in. A dramatic work of art in the entryway, Hung Liu's powerful Manchu Bride—Buddha's Hand creates a spark of anticipation, with an antique Sultanabad rug a softening element, echoing a muted version of the painting's palette. The minimalist architecture requires a deft balance of color and texture in furnishings and accessories, both are modulated to a fine degree with a carved console, vintage rock crystal lamps, Murano glass mirror, perforated bronze ceiling fixture and custom tufted bench. The black olive tree's wispy foliage stands in contrast to its rough-hewn container. Positioned just inside the entrance and surrounded by glass walls, it brings and element of the outdoors in. Photos: Roger Davies
| | |
| --- | --- |
| | |
| | Suzanne Tucker |
| | |
| --- | --- |
| | |
art anthropology, part archaeology, and part psychology is how interior designer Suzanne Tucker describes her process for uncovering her clients' dreams and desires for their homes. In her third monograph, Extraordinary Interiors, published in October 2022 by Monacelli, Suzanne once again showcases her extraordinary talent for translating her keen observations, clients' wish lists, encyclopedic knowledge of and endless passion for the decorative arts to compose splendid spaces perfectly tailored for each life. In the forward to this book, the designer writes that the projects have a unifying thread: they reflect a change in life, whether it be upsizing, downsizing, a shift in style, a new location, or an itch for something different. As we turn the page on 2022 and embrace the new year with fresh hopes and renewed spirits, the message couldn't be more timely, or more timeless. "Every project within these pages tells its own variation on this universal design theme: that our homes change as our lives evolve."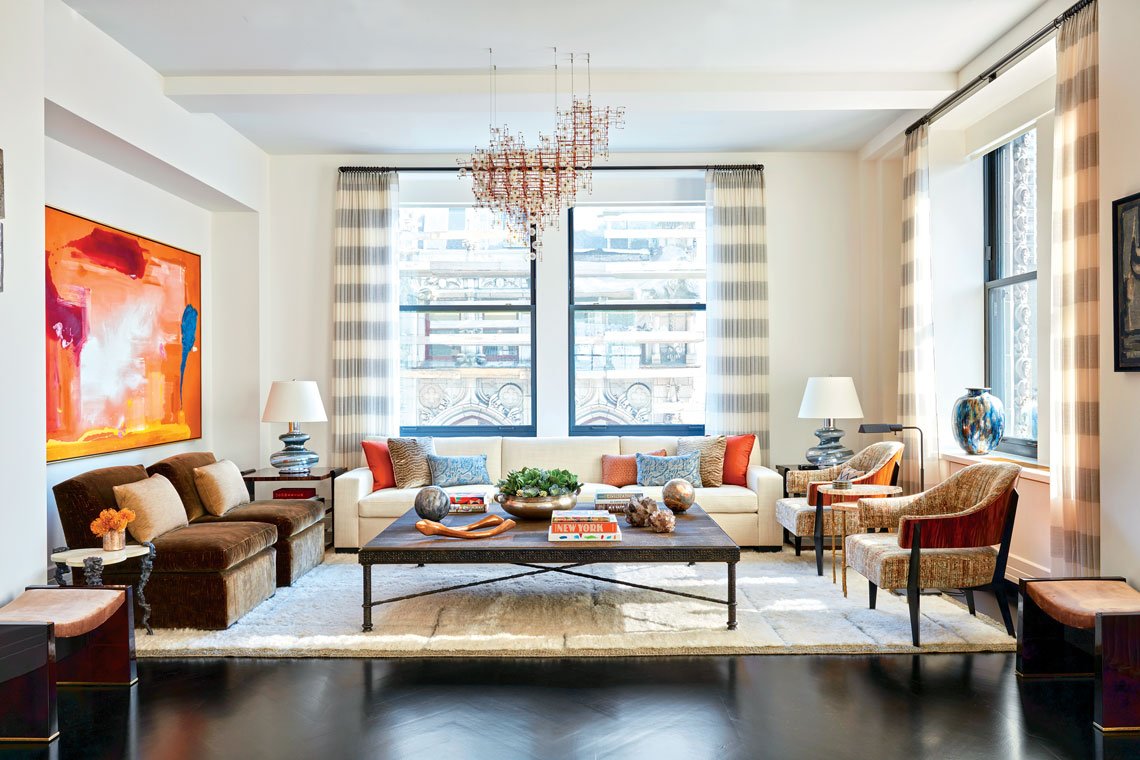 In the New York City Flatiron apartment designed by Suzanne Tucker for her blue-chip art collector clients, White Spray, 1982, a large-scale work by Helen Frankenthaler anchors and energizes the luminous setting. The painting's vibrant washes of summery color are carried over in the textiles and ceramics accents, and also in an ethereal work of collectible design floating above. Tucker commissioned the custom Fragile Future light sculpture by Studio Drift, whose works explore the relationship between nature, technology and people. Within the delicate coppery-toned framework, actual dandelion seed heads are illuminated, creating delicate halos of white light; the effect, magical. The vintage 1970s Murano table lamps are by Willy Rizzo for Lumica. Floors were stained a dark ebony tone, creating depth and contrast with the warm neutral shades of the wall color and upholstery. A pebbly-surfaced custom shagreen-top cocktail table, lustrous lacquered Tabouret Hadrien stool by Hervé Van der Straeten, plush velvet and nubby silk upholstery fabrics are layered to create a medley of textural moments, each catching light in a different way. Framing the windows which offer views of some of New York City's most iconic buildings, sheer wool curtain panels evoke architectural columns. Photo: Roger Davies
Extraordinary Interiors
by Suzanne Tucker
© The Monacelli Press, 2022




Available at The Monacelli Press and Amazon

Tucker & Marks

58 Maiden Lane, Fourth Floor

San Francisco, CA 94108

415-445-6789
| | |
| --- | --- |
| | |
| | Jean-Louis Deniot |
rench interior designer Jean-Louis Deniot's latest book from Rizzoli, Destinations, takes us on a tour of his spectacular projects around the world, from Bangkok and New Delhi, Corsica and Capri, to New York, Miami Beach and Hollywood Hills. Each of these pays homage to its location and setting with subtle nods to time and place, and the designer's nuanced mix of vintage and collectible design, fine contemporary pieces and his own custom creations.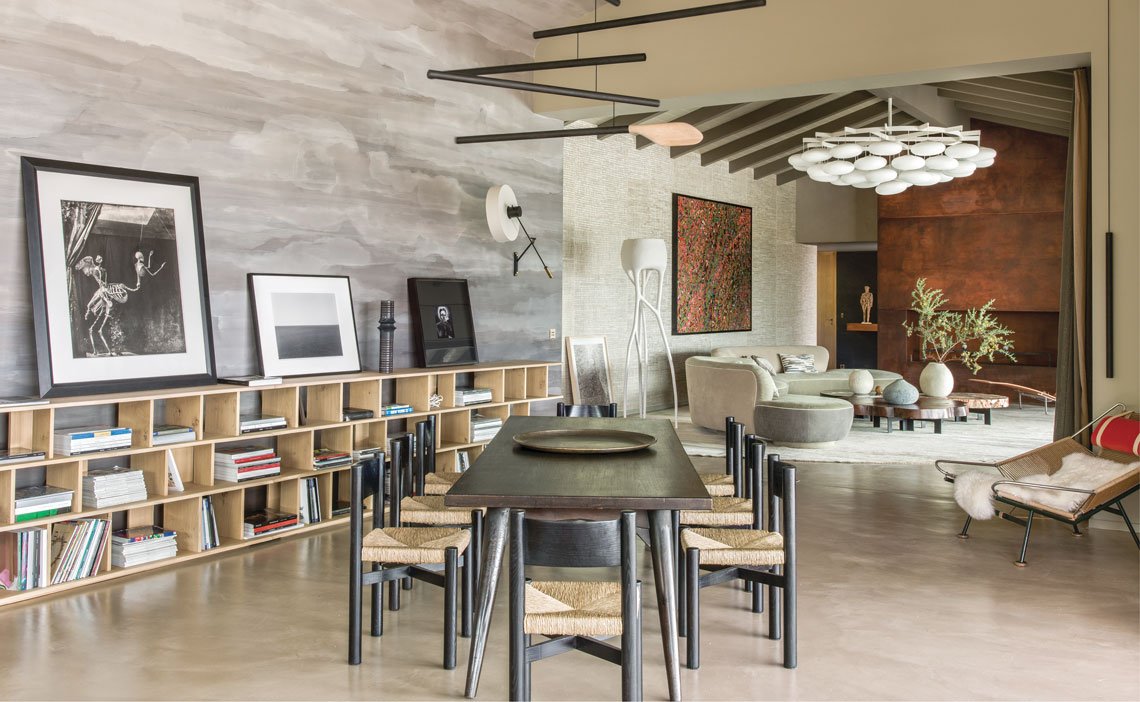 | | |
| --- | --- |
| | |
Right: In Porto Vecchio on the island of Corsica, the vacation retreat of a Paris art dealer takes its palette from the rugged terrain and olive groves of the landscape. Deniot commissioned French decorative painter Florence Girette to cover the walls and ceiling of the dining room with an ethereal mural echoing the subtle shadings of the local Lauze stone, traditionally used for roofing tiles. Important mid-century French design pieces include a table by Pierre Jeanneret and "Meribel" rush seat chairs by Charlotte Perriand. Jeanneret and Perriand, along with Jeanneret's cousin Le Corbusier collaborated on groundbreaking furniture designs, working together for over a decade. Installed above the dining table, a mobile by contemporary French artist Xavier Veilhan can be adjusted with counterweights that allow it to be moved up or down. Jean-Louis designed the low raw oak bookcase to honor his client's request for a space where he could rotate the display of pieces from his extensive art collection. The wall light, positioned to cast light onto the wall in the manner of a sconce, is vintage 1950s by Maison Lunel. To the right is another mid-century classic, Danish designer Hans Wegner's iconic Flag Halyard chair. The low-slung chair was conceived in 1949 during a trip to the beach when Wegner was digging a recess in the sand for lounging. He found the perfect angle and was inspired to create a chair with that same profile, using flagpole rope strung across a steel frame. Above: The living room flows beyond the dining room, continuing the subdued color palette, but with curvaceous forms to contrast with the angular shapes in the dining area. A pair of vintage Vladimir Kagan Serpentine Sofas is joined by a trio of custom-designed biomorphic-shaped coffee tables each in a different material: petrified wood, stained sequoia and bronze, styled with a trio of bulbous-shaped ceramic vessels. The rattan chaise lounge model PK24 is a 1965 creation by Danish designer Poul Kjaerholm. Floating below beams painted in a tone to match the bark of the ever-present olive trees, a 1950s chandelier by Austrian architect Oswald Haerdtl is composed of dozens of frosted glass globes. British/Indian artist Bharti Kher's painting Collage of Bindis hangs behind the sofas. Photos: Stephan Julliard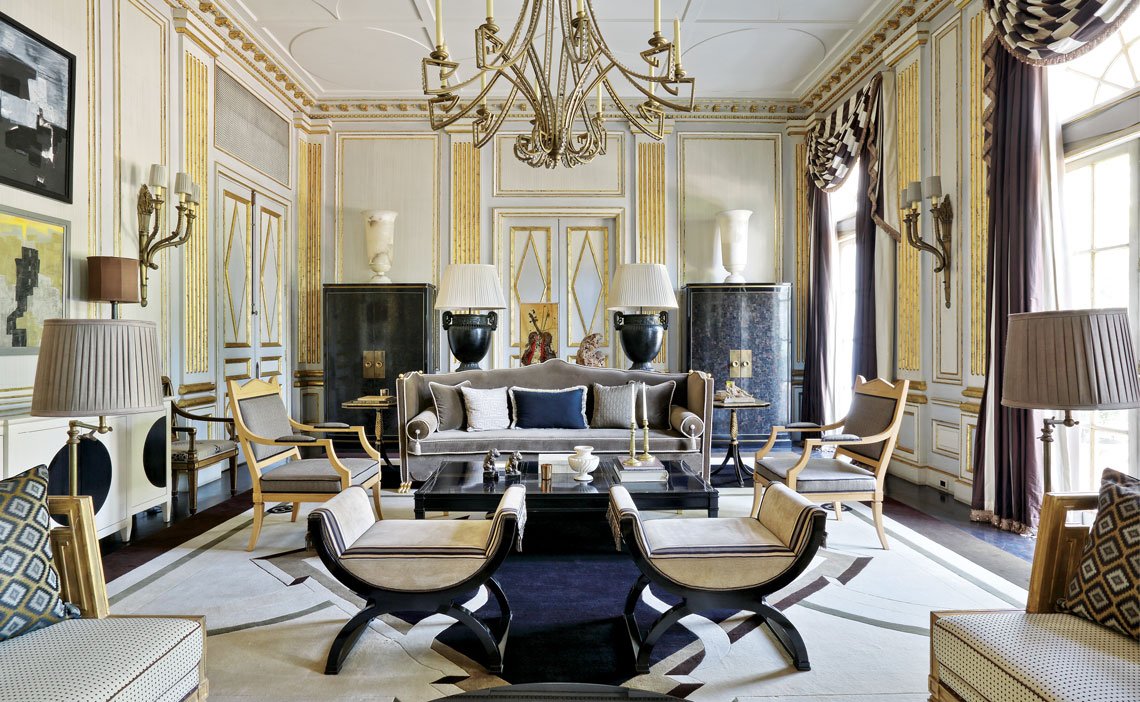 Monapesy Manor in New Delhi, India was Jean-Loius Deniot's first experience building an estate from the ground up. Dating from two decades ago, it is his singular vision, the building itself and the interiors, every door handle, piece of molding and cushion. He writes about how new he was to the process, "I was doing sample moldings on every surface to physically try out each pattern, Now, I can design from a distance an absolute perfect-size molding. But at the time I needed to try it out on-site with the Indian artisan on his bamboo scaffolding and the Indian women in saris carrying the cement on their heads, very much like a century ago." He drew upon elements from the neoclassical Empire style, which he was especially drawn to during that time, as well as referencing the famed architect Sir Edward Lutyens, who designed and built New Delhi in the early 20th century when the seat of government was moved from Calcutta. These two seemingly disparate style influences come together with Deniot's unmistakable Gallic flair, for a room that seems to have just the right feel for its exotic locale. Paneling in pearl gray and ivory is detailed with gold leaf, as is the cornice. The floor is black Indian marble, the rug, a custom design by Deniot in the André Arbus style of the French 1940s. At the rear of the room, a pair of massive cabinets in black mother-of-pearl mosaic are topped with vintage alabaster urns. Antique bronze urns mounted as lamps are positioned behind a sofa, the bronze and crystal beaded chandelier is vintage, the bronze sconces are antique. The cocktail table is vintage 1940s. Cerule-form stools speak to Deniot's interest in the neoclassical style. Photo: Stephen Julliard
In the living room of a Cali, Columbia residence belonging to luxury accessories designer Nancy Gonzales, a mesmerizing large-scale photograph by German artist Candida Höefer is used to create a sense of depth and dimension against the pure white walls. Deniot does not often work with white walls but his client loved the idea, so he added textured finishes in horsehair, parchment and woven natural fibers to articulate the surfaces. A pair of coffee tables designed by Yves Klein in 1961 in the Monogold version, filled with 3,000 sheets of individually crumpled and placed gold leaf, and the International Klein Blue version, filled with intense ultramarine pigment powder appear to hover in front of a long white sofa. Coveted works of collectible design, a pair of gilt bronze Crocoseat chairs are by the late Claude Lalanne, one half of the design superstar team known as Les Lalannes. The Crocodile series of pieces, which include a console, armchair, bench, and banquette achieved their startlingly lifelike texture due to the use of an actual crocodile carcass for the casts, obtained from the Paris Zoo. At the left of the sofa is a 1950s design floor lamp by Gaetano Scolari for Stilnovo, at the other end, a midcentury floor lamp with a tray balances the composition. Atop the coffee tables, sculptural forms of gold pre-Colombian jewelry float on lucite stands. Photo: Anita Calero
Jean-Louis Deniot: Destinations
by Pamela Golbin and Jean-Louis Deniot
© Rizzoli New York, 2022




Jean-Louis Deniot

39 Quai d'Orsay

75007 Paris, France

+33 (0)1 45 44 04 65