By the Book: Two New Interior Design Books Captivate and Inspire
Two New Interior Design Books Captivate and Inspire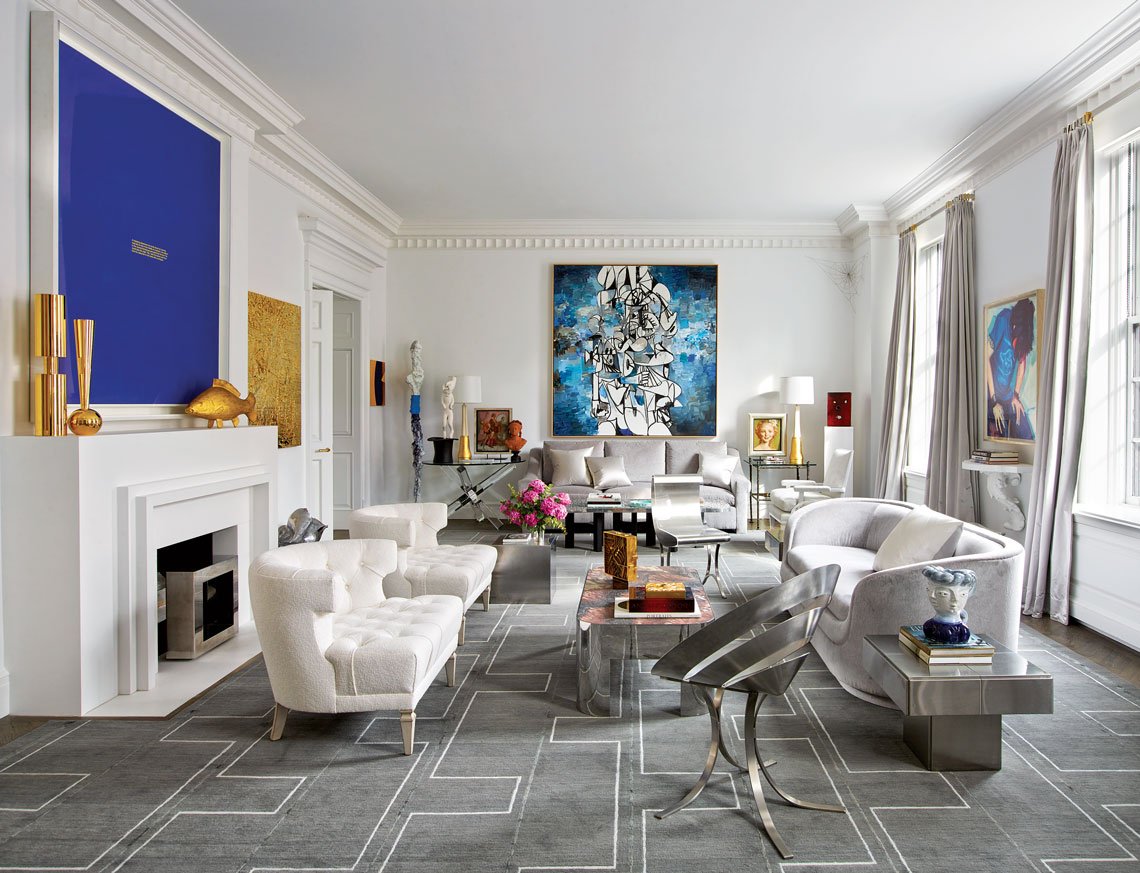 One of the designer's oldest friends, whose traditional apartment he designed and then refreshed years later was radically transformed to complement the couple's extensive contemporary art collection. Alex relates, "That was tough for me, because I am such a lover of antiques. We came to an agreement: if the antiques had to go, then the apartment still needed gravitas. We would have to find furnishings and objects that were rare, striking, and special. . . . the art couldn't be everything and the furniture nothing. I told them, 'This is going to be a hard-shop task,' and they said, 'We're up for it.' " A subdued gray and white color palette was chosen to allow the artwork to pop, enlivened by mixing reflective and matte finishes and a range of tones from steel grays to shimmering silvers. In the living room, important works by Richard Prince and Rudolph Stingel are hung on the fireplace wall, and a painting by George Condo is above the sofa. Carpe D'Or by François-Xavier Lalanne, a sculpture in gold leaf and resin, is displayed on the mantel. Vintage pieces, collectible design and contemporary craft all come into play in a room where the furniture is on par with the art. Maria Pergay conceived her Chaise Anneaux/Ring Chair while peeling an orange, and this 1968 design in stainless steel is one of her most iconic. Another of her works, the stainless steel and acrylic Acier chair, 1969 sits opposite. The aluminum cocktail table in the foreground is vintage Karl Springer, the table in front of the sofa is by Belgian artist Ado Chale. A pair of gilded ceramic and parchment table lamps are by contemporary maker Andrea Koeppel. Photo by Richard Powers, Alex Papachristidis photo by Donna Newman
| | |
| --- | --- |
| | |
| | Alex Papachristidis |
lex Papachristidis brings a lifetime of world travel, deep knowledge of design history and the decorative arts, a fastidious eye for detail, and his born-to-shop enthusiasm for treasure hunting to create interiors that are supremely chic, breathtakingly lovely, and at the same time, warm, comfortable, and welcoming. His latest book, The Elegant Life: Rooms That Welcome and Inspire, offers a tour through dozens of enchanting rooms showcasing his mastery of "the mix," artfully and eloquently combining modern and classic pieces, vibrant new works of contemporary collectible design, spectacular artwork and layered landscapes of accessories. Wall-to-wall luxury is his trademark, to be sure, but each and every room is not only glamorous, but an inviting setting for socializing, another of the designer's great talents.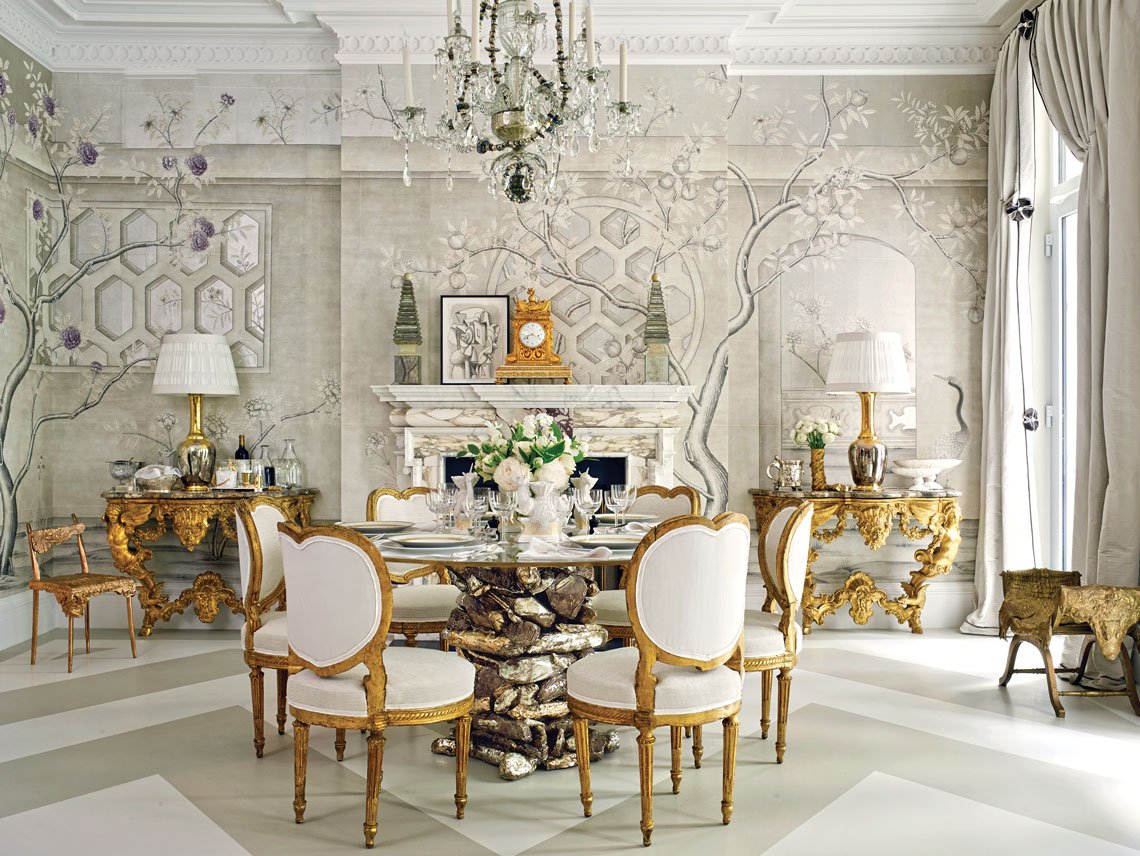 The foundation for an updated neoclassical dining room began with a floor painted in king-size chevron stripes, the walls covered in a remarkably reimagined Gracie wallpaper once used in a 1920s ballroom by legendary decorator Elsie de Wolfe. Alex had the Chinese Export pattern recolored en grisaille and hyperscaled, to create a smokey, ethereal ambiance. The eighteenth-century chandelier was laced with a strand of dark metallic ceramic beads by artist Eve Kaplan, to add a contemporary note and a visual link to the specially commissioned rock-work dining table base, also by the artist. A set of dining chairs are eighteenth-century French giltwood with unusual heart-shaped backs. The marble mantel is styled with objects that span centuries: a pair of mirrored obelisks by Serge Roche, circa 1940 from Liz O'Brien, a contemporary work by George Condo and an eighteenth-century gilt-bronze clock. Elaborate eighteenth-century giltwood consoles sport sleek ceramic lamps by Christopher Spitzmiller. Claude Lalanne's fantastic Crocoseat chair and Crococurule stool in gilt bronze, modeled from the actual remains of a deceased crocodile acquired from the Paris Zoo, are surreal and sculptural twenty-first-century works of art that simultaneously contrast and connect with the extravagantly detailed antique consoles. Photo by Tria Giovan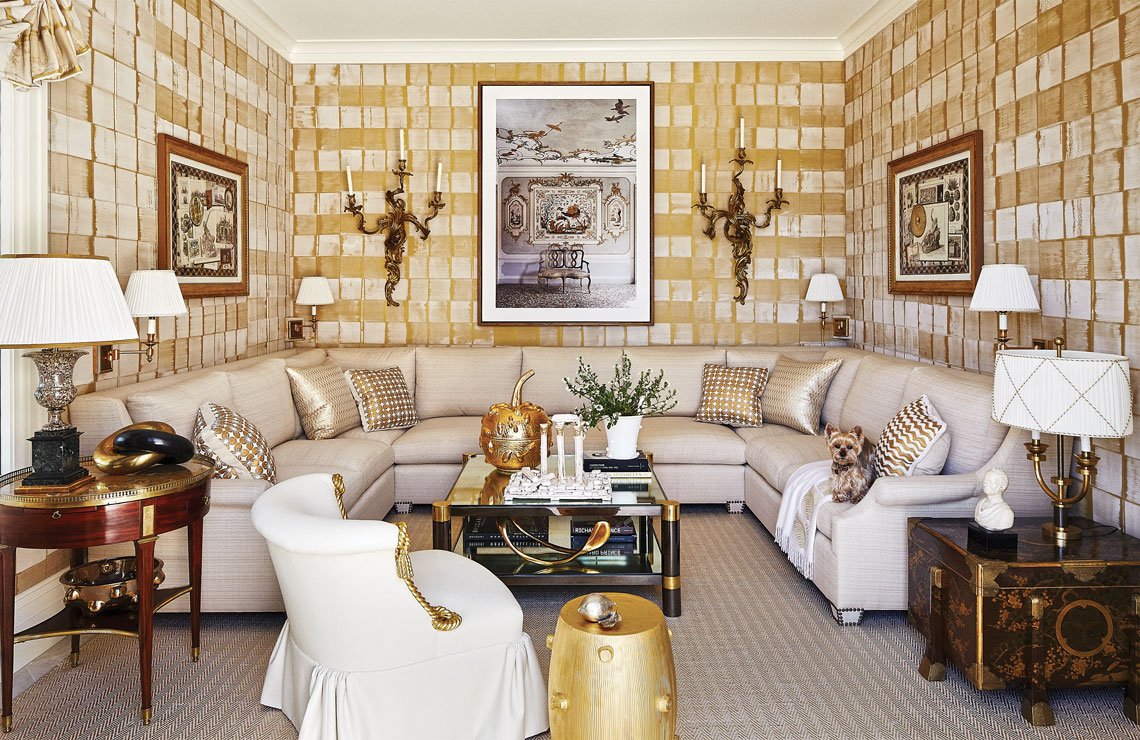 Sandy hues, a golden glow, and rich accents. In an elegant and gracious Hamptons home, walls dressed in hammered silk and a carpet of woven metallic leather create a shimmery backdrop for neutral, beachy color, taking cues from the nearby seashore. Contemporary, modern and antique pieces are combined to achieve a harmonious yet lively setting. In the foreground a nineteenth-century rope twist chair upholstered in creamy leather is paired with a gold ceramic faux bois side table by Christopher Spitzmiller. The sofa is a custom design, placed on either end are an antique mahogany bouillotte table with a marble top and pierced gallery, and a Meiji-period Japanese gold-and-lacquer robe chest used as a side table. A contemporary photograph is by Jean-Francois Jaussaud, who frequently photographs elegant and historic interiors, and the collages are by Jean-Charles de Ravenel, who incorporates period documents, antique maps, and other ephemera to create his intriguing compositions. Photo by William Abramowicz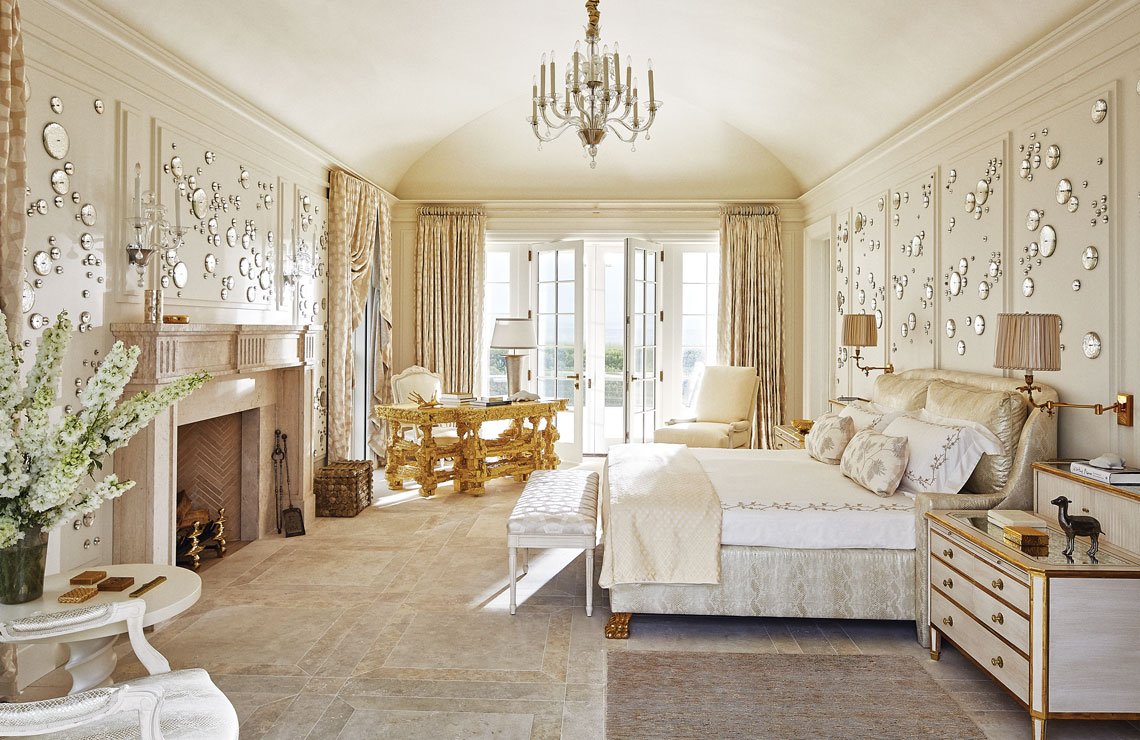 In the same Hamptons home seen on the previous pages, bisque-toned bedroom walls paneled in the style of Jean-Michel Frank are dappled with an installation of silvered glass bubbles by artist Rob Wynne. The chandelier is vintage Venetian glass. The floor is limestone, a material used throughout most of the rooms to create a sense of connectedness; Alex varied the patterns and tones to give subtle definition to the various spaces. An otherworldly fusion of sculpture and furniture, the desk is a work of collectible design by Detroit-based Chris Schanck Sculpture. Photo by William Abramowicz



The Elegant Life: Rooms that Welcome and Inspire
by Alex Papachristidis written with Mitchell Owens
© Rizzoli New York, 2022




Alex Papachristidis Interiors

300 East 57th Street

Suite 1C

New York, NY 10022

212-588-1777
esign author Carl Dellatore's latest book, More is More Is More: Today's Maximalist Interiors, recently released by Rizzoli, celebrates the unabashed exuberance and lush sensuality of maximalist interiors. Each chapter explores a theme: color, pattern, surfaces, elements and layering, and how that theme is expressed through dazzling interiors by some of the most brilliantly talented interior designers today.



More is More is More: Today's Maximalist Interiors
by Carl Dellatore; Foreword by Dara Caponigro
© Rizzoli New York, 2022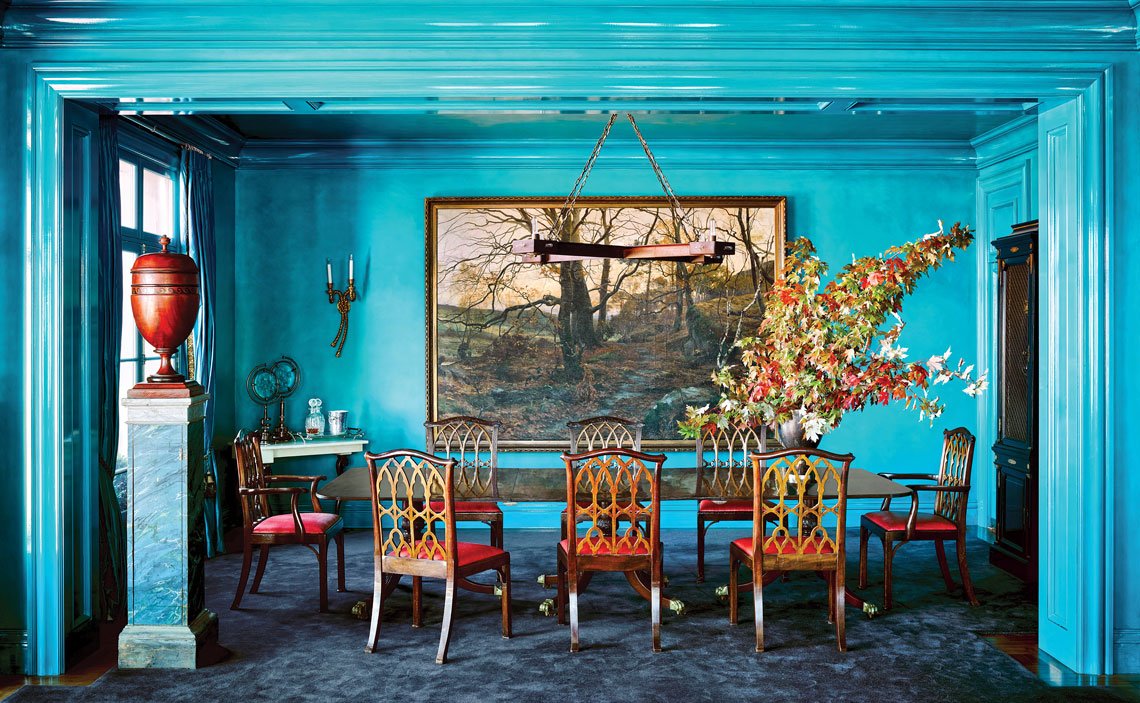 | | |
| --- | --- |
| | |
| | |
Ken Fulk, it is often said, doesn't just create interiors, he creates experiences. The atmosphere in this San Francisco dining room designed for his tech-entrepreneur clients is palpable — timeless, edgy and borderline mystical. The walls achieved their mesmerizing depth with a drenching in 20 coats of intensely pigmented peacock blue lacquer, including the ceiling, to reflect the ever-changing scenery of San Francisco Bay. A suite of antique Chippendale Gothic chairs encircles the dining table, and a large antique mahogany cutlery urn tops a faux-marbre painted column. An overscale moody landscape amplifies the romantic ambiance, sided by a pair of gilt-bronze rope twist sconces, their lyrical delicacy a contrast in this bold setting. Photo: Douglas Friedman Photography, Ken Fulk photo: Brendan Mainini
Ken Fulk Inc.
310 7th Street
San Francisco, CA 94103
415-285-1164
| | |
| --- | --- |
| | |
| | Courtney Coleman and Bill Brockschmidt |
Paneled walls such as these typically set a masculine tone in rooms featuring deep hues, ancestor portraits and leather Chesterfield sofas. But in this New York City living room, the Chesterfield sofa is a sumptuous and inviting pink cloud, the express wish of the client and an inspiration piece for the design. Gracefully proportioned antiques and vintage pieces were chosen for an eclectic mix of forms and further enriched with intricately-detailed upholstery. A pair of 1920s Louis XV-style marble top commodes with ebony and gilt bronze details are topped with 20th-century goldfish motif carved porcelain lamps from Phoenix Gallery, NYC, with shades from firm favorite vendor Just Shades. The chandelier is a French Louis XV-style crystal and patina bronze cage-form, circa 1880. A pair of Louis XV carved fauteuils circa 1780 are seen at right. At left, a vintage 1940s Maison Jansen Louis XV-style bergère from Greenwich Living Antiques & Design Center. The mid-century modern glass-topped, gold leaf-finished coffee table is vintage 1940s, the urn-form vase is early 20th-century Czech glass. French doors are draped in tall rosy columns with a custom embroidered valance by Jonas Upholstery.
"When the client told us that the one wish for her new home was a plush pink Chesterfield sofa, we envisioned tall pink curtains with embroidered valances at the French doors and upholstery in cream with red, fuchsia, and purple accents to provide a sumptuous, feminine Parisian atmosphere that would complement the rich boiserie walls. The pale blues in the painting and deeper blue accents in the antique carpet accentuate the airy character and recall the sky outside the New York penthouse apartment."
— Bill Brockschmidt & Courtney Coleman
Bill Brockschmidt and Courtney Coleman are both trained architects who met while volunteering for the Institute of Classical Architecture & Art, and founded their New York City firm in 2001. In 2019, they opened their southern studio in a vintage double shotgun house on Magazine Street in New Orleans. The partners bring a deep respect for design history and preservation, combined with modern sensibility and an appreciation for the unexpected flourish to create rooms that are warm, comfortable, and uniquely suited to their inhabitants. Photo: George Ross Photographs, portrait photo: Eugenia Uhl.
Brockschmidt & Colman
4021 Magazine Street
New Orleans, LA 70115
504-309-9112