Spirituality in Design: Jude Heslin Di Leo's Elegant Furniture Carries A Deeper Meaning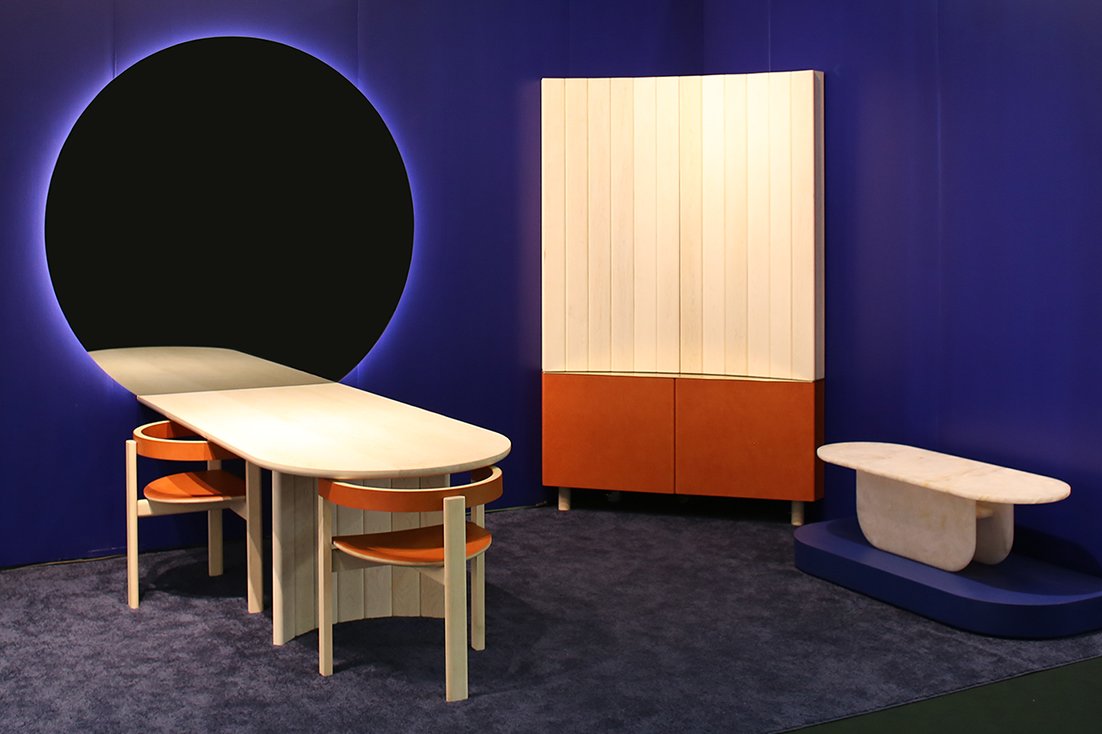 Jude Heslin Di Leo debuted his Gibbous collection featuring bleached maple and English bridle leather at the Architectural Digest Design Show in March 2019. His work has received numerous honors, including from NYCxDesign and Architectural Digest.

| | |
| --- | --- |
| | |
| | Jude Heslin Di Leo |
J
ude Heslin Di Leo imbues clients' environments with spiritual clarity and intention. For the artist, design is a sacred practice that organizes spatial stimuli. Designers enter chaos, in which randomness prevails, and transform it into a space that makes sense. He describes his own work as the "untangling of a knot," a creative process in which he explores the myriad meanings attached to materials and forms. "With each piece, I attempt to present an idea in its cleanest light: where the knot has been freed, and all the components can live together in quiet harmony," he says."
The harmonious designs elicit contemplation and connect viewers more deeply with their environments. Certain functional elements, such as secret compartments and shelves for crystals, prompt clients to explore their relationship with the profound. His aesthetic principles reflect common architectural notions of beauty as well as those of sacred geometry, which attaches symbolic meaning to recurring shapes and proportions in nature.
Heslin Di Leo has been a fixture of the New York design scene for nearly 15 years. In 2007, he founded a Brooklyn studio, Bear & Lion, along with collaborator Bernardo Guillermo. He debuted the first collection from his independent atelier 12 years later at the Architectural Digest Design Show in March 2019. An industrial designer, furniture designer, and spatial designer, he applies the same spiritual approach to each project he works on. Below, he talks with Incollect about how he learned to incorporate natural and sacred motifs into his work.




Left: The angled headboard of the

Stash Bed facilitates comfortable reading. Integrated nightstands and a low status help keep clutter out of the bedroom. The Portal Mirror and Gibbous Chair complement the bed here. Photo by Jonathan Puente, courtesy of Galerie Philia. Right, top: Heslin Di Leo interpreted Feng Shui principles in the design of the bed. Photo by Chris Johnson. Right, bottom: The frame of the bed incorporates a hidden compartment for storing crystals that welcome in restful energy. Photo by Chris Johnson.
How does spirituality factor into your design work?
I battled major depression during my 20s. I tried an assortment of traditional Western solutions such as medication. Nothing seemed to work for me. Then, a friend invited me to try yoga and plant medicine. I became deeply involved with them. Over time, my yoga practice helped me to grow and expand, and plant medicinal sessions with practitioners began to dissolve the restrictive box that had formed around me. A year later, I walked away from my prescriptions free and clear, with brand new energy. It was totally remarkable. That experience led me to explore other healing modalities and realities that exist out there. I've learned a lot about myself through meditation, shamanic healing, and astrology. Weaving all these spiritual methods into my work has become key to my artistic expression.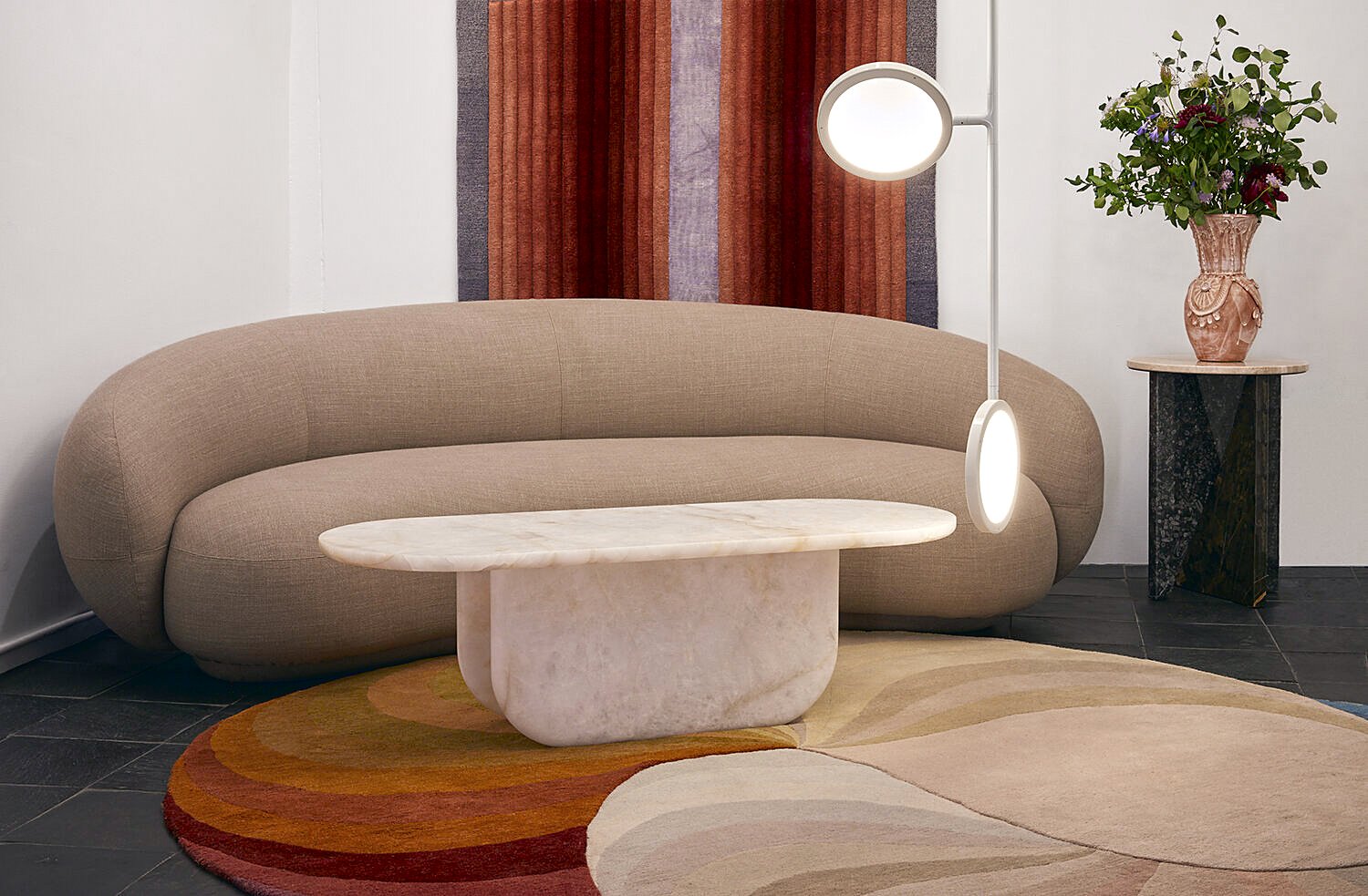 Top: The

Quartz Amplifier Table is carved from a single slab of crystal. Unlike some other designers, Heslin Di Leo does not consider the manufacturing process when he first conceptualizes a product. He prefers to dream up an ideal object, and then figure out how to bring it into being. Here, the table is styled at the Matter showroom in New York. Photo by John von Pamer. Center, left: A hidden shelf underneath the coffee table. Center, right: Heslin Di Leo released a new quartz side table this past year. Photo by Chris Johnson. Bottom: The Quartz Amplifier Side Table. Photo by Chris Johnson.
Why did you originally develop the Quartz Amplifier Table as an altar? What inspired you to transform it into a table?
It started with crystal expert, shaman, and Feng Shui practitioner Colleen McCann of Style Rituals. We were working on an interior project together, and I became very interested in the studies that informed her approach. They were quite different from mine. At some point, we were discussing altars and crystals, and she happened to mention that quartz is a natural amplifier of energy. I thought creating a quartz altar would be powerful. Colleen, however, suggested a piece that was less individual and could be shared in a communal gathering. The Quartz Amplifier Coffee Table was born. It's one of my most popular pieces to date. We've had so many requests to release versions in different sizes that I created the Quartz Amplifier Side Table, which debuted this month.
Could you describe the experience of working with quartz?
Quartz is one of the most beautiful and most expensive materials I have ever worked with. It's also an incredibly difficult and stubborn material. While being one of the hardest substances on earth, it is brittle, structurally unpredictable, and labor-intensive to form. Quartz demands attention, patience, and time. A single table can take days to rough form by machine, and days after that to clean up by hand. At any moment during the assembly process, a piece can just break, and you must start over. We have engineered our way out of that scenario over the past few years, but the risk is always there. To me, quartz is a symbol of impermanence. It reminds us that we're not really in control of anything — and sometimes we need to just let go.
Top: Heslin Di Leo occasionally creates curved pieces to fit into cornered walls — according to Feng Shui, energy can get caught in corners. The

Portal Mirror helps circulate chi and softens the corner with an illusion of an open space. Bottom, left: Several years ago, the artist was impressed by a full moon on the eastern end of Long Island, and was inspired to craft the Gibbous Collection. Here, the leather-wrapped base of the Gibbous Corner Cabinet is topped with polished brass. Bottom, right: Featuring curved solid white maple doors, the cabinet pairs tasteful presence with a small footprint.
How do you bring Feng Shui principles into your designs?
There is a lot to Feng Shui, which means there's a lot to interpret. That's the fun thing about it though — it's open to however you want to work with it. One of the fundamental elements that resonates with me is about keeping positive energy circulating. Energy can get stuck in corners. The curves in my recent designs have a lot to do with redirecting that energy. For example, the Gibbous Corner Cabinet and Portal Mirror were mainly designed to convert a stagnant corner into a place of flow.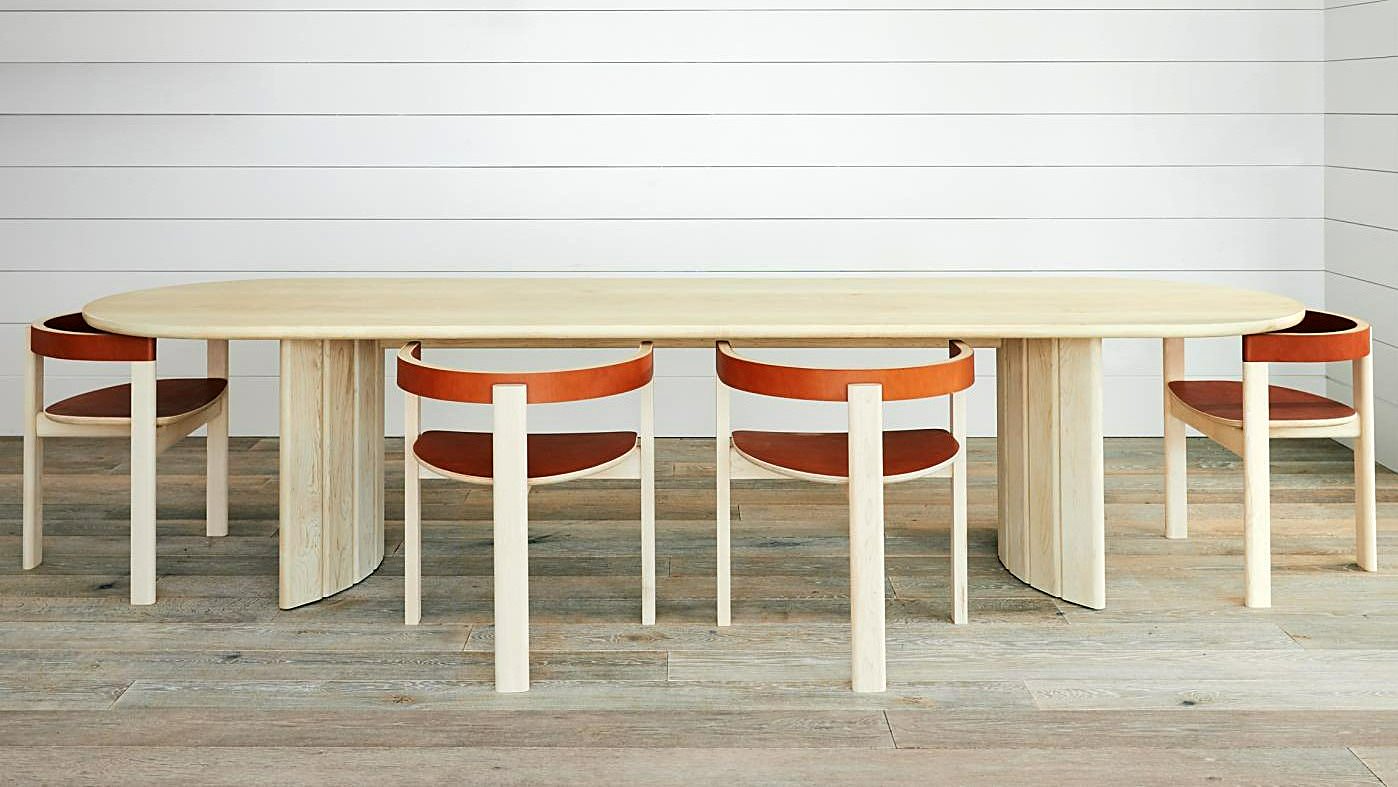 Top: The curved legs of the

Gibbous Dining Table allow dining chairs to gently slide in at either end. He created the line by tracing markings on the lunar calendar. Featured here in solid white maple, the table is also offered in ebonized maple. Bottom, left: the first Gibbous Dining Table was originally custom designed for Year & Day, a tableware boutique in Manhattan. Bottom, right: The Gibbous Chair prioritizes comfort. Wrapped in either chesnut or black leather, the wood frame is steam bent and then shaped by hand.

Your previous collection, the Gibbous Collection, feels very different from newer pieces such as the Quartz Amplifier Table and Side Table. What was your intent?
It's important for me to be curious and test out new and unfamiliar creative methods. Materials and form have so many possibilities — why settle?



Left: The curved line of the

table base mirrors the silhouette of the moon. Right: The Gibbous Chair was awarded a top residential seating prize at the NYCxDesign Awards in 2019.
The dining chair and table from the Gibbous collection fit together effortlessly. Were they conceived as a set?
A tableware shop, Year & Day, commissioned the dining table. The client and I shared a love for the moon cycle, which drove the table's design. When I finished the table, I decided I wanted to make a complementary chair. I had enjoyed working with leather for the first time several years ago. I thought leather would add softness, color, and texture to the white maple frame. Afterwards, I made prototypes, and the final form of the chair emerged.
Why did you choose white maple for the Gibbous Collection?
The choice was driven by the luminosity of the moon. White maple is the lightest and most neutral-grain domestic wood available.
Top: Although much of his current work showcases wood, he is also known for his creative metalwork. In 2015, he collaborated with Workstead to design a blackened brass and cherry media center and custom fixtures for a loft project in Chelsea, New York. Ferra Designs Inc produced the metalwork and finishings. Photo by Matthew Williams for Workstead. Bottom, left: Working with Tristam Steinberg, Heslin Di Leo co-designed the product installations for Proenza Schouler's Arizona fragrance launch in 2018. The artistic cairns and romantic desert imagery were displayed at Saks Fifth Avenue in New York, the Galeries Lafayette in Paris, and Selfridges in London. The atrium at the Galeries Lafayette is shown here. Bottom, right: The designer's installation at Saks Fifth Avenue.
How do the metalwork and industrial design arms of the business influence your furniture design practice?
All forms of design are the same — the beautiful answer to an otherwise difficult question. Whether I'm designing a piece of furniture or developing an interior concept, it's all the same practice to me.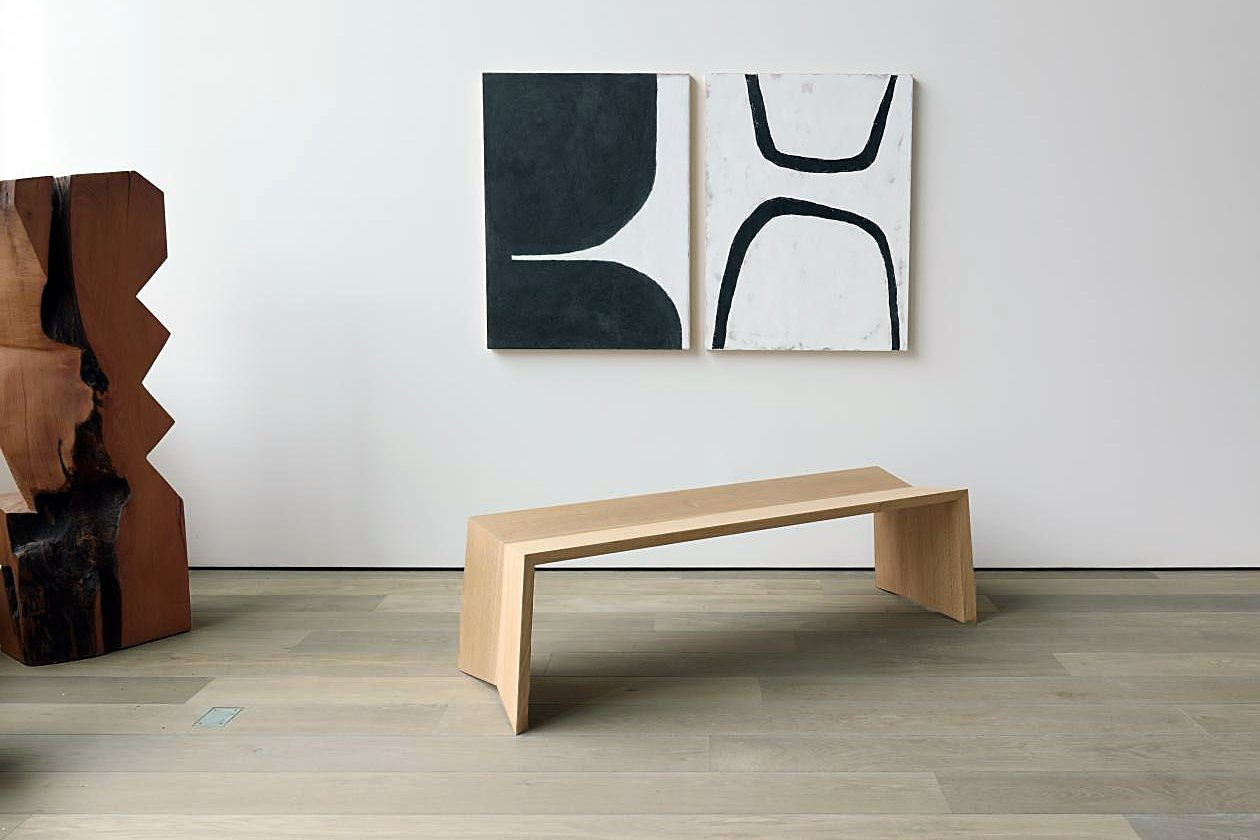 Top: Designed as a museum bench, the

Muse presents a combination of angled flares and continuous waterfall edges. The piece was originally co-conceived in 2008 with Bernardo Guillermo at his former design studio, Bear & Lion. Photo by Jonas Brewer in a space curated by Galerie Philia. Bottom, left: He collaborated with designer Julie Hillman on several custom pieces for a house in the Hamptons including Jean Prouve-inspired stainless steel doors, metal baby gates, and the blackened steel fireplace pictured above. The metalwork was produced by Ferra Designs Inc. Photo by Tom Olcott. Bottom, right: Designed in 2020, the hemlock-cladded Ritual Cabinet opens to reveal a bronze mirrored back, oak shelving, and blackened steel details. A drawer is hidden in the horizontal panel above the legs. The piece is finished in black ink. The cabinet was created during the coronavirus pandemic, which limited access to luxury materials. "The concept was to use the basic construction materials that were available and treat them as precious," says the artist. Photo by Chris Johnson.
What are you working on now?
You'll see!