Chicago-Born Design Brand SKIN Expands into Europe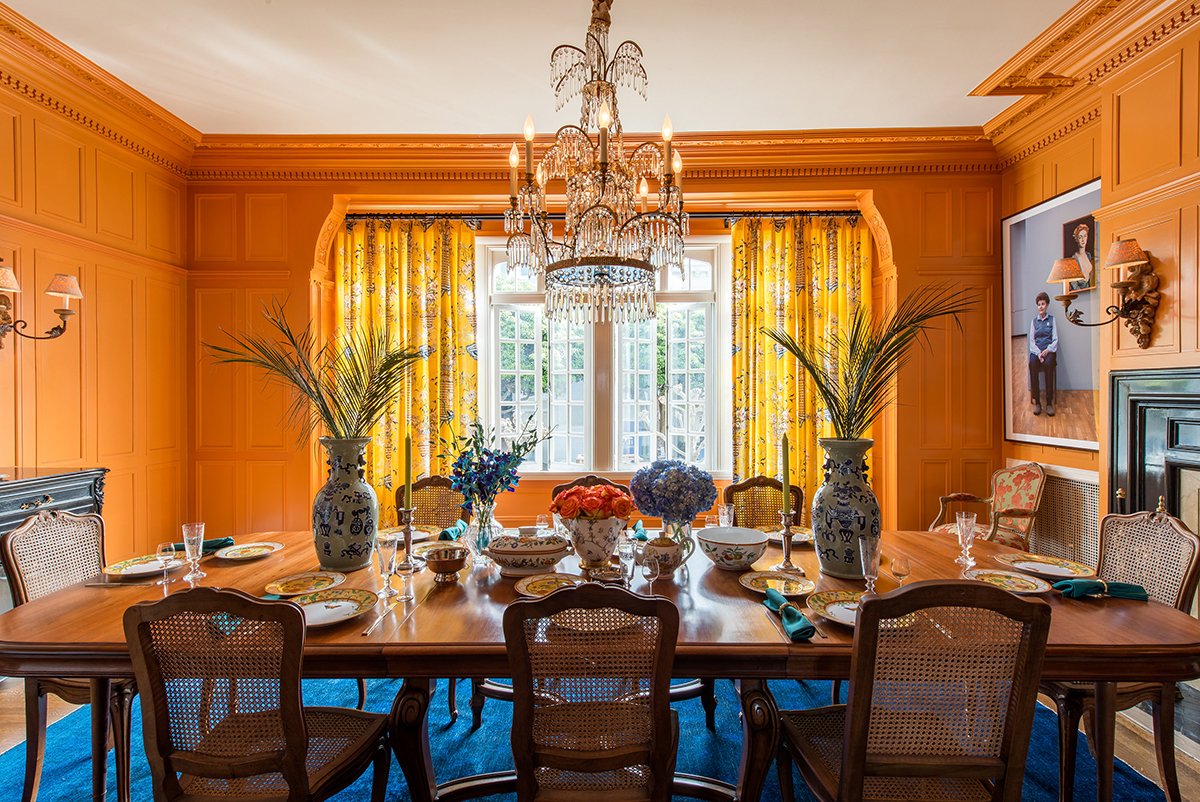 Brilliant, saturated color liberates the classical architecture and traditional furnishings of this dining room by SKIN, elevating the atmosphere from staid to spirited. Photo by Andrew Miller .
| | |
| --- | --- |
| | |
| | Michelle Jolas and Lauren Lozano Ziol |
F
our years after launching their Chicago design firm, SKIN LLC, interior designer Lauren Lozano Ziol and graphic designer Michelle Jolas are transporting their sophisticated style overseas. This coming year, SKIN plans to open a new London office, launching their brand to the European market. Their expansion into England is only one aspect of the firm's dynamic evolution. SKIN also offers a line of custom furniture — inspired by French 1940s and Art Deco designs — and a curated selection of vintage finds, both of which are offered on Incollect, as well as global shopping experiences with clients.
Matched with a willingness to branch out of their comfort zone, their highly personal approach to design fuels their growth. "We think that environments influence how you feel," says Jolas. "It's relevant right now, in these times. Your home should be your sanctuary."
Discover more designs from SKIN below.
Stylish Beginnings



Left: In this Chicago project, textured seating — including a curvy emerald velvet sofa and a pair of sheepskin chairs — plays off the coffered design of the ceilings. Right: A fresh, contemporary space in Chicago features sculptural hand-forged bronze stools accented with polished brass seats, teamed with a pair of sparkly brass and crystal pendants. Photos by Andrew Miller.
Lozano Ziol and Jolas met more than 10 years ago; their children attended the same school, and their friend groups overlap. Each had built a reputation within different creative industries. Lozano Ziol's thoughtful, modern interiors had led to features in publications like Elle Decor, Luxe, and Chicago Magazine, while Jolas had a successful career as a graphic designer in global advertising and had launched her own brand. "We always admired one another's creativity and work ethic," says Lozano Ziol. "We would always brainstorm at dinner parties how we could combine our talents." At first, they contemplated a wallpaper company, the perfect intersection of their interests in interior and graphic design. Eventually, they decided to merge both their businesses and create a comprehensive firm that could develop branding strategies for businesses, and design interiors, too.


By working together, they each contribute ideas to the other's lane of expertise. "We push each other to design out of our comfort zone," says Lozano Ziol.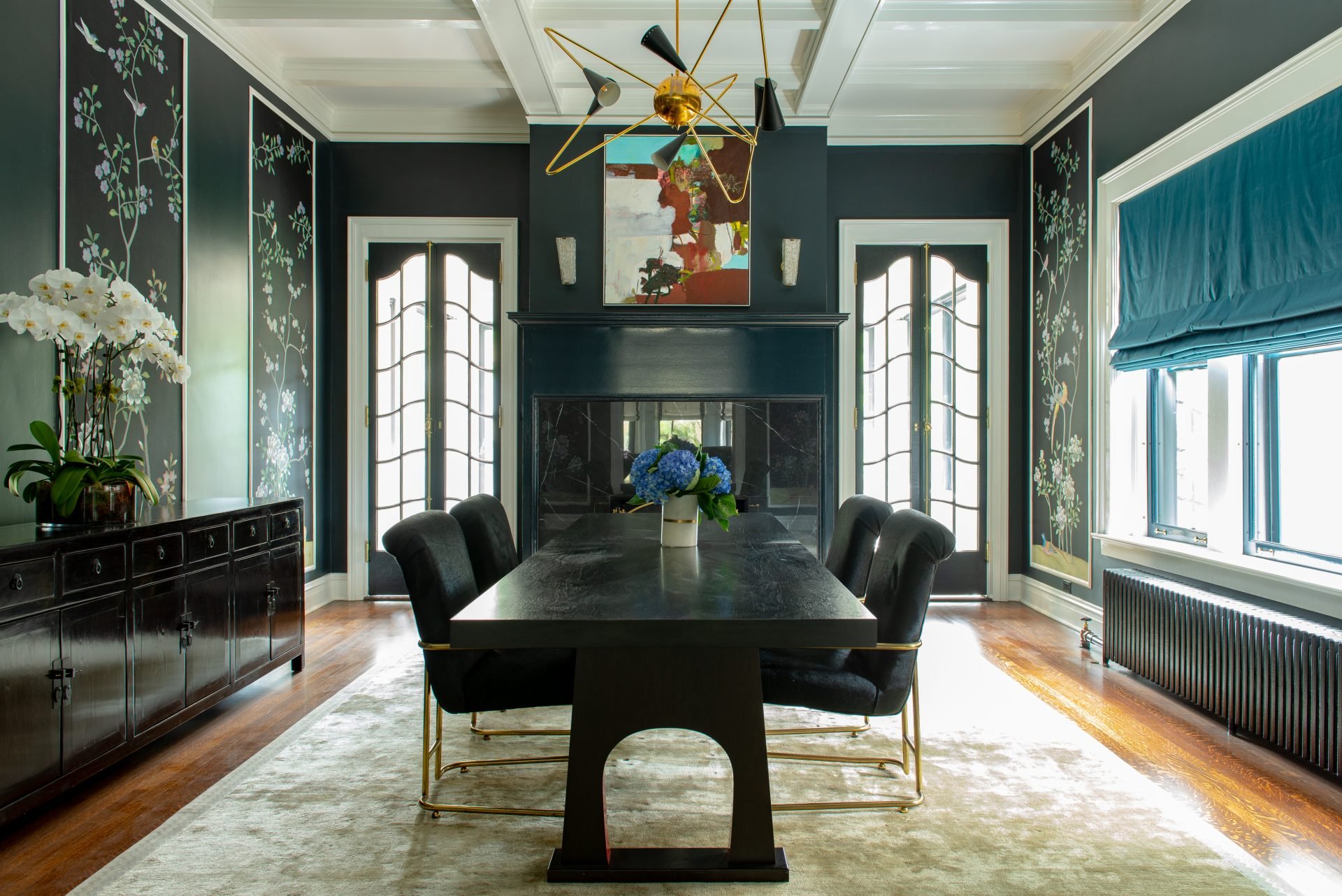 Here, a contemporary chandelier animates the atmosphere in this dining room; the blue fabric for the window treatments is from Schumacher. Photo by Andrew Miller.



Left: This playfully decorated, built-in display shelving was created for a client in Kenilworth, Illinois. Right: Designed in 2020, this room features a selection of vintage pieces, including a plush streamlined swivel chair and a fanciful armchair with ogee-shaped back. The mantel is an antique, adorned with neoclassical motifs, and creates a dynamic focal point combined with an intricate Neo-Baroque gilded mirror. Photos by Andrew Miller.
Although their styles differ, both share a love for eclectically mixing period pieces, and matching antiques with bold, chic colors and a hint of print. "We love to do new and different things, but keep it timeless," says Lozano Ziol.
French-Inspired Furniture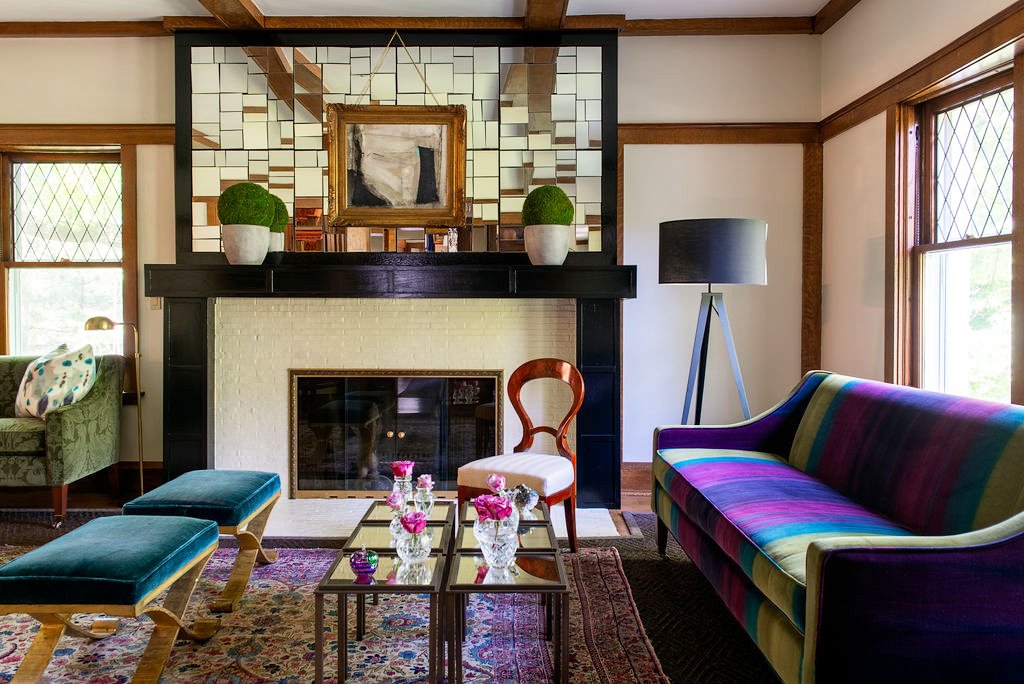 For this space, SKIN used a set of their custom
Ziggy
tables as a central element in the design. Other furniture includes a pair of X-based benches with gold-leaf frames and an antique Biedermeier chair; the sofa is upholstered in a striking spray-dyed velvet from Amazilia Velvets. Abstract artwork stands out against a mirror mosaic overmantel. Photo by Andrew Miller.
Their diverse brand also includes both custom and vintage furniture, with the custom line featuring fresh silhouettes and juxtaposed materials. Lozano Ziol names 1940s French design and Art Deco as key influences in the brand's pieces, which she designs herself. Available on Incollect in an assortment of woods and upholstery, the Oliver Chair consists of a frame with decorative rounded legs and a comfortable, upholstered seat. The Ziggy set of tables was inspired by a composite of pieces seen at the marchés aux puces in Paris. The antique mirrored top references vintage styles, and the tables can be purchased together or individually.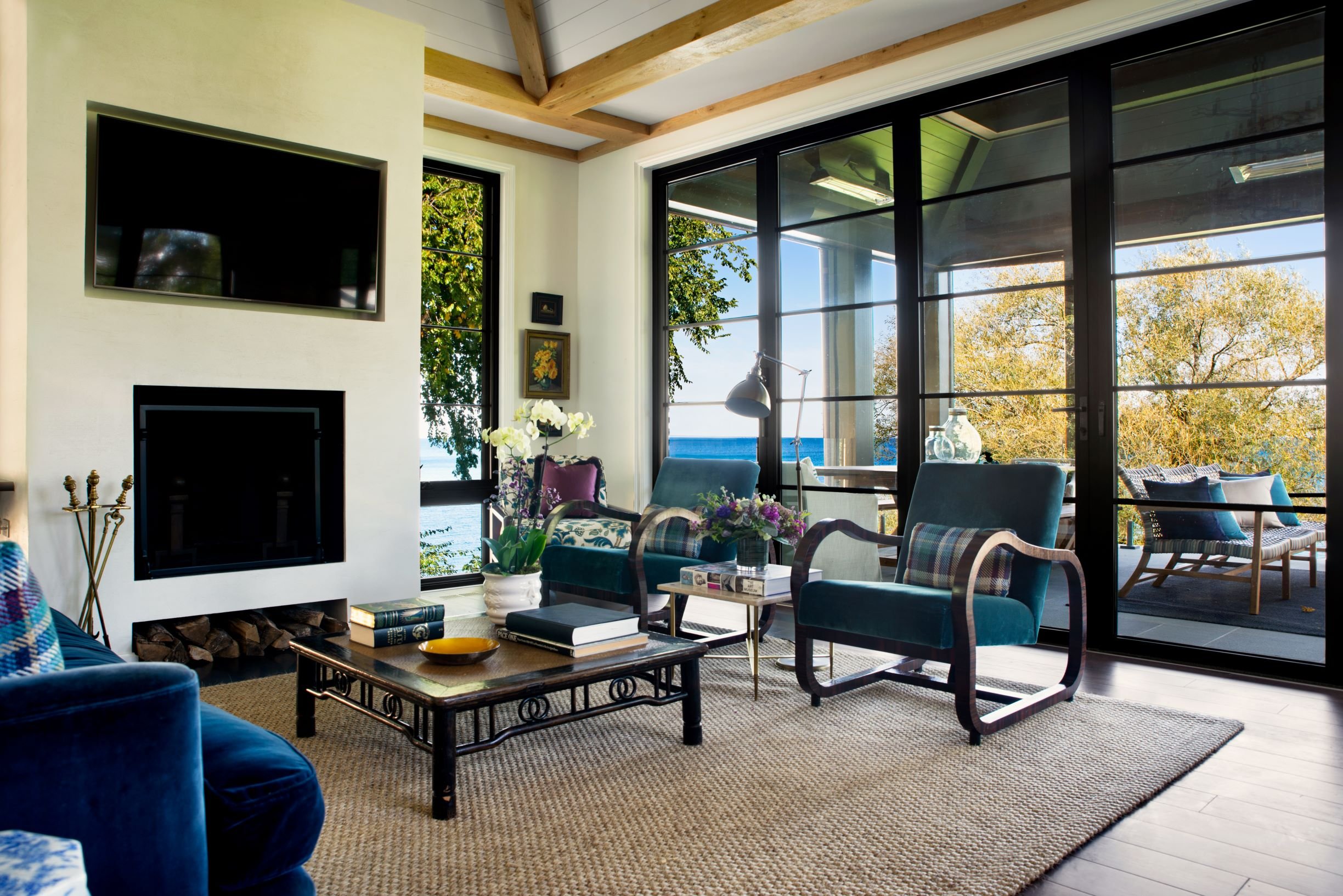 A set of Oliver chairs adds elegance to a light-filled living area in Evanston, Illinois.
In addition to their custom work, Jolas and Lozano Ziol scour antique shops and estate sales to discover vintage furniture that they can refurbish for their projects. Lozano Ziol's love for the history of art and design helps her to spot chic antiques, and Jolas, who collects period jewelry, appreciates the quirky character of vintage pieces. Some of their top finds include a channel-back lounge chair — which they reupholstered in a floral teal fabric from House of Hockney —and an early 20th-century pedestal table with an agate base, now newly topped with Nero Marquina Marble.


As part of their diverse brand, they offer shopping excursions to San Francisco, London, Paris, and New York, where they help clients hone their personal style and taste, as well as their ability to select high-end, timeless pieces for their own home. Clients have the opportunity to experience insider furniture markets and under-the-radar antique stores with their hosts, who offer a wealth of design knowledge, both contemporary and historical.
The Future of SKIN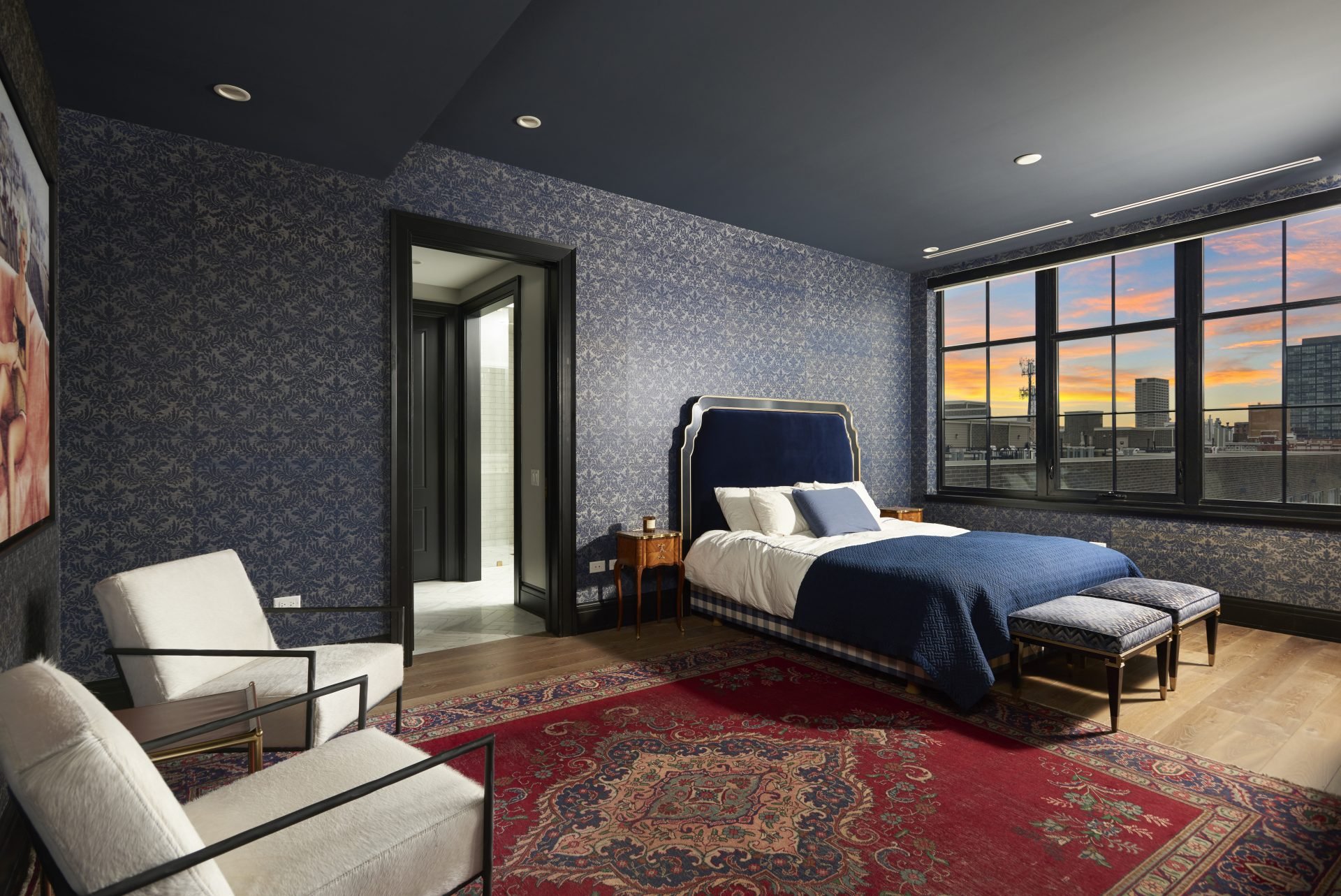 A Phillip Jeffries wallcovering, a center-medallion oriental rug, and antique marble-topped side tables bring the warmth of traditional design to a master bedroom with sweeping views of Chicago's skyline. A custom upholstered headboard and pair of sleek contemporary armchairs propel the design forward. Photo by Andrew Miller.
The London office is an important step toward Jolas and Lozano Ziol's goals for their brand. "So much unique design is coming out of London and all of Europe," says Lozano Ziol. "Gaining access to that high-end, international community is what we're interested in." With their avid interest in European art and design trends, the move to London feels natural to them. Nostalgia also impacts their decision. Lozano Ziol has lived in Paris and London, and previously worked at Rita Bucheit, a renowned antiques market in Vienna, and Jolas's work in advertising took her on frequent trips across the globe.



Left: Wallcoverings play an important role in many of SKIN's designs. Paired with matte bronze contemporary sconces, vibrant floral wallpaper with large-scale Indian sunflowers and zinnias sets the tone for an inspired powder room. Right: A lounge area decorated with

Butterfly Garden

wallpaper from Osborne and Little. Photos by Andrew Miller.
Their foothold in Europe gives them the opportunity to start creating new directions for their design dreams, which include working with the hospitality industry. "One day I could see our Oliver chair in every room in the hotel that we design," says Lozano Ziol. They've also discussed revitalizing old chateaus — another project that, while out of the scope of the ordinary for most designers, seems like a logical progression for Lozano Ziol and Jolas, who let passion chart the path of their brand.



Left: While pattern often plays a role in their designs, SKIN also creates beautiful, subdued spaces grounded in textural juxtaposition. Mixing warm, natural elements and cool neutrals results in a multi-purpose dining room – flooded with natural light by day, and illuminated by an intricate contemporary chandelier for festive evenings. Photo by Matt Kosterman. Right: A polished space with a cozy custom-made sheepskin lounge chair and ottoman. Photo by Andrew Miller.
Although their designs range in appearance based on the client's character, there is a sense of consistency throughout both their furniture and interiors. "Our style is timeless, classic, and chic with an edge," says Lozano Ziol. In their work, something old can be made new again, and that feeling of renewal affects other areas of a client's life. "Your environment has the ability to create passion and creativity, and change a mood," Lozano Ziol adds.