Chicago Designer Felicia Ferrone Reimagines Design as a Kind of Architecture
Chicago Designer
Felicia Ferrone
Reimagines Design as
a Kind of Architecture
by Benjamin Genocchio
For Felicia Ferrone, form doesn't follow function in design, they are one and the same thing.
"The world doesn't need any more things we already have. Design today seems to be just an exercise in styling rather than about new ideas of what a piece could be," says the designer, who in addition to a successful private design practice, is Director of Graduate Studies and Associate Clinical Professor of Industrial Design in the School of Design at the University of Illinois at Chicago.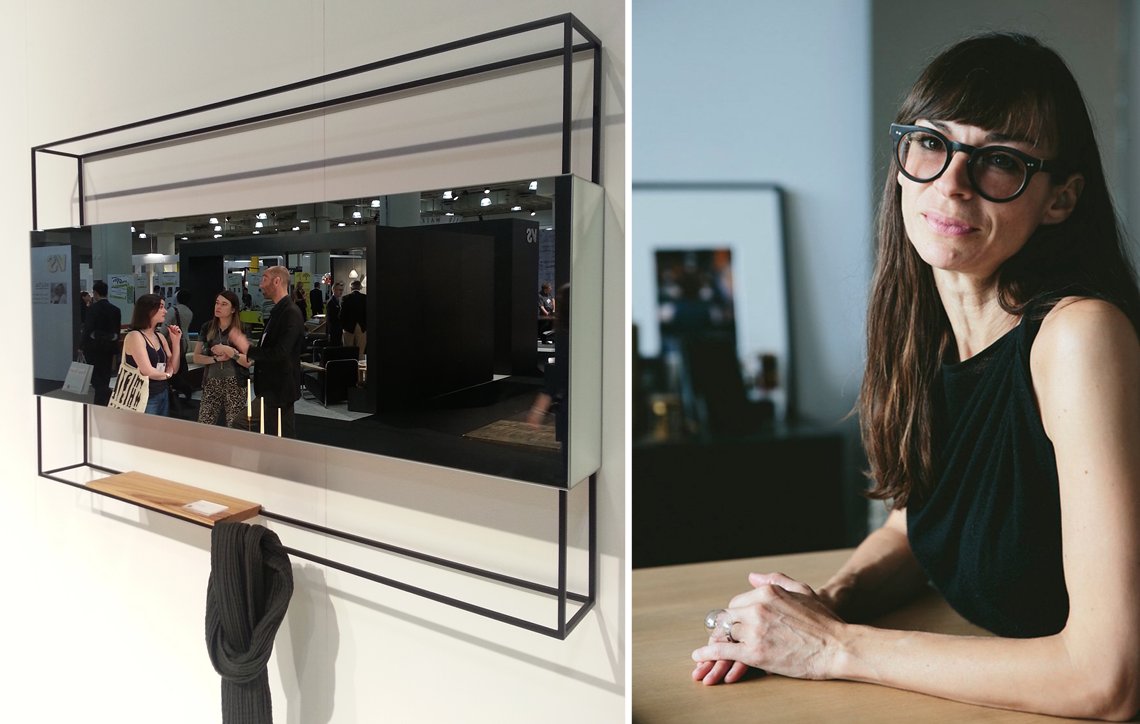 Left: Perfectly suited for an entryway, bedroom or bathroom, the Frame Mirror reduces the object to its most minimal form. The detachable wood tray can be positioned anywhere along the bottom frame. Right: Felica Ferrone.
Today the role of a designer, Ferrone believes, "is to avoid cluttering up the world with more unnecessary things." Design for her is about bringing a unique and purposeful angle to object creation.
To this end, she searches for the unexpected, taking on an established object or a design archetype in order to take it apart and reinvent it. A successful example is her Frame Mirror, which instead of simply being a flat surface over a flat surface is designed in such a way that the mirror itself wraps around the frame and the frame allows for use with a wooden shelf or to hang things on like a hand towel.
Her unique approach to design also extends into her use and choice of materials and production techniques. "People often ask me what material do you work in — that makes no sense to me as I work in whatever material is best to meet the functionality and efficiency of manufacturing of an object."
Ferrone trained as an architect before switching to design and believes that it is her architectural training that informs an agnostic approach to choice of material.
"Nobody ever asks an architect what material they work in — they work with whatever material is best for the project at hand. I am the same, I go with what works. I conceive of design as a kind of architecture. Context helps to define content."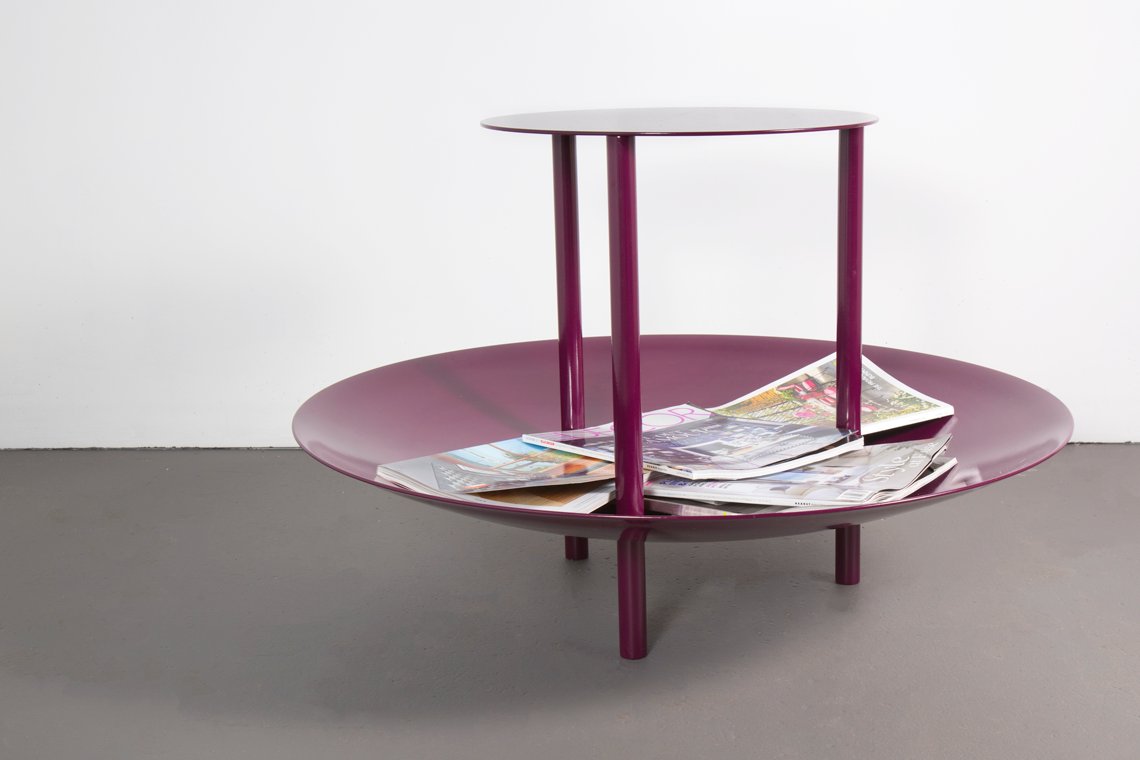 The Magazine Table is an innovative and modern take on the traditional use of an accent table creating a new typology that is functional and unique. The top half serves as a standard side table, while the dish beneath, concave in shape, gives the table its name and purpose of holding magazines, books, toys, or just about anything else you can think of providing the utmost convenience.

| | |
| --- | --- |
| | |
| Cardboard mock-up of the Magazine Table shown next to the prototype prior to powder coating. | |
She frequently experiments with materials in the development process of a design. Her innovative, modern take on the magazine table is a good example: the top portion serves as a functional side table, while a circular, concave dish below it operates as a catchall for printed matter, books, toys, and household items.
"I wanted a unique and also functional object. To create a circular, dish structure out of wood or of marble would have been wasteful and after testing different materials I found that a piece of powdered coated aluminum, hand-spun, was the most efficient for the form and the function that I needed and it also came in a range of colors."
Her designs are minimal in appearance and yet soft, delicately edged and playful. Her candle wall sconce is a whimsical, elegant take on modern lighting, with a trompe l'oeil touch that fools the eye into thinking these are electric candles, simulating candles, but actually they are real candles with the mirror-polished stainless steel backplate reflecting the candle and its light, while the Fold Bench, designed in 2015, began she explains as "an experiment in creating a 3-d object from a 2-dimensional plane of paper." When viewed from a particular angle the bench takes on the appearance of two flat, balanced paper sheets.
The Fold Bench's structure is striking in it's boldness and simplicity of form. Perfect for a foyer or the end of a bed, the Fold Bench is easily adaptable to any space.

Simplicity, especially of forms, is a term that recurs in descriptions of Ferrone's design. So is utility, for most if not all of her objects are adaptable to spaces, further extending their functionality. Her designs are not flashy or in your face, by design, she explains, existing more as what she calls "subtle statements" for modern environments.
Though seemingly industrial in appearance each object is handcrafted, allowing for a meticulous attention to the details. The Amara Side Table, in pink or Carrara marble, is an especially elegant example, made from a single block of marble in Italy hollowed out to reduce the weight but carved, polished to maintain minimal, clean, simple lines.



The Amara side table in pink (left) and Carrara marble (right). This small side table is like a punctuation mark for your modern living space. It is an exercise in subtlety with its delicate edge detail and base that recesses as it meets the floor. Made from a solid block of marble in Italy, the table is hollowed out to reduce the physical weight while maintaining the clean, simple lines.
Left:
Essentials like jackets, scarves, and hats can be hung on the branches of the Albert Coat Valet. The large base allows for a sleek space for items like shoes or bags. The piece's utility does not betray its stylish properties. When not in use, the Albert enriches the environment around it and transforms itself into a sculptural island. Right: These minimalist Corner Shelves, whether installed individually or in a series, occupy a space in a room often overlooked. They are strikingly simple and can be used for any number of objects or books, or even left empty.
Ferrone has also achieved success with her glassware, each piece of which is hand formed without use of a mold by master glassmakers. Her May Collection, named for her favorite month when the season changes from spring to summer, was an instant bestseller in 2018. The May Collection includes a fluted goblet with a hollow stem in borosilicate glass and appeals to buyers with a more traditional taste who want something innovative and new based on classic proportions. It is also rigorously functional, being able to take hot and cold liquids and is dishwasher safe for everyday domestic use.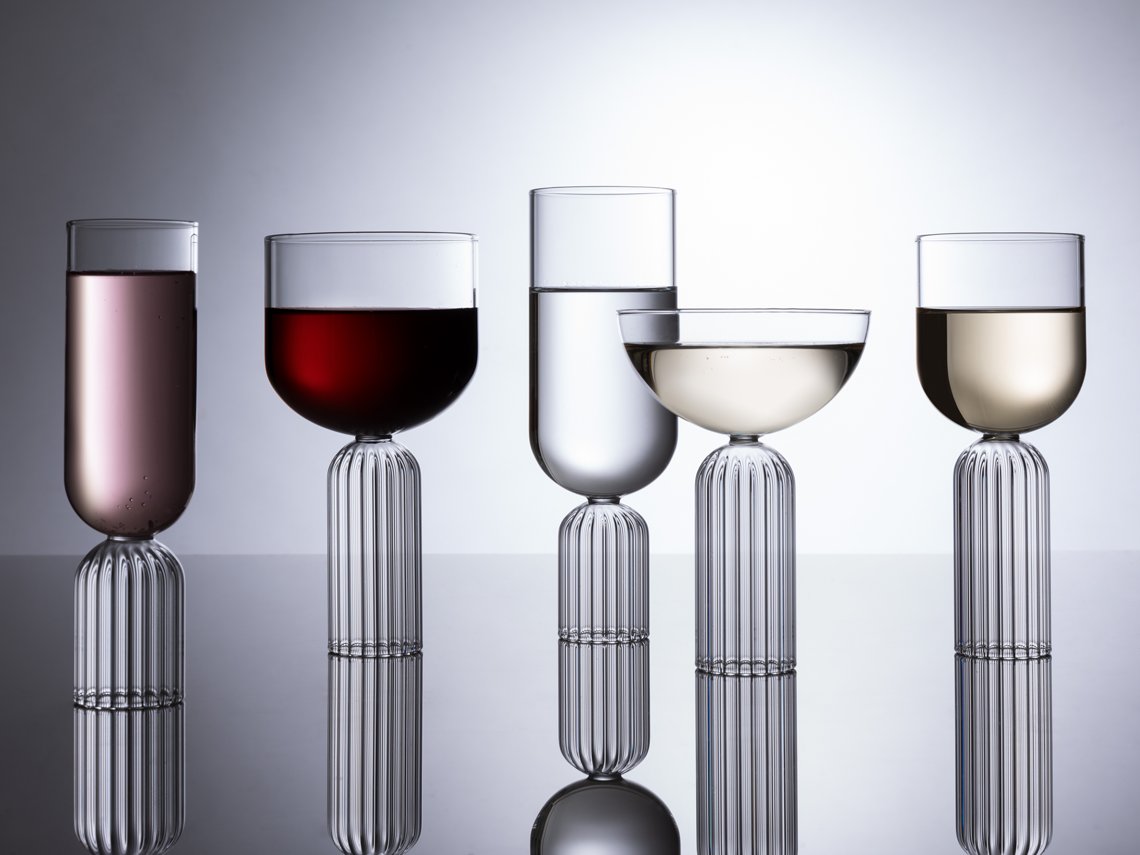 The May Collection was designed by Felicia Ferrone for her favorite month when the season transitions from spring to summer. With the interior fluting of its hollow stem, this unique contemporary glassware design channels that natural lightness and expressive freedom of the season. At once a modern take on stemware and a wink to nostalgia with its vintage touch, the May Collection has earned its place as a classic among the fferrone glassware collections.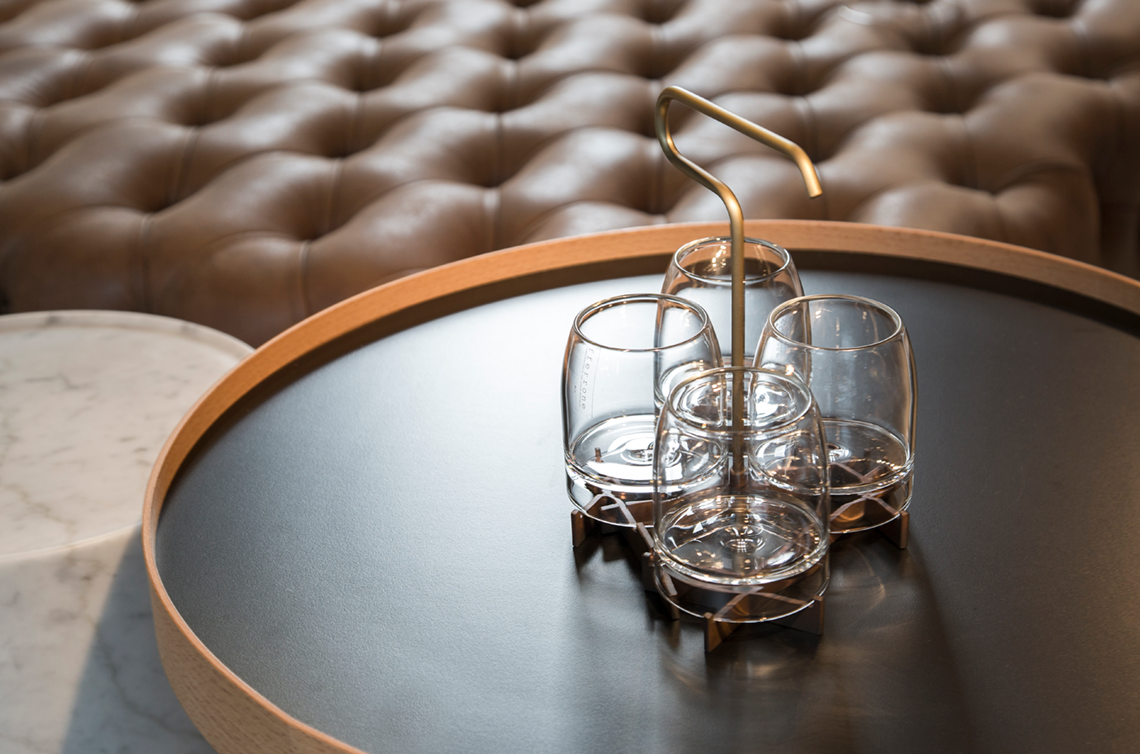 Inspired by the pleasures of fine whisky, The Rare Presenter and Rare Whisky Glass set, a collaboration between fferrone &
Gentner Design
. The presenter elevates the experience through the art of presentation, and the glassware design heightens the drinking experience with its tapered rim. The suspended tray with a unique handle allows it to be carried with one hand. Photo by Lara Kastner.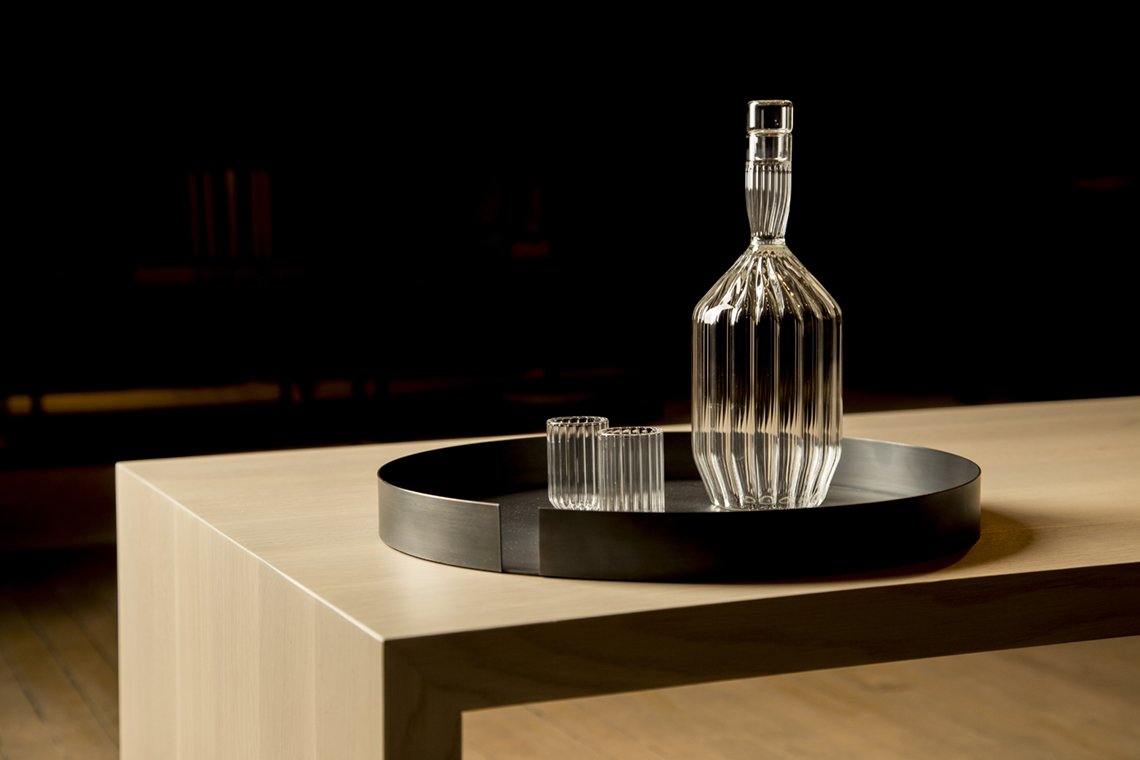 The Margot Decanter is refined with its slender, sloping neck and unique interior fluting, a signature of the Margot Collection. The chime of its glass cap after a fine pour is the soundtrack of our greatest successes, and our simplest evenings spent reveling with friends and family. Shown here alongside the
Maison Tray
and
Dearborn Mini Glass
. Photo by Lara Kastner.

Her objects she says need to be made to live with and before she puts a prototype into productIon she tests it out in her own home: she does a full scale mock-up of a design in cardboard and puts it in her living room to test out the scale, presentation, context, to see if it plays nice with other objects in the space. She wants to create objects that are, she says, "seamlessly integrated into daily life".
Ferrone only has around a dozen pieces of furniture, and is just now getting back into it, she says, experimenting with a range of works on the spectrum. "Furniture is a new expression for me and this is something I want to especially focus on and grow." She doesn't work in collections, her pieces arrive as individual ideas, thoughts, problems to be solved with materials, proportions and scale.
Then there is the nagging question of utility.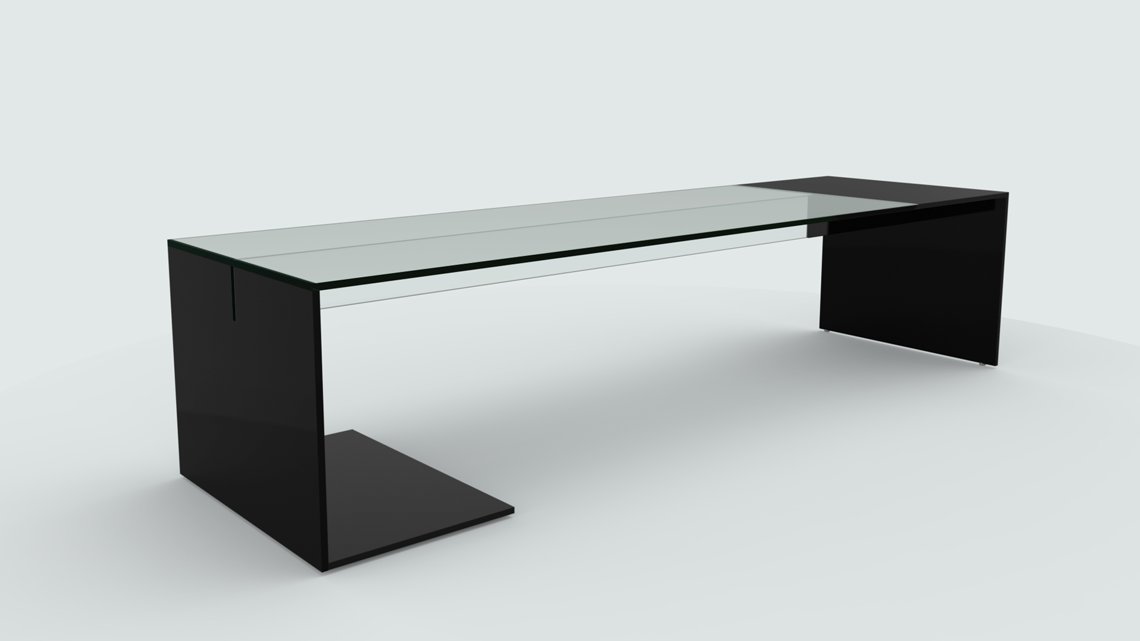 Playing with tension and notions of Japanese joinery, the Unir Table shifts one's perspective when in use due to the asymmetrical quality of the table.
All photos courtesy of fferone.