Chimera Watts Lights Up Our Lives
An installation image from a 2017 exhibition at the Kumho Museum of Art in Seoul, South Korea.

Chimera Watts Lights Up Our Lives
by Benjamin Genocchio
Photos courtesy Terrence Bae
| | |
| --- | --- |
| | |
| | Chimera Watts founder/creative director Terrence Bae envisioning his next unique creation. |
Incollect spoke with Chimera Watts founder and creative director Terrence Bae.
What do you specialize in as a designer?
I make functional art. In my case, it happens to be lamps and lighting. I make objects that can stand on their own as art pieces, but also function to light a space.
How did you come to focus on lighting?
I have always been a collector of industrial vintage objects. I was also fascinated by how things work mechanically. Much to my father's chagrin, when I was a boy I opened my father's radios and watches just to see how they worked. In 2005, I was one of the partners of a wine bar in New York called Jadis. Since I liked design, I was in charge of that element of the bar. I started collecting pieces to light up the bar. That was when I got the idea to make art lamps with existing materials.
When did you first realize you had an eye for design?
Ever since I was a young boy growing up in NYC, Sundays were my favorite days to go to the flea markets where I could find many different objects and materials from different industries. My older brother would bring me along to look at art and beautiful objects with history. This is when I opened my eyes to design.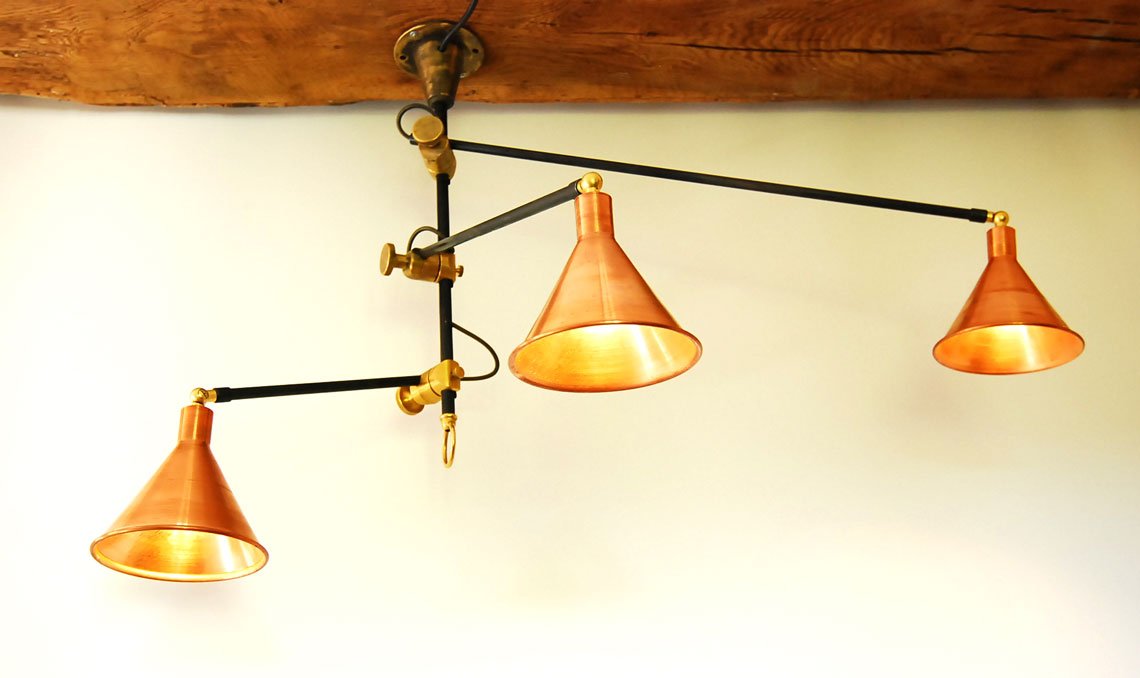 The 3 Bras Pendant is made with a mix of new and vintage parts in steel, brass and copper. It has three independent articulating arms on three levels that swing up to 3 feet laterally.



Left:

Tiff Lamp 1 is the marriage between a vintage fire hose nozzle and a copper shade in the style of Art Nouveau. Right: Made from vintage industrial parts from the renowned O.C. White Company, our O.C. White "Y" Stand Floor Lamp can extend as tall as 8 feet.

What does the name Chimera Watts mean?
A Chimera is a legendary animal made up of different parts of other animals, and it breathes fire. My lamps are constructed with different vintage parts of different industries from dentistry, fire fighting equipment, and cars to boating industries. This is how Chimera Watts was imagined.
What is the process of designing and creating a new piece? Do you begin with a shape or a material in mind?
You should see my atelier! It is a mess at any time. My wife always asks me "How can you work like this?" I always tell her that if I don't see the materials, I forget about them. It starts with them. Then the matching process begins, to put different parts together while maintaining balance. My mind is open. It is the materials that move me. And they are always metal. The hard work begins when the building starts and it is always trial and error.



Left:

The Goodrich Floor Lamp was created using a vintage green enamel B.F. Goodrich Tire Station lamp. Right: In the Phare Ancienne Desk Lamp, a vintage French acetylene car headlight lamp has wonderful details and patina.

Does the idea of recycling have an impact on your approach to design?
Yes. I'm attracted to metal and yet I make lamps that will outlive all of us. There was an exhibition I did in 2015 in Seoul called "Designed Longevity." It was a play on the words "designed obsolescence" where products are designed to break down so you have to buy a new one. It took place at a museum called Aa, where the curator/owner of the museum was the biggest collector of vintage materials from Europe. We live in an era that is consumer oriented where a 3-year-old phone is considered old. I would buy a lamp from Ikea and it lasts exactly one month before it breaks down. In South Korea, there are 20-year-old buildings considered old and are being rebuilt. As a reaction to overconsumption, I will continue to upgrade/recycle/upcycle old materials into a new life.
Tell us about what you are working on right now.
Usually, I create unique pieces but this summer I am bringing in my "Creation" series which I designed and fabricated in Seoul Korea back in 2015. A series can be 25 to 150 pieces, specifically designed for restaurants, hotels and stores. They are designed for functionality and also for durability. They can be massive or can be put on a desk. They can be decorative and mechanical. The materials range from cast iron, cast brass, and stainless steel to copper.
Are there other items or materials you have not yet worked with but would like to work with and why?
I would like to work with glass artisans who can create the designs I imagine in my lamps. Glass is truly one of the best materials for lighting.


Left: Kaiser Idell chrome desk lamp. A rare model from the 1930s, this is a variant of model 6726 with a larger diameter shade and without the ball joint. Re-chromed and fitted with a polished stainless steel base. Right: A vintage American Machine desk lamp. From the 1930s, these lamps were used in many military offices and factories. This exhibits fIne industrial quality construction and beautifully aged patina and has 5 points of articulation.
What sets your designs apart from other designers and makers in your view?
I am inspired by the Bauhaus and I truly believe in the famous words of Walter Gropius: "Function becomes form." In those short 14 years of teaching, before the school was destroyed by the Nazis, the Bauhaus forever influenced design in everything from little drinking cups to large buildings. I work with precision and with mechanisms, subdued colors, and sober elegance. They are very versatile.
Sculpture seems a strong inspiration for your work. Your lamps are like artworks in many ways. Is this something you are aiming for?
First of all, thank you for your compliment. I have always thought of myself as an artisan who works with metal. I think the reason why you can see my work as art is that most of my pieces are unique, which I cannot recreate, since most likely I won't be able to find the same materials. I strongly seek balance in my work, a feng shui in itself, to create warmth in a cold material like metal.


Left: Fresnel Table Lamp made with 4 Fresnel lenses that magnify and amplify the light source, creating a beautiful warm ambiance. Right: BBT-SNCF wall lamp was designed using vintage 1940s industrial parts: a French marque BBT wall mechanism combined with a spotlight made for the French national railway, SNCF.
Is customization possible for your pieces and do you do commissioned work?
I have done some in the past, so yes I do commissioned work, such as lighting for restaurants, hotels and city markets. My favorite was, once, when a restauranteur in Seoul approached me to design some special pendant lights over the tables so that each guest could decide their preferred intensity of light. That was how I came up with the Belle Iris pendant concept. I designed a 6-inch wide physical iris that can close down to a 1/2 inch wide. I had to break 3 cameras to get the system just right. The pendant was a hit. The intensity was bright and there was no glare from the light source.
How many pieces do you create a year?
It depends greatly on the materials I can find. On average I make about 50 objects per year.
If you weren't a designer what can you imagine yourself doing?
I would probably go back to my acting career. I used to be an actor in New York and it was fun.