Dallas Dazzled 24 Top Interior Designers Transformed a Spectacular Estate Into a Showcase for Their Artistry
24 Top Interior Designers Transformed a
Spectacular Estate Into a Showcase for Their Artistry
The site of Dallas Kips Bay Decorator Show House 2022, in the exclusive and architecturally significant Old Preston Hollow section of Dallas, Texas. Landscape architecture by Harold Leidner Landscape Architects, patio design by Byron Risdon LLC. Photos: Nathan Schroder
They say everything is bigger in Texas, but this time the Lone Star State met its match when two dozen top designers from across the country came to town, bringing supersized talent and limitless imagination, descending upon a sprawling Dallas estate in the toney Old Preston Hollow neighborhood. The design brief: transform a gracious suburban home into an inspirational showcase for design lovers, evoke maximum oohs and ahhs. The challenge was sizable, the result, grand and glorious on a scale that was immense.
Considered the design industry's premier showhouses, The Kips Bay Decorator Show Houses — New York, Dallas and Palm Beach — benefit the Kips Bay Boys and Girls Club in New York City to provide educational and developmental programs for New York City children, as well as local charities in Dallas and Palm Beach with similar missions. Jim Druckman, President and CEO of the New York Design Center is President of the Board for Kips Bay Boys and Girls Club, a cause near and dear to his heart and to which he brings tireless effort and boundless enthusiasm.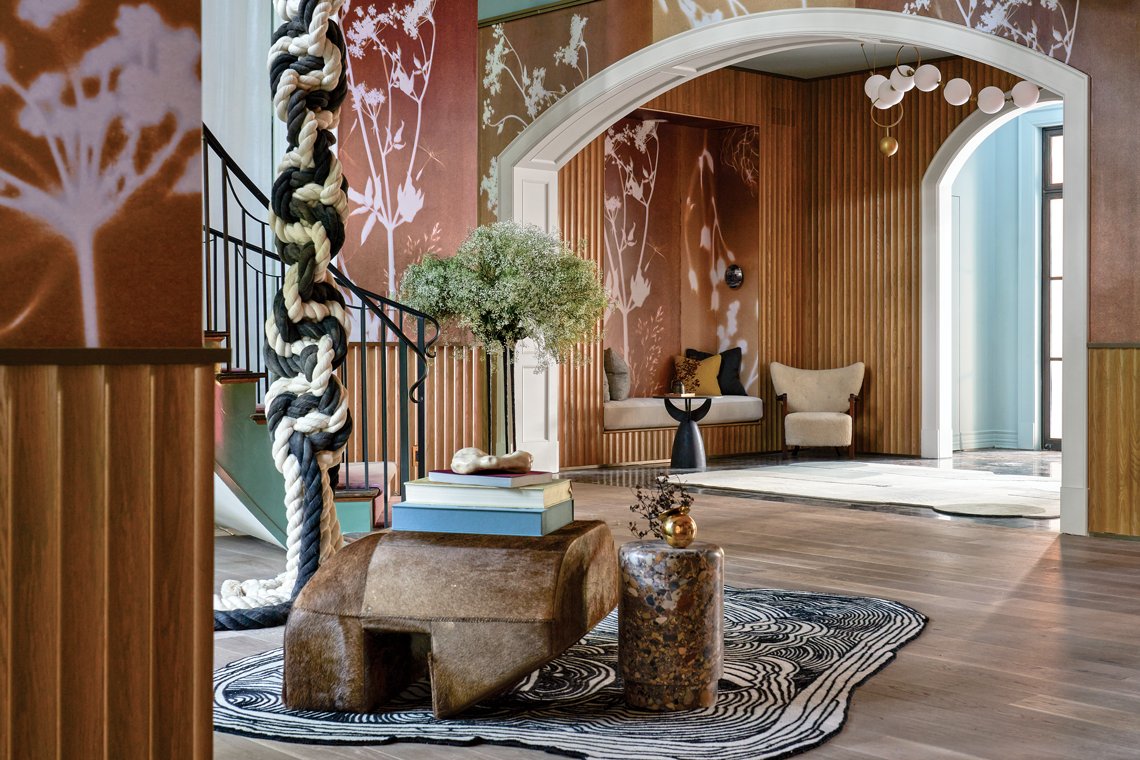 Photo: Nathan Schroder
Jean Liu Design's "warm, modern, and dramatic" scheme for the grand foyer came to life with an array of impressive contemporary artisan works, opening with Québec design studio Larose Guyon's jewelry-like handmade Coco lighting fixture in the entrance hall, so-named in reference to the ropes of pearls Coco Chanel habitually wore. Fluted white-oak millwork and sepia-toned floral wall panels formed a neutral backdrop, flowing into the grand foyer where the "wow factor" appeared, in Mexico-City-based artist Emma Boomkamp's 13+ foot macrame sculpture. Installed in the curve of the staircase, it fulfilled the designer's vision for "a statement piece, . . . something bold and unexpected." A Rick Owens Single Prong Camel ottoman was companioned by a graphic Anemone rug from Atelier Agahzadeh and a Breccia Alba side table by Belgian designer Michaël Verheyden.
Photos: Jay Simon of Ten Ten Creative
Inspired by the meadowlands view through soaring windows, Alessandra Branca created a luminous, verdant "treehouse" living room. The designer took in the full expanse of the towering space and envisioned a way to celebrate the double-height ceilings, reworking her own Casa Branca Foglia wallpaper with a gradient, full at the base and wispy on top, as it would be in nature. Over the 18-foot wide fireplace is a 4-foot wide emerald green mirror by French artist Christophe Gaignon. Nestled In the bay window, a vintage 1970s cerused oak and wicker pedestal table is joined by vintage white lacquer Karl Springer "Onassis" chairs.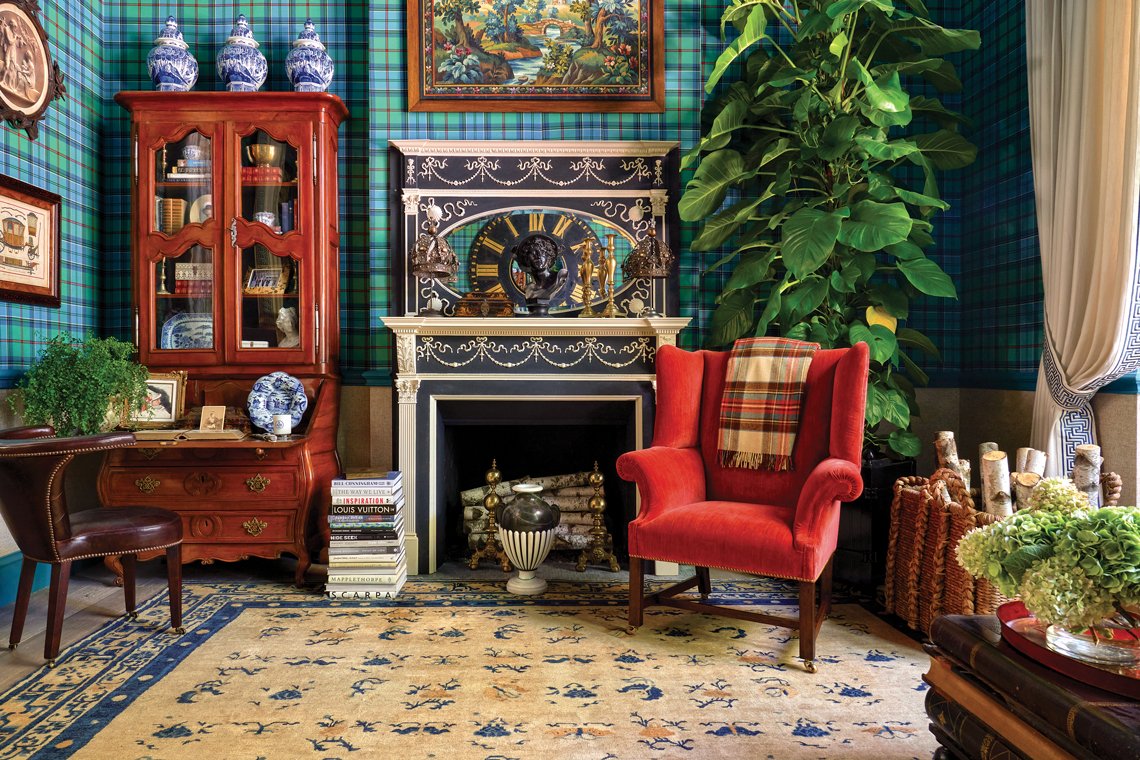 Photo: Nathan Schroder
Traditional English decorating was scaled up, Texas style, for a bold and richly colored room with many a nod to the British Isles. Anthony Baratta found inspiration in a photo of the late Queen Elizabeth's sitting room at Balmoral Castle, where he discovered the perfect tartan for his custom-designed wallcovering. "Brown furniture" played a starring role, with English antiques and neoclassical pieces throughout. Baratta had these sage words of advice, "I think the greatest decorating lesson young people can learn is how to use brown furniture, because it helps balance a room." A 19th-century American mantel received a decorative paint treatment in the manner of Wedgwood Jasperware in chic black and white, a tall-as-Texas antique secretary desk and everyone's favorite blue-and-white ceramics dished up the charm. Nothing stuffy going on in this study, it's all style!
Photo: Nathan Schroder
The best dining rooms are simple but dramatic, setting a scene for lively conversation and gustatory indulgence. This ruby-hued beauty by Fisher Weisman Burgioni is a dinner party destination, enveloping guests in glamour. Circular shapes are used repeatedly to soften the large square room and create intimacy. To add architectural interest to the upper level, a five-tier Constellation chandelier of gilded steel and paper mâché cylinders from the Fisher Weisman Collection hangs at the center of the room, with matching single pendants at each of the four corners. Pedestals of the same design are topped with gilt urns planted with boxwood and ivy, and an oval dining table with vintage dining chairs is centered on rays of ruby and neutral tones in a custom circular-shaped starburst patterned rug. And even when the lights are low, a glowing triptych by Andrew Fisher painted in 24-carat gold leaf and ink wash and spanning an entire wall is certain not to be missed.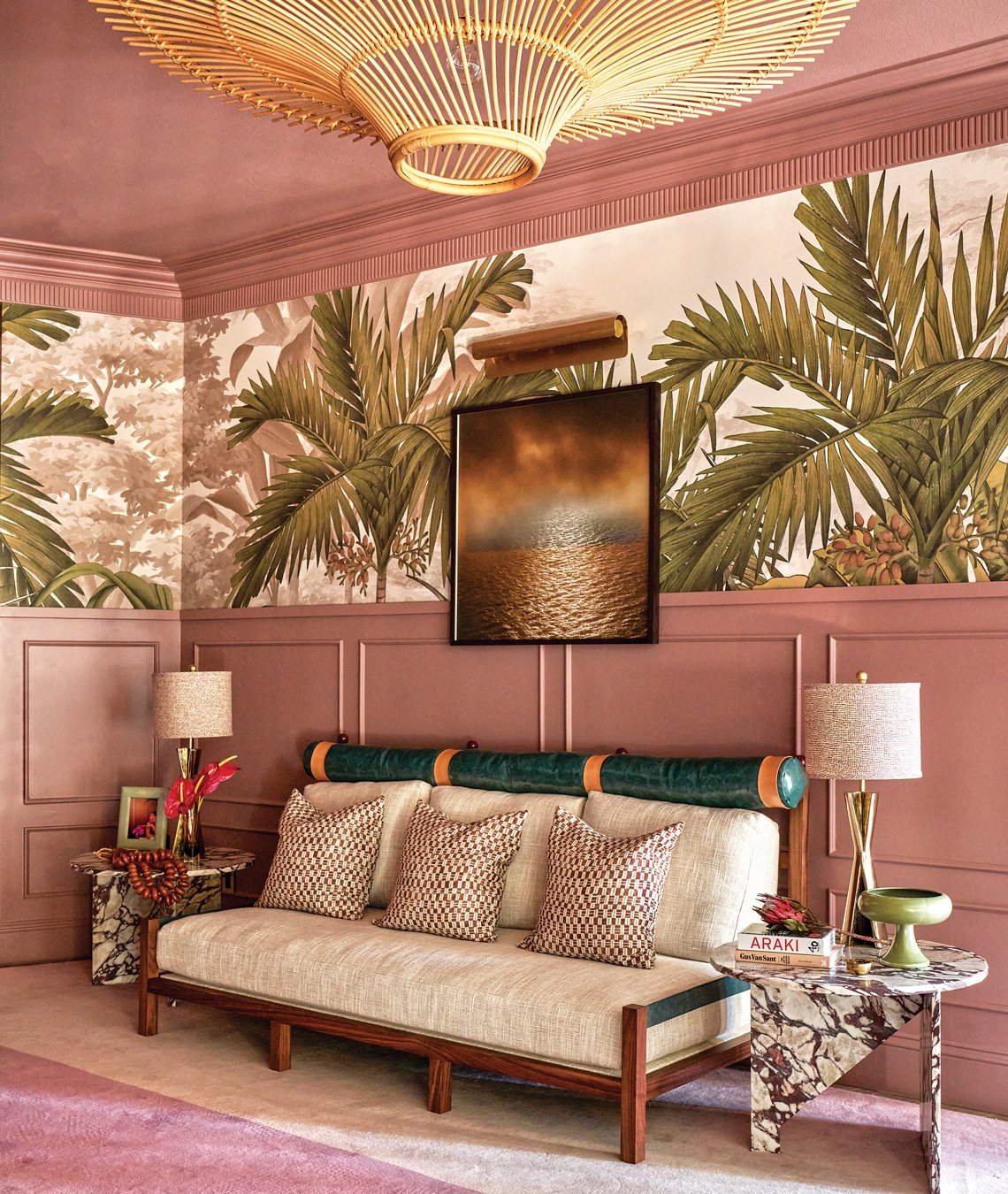 Photo: Nathan Schroder
At the top of the grand staircase, designer Christina Kim drew inspiration from the lush and sensual visuals of film director Wong Kar-wai for her tropical sanctuary. A panoramic wallpaper mural from French firm Ananbô encompasses the space in sultry palm trees with an atmospheric dusky rose and green colorway. The sofa is a bespoke piece, based on Sergio Rodrigues' iconic Tonico midcentury design, the sleek and sculptural side tables are in Calacatta viola marble, and a whimsical five-foot wide rattan ceiling fixture brings to mind a giant-sized, upside-down sunhat.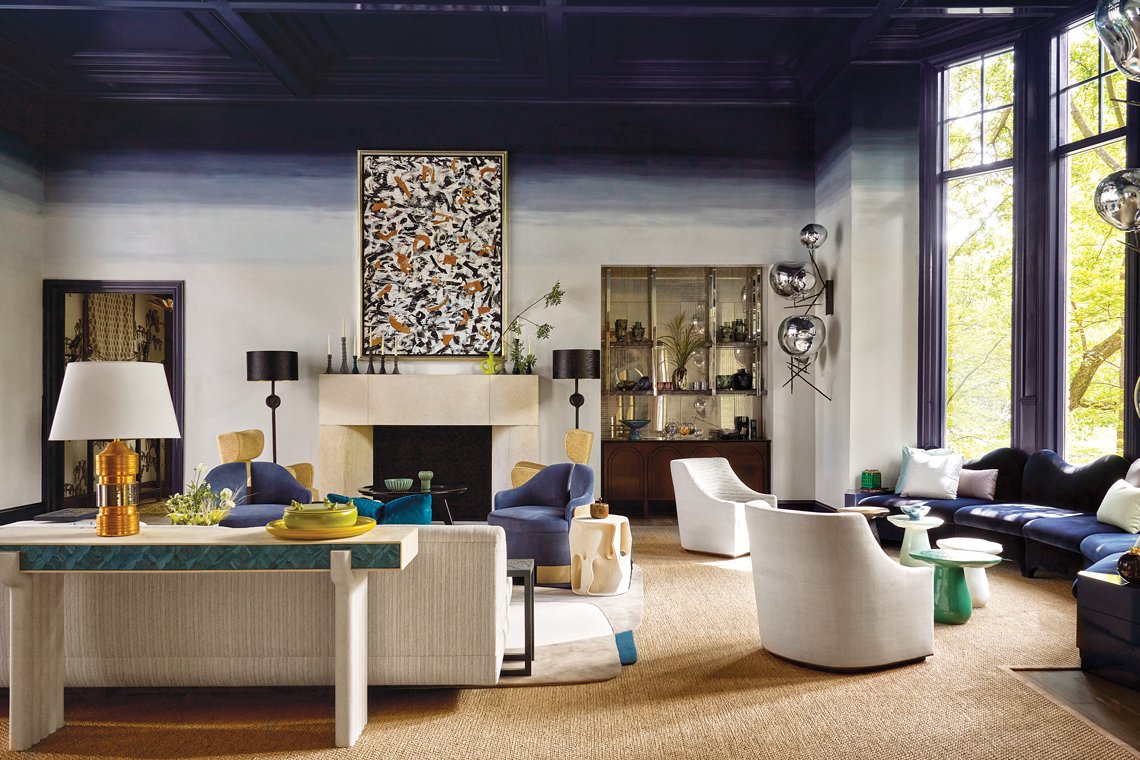 Photos: Nathan Schroder
A smashingly successful debut project for the newly-formed partnership of David Kleinberg Design Associates alumni Lance Scott and Cecily Waud, their "Midnight Lounge" was envisioned as a moody late-night fantasia. A ceiling lacquered in a deep, smokey navy blue was ombre'd into pale gray wall color. Tucked into the bay window, a plush midnight-blue banquette channeled VIP-booth vibes, with ceramic mushroom tables by French artist Emma Donnersberg in mint, green and vanilla adding a playful note. Sparkly and sculptural chrome-finish glass and hand-forged iron pendants were reconfigured as sconces to frame the setting. Paired next to the limestone mantel, Treno lounge chairs in the style of Gio Ponti are by Donzella Ltd.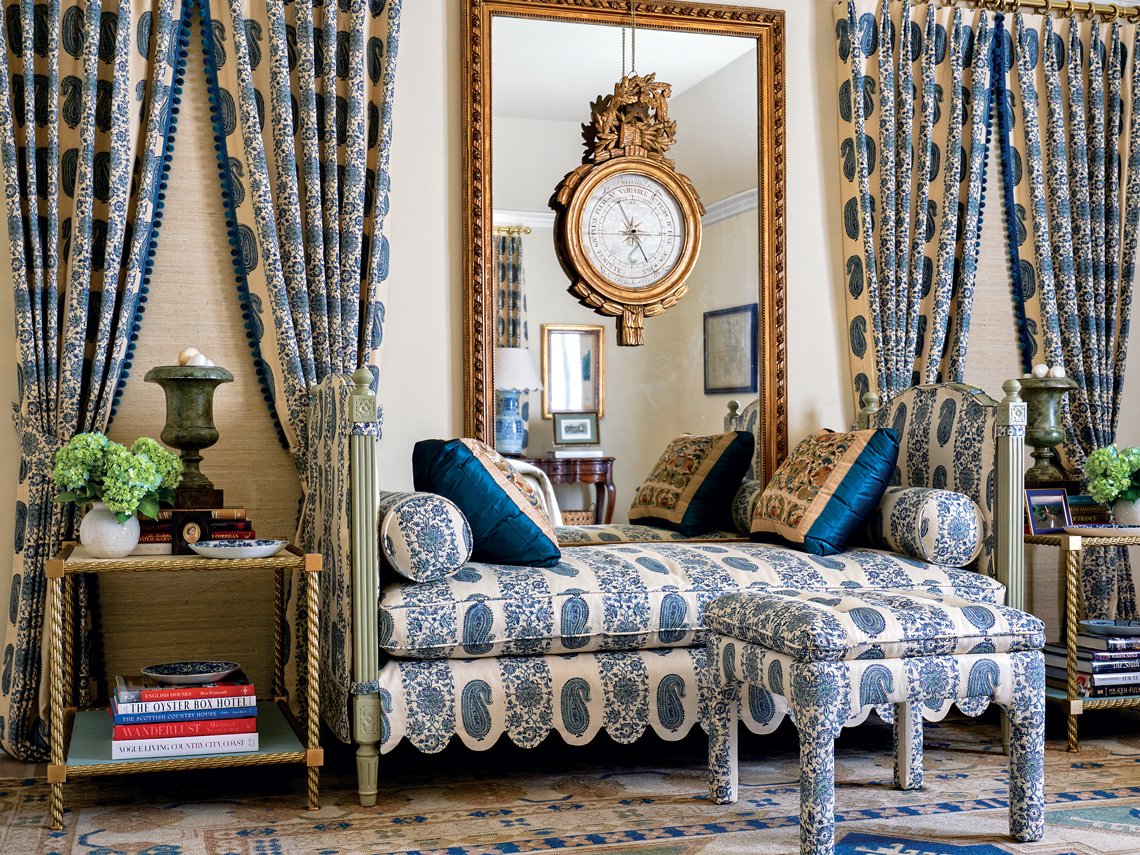 Photo: Nathan Schroder
A corner bedroom was transformed into a restful "Travelers Retreat," a welcome home for the adventurous traveler. In a cozy nook, Soane Britain's hand-printed Paisley Stripe fabric and a blue and cream antique Oushak rug established the lapis and cream color palette. A pair of brass rope twist and cream leather end tables were placed on either end of an antique-painted daybed. Layered over a tall gilt-framed mirror, an antique hand-carved gilt French barometer doubled up the golden glow.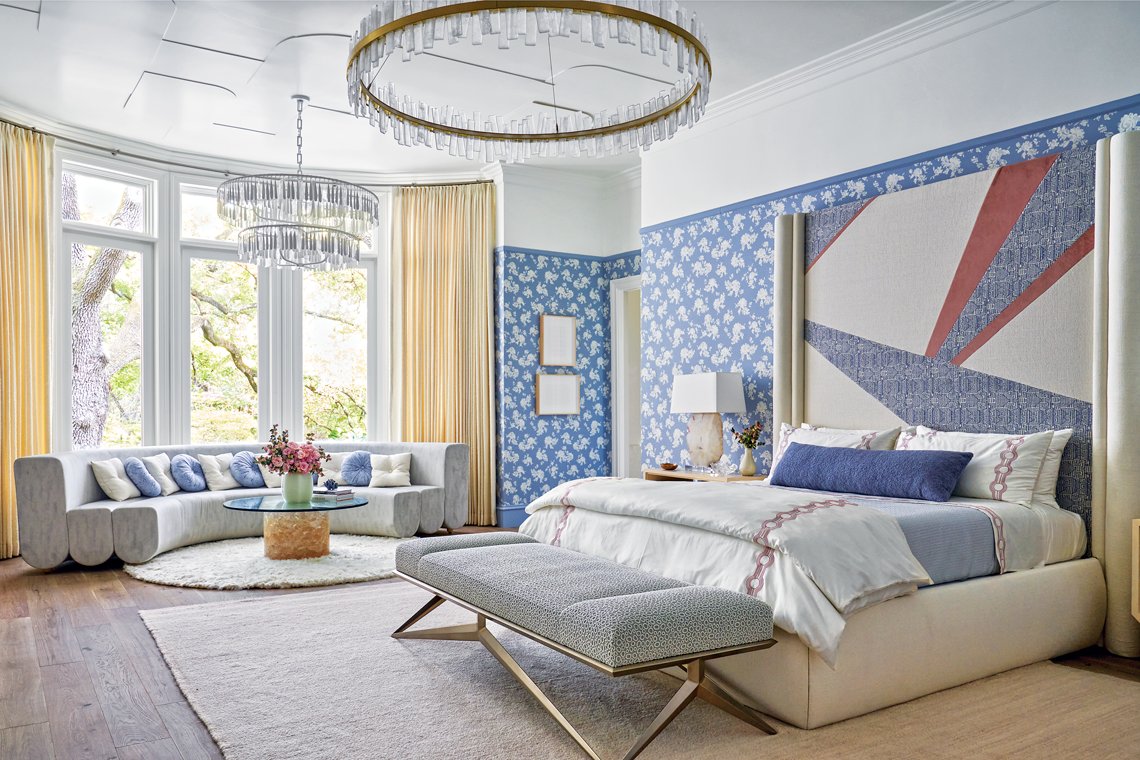 Photo: Nathan Schroder
The primary bedroom was conceived as a restorative retreat, a space Los Angeles-based designer Natasha Baradaran christened 'The Empowered Woman,' her love letter to womanhood. Throughout, feminine florals were interlaced with geometric shapes, bringing together tradition and modernity in a balanced, soothing composition. The "fifth wall" — the ceiling was adorned with a subtle treatment of lacquered geometric panels and hung with sparkling ring chandeliers. The D'Este bench is her own design, as are the semi-circular Arco sofa and Sole bed, with its impressively-scaled "modern take on color-blocking" headboard, both prototypes for her next collection.