Design on a Dime Returns to Benefit Housing Works in NYC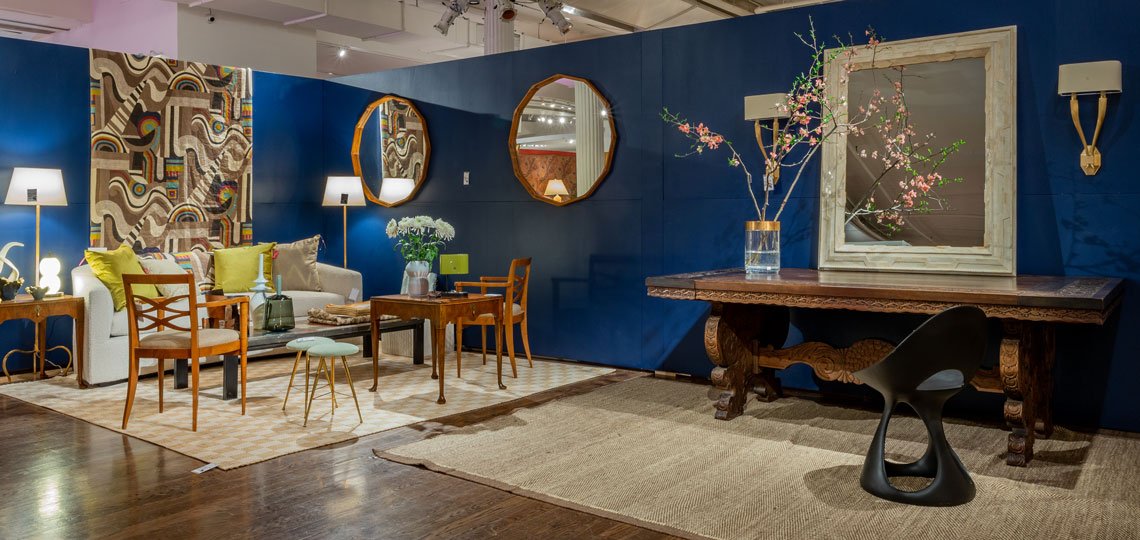 Robert Couturier
Design on a Dime Returns to Benefit Housing Works in NYC
Design on a Dime returns for its 18th year, organized annually to benefit Housing Works, a New York nonprofit that provides community healthcare clinics, housing, and other supportive services to people experiencing homelessness. The three-day event, running April 20–22, returns to the Metropolitan Pavilion with timed, ticketed events April 20, culminating in a sale open to the public April 21 and 22.
The event begins on April 19 with the now annual Groundbreaker Awards Dinner honoring outstanding individuals in the broader design field who have significantly contributed to the fight to end HIV/AIDS and homelessness. This year's honorees are Iman, Adair Curtis and Jason Bolden and Derek Blasberg.
| | |
| --- | --- |
| | |
| | Design on a Dime Founding Chair, James Huniford |
Interior designer James Huniford founded Design on a Dime in 2004 with a simple, powerful idea: to invite fellow designers to curate unique room vignettes with donated merchandise from hundreds of home decor brands, dealers, makers as well as artists, which is then sold to support the charity. It was an instant success and today remains a popular, much-anticipated event on the New York design calendar.
Among the design brands and dealers participating in this year's benefit show are Newel, Bernd Goeckler Inc., Hostler Burrows, Liz O'Brien, soyun k., Gaspare Asaro, Interlude Home and Fromenthal as well as national design brands including Knoll, Holly Hunt, B&B Italia, Home Goods, and Williams Sonoma. But what is special and unique is how the designers combine all the merchandise.
In addition to the brands and designers supporting the show, others lend their name and contacts as benefit co-chairs. Huniford returns as the Founding Chair, joined this year by designer co-chairs Rayman Boozer, Jamie Drake, Elissa Grayer, Young Huh, David Kaihoi, Charlotte Moss, Joy Moyler and Miles Redd. "The full scope of design and home has again stepped up to support Design on a Dime in ways that are beyond generous, creative and inspiring," said Huniford.
Every booth has a distinct identity reflecting the interests and tastes of the designers. This year there are a few booths that stand out for intriguing organizational concepts. Delrose Design Group has designed a contemporary hip office, styled "for a Music mogul, legal eagle, tech titan" says Kerry Delrose. "We all spend too much time working from home or in a business office, so it should be personal, chic, and comfortable,"
Design On A Dime Founder James Huniford/Huniford Design Studio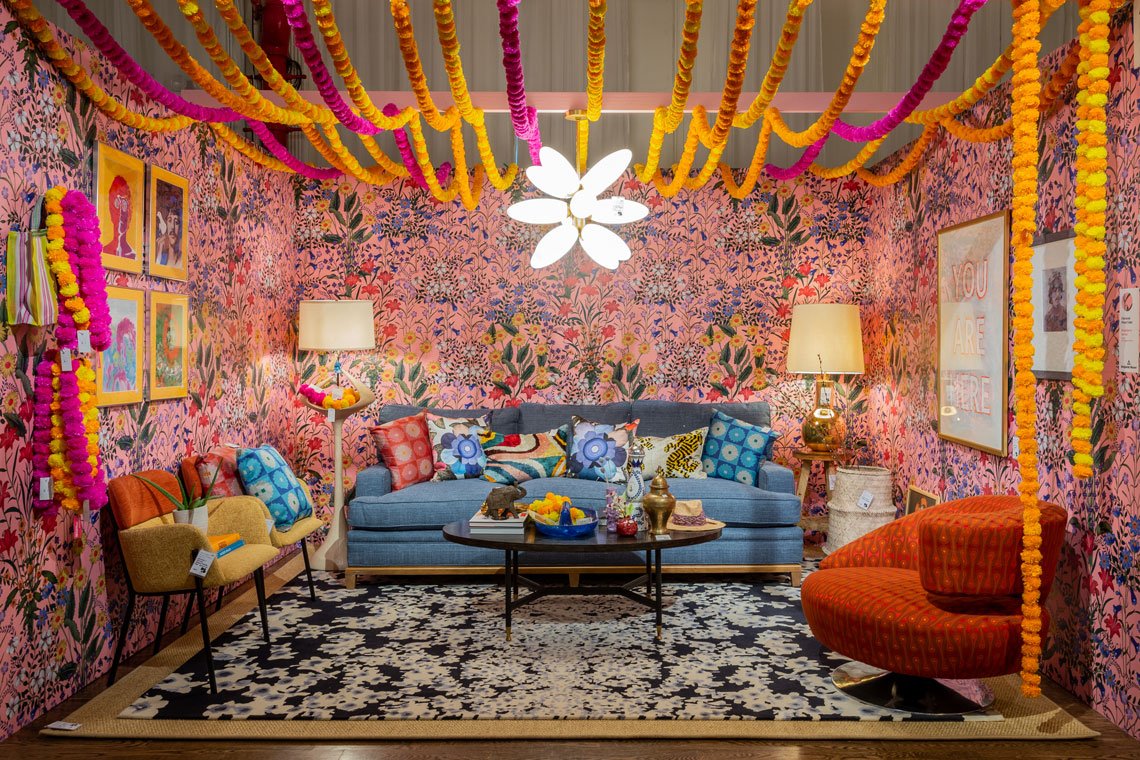 Apartment 48
Delia Kenza Interiors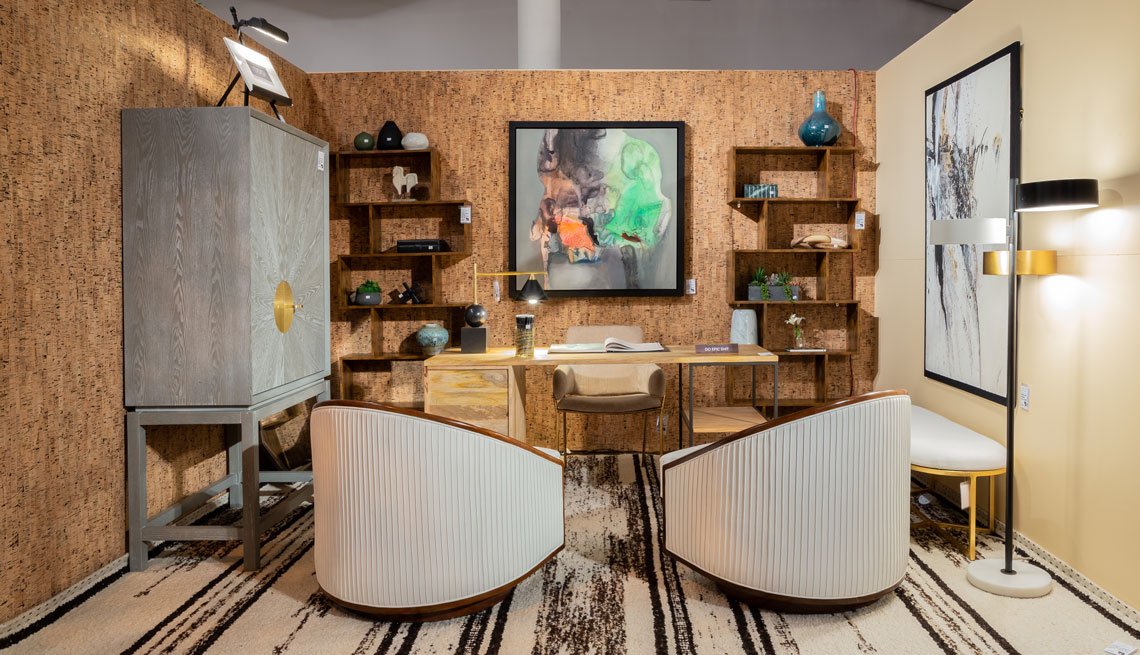 Delrose Design Group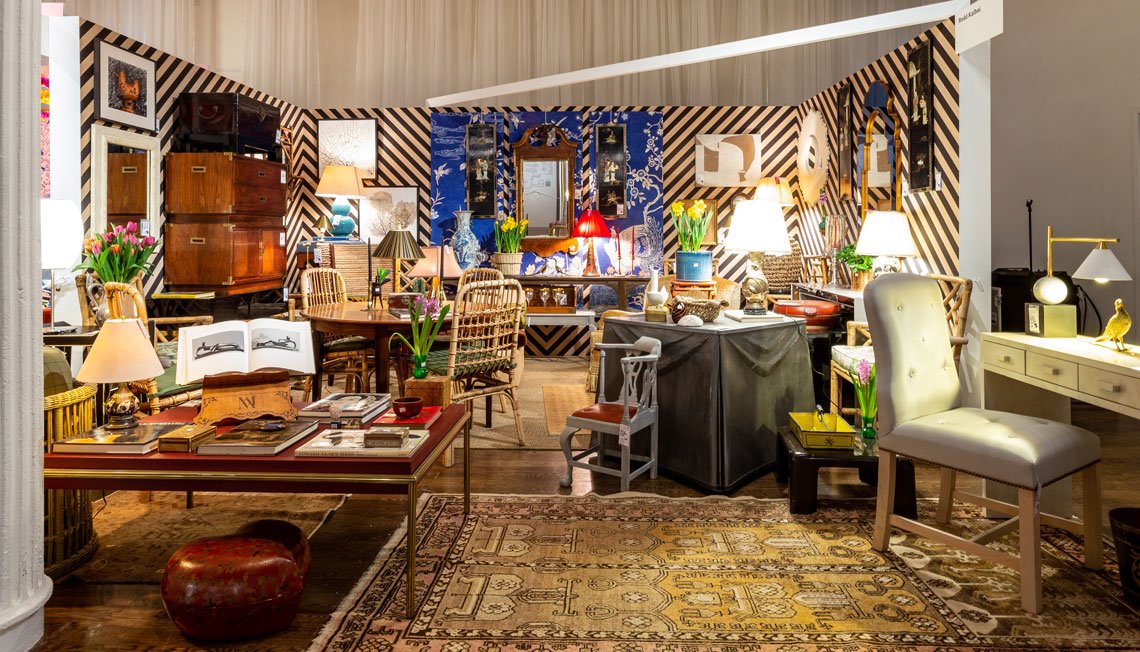 Miles Redd and David Kaihoi/Redd Kaihoi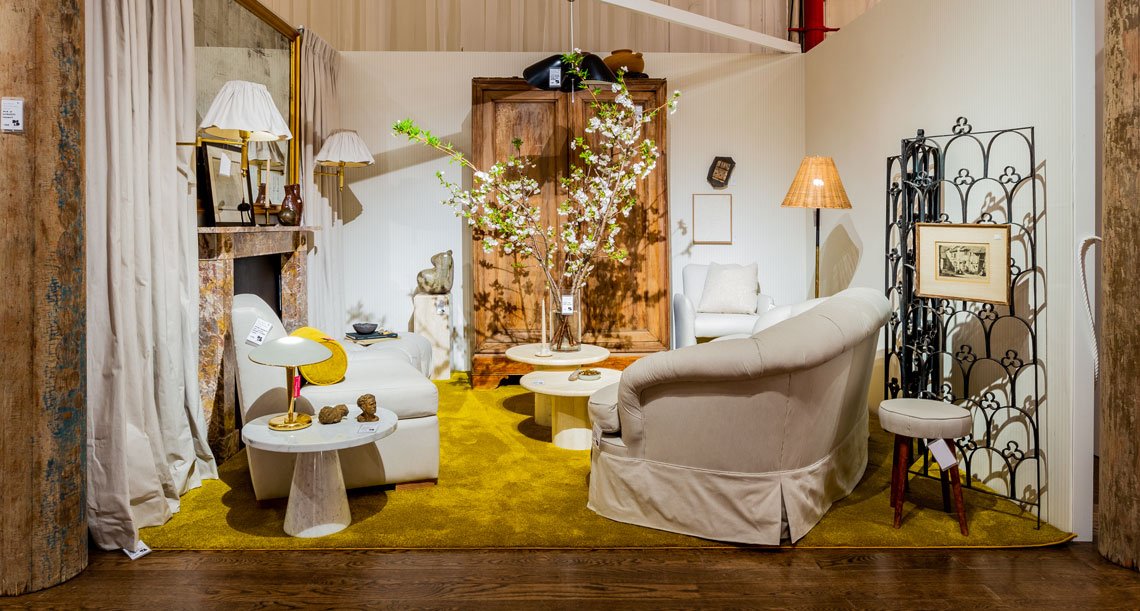 Nate Berkus and Jeremiah Brent

foley & cox

Robert Couturier delivers his signature elegance and flair, with a booth inspired by a hand-carved baronial table donated by Maison Gerard to, as his office explains, "create a moody library, enveloped in Benjamin Moore's deep Symphony Blue. A custom sofa from JP Custom Upholstery provides a cozy place to relax, while Batistin Spade armchairs from Lerebours Antiques add a sculptural warmth to the space. Modern pieces from Ralph Pucci, Avenue Road and BDDW contribute to the elevated atmosphere, all grounded by area rugs from FJ Hakimian and La Manufacture Cogolin."
Delia Kenza Interiors has a shimmering booth of hanging lights that stands out for its slick minimalism. The most audacious booth is by Apartment 48, which looks like a tropical sunroom soaked in color. Hawaii meets Hari Krishna, with colorful temple garlands mixing with Richard Avedon's famous hallucinogenic portraits of the Beatles.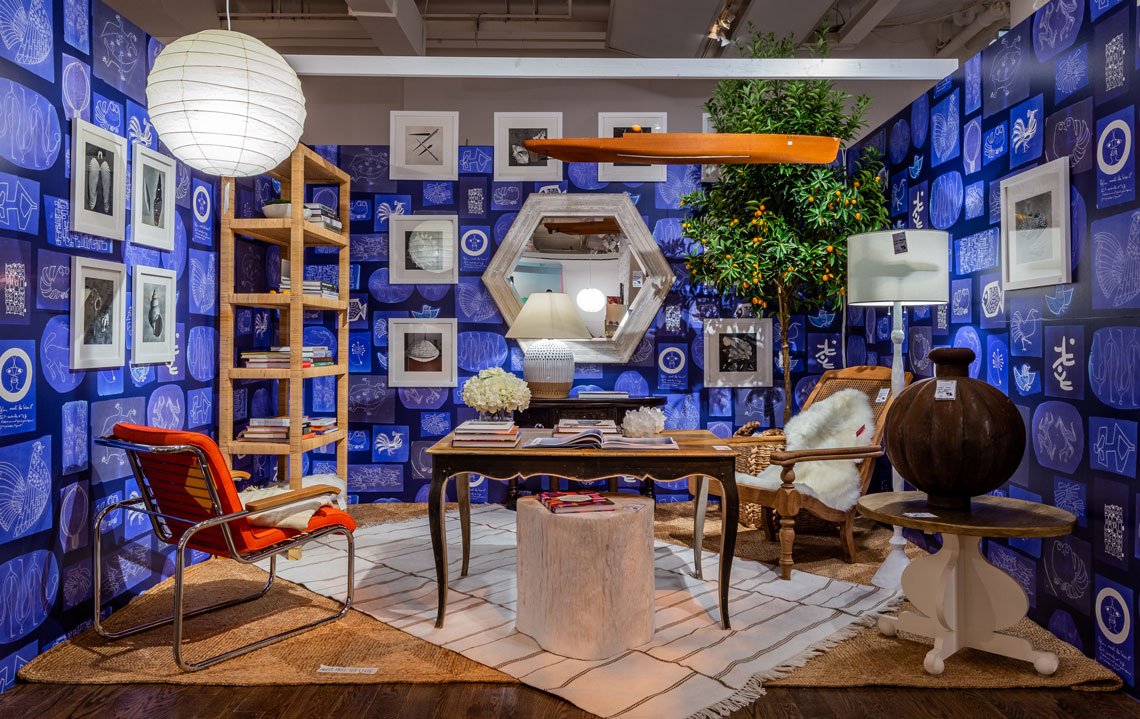 Lily Dierkes/LK Studio

Katie Leede/Katie Leede Studio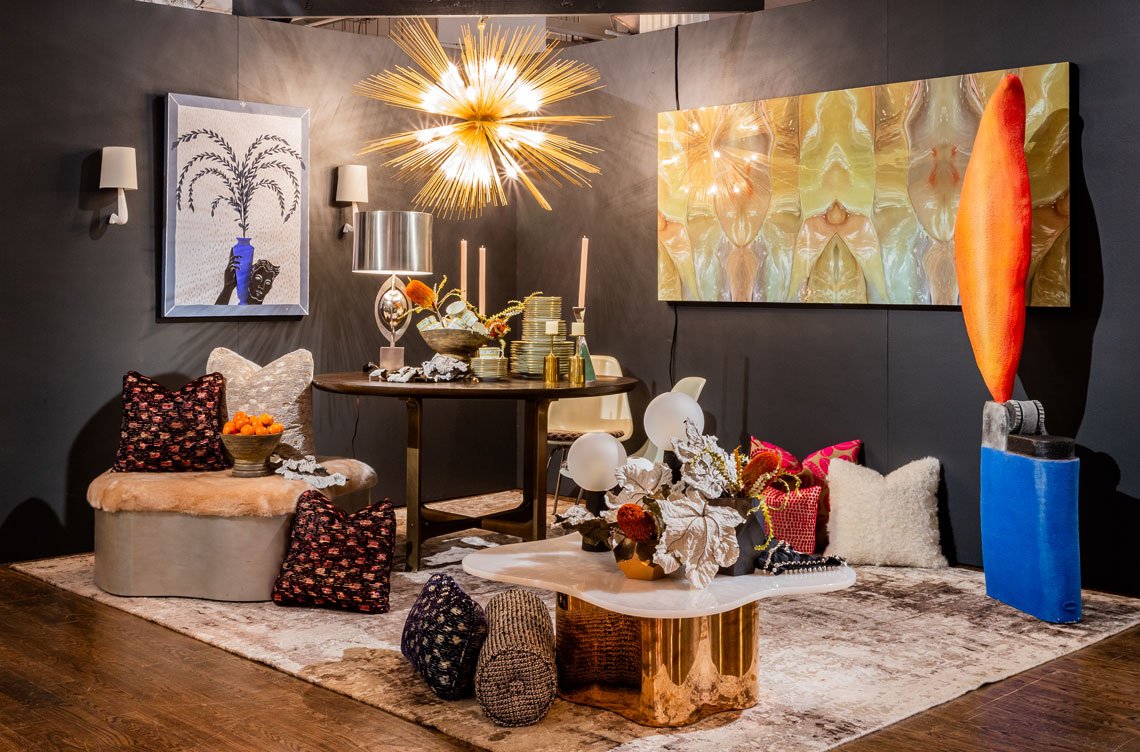 D'AquinoMonaco

Josh Minter/Josh Minter Design

Housing Works

This year's lineup of esteemed design professionals includes:
Asian American Pacific Islander Design Alliance

Anjali Pollack Design

Antonio DeLoatch Designs

Apartment 48

Benjamin Moore

Beth Diana Smith Interior Design

Betsy Wentz Interior Design

Christina Kim Interior Design

Dan Scotti Design

D'AquinoMonaco

David Lucido

Delia Kenza Interiors

Delrose Design Group

Elissa Grayer Interior Design

Everick Brown Design

FERRER

Fiona Leonard Interiors

foley&cox

Francis Interiors

Hines Collective

Housing Works Thrift Shops

James Huniford x Brown Jordan

Jean Liu Design

Jeremiah Brent + Nate Berkus

Jordan Hilton Interiors

Josh Minter Design

Katie Leede & Company

Katie Lydon Interiors

KD Reid

Keith Carroll Design

Ken Fulk

LK Studio

MAR SILVER

Matt Blacke Inc.

Me & General Design

Morphew

Neal Beckstedt Studio

New York School of Interior Design

Nick Olsen Inc

Paris Forino

Peti Lau & Darrin Varden

PIDA Interior Design Solutions

Redd Kaihoi

Robert Couturier Inc.

Roric Tobin Designs

Sasco Hill Studio

Susie Novak Interiors

The Rath Project

UNIONWORKS

Villa & House

Young Huh Interior Design

Groundbreaker Awards + Design On A Dime
April 19 through April 22, 2023
APRIL 19
Groundbreaker Awards Cocktail Reception + DOAD Preview | 6PM
Dinner + Awards Presentation | 7PM
APRIL 20
VIP Preview | 5:30PM – 6:30PM
Shopping | 6:30PM – 9:30PM
APRIL 21 – 22 | Public Sale Days
April 21 | 10AM – 7PM
April 22 | 10AM – 5PM
Event Location
The Metropolitan Pavilion, 125 West 18th Street, New York, NY 10011
Tickets
Click HERE for tickets
For more information about Housing Works go to housingworks.org