Designer QnA: Elizabeth Swartz on Bunny Williams Bingo, her Belgian urn, and that moment the art goes on the walls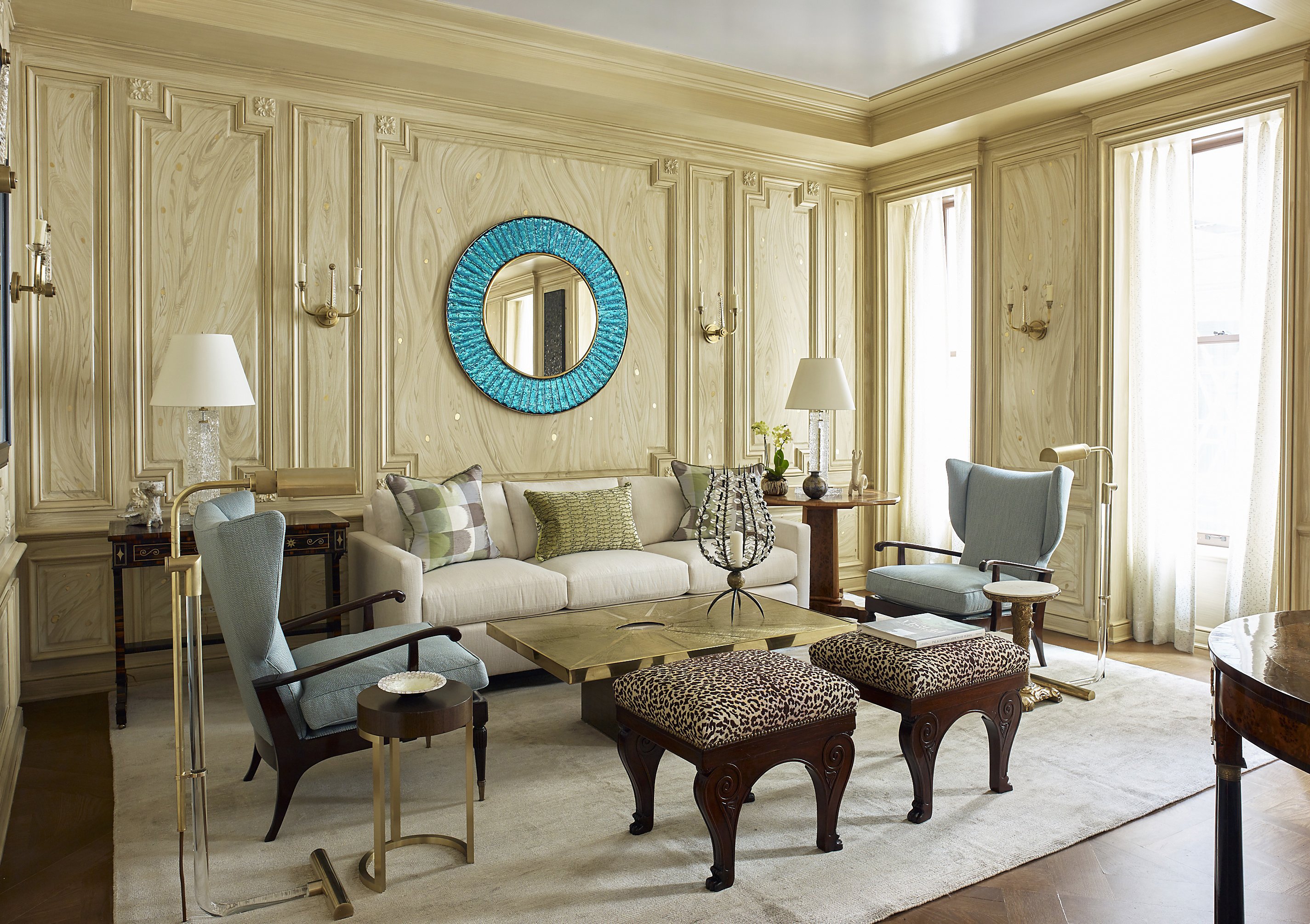 E
lizabeth Swartz was named partner of Bunny Williams Associates in 2017 after a 14-year tenure, which began with a coveted internship. Elizabeth notes, "These days, it's rare to rise from intern to partner while under one roof. In my case, I found my calling through the apprenticeship tradition much the way Bunny did when she began her long association with the revered Parish-Hadley Associates." Originally from Wilmington, Delaware, Elizabeth attended the University of Richmond and then the New York School of Interior Design. After graduation, her internship at Bunny Williams Associates led to a job as Junior Designer and she rose later to Senior Designer. "Bunny is an ideal mentor and collaborator and we take our partnership seriously. She sets the stage with her vast experience, practicality, intelligence, and sense of humor. Generous in spirit, she invests in her staff when they show initiative, drive, and talent so I worked hard to meet these expectations. I'm thrilled to have the privilege of leading by Bunny's example," continues Swartz. Known for her skill in building stories for beautiful rooms from one point of inspiration, Elizabeth carves out time for personal growth, which informs her designs. When not at the office, reading, visiting museums, or spending time with numerous nieces and nephews, she's exploring the world and capturing her adventures through her other great passion: photography. A recent trip to Berlin and Vienna are highlights, while future sojourns in Greece, Africa, and Iceland await.
Elizabeth's highly evolved taste for graceful forms and classic proportions, along with her fluency across a wide range of styles, serves to guide her creation of dynamically nuanced interiors. She has compiled a collection of her top 100 favorites from Incollect, and the eclectic picks include modern, jewel-like lighting; Neoclassical, Regency and Biedermeier pieces; French and Italian midcentury seating; abstract art with bold shapes and serene color palettes; and a pair of "very Bunny Williams" jardinieres!
SHOP ELIZABETH SWARTZ'S INCOLLECT FAVORITES






PAOLO BUFFA


Pair of Italian 1950s Stained...


Newel




A Pair of New Rock Crystal...
David Duncan Ltd.


GHIRÒ STUDIO
The Studio Mirror in Blue by Ghirò
Studio Van den Akker



MAISON JANSEN
Low Table by Maison Jansen


Liz O'Brien



Tell us something about you that is not in your bio.
I feel strongly that work should be enjoyable and that is not always easy to accomplish when things are moving at such a fast pace. I have implemented some fun, surprise break activities for our office to keep things in perspective and help us bond together as a team. I started "Bunny Williams Bingo" with prizes, trivia, and a ring toss, and I have a few more ideas up my sleeve.
What excites you most about the design process?
When you find a really great piece of furniture or rug, something exceptional that you know will make the space. It's like finding a needle in a haystack. It is becoming harder and harder to find unique pieces and when you do it feels like a small victory, and you know it is going to make your project that much better. It's exhilarating … the thrill of the hunt.
SHOP ELIZABETH SWARTZ'S INCOLLECT FAVORITES









Elegant Pair of Swedish Gustavian...


epoca



STEPHEN S. PACE
Untitled (52-53).
Berry Campbell



19th Century French Empire...
Churchill Galleries



ERCOLE BAROVIER
Large Barovier Glass Leaf...


Craig Van Den Brulle



How do clients push you to think outside of the box and challenge you?
It is always something different. Sometimes it's a request to add a home theatre after the plan for the house has already been set; you then must go back and figure out what you can subtract to make room for such a space. Other times, you have a client who doesn't like visible light bulbs on sconces, and it's amazing how hard it can be to find sconces the client likes for a large home that don't show the bulb. There's always something new with each client.
Name an architect, artist or designer, living or dead, you'd love to collaborate with and why?
I would have loved to have spent a day with Nancy Lancaster and John Fowler exploring the English countryside for great finds!
SHOP ELIZABETH SWARTZ'S INCOLLECT FAVORITES






CLEVE GRAY
Genesis, 1980
Guy Regal




Unusual Pair of Early 19th Century...
Yew Tree House Antiques


DUILO (DUBÉ) BARNABÉ
Duilio Barnabé for Fontana Arte...
H.M. Luther




19th Century Swedish Gustavian...
Maison & Co.
What is your favorite object in your home, and how and when did you acquire it?
I have a wooden urn, it's not old, that I bought when Bunny and I were in Belgium with a client. People always comment on it, because it's beautiful and it looks old, and it reminds me of that memorable trip we spent together, hunting for great finds.
How does a design project start for you? Is there a particular element that you always start with that inspires the whole project?
It usually starts with determining how a client lives. Do they entertain? Do they have a large family? Does someone snore, is there a need for an extra bedroom to escape the snoring? Everyone is different and we all lead such busy lives, the clients are looking to us to make sure their homes are customized for all of those elements. After that I usually start the scheming by looking for great rugs and build up from there. A great rug is the focal point and you can build the space around it.
SHOP ELIZABETH SWARTZ'S INCOLLECT FAVORITES






Large Gilt Metal Light Fixture
Carlos de la Puente Antiques



William IV Spoon Back Reading Chair
BURDEN, Dealers and Conservators


Modern Moroccan Rug
Doris Leslie Blau



LIZ O'BRIEN EDITIONS
The Jayne Sofa
Liz O'Brien
What is your dream project?
A NYC apartment with a large terrace! I love the idea of having that much outdoor space in the city; it's such a luxury. To be able to design an apartment and integrate the outdoors adds another element that you often don't come by in the city. When I am in a tall building I love checking out the terraces on surrounding buildings and imagining what the adjoining apartments must be like, it feels very "treehouse living" to me.
What is your favorite part of the install process?
When the art goes on the walls. It is amazing how much that transforms a space. You can have everything else placed in the room and as soon as the art goes up it feels finished and like a home.
SHOP ELIZABETH SWARTZ'S INCOLLECT FAVORITES







WILLIAM ARTHUR CHASE




A Pair of Paintings by W.A....


Carlton Hobbs, LLC



Venetian 18th Century Octagonal...
The Fortress


19th Century Set of Six Swedish...
Maison & Co.


Statuary Marble Mantle
Milord Antiques
Do you have a signature element — something you always include when styling an interior?
I love beautiful boxes and think they are a great place to hide the remote, a deck of cards, hand cream on a bedside table, etc.
Tell us what you love about Incollect and what one can expect sourcing with us.
I love that Incollect is curated and you don't have to sort through pages and pages. You can see who the vendors are and contact them directly to further discuss the condition of a piece or request more photos. With time at such a premium, it's great to be able to source when the shops are closed, and to know you are doing to so on a trusted platform and with trusted vendors is so helpful. When people are sourcing with Incollect they can expect all of these perks and great customer service.