Designers Soraya Osorio & Violeta Lekutanoy Collaborate on New Brand OA
Partnership as Purpose
| | |
| --- | --- |
| | |
| | Soraya Osorio & Violeta Lekutanoy |
A
fter collaborating on custom work for years, product designer Soraya Osorio and interior designer Violeta Lekutanoy are releasing a line of handmade metal furniture and hardware. The founders, with their brand OA, give free rein to their collective creativity and craft the artful objects that emerge from their dynamic relationship.
Launching exclusively on Incollect , OA is first and foremost a creative partnership. Osorio and Lekutanoy explore design ideas together, and ultimately each object they create bears the imprint of both founders. Their combined creative energy has resulted in a series of sculptural, made-to-order products, including the Lucio and Era (both pulls), the Martine desk, and the Danilo and Za tables. Even the name of their company, OA, pronounced oh-ah, reflects their unity, arising from the full sounds of the vowels o and a in both their first names.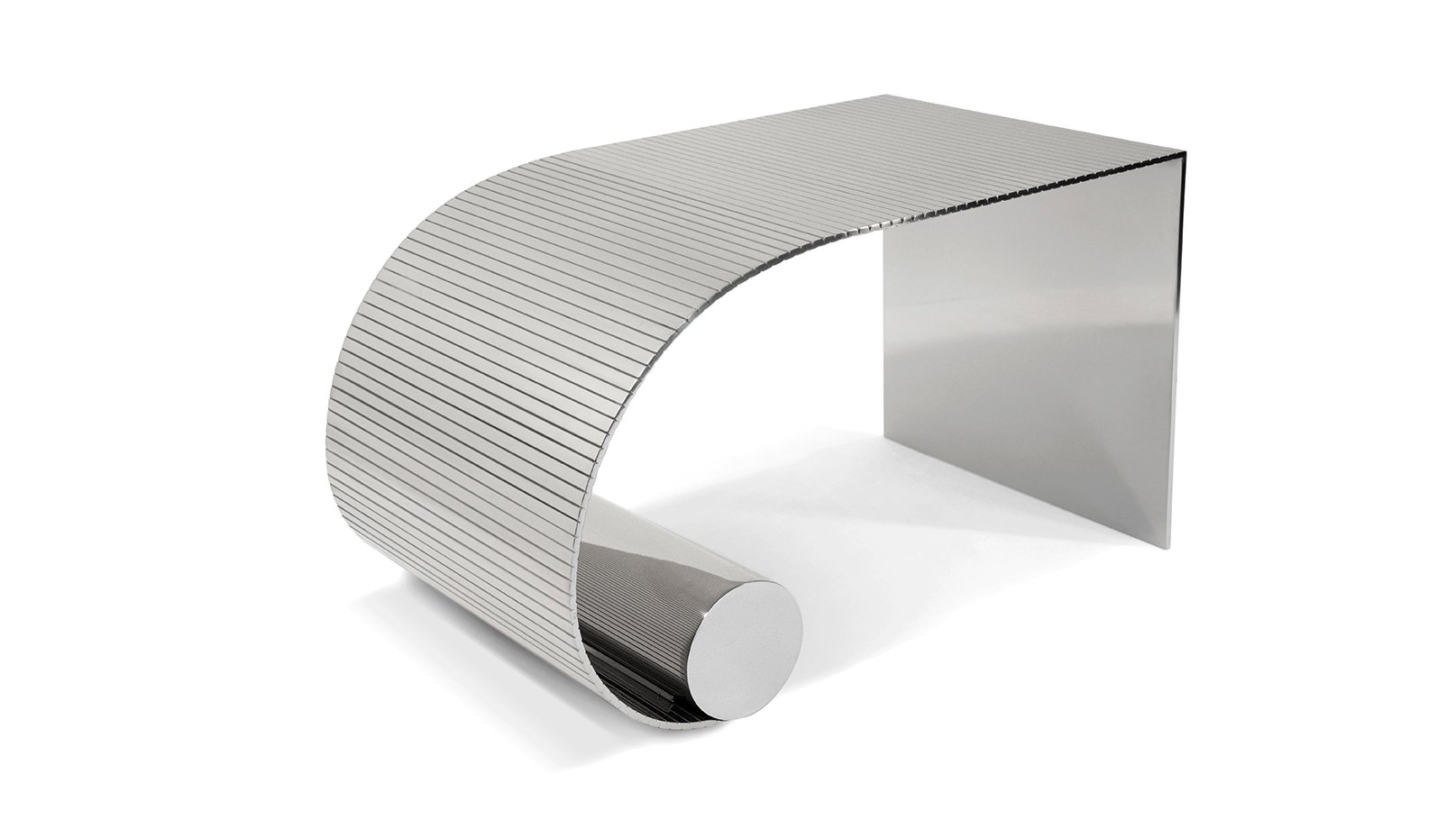 First imagined as a pull, the polished nickel Danilo table was originally designed for one of Lekutanoy's clients.
Raised by a design-centric family — her father is an industrial engineer, and her mother, an interior designer — Osorio founded her own studio, Soraya Ltd, in 1995 in New York City specializing in luxury metalwork, and later released another selection of high-end furniture as "Inspiration Collected." Featured in art fairs like Salon in New York and Fog in San Francisco, she has achieved a certain level of fame with interior and other furniture designers. In Osorio's hands, the rigidity of metal is transformed into soft, fluid silhouettes.
Lekutanoy was drawn to Osorio's reputation as a metalworker, and her innate ability to weld metals into her vision. She first reached out to collaborate on a custom piece for a client about ten years ago. Formerly of the award-winning New York-based architectural firm Spacesmith, she now owns her own interior design studio, ID Atelier, at which her minimalist sensibility and curatorial eye for art are sought out by global architects, collectors, and galleries.






Crafted from a single sheet of brass, the Lucio door pull was inspired by artist Lucio Fontana. Known for experimenting with concepts of space, Fontana created a series of monochrome paintings featuring slash marks across their surfaces. "Basically, we view a sheet of metal just like he viewed the canvas," says Lekutanoy.
After meeting her, Osorio was impressed by the designer's refined taste and the wealth of references in her interiors. They began working together regularly. Through a process of trail and error, both Osorio and Lekutanoy empowered each other to take creative risks, and their different backgrounds and personal compatibility created a unique partnership. "When we first got together, we just had this fluidity and spontaneity," Osorio says. "That state of flow has always been there." Expanding that professional relationship in their work at OA, they push each other to explore the potential of light and motion, and the boundaries of minimalism.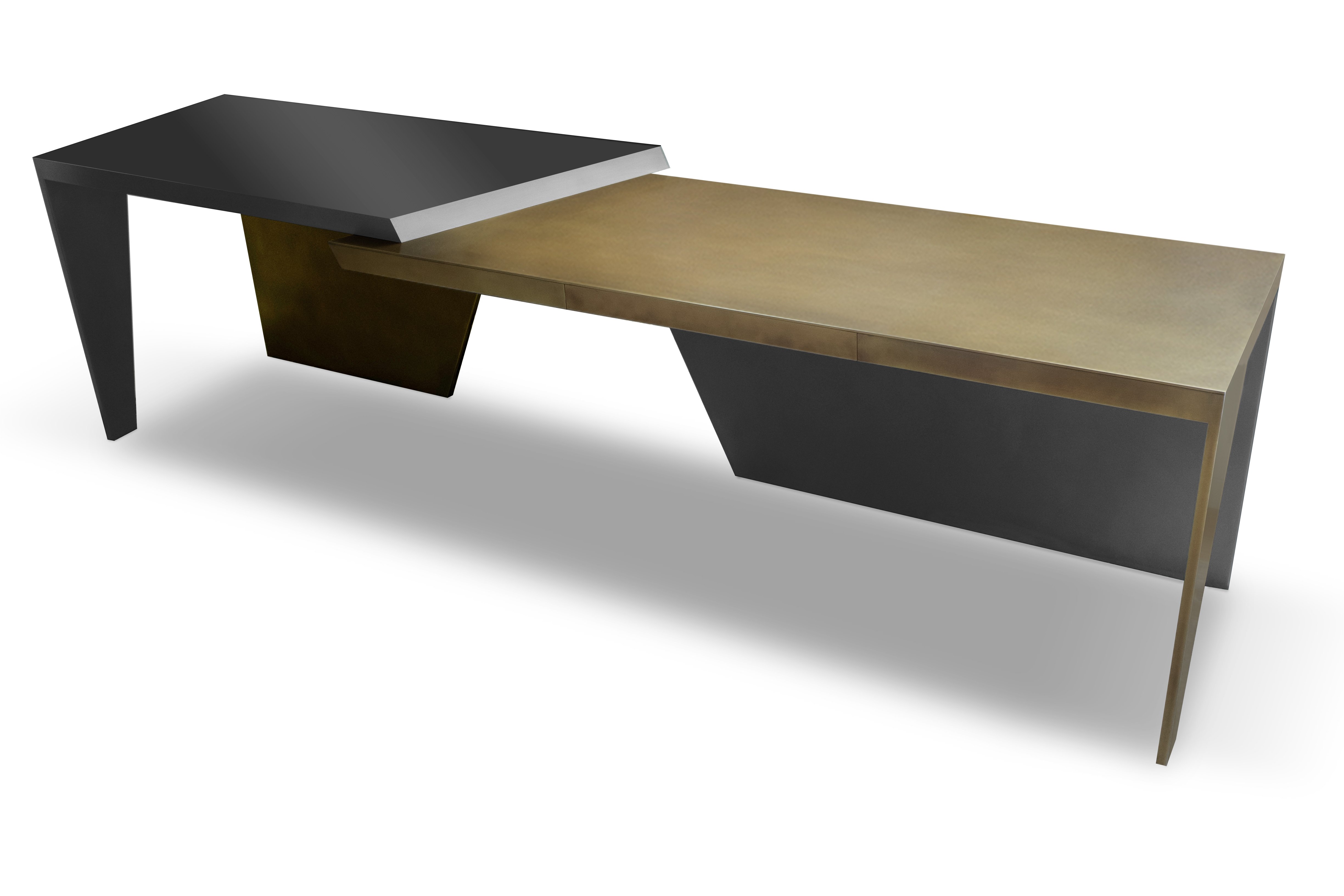 The Martine desk, now available on Incollect, is made from aged brass and blackened steel.
Their creative process involves a constant exchange of knowledge. When one of the partners brings an idea to the table, the other explains how she understands it, and together they perfect the concept over Zoom and in-person until a fully formed piece emerges. Often, they begin a design without knowing where it will end up. For example, intending to design a curved pull, they instead flipped the sketch over and reimagined it as a table. The resulting product is the sleek, polished-nickel Danilo side table, etched horizontally throughout, with one straight-sided base flowing effortlessly into a curve on the opposite end.



The aluminum Za table, for example, was originally based on a model that Lekutanoy sketched for a design class more than a decade ago.
After initially discussing an idea, the pair creates a maquette, testing out the visual appeal of the piece in a variety of metals before deciding which material best embodies the spirit of the concept. Osorio then works with their team of craftspeople in New York and Miami to construct each made-to-order object.
With a wealth of cross-disciplinary inspirations, both designers enjoy making connections between cultural spheres, including art, architecture, and language. For example, the Era pull was inspired by a conversation they had about the significance of certain words; in Kosovan, Lekutanoy's mother tongue, the word era means "wind," while in Spanish, spoken by Osorio, era sounds like aire, meaning "air." The door pull that resulted from the conversation features interlocking, aged brass ovals. "The empty space is just as poignant as the piece itself," says Lekutanoy. She relates the "empty space" within the pull once again to language, and its absence. "In conversation, it's those silent moments without words that are often most meaningful," she says.
The Era pull was inspired by a conversation between Lekutanoy and Osorio.
In a different year, OA would likely have launched at a design fair. However, in the midst of a global pandemic and corresponding cancellations of in-person events, Lekutanoy and Osorio chose to release their collaboration online instead. Like other designers of their caliber, they're not afraid to eschew tradition — especially when recent market data has revealed that consumers are comfortable buying furniture online. "Once people see these works, they'll see the passion," affirms Lekutanoy. "They'll feel the meaning behind it." It would be hard not to.