Ocean Liners: Glamorous Statements of Design
Designing National Narratives on Ocean Liners
T
he great age of ocean travel has long since passed but ocean liners are among the most powerful and admired symbols of twentieth-century modernity. No form of transport was as romantic, remarkable, or contested. Nations competed for the fastest transatlantic crossing, and ocean liner design became a matter of national prestige as well as an arena where the dynamics of global competition played out. Ocean Liners: Glamour, Speed, and Style, an exhibition co-organized by the Peabody Essex Museum and London's Victoria and Albert Museum, explores the design of liners—their architecture, engineering, and public spaces—from an international perspective over the course of the late nineteenth century and the twentieth century.
Within a few short years, traveling on an ocean liner was transformed in the public imagination from a dangerous, dirty, and sickening experience into a highly glamorous leisure activity (Fig. 1). Starting in the late nineteenth century, shipping lines competed to design the most luxurious experience to attract wealthy passengers. Over the following century, ocean liners created an aura of elegance and comfort that denied the reality of the surrounding seas. Their interiors reflect both international design trends and the stylistic distinctiveness of individual nations as liners became both agents and mirrors of a globalizing world.
| | | |
| --- | --- | --- |
| | | |
| Fig. 1: G. B. Conti, "The Dining Saloon" from Rex – First Class, 1932. Printed brochure. Phillips Library, Peabody Essex Museum, Howard Galvin Steamship Ephemera Collection. | | Fig. 2: William De Morgan, Tile panel designed for the saloon on Sutlej, 1882. Painted and glazed earthenware. Victoria and Albert Museum, London (362:1 to 8-1905). © Victoria and Albert Museum, London. |
Fig. 3: Ateliers Georges Rémon, Paneling (left) from the communication gallery and doors (right) from the first-class embarkation hall on France, about 1912. Oak, gilding, plaster, glass and iron, as installed in Ocean Liners: Glamour, Speed, and Style. French Lines Collection (DLH 2014 030 0103, 0105–106, 0124, 0126, 0378, 0380, and 0415–419). © Peabody Essex Museum, Salem, Massachusetts. Photo by Ken Sawyer.
British ceramicist William De Morgan (1839–1917) was one of the first designers to work for the steamship industry. He completed many prestigious commissions for the P&O shipping line between 1892 and 1900, turning their ships into tiled wonderlands. His designs reflect both the artistic traditions of the Asian and Middle Eastern ports to which P&O sailed and the aesthetics of the Arts and Crafts movement (Figs. 2).
At the beginning of the twentieth century, as wealthy travelers became accustomed to luxurious hotels that emulated aristocratic homes, shipping lines sought to create equally sumptuous interiors. Liners were designed as "floating palaces" in the Beaux-Arts style that combined classical aesthetics of ancient Greece and Rome with Renaissance ideas and Louis XIV's palace of Versailles (Fig. 3); historical styles familiar to the liner companies' target clientele, the upper classes in Europe and North America.
Intensifying national rivalries in Europe before the First World War lent passenger liners new public and political resonance that led to the construction of the unprecedentedly fast and large transatlantic vessels whose names are recognized to this day. German ships featured artworks that underlined the young nation's expanding industrial strength, maritime presence, and global ambitions during this period. The centerpiece mural of the first-class smoking room on Kronprinz Wilhelm featured a muscular youth holding a trident and a German flag above the words "Unsere Zukunft liegt auf dem Wasser" (Our Future Lies Upon the Water) (Fig. 4). On the British liners Olympic and Titanic, first-class passengers passed a carved panel when descending the sixty-foot-high and sixteen-foot-wide staircase into the reception and dining room. Draped in flowing gowns, "Honor" and "Glory" appear as angels of virtue, placing a laurel wreath over "Time," in the shape of a clock: an allusion to humanity's (and the nation's) victory over time and space made possible by the modern ocean liner (Fig. 5).
Fig. 4: Arthur Heinrich Wilhelm Fitger, Unsere Zukunft liegt auf dem Wasser (Our Future Lies Upon the Water), 1901. Oil on canvas with gilded and painted wood frame. Mariners' Museum and Park, Newport News (2011.0010.000001). © Mariners' Museum.
| | |
| --- | --- |
| | |
| | Fig. 5: Charles Wilson, Honour and Glory Crowning Time panel from Olympic, about 1911. Wood (painted later). SeaCity Museum, Southampton, United Kingdom (SOTLS 1988.44). Image © Victoria and Albert Museum, London. Photograph by Paul Carter. The original clock has been removed and replaced with a wooden plug carved with the letter "O." |
Between the world wars, French designers debuted a new style at the 1925 International Exhibition of Modern Decorative and Industrial Arts in Paris. Now known as Art Deco, it became popular around the globe and symbolized progress, glamour, and luxury. Art Deco was well suited to the ocean liner because of its focus on hard and lustrous surfaces including glass, metal, enamel, and lacquer.
Île de France entered the French Line's New York service in June 1927. Described by art critic Gabriel Mourey (1865–1943) as a "museum of modern French decorative art," it showcased the Art Deco style throughout the ship, with marble-clad surfaces and elegant double staircases. A multicolored wood marquetry panel in the Beauvais deluxe suite evokes the floral decorations made popular by designers in the 1920s (Fig. 6). The overall aesthetic of the ship reinforced the reputation of French design for luxury and quality, a central aim of the ship's interiors.
In Germany, the Bremen of 1928 showcased a streamlined exterior that was mirrored within (Fig. 7). Its cohesive interior/exterior aesthetic promoted the use of industrial modernist principles within liner interiors and changed the way that all steamship companies approached ship design (Fig. 8).
The pinnacle of Art Deco designed liners was the French Line's Normandie, launched in 1935. Described by a critic at the time as "the most resplendent floating display of a nation's artistic genius," the ship's cutting-edge split engine exhaust uptake opened up space for a large grand salon through the main axis of the vessel, with tall ceilings, natural light, and ample room for decoration and furnishings. The walls glittered with reverse-painted, gilded-glass panels designed by Jean Dupas (1882–1964) (Fig. 9). The History of Navigation cycle, as the decorative murals were known, mixed representations of classical mythology with images of ships.
The panels symbolized France's preeminence in navigation, ship design, engineering, and the arts. Luxuriously upholstered chairs complemented the gilded wall panels of the grand salon. The Aubusson tapestry covering on each chair depicted a different species of plant from France's colonies.
Ocean liners built in Britain during this period were designed in a more restrained Art Deco style. Queen Mary, launched in 1936 as "the ship of beautiful woods," evoked the look and feel of an English country house. The public spaces were comfortable and contemporary—a departure from the formal salons on earlier liners—with furniture upholstered in fashionable fabrics and colors, amidst tables elaborately veneered with woods from Britain's colonies. Publicity materials for the ship pointed out that "period styles have been discarded in favor of a restrained modernism." The Verandah Grill, a restaurant and nightclub on board the ship, was decorated with black carpeting, pale-pink walls and linens, and painted murals by Doris Zinkeisen (1898–1991) that featured a parade of figures drawn from the world of entertainment (Fig. 10).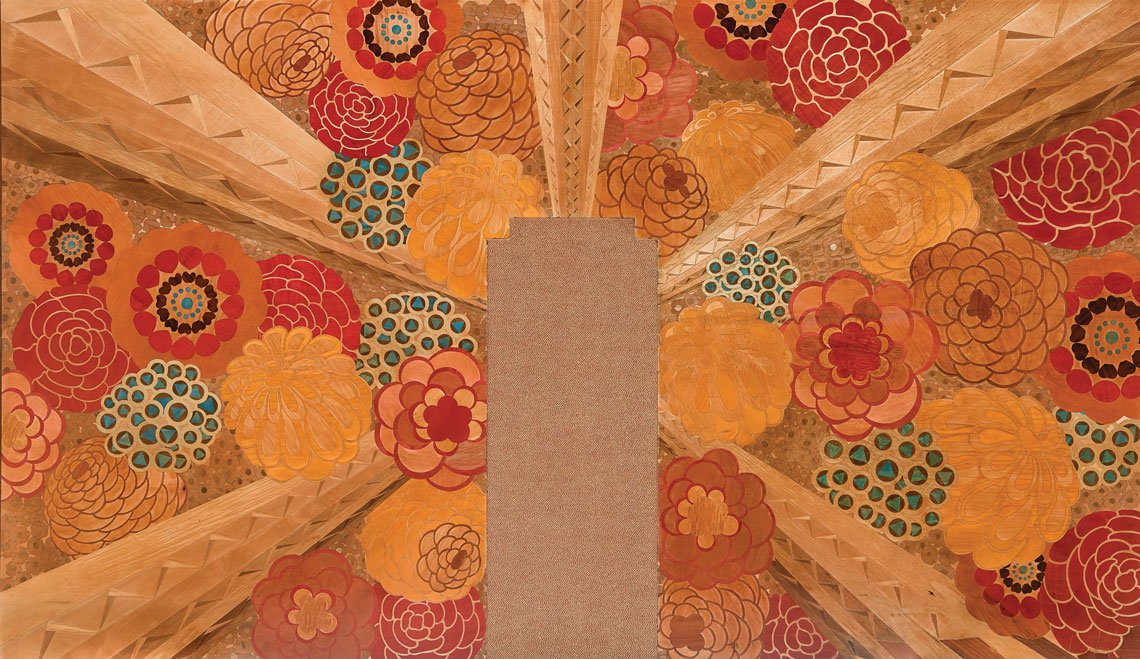 Fig. 6: Marc Simon (attributed), Panel from the Beauvais deluxe suite on Île de France, 1927. Stained wood veneers on wood panel. Museum purchase (2007, M27835). © 2016 Peabody Essex Museum. Photo by Kathy Tarantola.
Fig. 7: Artists in Germany, Waterline model of Bremen, about 1931–33. Wood and metal. Gift of Leon Lawrence Sidell (1969, M13662). © Peabody Essex Museum, Salem, Massachusetts. Photo by Walter Silver.
| | | |
| --- | --- | --- |
| | | |
| Fig. 8: Bernd Steiner, Bremen, Europa Columbus — Norddeutscher Lloyd, 1929. Color lithograph. Gift of Stephen S. Lash, 2015.41.7. Peabody Essex Museum. Photography by Kathy Tarantola. | | Fig. 9: Jean Dupas and Jacques-Charles Champigneulle, Panel from The Rape of Europa, 1934. Glass, paint, gold, silver, and palladium leaf. Miottel Museum, Berkeley, California. © 2016 Peabody Essex Museum, Salem, Massachusetts. Photo by Luke Abiol. |
Interior design for ships changed dramatically following World War II. Design became increasingly international, drawing on new materials and technologies and mass-produced furnishings. On liners, the demands of increased safety and fire prevention resulted in the use of aluminum, asbestos, enamel, glass, and synthetic textiles.
SS United States was the fastest liner of its time when she made her maiden voyage in 1952, built to serve defense and commercial needs. The all-women firm of Smyth, Urquhart & Marckwald, hired to design the interiors of the ship, was required to use fireproof materials for all fittings, per U.S. Navy regulations. Over a dozen American artists produced works for the liner focused on the themes of Americana, oceanography, and the space age.
The Navajo Lounge on board the ship was designed as a quintessentially "American" space. It featured thirteen panels by Peter Ostuni (1908–1992) that replicated ritual Diné (Navajo) sand paintings. Ostuni had spent time in the Southwest studying Diné sand painting methods and was exacting in having his enamel technique capture the feeling of these ephemeral pictures.
The youngest artist commissioned to work on the liner, Mira Jedwabnik (b. 1929), created fourteen enameled cocktail tables for the first-class observation lounge, which had expansive views of the surrounding sea. A different set of constellations emblazoned each table (Fig. 11). Jedwabnik, who left Poland in September 1939, noted, "We were all Americans working for an American ship and being proud of that."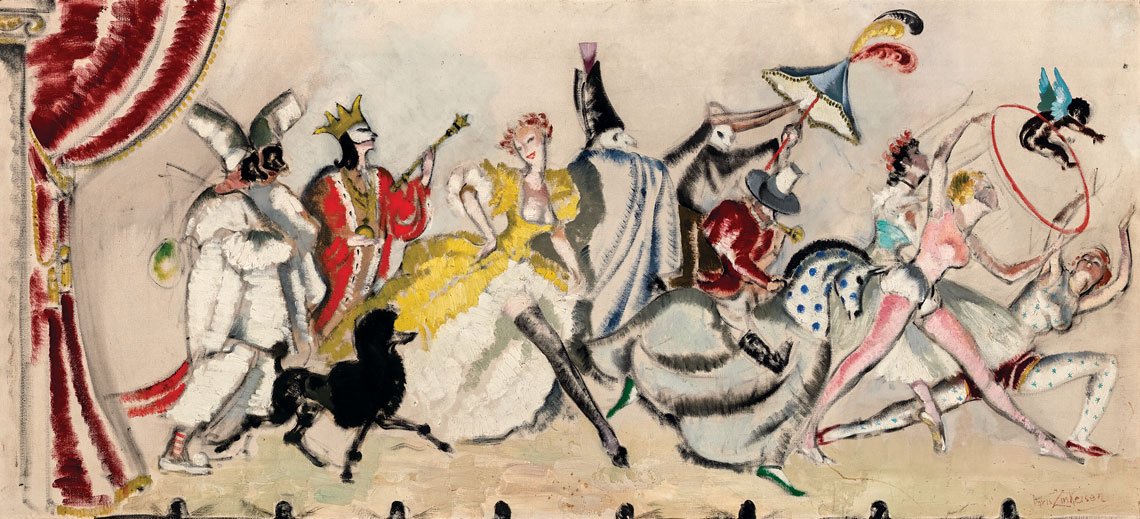 Fig. 10: Doris Zinkeisen, Sketch for a mural from the first-class Verandah Grill on Queen Mary, 1934. Oil on canvas. Collection of Stephen S. Lash. © Peabody Essex Museum, Salem, Massachusetts. Photo by Tim Nighswander/Imaging4Art.
| | | |
| --- | --- | --- |
| | | |
| Fig. 11: Mira Jedwabnik, Cocktail table from SS United States, 1952. Enamel and aluminum with reproduction base. Mira Jedwabnik Collection. © Peabody Essex Museum, Salem, Massachusetts. Photo by Tim Nighswander/Imaging4Art. | | Fig. 12: Robert Heritage for Race Furniture Ltd., Chair for the Britannia restaurant on Queen Elizabeth 2, 1968. Formica, plywood, and aluminum, as installed in Ocean Liners: Glamour, Speed, and Style. Victoria and Albert Museum, London, Gift of Race Furniture Ltd. (CIRC.711-1969). © Peabody Essex Museum, Salem, Massachusetts. Photo by Allison White. |
In Italy, the influential Italian architect and designer Giò Ponti (1891–1979) played a key role in redesigning the nation's commercial fleet following World War II. He favored calm spaces and contemporary furniture to promote the image of a new Italy. Along with Nino Zoncada (1898–1988), Gustavo Pulitzer-Finali (1887–1967), and others, they saw ships as ambassadors of this new style and the work of leading Italian artists. Their interiors were instrumental in introducing a contemporary Italian aesthetic free from historical styles, and the nation's new liners were widely praised as superbly well integrated "showcases" for the country's engineering, design, and artistic talents.
In its day the ocean liner, with its melding of innovative technology and progressive design, loomed as a signifier of a new way of living (Fig. 12). Through its physical allure and symbolic resonance, the liner achieved an iconic status as a monument to modernist values and a globalizing worldview. Every manufacturer who created a product used in the construction of a liner, from steel foundries to carpet weavers and ceramics firms, trumpeted their contributions to augment their professional positions. The objects that survive from the great age of ocean travel evoke an era when the ocean liner connected people and continents and transported styles.
Ocean Liners: Glamour, Speed, and Style is on view at the Peabody Essex Museum, Salem, Massachusetts, through October 9, 2017. For more information visit www.pem.org. 
---
Daniel Finamore is The Russell W. Knight Curator of Maritime Art and History and George Schwartz is a curatorial scholar; both at the Peabody Essex Museum, Salem, Massachusetts.
This article was originally published in the Autumn 2017 issue of Antiques & Fine Art magazine, a fully digitized version of which is available at afamag.com.AFA is affiliated with Incollect.