Drawn from Nature and on Stone: The Lithographs of Fitz Henry Lane
Fitz Henry Lane (1804–1865) is best known for his extraordinary corpus of marine paintings, mainly of the New England coast. Born in Gloucester, Massachusetts, a center of the fishing industry, Lane spent about fifteen years working in Boston as a commercial lithographer before becoming a painter fulltime. The Cape Ann Museum, located in Lane's hometown, celebrates this aspect of Lane's career in the exhibition, Drawn from Nature and on Stone: The Lithographs of Fitz Henry Lane.

Fitz Henry Lane arrived in Boston to work at the commercial lithography shop operated by William S. Pendleton sometime in 1832 or early 1833. As a newcomer to the business, he would have spent time learning the basics of lithography as well as preparing stones for draftsmen. Lithography was a revolutionary process that gave working- and middle-class consumers access to a wide range of images. An artist or copyist drew designs with greasy crayons or oily ink on polished slabs of limestone imported from Germany. Printers "fixed" the drawing on the stone with a diluted acid to prepare the stone for printing, then used water-laden sponges to dampen the stone before inking the slab with rollers so that the ink would adhere to the portions of the stone that bore the drawing. Next they placed a sheet of paper, usually imported from Europe, on the stone and rolled the stone and paper through the press. While the process sounds complex, in comparison to earlier printmaking methods, lithography was actually less labor intensive and allowed for thousands of impressions to be pulled from one stone if desired. When the design was no longer needed it was effaced from the stone, which was then readied for a new print.

The most successful commercial lithographic printers worked on two levels. First, they accepted job work or commissions from publishers of periodicals, books, pamphlets, and music, as well as advertisements from commercial establishments. In addition, some lithographers published prints on their own account, risking their own capital. Popular genres included portraits, political and social caricatures, sentimental prints, and town and city views. Lane's forte involved producing images that exploited his careful observation of the world around him and his ability to provide accurate delineations of the natural and built environment. He had a thorough knowledge of perspective and became renowned for his harbor and town views.
Lane's career as a lithographer spans just fifteen years, roughly 1833 to 1848. After only a few years in the workshop Lane produced several stunning harbor and town views that presaged his future success as a painter, notably his 1836 view of Gloucester and those of Millbury, Massachusetts. Achieving the accuracy required of such views would have required weeks, even months, of dedicated work. As his skills as a draftsman on stone and from life gained recognition, he began to receive commissions for advertisements and designs for covers of music scores, even as he started painting in oils in 1841.
---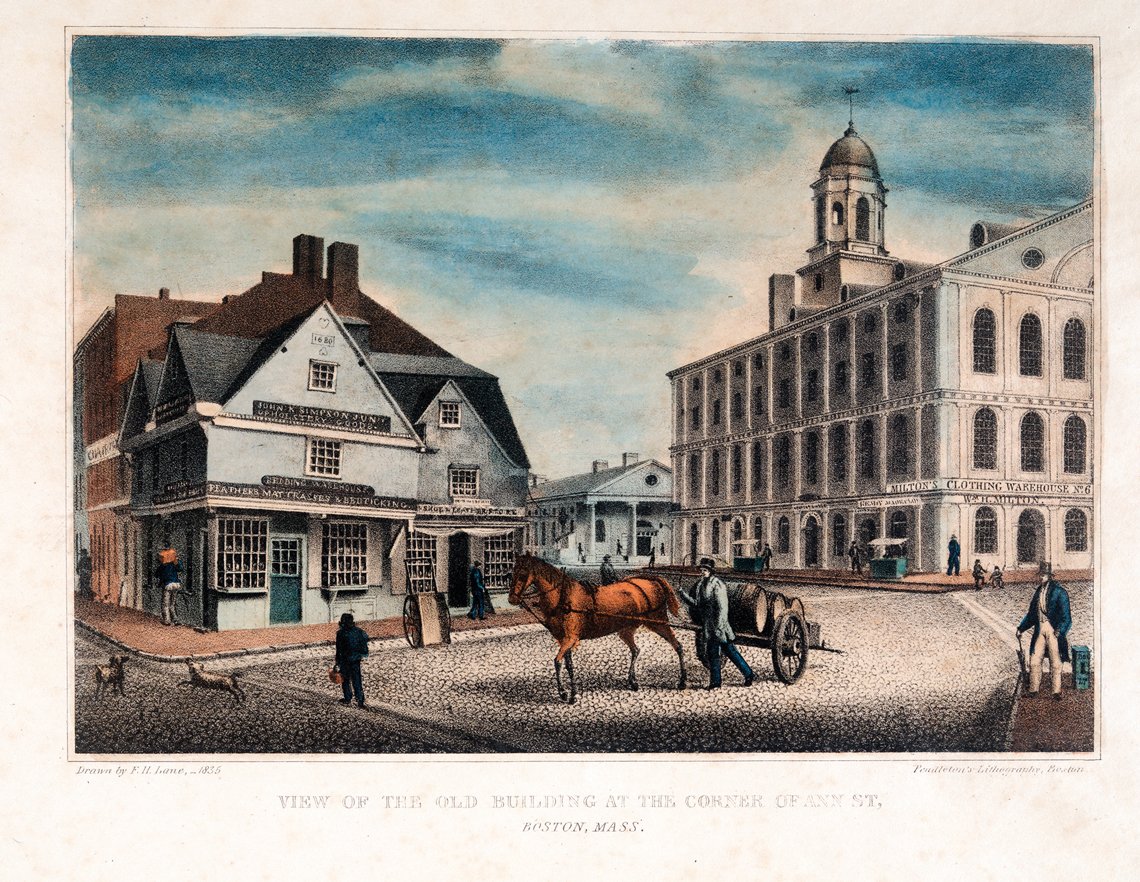 View of the Old Building at the corner of Ann St., Boston, Mass. Drawn by F. H. Lane. Lithograph by Pendleton's Lithography, Boston, 1835. Lithograph on paper, hand-colored, 6-3/8 x 8-1⁄16 in. Boston Athenaeum.
Lane clearly signed this urban view for all to see. In a way, this print signifies the end of his brief apprenticeship at the Pendleton firm and his emergence as an experienced artist from life and on stone. Although small in size, the complexity of the composition suggests Lane's mastery of perspective. Also, his use of the lithographic crayon reveals that he could adjust tone to suit the composition by using greater or lesser pressure on the stone. Lithographic crayons come in varying degrees of hardness, enabling the draftsman to make thin or thick lines as desired.
---
View of the Town of Gloucester, Mass. Lithograph on paper. Drawn by F. H. Lane. Lithograph by Pendleton's Lithography, Boston, 1836. Lithograph on paper, 13 x 19¾ in. Collection of the Cape Ann Museum; Gift of Gilbert L. Patillo.
During Lane's lifetime, Americans developed a fascination with depictions of their communities, large or small. From the late eighteenth century on, town and city views became a staple of the printmaking industry. Earlier, prints were engraved or etched on metal plates, an expensive process that put most of these prints out of reach of working or middle-class consumers. The introduction of lithography changed the distribution of prints to include these consumers; and Lane, in particular, focused his talents on this genre. Fittingly, his first panoramic view depicted his hometown. Made from a high vantage point from across the harbor on the shore of Smith's Cove, Lane managed to include both the oldest part of the East Gloucester community clustered on Smith's Cove, as well as the larger harbor with its many buildings. The dramatic sky is a common feature of Lane's views.
---
Thomas Moore, the bookkeeper at Pendleton's Lithography, succeeded Pendleton in business and continued producing prints in much the same fashion—a combination of taking commissions from others and publishing important prints on his own for sale in Boston. Captn. E. G. Austin's Quick Step is typical of commissions offered to Moore by music publishers. In contrast to Lane's first attempt in illustrating covers for music scores, this piece and most of the others by his hand, were for music composed by Americans. The growth in the music publishing industry represents the success of piano manufacturing as well. In Boston, an early center for music publishing, Jonas Chickering established an important company and soon pianos were common features in parlors in cities and towns.






Captn. E. G. Austin's Quick Step "Yankee Ship and a Yankee Crew." Drawn by F. H. Lane. Lithograph by Moore's Lithography, Boston, 1837. Published by Parker & Ditson. Lithograph on paper (sheet music), 9-5/8 x 6-3/4 in. Drawn by F. H. Lane. Lithograph by Moore's Lithography, Boston, 1837. Published by Parker & Ditson. Collection of the Cape Ann Museum; Gift of E. Hyde Cox, 1994.

---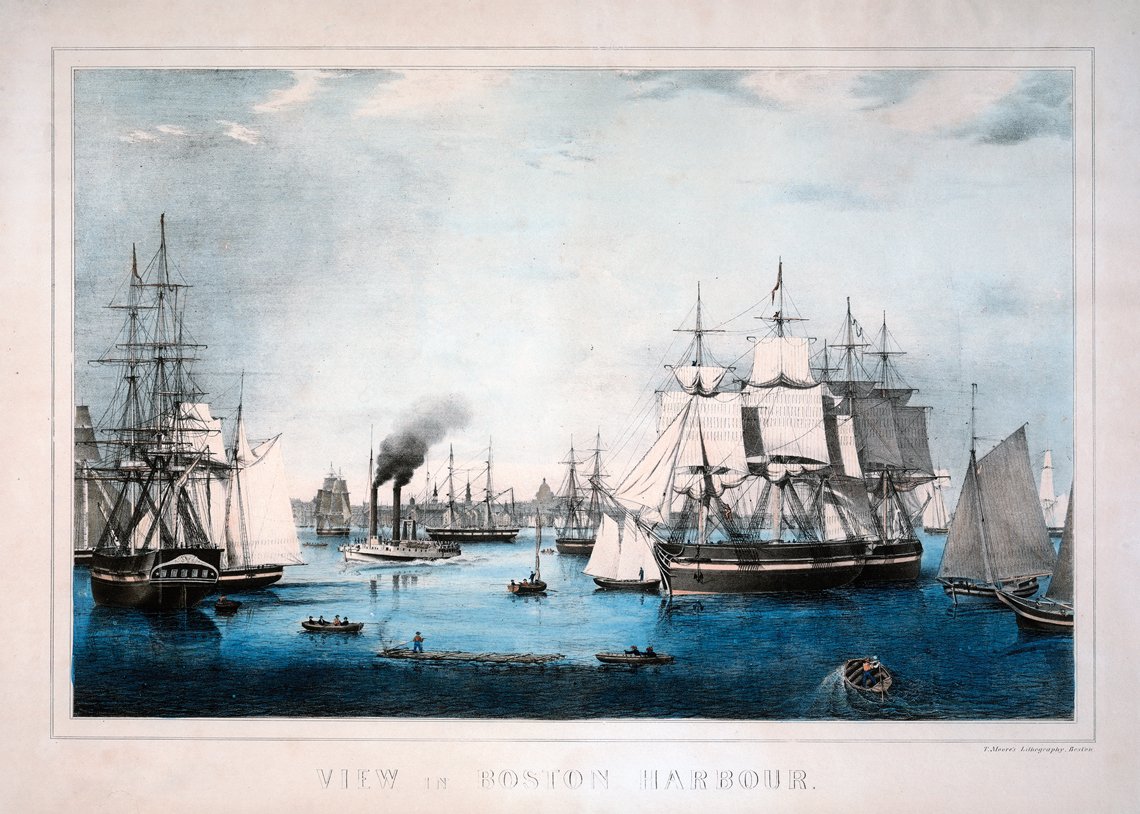 View in Boston Harbour. Drawing attributed to F.H. Lane. Lithograph by T. Moore's Lithography, Boston, ca. 1837. Lithograph on paper, hand-colored, 12-15⁄16 x 19-11⁄16 in. Boston Athenaeum.
In 1837 Lane produced two lithographed views of Boston's harbor. In Lane's marine views, he is always concerned with the details of ships and their functions. In the foreground, for example, is a timber raft. This is the first of Lane's views of Boston Harbor; many paintings followed. Erik Ronnberg, adjunct maritime curator at the Cape Ann Museum, suggests that the view is from Governor's Island, looking west toward the growing city. The State House, with its towering dome, dominates the skyline. Lane probably focused first on the view of the city, and then drew the ships to fill in the foreground. It seems like an impossibly crowded scene, but printmakers and artists often exaggerated the amount of shipping for aesthetic and commercial purposes.
---
National Lancers with the Reviewing Officers on Boston Common. Drawn by C. Hubbard. Drawn on stone by F. H. Lane. Lithograph by Moore's Lithography, Boston, 1837. Lithograph on paper, hand-colored, 14-11⁄16 x 20-1/4 in. Collection of Hope and Robert Bachelder.
The Massachusetts legislature established the National Lancers in 1836 to escort and protect the governor of the commonwealth. Now headquartered in Framingham, this volunteer cavalry militia troop continues to exist as a ceremonial component of the Massachusetts Organized Militia. In 1836 the governor of Massachusetts commissioned artist Charles Hubbard to produce the military standard held aloft in the parade seen here on the Boston Common. Hubbard also made the painting of the event reproduced lithographically by Lane. The governor and his entourage on the left review the parade; members of the public are scattered in the middle and on the far left. The coloring was applied by hand at the time the print was published. In 1837 the Massachusetts Charitable Mechanic Association recognized Thomas Moore for his lithographic printing and Lane for his lithographic drawings.
---
View of the Battle Ground at Concord, Mass. Drawn by F. H. Lane. Lithograph by B. W. Thayer & Co. Lithography, Boston, 1840. Lithograph on paper, hand-colored, 15-3/4 x 20-1⁄16 in. Boston Athenaeum; Gift of Charles E. Mason Jr.
The Concord, Massachusetts, printer and Concord Artillery member Elbridge G. Jefts advertised the sale of this view on July 4, 1840, in the Yeoman's Gazette. He described the print "as a very accurate view of the Monument and the surrounding scenes, and will make a handsome ornament for the parlor." The dedication of the monument was on July 4, 1837. That year Lane hired fifteen-year-old John S. Keyes to ferry him across the Concord River. Keyes paddled about in the river while Lane made his preliminary drawing. In his memoir, Keyes observed that Lane's view was "a very correct picture of the place as it then looked." The view looks towards the town and the light falls strongly on the Battle Monument. In 1840 several thousand Whigs were expected to attend the July Fourth Whig barbecue, parade, and ball in Concord. Certainly the view of the battlefield would have found many admirers and purchasers.
---





Lane and his former colleague at Pendleton's Lithography, John W. A. Scott, formed their own publishing and printing partnership in 1844. Like Lane, Scott was interested in a career as a fine artist and he started exhibiting paintings at various venues, including the prestigious Boston Athenaeum. Lane and Scott and the other apprentices in the Pendleton and Moore companies had learned business skills as well as artistry. Lane's fellow apprentices—John H. Bufford, Nathaniel Currier, and Moses Swett—all went on to manage lithography firms.



One of Lane & Scott's first-known commissions is this advertisement for "Oak Hall," which appeared in a pamphlet entitled Oak Hall: or The Glory of Boston: A Poem in Four Parts, printed by Mead & Beal in Boston in 1844. According to the Preface, the "poem gives a descriptive account of the external and internal wonders of the celebrated fashionable clothing emporium." Publishing a poem and an elegant depiction of a store's interior in a trade catalogue was an innovative approach to advertising at the time.

George W. Simmons' Popular Tailoring Establishment. "Oak Hall." Boston. Drawn by F. H. Lane. Lithograph by Lane & Scott's Lithography, Boston, 1844. Lithograph on paper, 16 x 12¼ in. Boston Athenaeum; Gift of Charles E. Mason, Jr., 1981.



---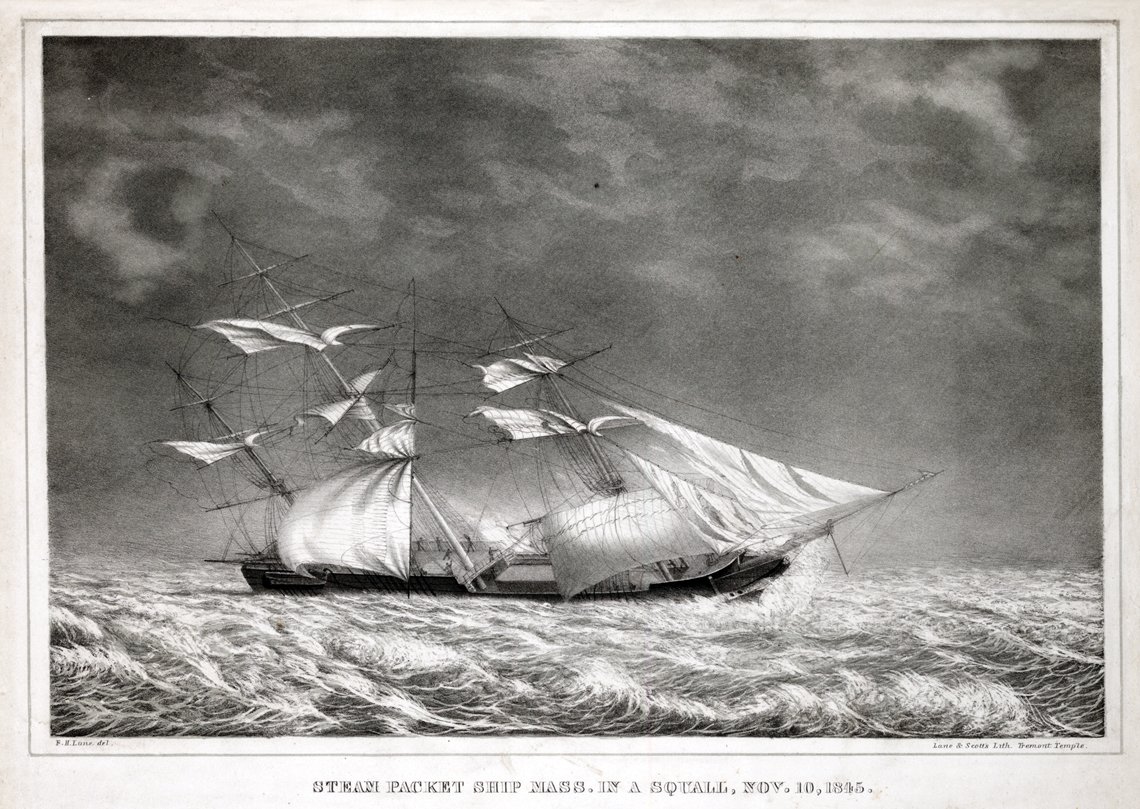 Steam Packet Mass. In a Squall, Nov. 10, 1845. Drawn by F. H. Lane. Lithograph by Lane & Scott's Lithography, Boston, 1845-1846. Two-toned tinted lithograph on paper, 10-13⁄16 x 15-3⁄16 in. Boston Athenaeum.
Sea captain, ship owner, and merchant, Robert Bennet Forbes built the auxiliary steam packet ship Massachusetts in 1845 to move cargo between New York and Liverpool. Innovatively powered by both steam and wind, the ship was expected to set speed records, but was not very successful in that regard. Lane made two views of the vessel. One is a typical ship portrait, a genre that Lane explored in his oil paintings. This print shows the vessel caught in a storm in November of 1845 while returning to Boston from Liverpool. The rough sea, shredded sails, and lighting all add to the dramatic effect of the image.
---
View of Norwich, from the West Side of the River. Drawn by F. H. Lane. Lithograph by Sarony & Major Lithography, New York. Published by A. Conant, 1849. Colored lithograph on paper, 11-3/4 x 16-1/2 inches. Collection of the Cape Ann Museum; Gift of Edward L. Stone (1972). Conservation funded by Wendy Shadwell's Bequest to the American Historical Print Collectors Society.
Apparently, Albert Conant commissioned Lane to produce this view of Norwich, Connecticut, in 1849, and then turned to a New York firm Sarony & Major to print the view in color. Napoleon Sarony was born in Quebec, but came to New York, where he learned lithography from Henry R. Robinson. He then worked for Nathaniel Currier, before creating his own firm with Henry B. Major, who had also worked for Currier. The firm began printing lithographs in color in the 1840s. This process is complex, requiring the use of multiple stones, and it is unlikely that Lane participated in this aspect of the production. The view of Norwich shows the head of the Thames River. Although not a coastal town, ships could make their way to Norwich and connect with railroads.
---
View of New Bedford from the Fort near Fairhaven. Drawn by F. H. Lane from a sketch by A. Conant. Lithograph by Lane & Scott's Lithography, Boston. Published by A. Conant, Boston 1845. Lithograph on paper, 17-15⁄16 x 25-1/4 in. American Antiquarian Society.
Albert Conant, an artist, printer, publisher and art teacher commissioned several lithography firms to print his city views of Baltimore, Norwich, Connecticut, and six towns in Massachusetts. Lane & Scott printed six of the eight. Conant received some education at the State Normal School of Bridgewater, suggesting that he trained to be a teacher, but he considered himself an artist. The view of New Bedford is a stunning accomplishment for both the artist and Lane, who drew the view on stone. The artist looked across the Acushnet River towards the town. The harbor contains ships of all kinds, indicating New Bedford's status as the center of the whaling industry. It is probable that Lane depended on Conant for the view of the town, while he was responsible for depicting the ships that fill the harbor.
---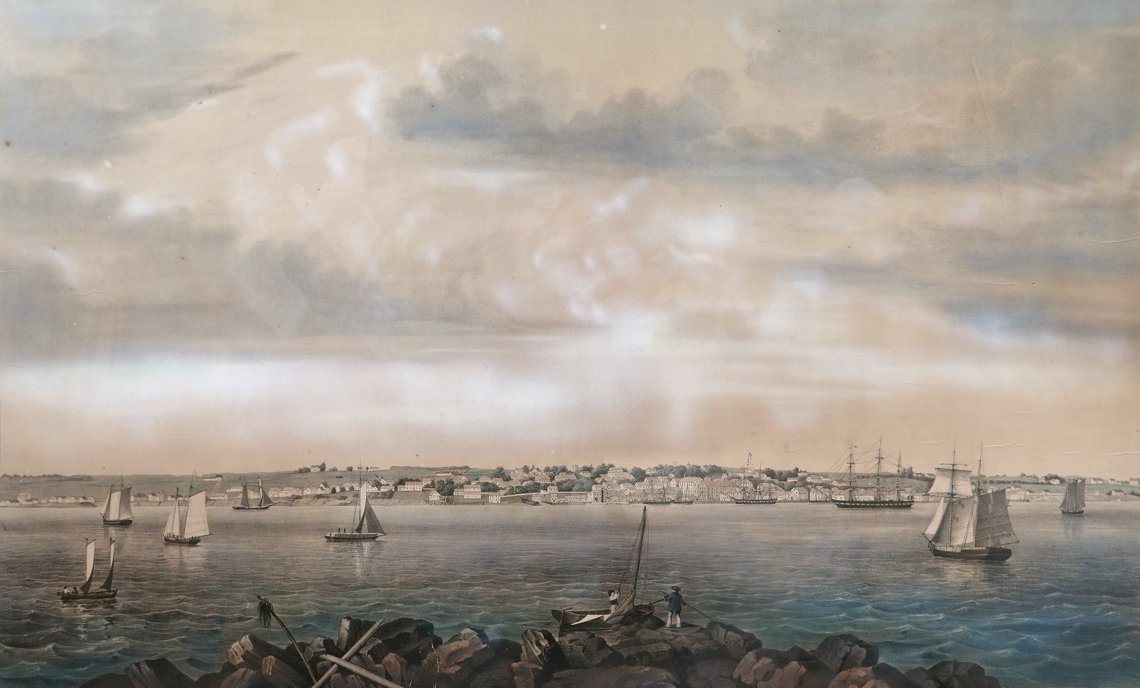 Castine, from Hospital Island. Drawn by F. H. Lane. Lithograph by L. H. Bradford Lithography, Boston, ca. 1855. Published by Joseph L. Stevens Jr. Colored lithograph on paper. 19-11⁄16 x 32-11⁄16 in. Collection of Roswitha and William Trayes.
Substantial documentation exists about this print published by Lane's friend, Joseph Stevens Jr. Lane made the view at the suggestion of Joseph Stevens Sr., who noted the existence of a "feebly drawn & still worse printed" view of Castine by the miniature artist Samuel V. Homan, drawn on stone by William Sharp, and printed by Bouvé and Sharp in about 1843. Stevens advertised Lane's view in advance of publication to secure subscribers, who included not only residents of the town, but also people living in Bangor, Ellsworth, and Belfast. Others lived in Boston, New York, and Dixon, Illinois, where former Castine resident Noah Brooks had settled.
---
View of Gloucester, Mass. Drawn by F. H. Lane. Lithograph by L. H. Bradford & Company, 1859. Published by Procter Brothers, Gloucester. Lithograph on paper, 21-3/4 x 35-1/2 in. Collection of the Cape Ann Museum; Gift of Mrs. Percy C. Proctor (1940).

Lane's third and final panorama of Gloucester reproduced lithographically again demonstrates his mastery of the panorama format, but it is likely that another draftsman at Bradford's lithography company copied Lane's painting first described in an advertisement in the Cape Ann Advertiser in 1858 as a "Fine View of Gloucester, which our distinguished fellow-citizen, F. H. Lane, Esq., has recently sketched from nature and imparted to the canvass." One reason that a market for this print existed was the publication in 1858 of a lithograph printed by Marshall M. Tidd in Boston, described at the time as not "worth having" and as a "poor caricature." A sample proof of Lane's lithograph was on display by January 7, 1859, and Procter advertised the availability of the print at the end of the month for $2.50. Sales were brisk and the prints were nearly all disposed of by March. To add value to some of the prints, it seems that Lane had several of the lithographs mounted on canvas and applied oil paint to them. These sold for $25 each.
---
Drawn from Nature and on Stone: The Lithographs of Fitz Henry Lane was on view through March 4, 2018 at the Cape Ann Museum, Gloucester, Mass. Text for this article is adapted from the author's catalogue essay, "Fitz Henry Lane's Lithographic Career." For information on the exhibition and publication, visit www.capeannmuseum.org. 
---
Georgia Barnhill is Curator of Graphic Arts Emerita, American Antiquarian Society, Worcester, Mass., and president of Amherst Historical Society.
This article was originally published in the 18th Anniversary issue of Antiques & Fine Art magazine, a fully digitized edition of which is available at www.afamag.com. AFA is affiliated with Incollect.