Efflorescence: Variations on Color by Ana D'Castro at Leila Heller Gallery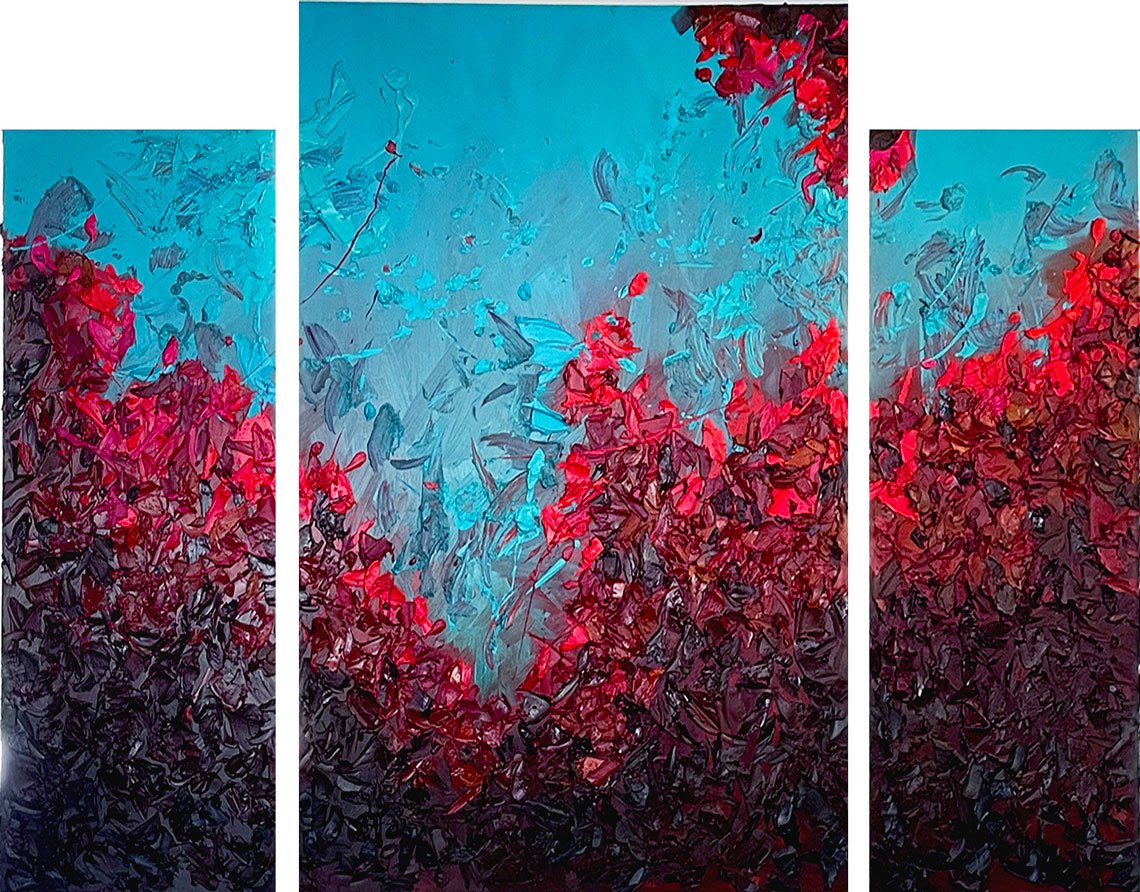 Ana D´Castro, Sweet burden. Triptych, oil on canvas, 70 x 190 cm; 140 x 220 cm.
Efflorescence: Variations on Color
by Ana D'Castro
Leila Heller Gallery
17 East 76th Street, New York, through October 13
By Benjamin Genocchio
Art history tells the story of period styles changing and evolving. What it does not encompass is the role visual pleasure plays in art, or how joy drives the bulk of everyday art viewing and private sales.
I was reminded of this fact while at Efflorescence: Variations on Colors, the fresh, visually delicious, immensely pleasurable new show by Ana D'Castro at Leila Heller Gallery in New York. It is gorgeous.


Ana D´Castro, Sweet burden, triptych. Oil on canvas, 70 x 190 cm; 140 x 220 cm.

Color is the main ingredient, loads of it, applied in thick layers to the canvas using mostly oil paint but sometimes mixed with enamel paint. Color itself is the material, subject, guiding idea and theme, or at least is the first impression you get as you walk in.
Each of D'Castro's paintings immerses us in a bath of color, light, feeling, and mood. The idea it seems is for the viewer to let themselves go and to be absorbed into a lush sensorial word. Simply put, this show, these pictures, make you feel good.


Ana D'Castro, (in) florescense, modular canvas. Oil and enamel on canvas, 150 x 200 cm.

The exhibition consists of several recent paintings which are all abstract in orientation if not intention. But they also call to mind imagery of flowers, trees, shrubs, and of bushes. Nature is clearly a source of inspiration, albeit undeclared, which in its turn gives a purpose to the choice and application of color.
Nature might best be described as the 'jumping-off' point for her paintings. She notices and absorbs everyday moments of pleasure and awe in the natural environment such as sunrises, sunsets, or a landscape, and then translates them into her artworks through the manipulation of colors, textures, and paint.
Time, too, or more accurately the passage of time, as history, as learning, as experience seems to be another theme floating beneath the wavy surfaces. Nothing stands still in her paintings, everything is in flux, all the time, succinctly reminding us of the core teaching of the Greek philosopher Heraclitus.


Ana D´Castro, . . .in the autumn of life. . . Oil on canvas, 150 x 200 cm.

D'Castro's palette is varied, and even contradictory and ranges from cold blues, whites, gray and silver to the brash calming warmth of yellow, red, orange and brown. Red, especially, predominates as in Sweet Burden, a mesmerizing triptych painted in oil on canvas that provides huge pleasure. It is so beautiful and calming, lush and enveloping, like fresh satin sheets. Fall leaves come to mind or the rolling swell of waves in the ocean. It is stunning.
Many of the new paintings are lathered and dense, almost sculptural in texture and appearance. Paint is applied freely and copiously in smooth, juicy brush strokes that leave thick and sticky marks. The artist approaches painting as an iterative endeavor, one in which layers of color are built up over time.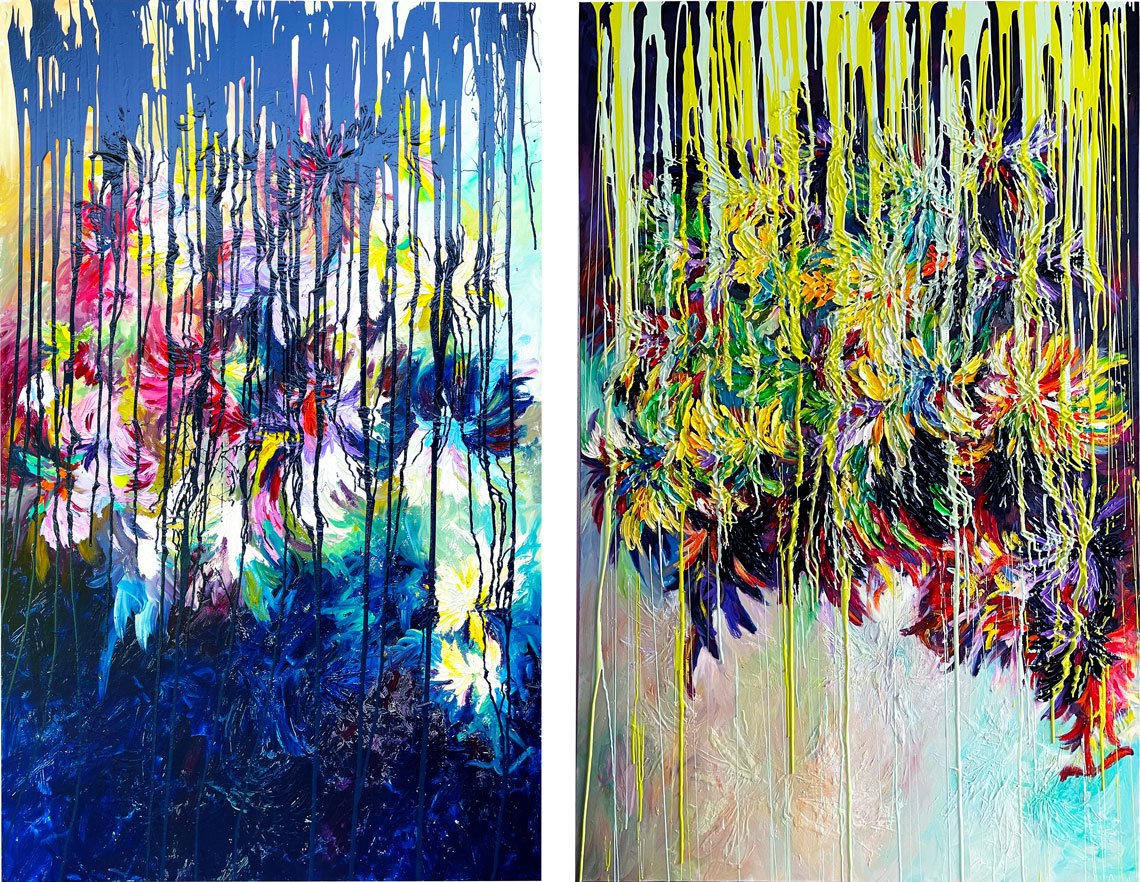 Ana D´Castro, The reverse of colors, diptych. Oil on canvas,120 x 200 cm.

Depth of field, and volume of the brush strokes give the paintings an architectural quality, which is perhaps no surprise given D'Castro is a Portuguese visual artist and architect (with a master's in architecture) and whose work is influenced, she says, by formal, mathematical principles relating to proportion. This is evident in her attention to visual alignment and a sense of what can only be described as balance.
There is poise in these pictures, which effortlessly entice. But ultimately it is her use and handling of color that is the most persuasive component of her paintings. Color speaks to your soul and this is the message of this pleasing exhibition. That, and the power of painting to move us emotionally.