Events of the Week: Jamie Drake Receives Award, Tales from India, Napoleon, Chippendale, Tiffany & More
ADVANCE NOTICE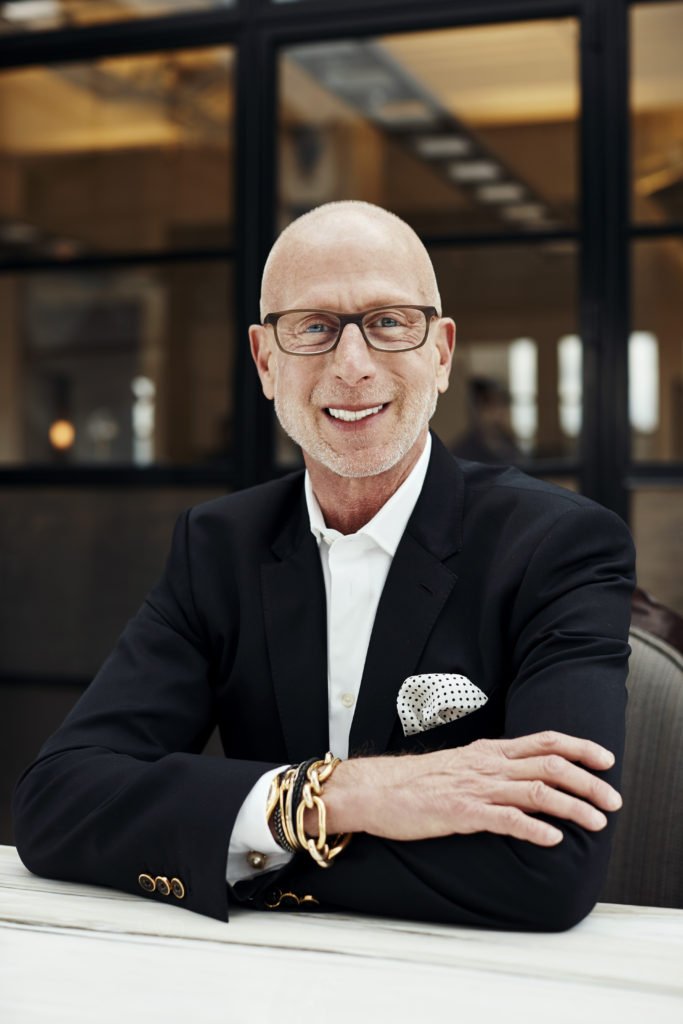 Historic House Trust Founders Award Dinner
June 13, 2018
Loeb Boathouse, Central Park, NYC
https://historichousetrust.org/foundersaward
Interior designer Jamie Drake of Drake/Anderson is being honored by the Historic House Trust in New York for his bold vision in reinvigorating Gracie Mansion and his commitment to continuing the art of craftsmanship. Drake is recognized for creating environments that are eloquently interpreted through the unique prism of each client and crafted with respect for historic integrity. He is consistently lauded for the ability to integrate a deep knowledge of historic styles with a discriminating modern connoisseurship.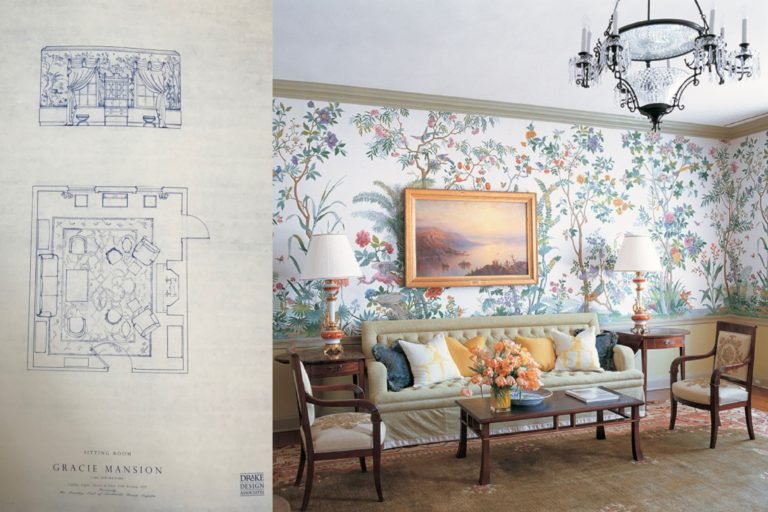 Jamie Drake will receive recognition for his contributions at the Founders Award dinner gala next Wednesday so reserve your seats to both support the Trust and recognize Drake for his flair for interiors and respect for historic material.
Above: Jamie Drake. Left: From blueprint to full design, an example of one of Jamie's room designs for the former Mayor Michael Bloomberg at Gracie Mansion, one of 23 sites in the Historic House Trust's collection. Images courtesy The Historic House Trust.
EVENT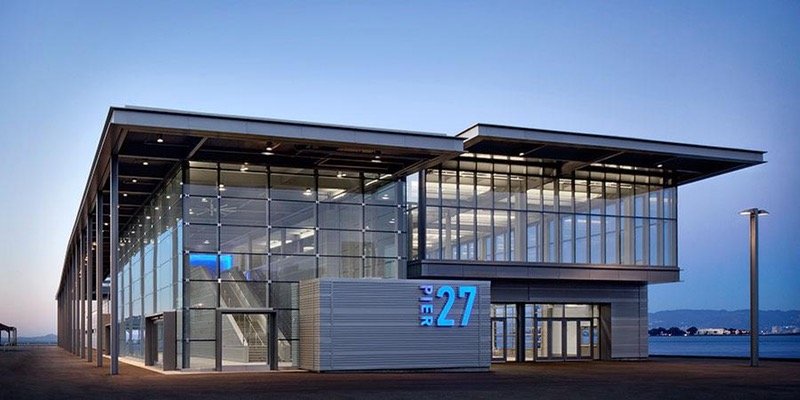 San Francisco Design Week
June 7-15, 2018
Pier 27 and various venues in San Francisco, CA
SFDW is a week-long regional festival that showcases the intersection of ideas, design, business, and entrepreneurism that makes the Bay Area the birthplace of the future. Now a global phenomenon, San Francisco's international success is born from a historically free-spirited entrepreneurialism, coupled with the imaginative vision of contemporary design and state-of-the-art technology. Pioneers of new ways of looking at the world, nimble Bay Area start-ups are now among the world's most influential design-led companies, producing products, services, and experiences that profoundly influence the daily lives of billions of people globally.
SFDW celebrates this spirit of newness by providing unique access to exhibitions, programs, and conversations with the designers who are shaping the future—from architecture to fashion, product design to digital services, and everything in between. Click here for a full lineup of events including an opening night reception, talks, installations, workshops, and exhibits.
EXHIBITIONS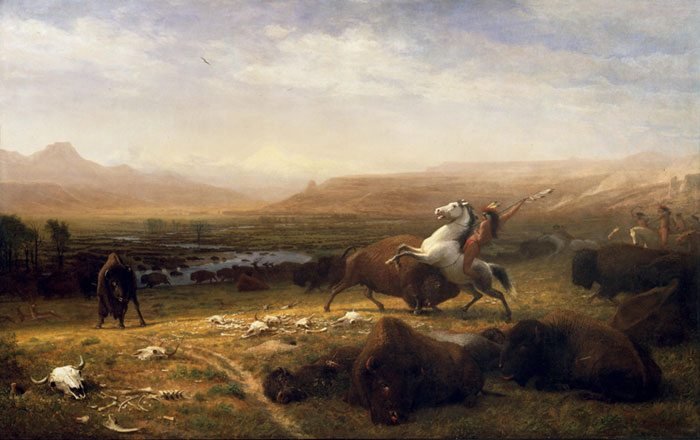 Albert Bierstadt: Witness to a Changing West
June 8-September 30, 2018
Buffalo Bill Center of the West
The Buffalo Bill Center of the West and Gilcrease Museum have partnered to present a groundbreaking exhibition titled Albert Bierstadt: Witness to a Changing West. Bierstadt (1830–1902) is best known as America's premier western landscape artist. He was also a renowned history painter, a rarely discussed element of his legacy. This major exhibition will address Bierstadt in context of his treatment not just of majestic mountains and lakes but more prominently of bison and American Indians, whom he approached as key subjects for his art.
Bierstadt's history paintings conveyed moral messages as he strove to preserve the dignity of Native people like the Sioux and Shoshone, reveal the tragic slaughter of the American bison, and inspire empathy for the remnant herds of buffalo in Yellowstone National Park as the species neared extinction. The selected works demonstrate the ways in which Bierstadt engaged with environmental and aesthetic issues of his time, and employed the subjects of Plains Indians and bison as iconic symbols of western America's changing face.
On June 16, a symposium on the themes of the exhibition will be held at the Whitney Western Art Museum, which is associated with the Buffalo Bill Center for the West.
Image: Albert Bierstadt (American, born Germany, 1830–1902). The Last of the Buffalo, circa 1888. Oil on canvas, 60.25 x 96.5 inches. Gertrude Vanderbilt Whitney Trust Fund Purchase.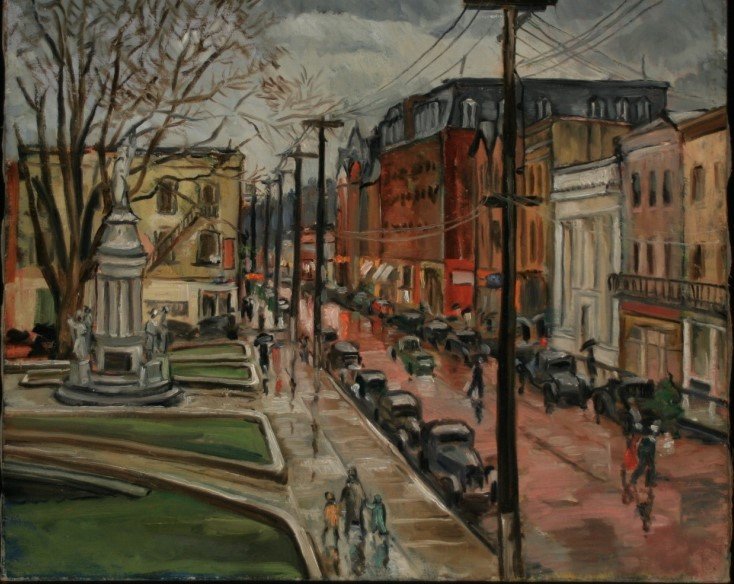 Seeing Our Scene: Artists and the Pennsylvania Landscape
June 8-August 17, 2018
Southern Alleghenies Museum of Art, University of Pittsburgh, Johnstown, PA
Featuring approximately 25 paintings, drawings and prints, Seeing Our Scene surveys the varied landscape of the Keystone State, emphasizing the familiar sights of the immediate region and offering a survey of Pennsylvania's natural beauty and human industry. Ranging from urban views in Altoona and Johnstown to bucolic images of the countryside around Bedford, Ligonier and Loretto, the exhibition offers an array of engaging and pleasant hometown subjects. By way of contrast, the show also takes us further afield with a number of images drawn from central and eastern Pennsylvania as well.
Seeing Our Scene features works from the Museum's permanent collection and offers a mix of old favorites and works that are seldom on view. Among the artists represented are well-known contemporary painters including Ron Donoughe, Steven Gilbert, Joe Servello and Michael M. Strueber. Classic works by Adolf Dehn, Edwin Zoller and Eleanor Zygler also will be on view.
Image: Edwin Zoller (1900-1967), Main Street, Towanda, 1935. Oil on linen, 18 ⅛ x 21 ⅝ in. Gift of Joseph Servello.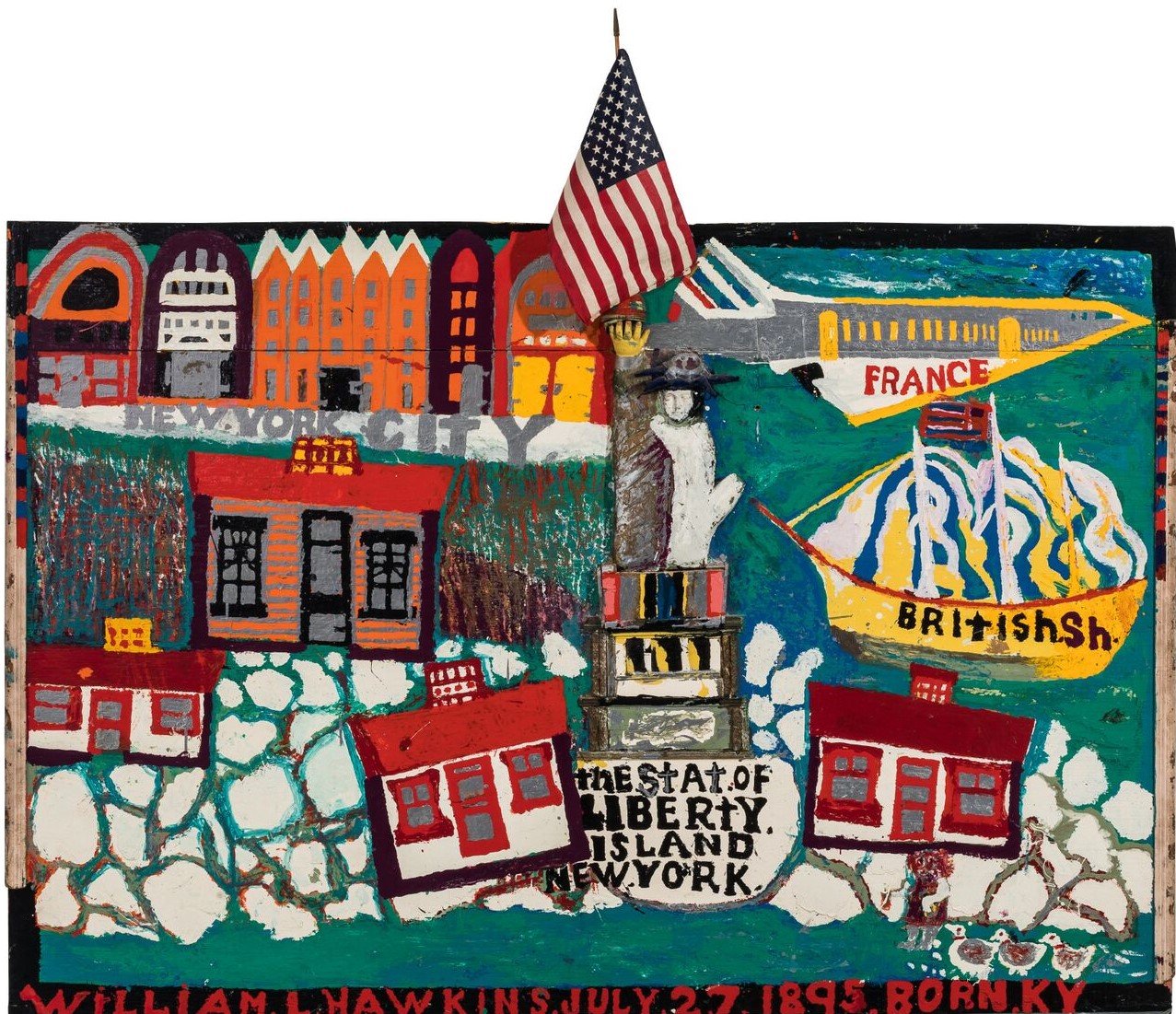 William L. Hawkins: An Imaginative Geography
June 9-August 26, 2018
Mingei International Museum, San Diego, CA
In its final exhibition prior to closing for a year of renovations, the Mingei International Museum will feature an exhibition of more than 60 of William Hawkins' most iconic paintings, drawings, and sculptures inspired by the artist's life.

William L. Hawkins was long at the forefront of the 20th-century self-taught movement, but the African American painter has, until now, recently received less than his fair share of attention. Hawkins's oeuvre—a collection of landscapes, cityscapes, historical scenes and exotic wild animals—is an ecstatic representation of the world as he saw it. Through bold colors, collage work and images pulled from popular magazines, he created images full of expressive bravado and vigor, balancing the meditative quality of the still image with the chaos of its content. Featuring material from public and private collections, the exhibition will travel to the Figge Art Museum in Iowa and The Columbus Museum in Georgia.
Image: William L. Hawkins (1895-1990), Statue of Liberty Island New York, 1984. Enamel and mixed media on plywood. Intuit: The Center for Outsider and Self-Taught Art; courtesy Ricco/Maresca Gallery, New York. Photo by Michael Tropea.
Epic Tales from Ancient India: Paintings from The San Diego Museum of Art
June 9-September 3, 2018; symposium June 9
San Diego Museum of Art, San Diego, CA
More than 90 works from the world-renowned Edwin Binney 3rd Collection of Indian paintings will be featured in the exhibition Epic Tales from Ancient India: Paintings from The San Diego Museum of Art. The exhibition represents the major narratives, regions and styles of South Asian art from the 16th through the 19th centuries, and provides the tools for reading and understanding Indian painting.
Epic Tales from Ancient India introduces viewers to the world of South Asian paintings and their original narrative context by explaining the classics of literature that the works illustrate. The exhibition features four sections arranged by literary category. The stories include the Bhagavata Purana, a Sanskrit text about the Hindu god Vishnu and his different incarnations; the Ramayana, recounting the adventures of Prince Rama of Ayodhya and his wife Sita; the Ragamala, verses illustrating music played at particular times of day or season; and works of Persian literature, including the Shahnama, a poem about the legendary kings of Iran. The exhibition also includes an interactive performance space to bring the narratives to life through hands-on workshops, musical performances, dance, educational storytelling and more.
Click here to learn about a symposium held in association with the exhibition on June 9, 2018.


The Worship of Vishnu at the Birth of Krishna Folio from the Bhagavata Purana, ca. 1560. Edwin Binney 3rd Collection (1990.585).
Nur Muhammad, Dipak Raga, 1695. Opaque watercolor on paper. Edwin Binney 3rd Collection (1990.791).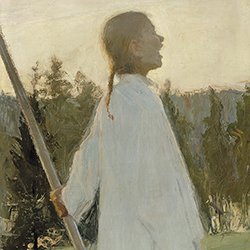 Women Artists in Paris, 1850-1900
June 9-September 3, 2018
The Clark, Williamstown, MA
Women Artists in Paris, 1850–1900 examines a key chapter in the history of art during which an international group of women artists overcame gender-based restrictions to make remarkable creative strides, taking important steps in the fight for a more egalitarian art world. During the mid-nineteenth century, Paris was the center of the art world, luring painters from around the globe to its academies, museums, salons, and galleries. Scores of women traveled to the French capital to further their training and bolster their careers, yet despite the city's many professional opportunities, gender norms remained strikingly conservative. Women were not allowed to attend the École des Beaux-Arts—the country's most important art academy—until 1897. Barred from this prestigious institution, women sought out alternative venues and opportunities—attending private academies, exhibiting independently, and forming their own organizations, such as the influential Union des Femmes Peintres et Sculpteurs created in 1881.
Featuring more than seventy paintings drawn from prominent collections across the United States and abroad, this exhibition presents renowned artists such as Berthe Morisot, Mary Cassatt, and Rosa Bonheur as well as lesser known but equally remarkable peers, including Anna Ancher, Lilla Cabot Perry, and Paula Modersohn-Becker. The exhibition includes moving portraits and self-portraits of artists, intimate depictions of daily life, sweeping landscapes, and dramatic historical scenes.
Image: Ellen Thesleff (1869-1954) Echo, 1891. Oil on canvas. Anders Wiklöf Collection, Andersudde, Åland Islands / Photo: Kjell Söderlund Courtesy American Federation of Arts.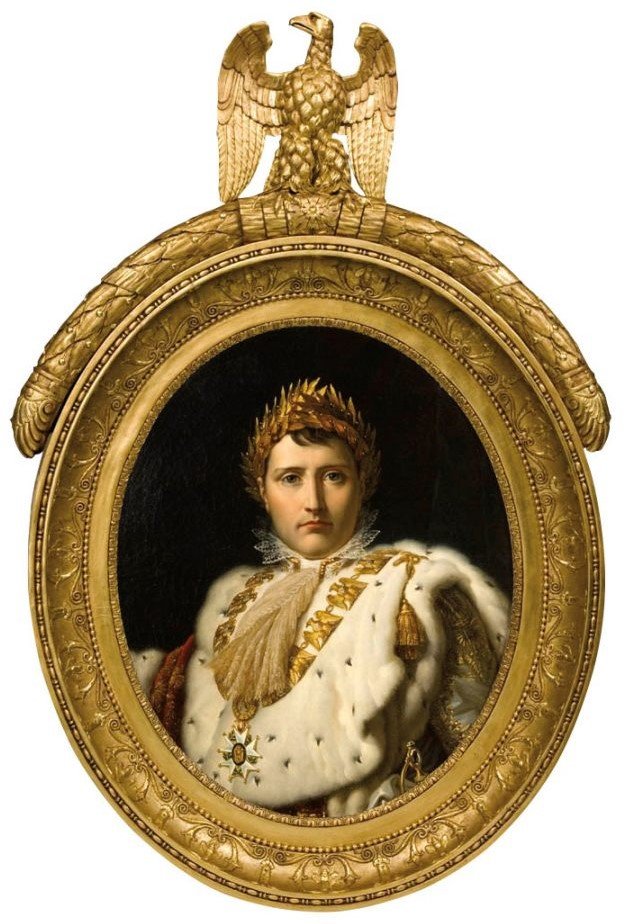 Napoleon: Power and Splendor
June 9-September 3, 2018
Virginia Museum of Fine Arts, Richmond, VA
Step inside the private world of Napoleon Bonaparte (1769–1821) for an up close encounter with the propaganda machine that modernized and legitimized his reign as self-titled Emperor in the wake of the French Revolution. Corsican by birth and French by design, Napoleon was a man of continual reinvention—a minor nobleman and military general whose political ambition inspired his every move. Discover the exquisite works of art that crafted Napoleon's image and the Imperial Household that supported his audacious rise to power.
More than 200 works of art—many of which have never before been exhibited in the United States—reveal the intricacies of the Emperor's daily life and the range of works commissioned by and for him. This exhibition of international loans includes major masterpieces of painting, an array of decorative arts, sculptures, engravings, and more—brought together from the Château de Fontainebleau, the Louvre, the Musée de l'Armée in Paris, and other world-class collections. Projection technology further enhances the spectacle by creating an experience that is innovative, immersive, and visceral.
Image: Workshop of Baron François‐Pascal‐Simon Gérard, Bust-Length Portrait of Napoleon in Ceremonial Robes, circa 1805–14. Oil on canvas. Montreal Museum of Fine Arts, Ben Weider Collection. Photo MMFA, Christine Guest.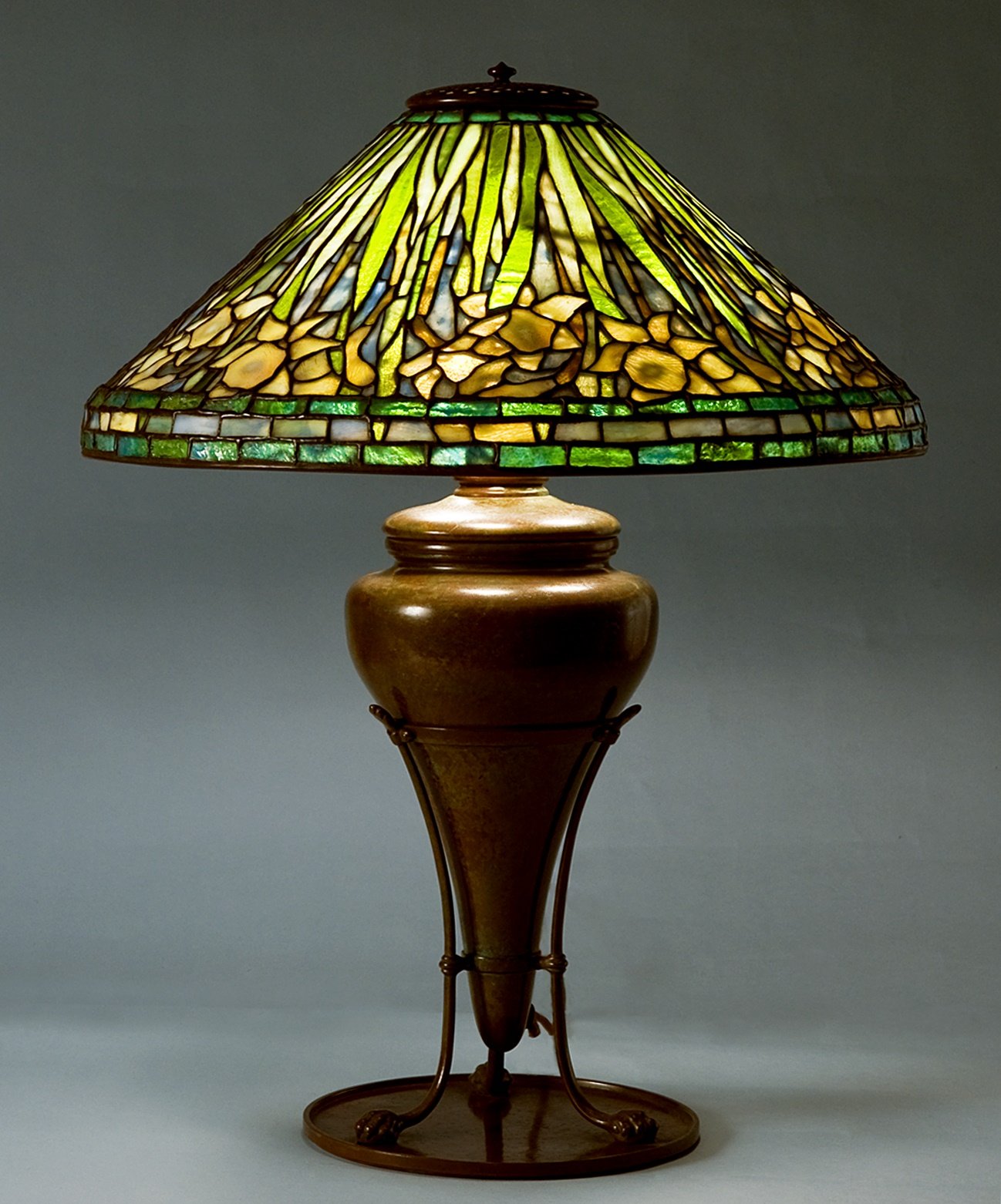 The Age of Tiffany: Between Nouveau and DecoThrough
July 22, 2018
The Heckscher Museum of Art, Huntington, NY
Tiffany led a revolution in the decorative arts at the turn of the 20th Century. Primarily known for his glass and decorative work, Louis Comfort Tiffany was trained in oil and watercolor, but in 1879, he turned to interior decoration. Tiffany patented a process for manufacturing iridescent Favrile glass and produced the vases, lamps, and windows for which he is best known.
The Age of Tiffany places the master with other decorative art from the Heckscher's significant permanent collection. While sculptors such as Frederic MacMonnies worked in a medium that naturally lends itself to the creation of decorative objects, other artists like Elihu Vedder, Arthur B. Davies, Max Kuehne, and Bertram Hartman experimented outside their traditional practice. In their works, and in the work of artists like Hunt Diederich, Henry Varnum Poor, and Paul St. Gaudens, who are more usually associated with the decorative arts, one perceives the aesthetic ideal that underlies much of the decorative work of this period—that beautiful utilitarian objects enrich the lives of those who behold them.
Image: Tiffany Studios, New York, Daffodil Table Lamp. c. 1900-20. Leaded glass and cast bronze. 25 x 20 in. diam. Gift of Theresa A. Cwierzyk and Sidney Gordon. 2010.3.24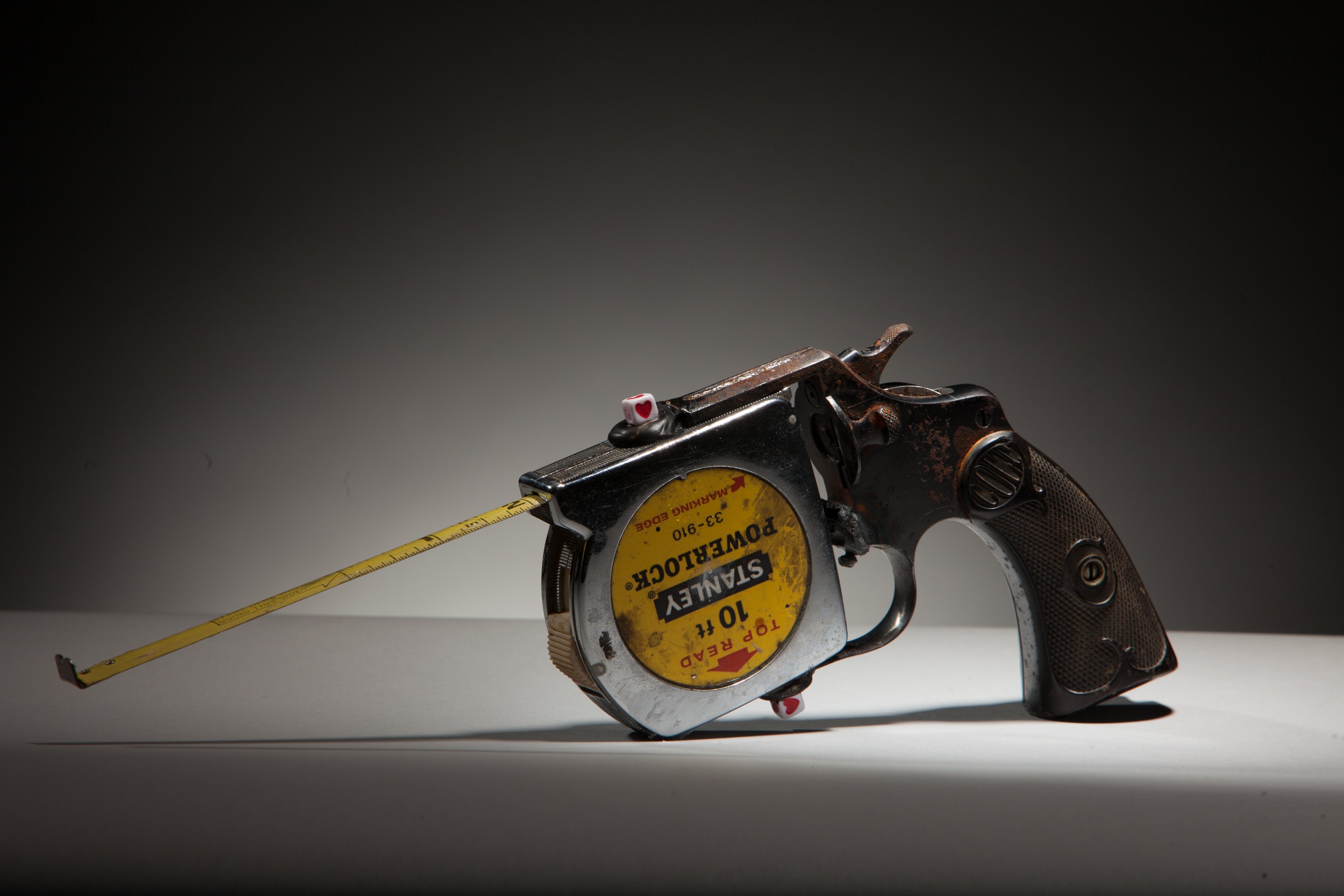 #UNLOAD: Guns in the Hands of Artists
Through October 13, 2018
Fairfield University Art Museum, Fairfield, CT
Each piece in #UNLOAD was created using decommissioned guns, taken off the streets of New Orleans via a gun buyback program and distributed to internationally-known artists. Painters, sculptors, photographers, poets, and other artists used the decommissioned firearms to create works of art that address the complex issue of guns and gun violence. The exhibition originated in mid-1990s New Orleans, where a spiking murder rate led artist Brian Borrello to conceive of the first iteration of the Guns in the Hands of Artists exhibition by bringing the discussion over the role of guns and gun violence in our society into the realm of art—art as the language for dialogue and possibly change without the often partisan and polarized politics that surround the issue. Borrello and gallery owner Jonathan Ferrara mounted this exhibition at Positive Space The Gallery in September 1996 in the Lower Garden District of New Orleans. In 2014, Ferrara revisited the exhibition featuring new work by internationally recognized artists. Through their own medium, each artist has used the decommissioned firearms to create works that express a thought, make a statement, open a discussion, and stimulate thinking about guns in our culture.
Chippendale 300
Thomas Chippendale: A Celebration of British Craftsmanship and Design, 1718-2018
Through December 2018
Nationwide, England

Chippendale 300 is a nationwide celebration, taking place throughout 2018 for the tercentenary of the birth in June 1718 of the great British designer, furniture maker and entrepreneur Thomas Chippendale.
Institutions and historic houses have joined together to create a program of exhibitions, events, masterclasses, tours, and study days to celebrate Thomas Chippendale's tercentenary. A selection of participating organizations and institutions include Burton Constable House, The Chippendale Society, Dumfries House, Harewood House, and The Furniture History Society, among numerous others. Click here for a calendar of events. Hurry to see the Leeds Museum's major exhibition before it closes on June 9.
Exhibitions in America include Chippendale's Director: The Designs and Legacy of a Furniture Maker (through January 27, 2019) at The Metropolitan Museum of Art, and the Historic Deerfield exhibition noted below.
Image: Game table by Thomas Chippendale. Collection of Dumfries House. Reproduced with kind permission from the Great Steward of Scotland's Dumfries House Trust. Image courtesy Christie's.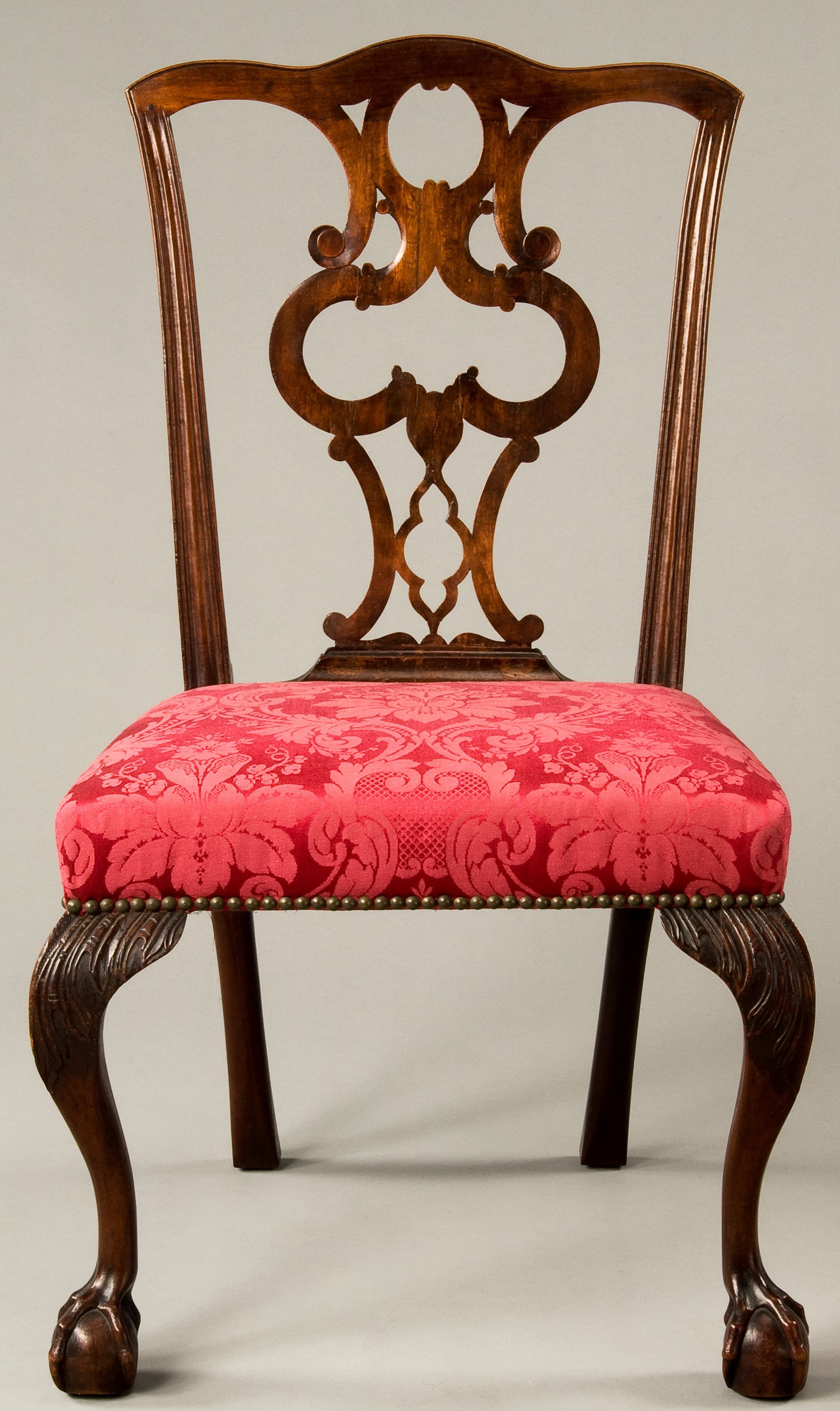 Rococo: Celebrating 18th-Century Design and Decoration
Through February 10, 2019
Flynt Center, Historic Deerfield, Deerfield, MA
http://www.historic-deerfield.org
This year marks the 300th anniversary of the birth of Thomas Chippendale (1718-1779), English furniture maker, author of The Gentleman and Cabinet-Maker's Director (1754), and important disseminator of what is commonly known today as the Rococo style. Since the 1840s, the term "Rococo" has been used to describe a variety of 18th-century decorative art forms that bear particular ornamental characteristics. Hallmarks of the style include asymmetrical and naturalistic forms, often achieved through the inclusion of "C-" and "S-" shaped scrolls, and motifs such as foliage, rocks, and shells. Rooted in France in the 1730s, the style quickly gained popularity in other countries, including England and America, where it was adopted to different degrees.
To mark this milestone, Historic Deerfield's new exhibition, Rococo: Celebrating 18th-Century Design and Decoration, celebrates both Chippendale's legacy and the iconic style he helped promote through a number of English and American Rococo decorative art forms from Historic Deerfield's rich collection.
Image: Side chair, attributed to Nathaniel Gould (1734-1782), Salem, Massachusetts, ca. 1770. Mahogany (59.070.2).