Events of the Week: Palm Beach Shows, Modernism Week, William Hawkins, Edward Gorey, Presidential Portrait & More
SHOWS
Palm Beach Jewelry, Art & Antique Show
February 14-20, 2018
Palm Beach County Convention Center, Palm Beach, Florida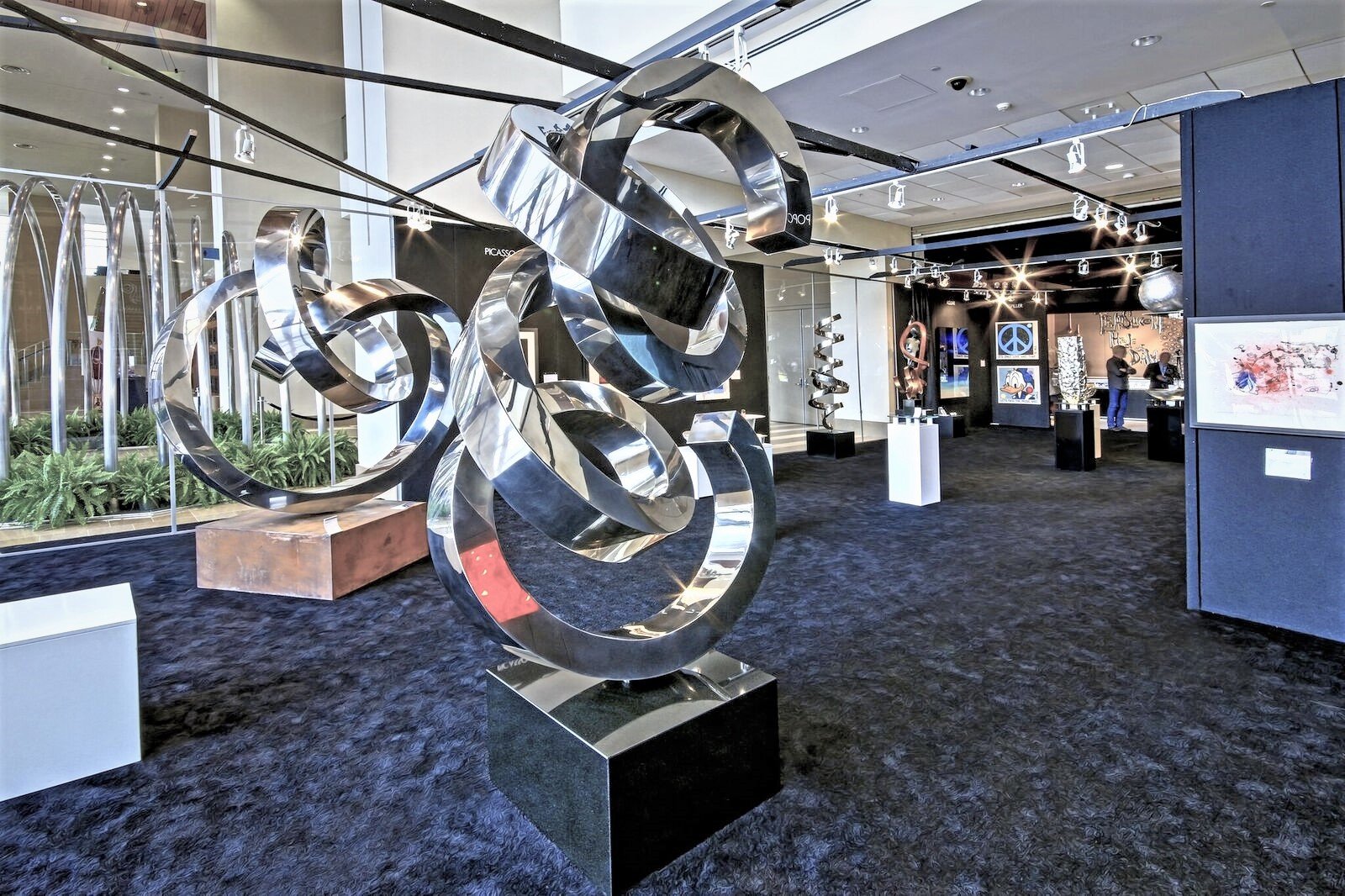 Returning Presidents' Day weekend, the Palm Beach Jewelry, Art & Antique Show will feature more than 170 international exhibitors along with engaging speakers. A hallmark of the Palm Beach social season, the show has set a benchmark of excellence in the art, antiques, and jewelry industry. Items at the show will span every genre, including fine art, antique and estate jewelry, furniture, porcelain, Asian art, American and European silver, glass, textiles, sculpture, and more, ranging from antiquities through the 20th century.This year's charity is the Cancer Alliance of Help & Hope.
This year's show opens on Wednesday, the 14th with a Vernissage reception followed by a VIP opening night preview party. A 15th annual educational lecture series will include a wide array of topics by respected dealers and industry experts. Among the special events is an exhibition by Christopher Marley, an award-winning artist who blends art, science, and nature into his work. The "Biophilia" exhibit will transform the Southeast entrance into a representation of man's relationship with nature as seen through Marley's eyes.
Palm Beach Fine Craft Show
February 16-18, 2018
Palm Beach County Convention Center, Palm Beach, Florida
http://www.palmbeachfinecraft.com
The Fine Craft Show, held on the 2nd floor of the Palm Beach Jewelry, Art & Antique Show, will feature the nation's top contemporary craft artists, offering their latest celebrated works in a comfortable, indoor setting.The 2018 rendition will feature artist representing categories spanning many genres including wood work, ceramics, art glass, art, clothing and textiles, jewelry and other mixed medias. The Palm Beach Fine Craft Show welcomes back some returning renowned artist such as Barbara Packer Studios, Shana Kroiz Jewelry, Kathleen Dustin Design, Starr Hagenbring and So Young Park as well as several new artists, expanding the Fine Craft Show not only in size, but in distinction.
Art WynwoodFebruary 16-19, 2018; preview February 15, 2018
One Herald Plaza, Miami, Florida
Since its inception in 2012, Art Wynwood has become the premier winter destination contemporary and modern art fair in South Florida, and offers the most diverse, affluent, and culturally savvy international audience in the United States. The 7th anniversary edition will showcase a dynamic array of street art, murals, pop surrealism, and other genres from emerging and world-renowned artists from the 20th and 21st centuries. This year, Art Wynwood will be held at the most prestigious waterfront location in Miami, the Art Wynwood Pavilion at One Herald Plaza on Biscayne Bay, the home of Art Miami and CONTEXT Art Miami (both held in December).
Modernism Week
February 15-25, 2018
Palm Springs area, California
Modernism Week celebrates and fosters the appreciation of mid-century architecture and design and current thinking in these fields. This annual 11-day festival takes place in the Palm Springs area of Southern California, and features more than 350 events including Signature Home Tours, films, lectures, Premier Double Decker Architectural Bus Tours, nightly parties and live music, walking and bike tours, tours of Sunnylands, fashion, classic cars, modern garden tours, a vintage travel trailer exhibition, and more. One of the signature events is the 18th Annual Palm Springs Modernism Show & Sale (February 16-19, 2018)
Palm Springs Convention Center, Palm Springs, CA


Among the events held in conjunction with Modernism Week are Art Palm Springs (February 15-19) and Palm Springs Modernism Show & Sale (February 16-19). The premier art fair in the Southwest presenting post-war and contemporary art, over Presidents' Day Weekend, Art Palm Springs will present nearly 80 galleries from Asia, North and South America, and Europe, that represent more than 300 artists. Alternatively, Palm Springs Modernism will feature more than 85 premier national and international decorative and fine arts dealers with items representing all design movements of the 20th Century and select 21st century items. Joining the popular four-day event this year is the new Palm Springs Modern Design Expo, a showcase of contemporary cutting edge home design products and technology.
EXHIBITIONS
National Portrait Gallery Unveils Presidential Portraits
February 13, 2018
National Portrait Gallery, Washington, D.C.
http://npg.si.edu/exhibition/obama-portraits-unveiled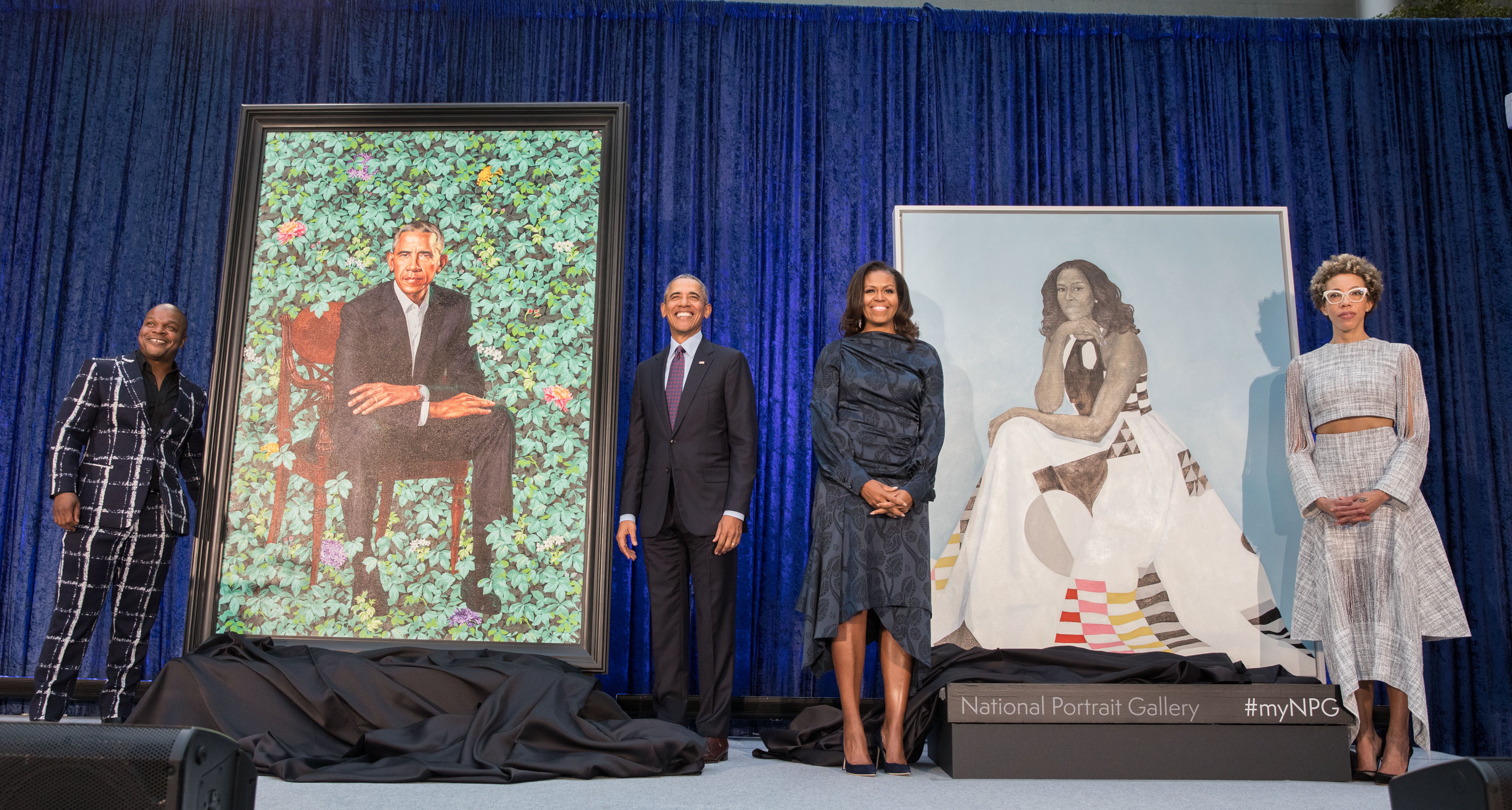 Kehinde Wiley, Barack Obama, 2018. Oil on canvas. National Portrait Gallery, Smithsonian Institution. The National Portrait Gallery is grateful to the following lead donors to the Obama portraits: Kate Capshaw and Steven Spielberg; Judith Kern and Kent Whealy; Tommie L. Pegues and Donald A. Capoccia. © 2018 Kehinde Wiley. Amy Sherald, Michelle LaVaughn Robinson Obama, 2018. Oil on linen,.National Portrait Gallery, Smithsonian Institution. The National Portrait Gallery is grateful to the following lead donors to the Obama portraits: Kate Capshaw and Steven Spielberg; Judith Kern and Kent Whealy; Tommie L. Pegues and Donald A. Capoccia.
The Smithsonian's National Portrait Gallery today unveiled its commissioned portraits of former President Barack Obama and Mrs. Michelle Obama by artists Kehinde Wiley and Amy Sherald, respectively. The former first couple personally requested the artists prior to President Obama's departure from office. Their selections mark the first time that African-American artists have been commissioned for the National Portrait Gallery's official portraits of a President or First Lady.
The life-size artworks were revealed in a private ceremony in the museum's Robert and Arlene Kogod Courtyard as part of the Portrait Gallery's 50th anniversary celebrations. The portraits will be on display in the newly renovated "America's Presidents" Gallery beginning February 13. Wiley's painting will be permanently installed in the Portrait Gallery's "America's Presidents" exhibition on the museum's second floor. Sherald's painting will be on view in the museum's "Recent Acquisitions" corridor through early November 2018.
Figuring History: Robert Colescott, Kerry James Marshall, Mickalene Thomas
February 15-May 13, 2018
Seattle Art Museum, Seattle, Washington
http://www.seattleartmuseum.org
Figuring History brings together for the first time three leading American artists from three different generations whose work challenges a Western painting tradition that historically erases or misrepresents people of color. While each artist's paintings are distinctive in style, subject matter, and the historic moments they reference, collectively they critique and redefine mainstream narratives of history and representation. At the heart of these artists' portrayals are material and cultural histories centered on Black experiences and perspectives. The exhibition comprises 25 large-scale paintings on loan from institutions and collections across the country. It features a work from SAM's collection—the recently acquired Les Demoiselles d'Alabama: Vestidas (1985) by Robert Colescott—as well as three paintings made by Mickalene Thomas specifically for the exhibition. She also presents a staged "living room" installation that visitors can interact with and sit in.
William L. Hawkins: An Imaginative Geography
February 16-May 20, 2018
Columbus Museum of Art, Columbus, OH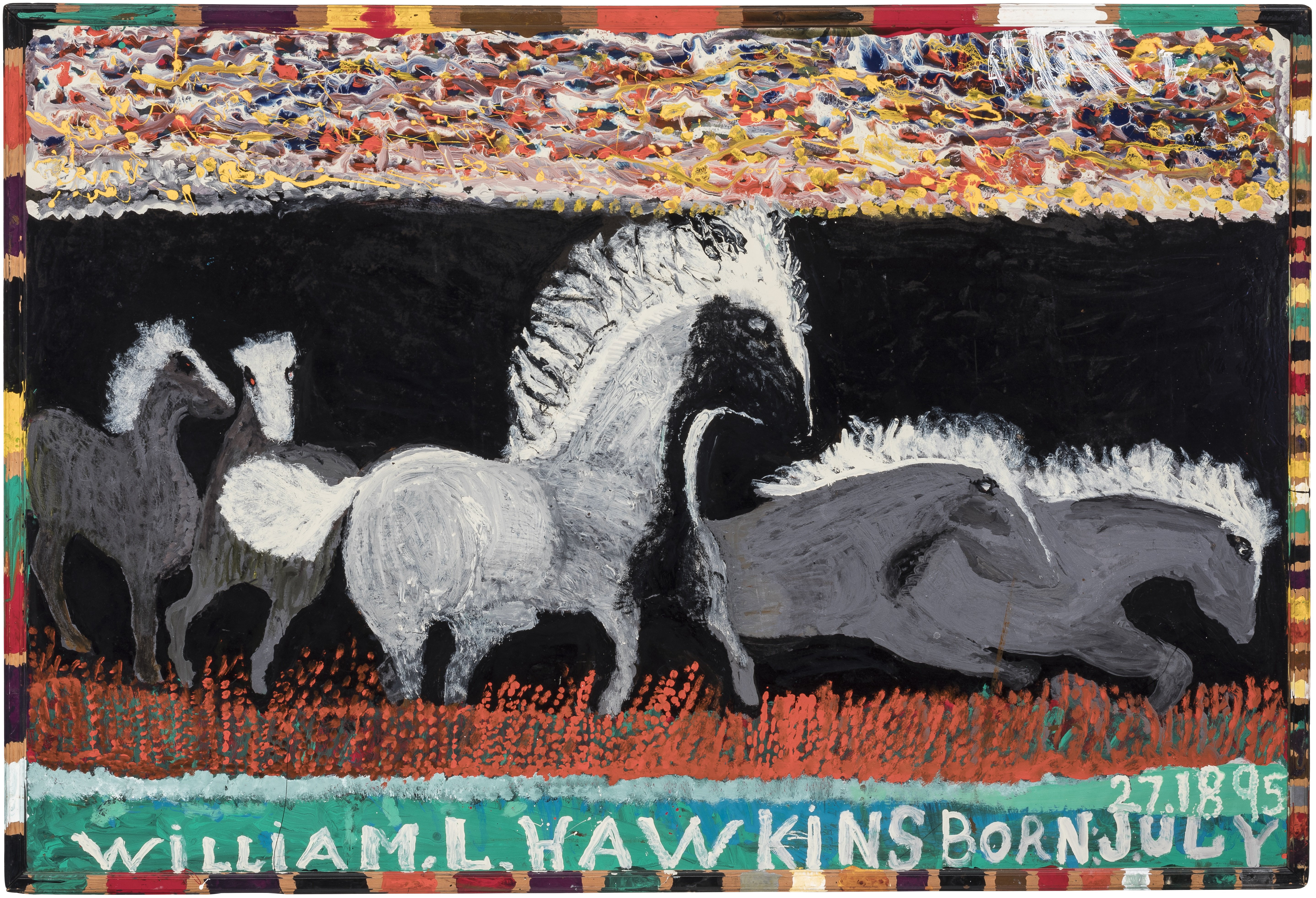 William Hawkins (1895-1990), Five Horses, 1984. Enamel on masonite, 40 x 80 inches. Collection of Lael and Eugenie Johnson.
From his exotic wild animals to dramatic depictions of area landmarks, Columbus, Ohio, native William Hawkins (1895-1990) created works that are intense, playful, wondrous, quirky, and flamboyant. In the first major exhibition featuring the artist in more than a decade, An Imaginative Geography explores this fascinating, self-taught genius with more than 60 important works. Drawn from important public and private collections from across the United States and Europe, An Imaginative Geography includes both well-known and rarely seen works. While focusing on Hawkins' most characteristic works, the exhibition brings special attention to the importance of collage practice in his body of work and to his work in series, of which his Last Supper is the most extensive and best-known example. The exhibition includes some of the artist's unusual tools and the suitcase in which he kept his research—the mass media images that inspired him. Hawkins explored the world through mass media and then re-presented it with a uniquely expressive bravado; simplifying the forms and heightening the colors, this self-taught artist elaborated passages with vigorous, swirling brushwork. The exhibition is organized in conjunction with the Figge Art Museum, Davenport, Iowa.
A New American Sculpture, 1914-1945: Lachaise, Laurent,
Nadelman, and Zorach
February 17-May 13, 2018
Amon Carter Museum of American Art
Fort Worth, Texas
How did a Frenchman, a Pole, and a Lithuanian become three of the biggest names in American sculpture? It may sound like the setup to a bad joke, but it's actually the story of how Gaston Lachaise, Elie Nadelman, and William Zorach, respectfully, rose to prominence. After enjoying formative experiences in Paris in their early careers, all three artists were forced to pick up and resettle in the United States by the start of the first World War. Drawing on the differences between their unique backgrounds and their new homes, it was here that, along with American sculptor Robert Laurent, they all began to redefine the expressive potential of sculpture in one of the most turbulent eras in modern history.
In an effort to "investigate the integral relationships between modernism, classicism, and popular imagery in the interwar sculpture," the exhibition features the distinct works of all four artists under the title, A New American Sculpture. Assembled from public and private collections, this exhibition of 55 sculptures and 20 drawings highlight the communicative power of the human form that tied Lachaise, Nadelman, Zorach, and Laurent together.
Louis Comfort Tiffany: Treasures from the Driehaus Collection
February 17-May 27, 2018
Taft Museum of Art, Cincinnati, Ohio
Spanning 30 years of Louis Comfort Tiffany's design career and showcasing a wide range of his objects and ingenuity, Louis Comfort Tiffany: Treasures from the Driehaus Collection at the Taft Museum of Art presents a superb opportunity to experience the life's work of one of the most innovative and esteemed American artists of all time. The exhibition features more than 60 masterworks of exceptional beauty and unrivaled quality – including vases, lamps, windows, furniture and ornamental works—that have never been seen in any museum outside of Chicago before now. Over the last few decades, financier and philanthropist Richard Driehaus has acquired more than 1,500 Tiffany windows, vases, candlesticks, accessories, pieces of furniture and lamps. The Richard H. Driehaus Museum—which opened in 2008 in a splendidly restored Gilded Age mansion—is one of the country's preeminent collections of American and European decorative arts and holds one of the foremost private collections of Louis Comfort Tiffany material in the U.S. The Taft Museum of Art premiers the exhibition, which will then embark on a national tour through 2021.
Gorey's Worlds

Wadsworth Atheneum Museum of Art, Hartford, Conn.

Through May 6, 2018










Left to right: Charles Ephraim Burchfield, Study of Bats in Flight, ca. 1954-63. Conté crayon on wove paper mounted on cardboard. Wadsworth Atheneum Museum of Art, Bequest of Edward Gorey (2001.13.34); Edward Gorey, Phantasmagorey, 1974. Pen and ink with collage on paper. Collection of Clifford Ross; Eugène Atget, printed by Berenice Abbott, Passageway, n.d. Gelatin silver print. Wadsworth Atheneum Museum of Art, Bequest of Edward Gorey (2001.13.17).


For more than 50 years, Edward Gorey's spare pen and ink drawings illustrating tales of hapless children, kohl-eyed swooning maidens, and whimsical creatures have delighted and amused audiences. Gorey's Worlds is the first museum exhibition to contextualize the work of celebrated American author and illustrator Edward Gorey (1925-2000) by uniting artworks from his personal collection and art of his own creation. Gorey bequeathed 73 objects he accumulated to the Wadsworth Atheneum—the only public institution to receive such a gift from him—in 2001. Ranging from 19th-century European prints and modernist American drawings to contemporary art from the 1970s and 1980s, these works offer an in-depth look into Gorey's artistic inspiration. Defining works from this gift--by Édouard Manet, Charles Meryon, Eugène Atget and Albert York--are integrated with 50 of the artist's own illustrations and key personalia. In total, more than 130 objects combine to encourage a holistic view of Edward Gorey, the art he lived with and the art he produced.
BOOKS & CONFERENCES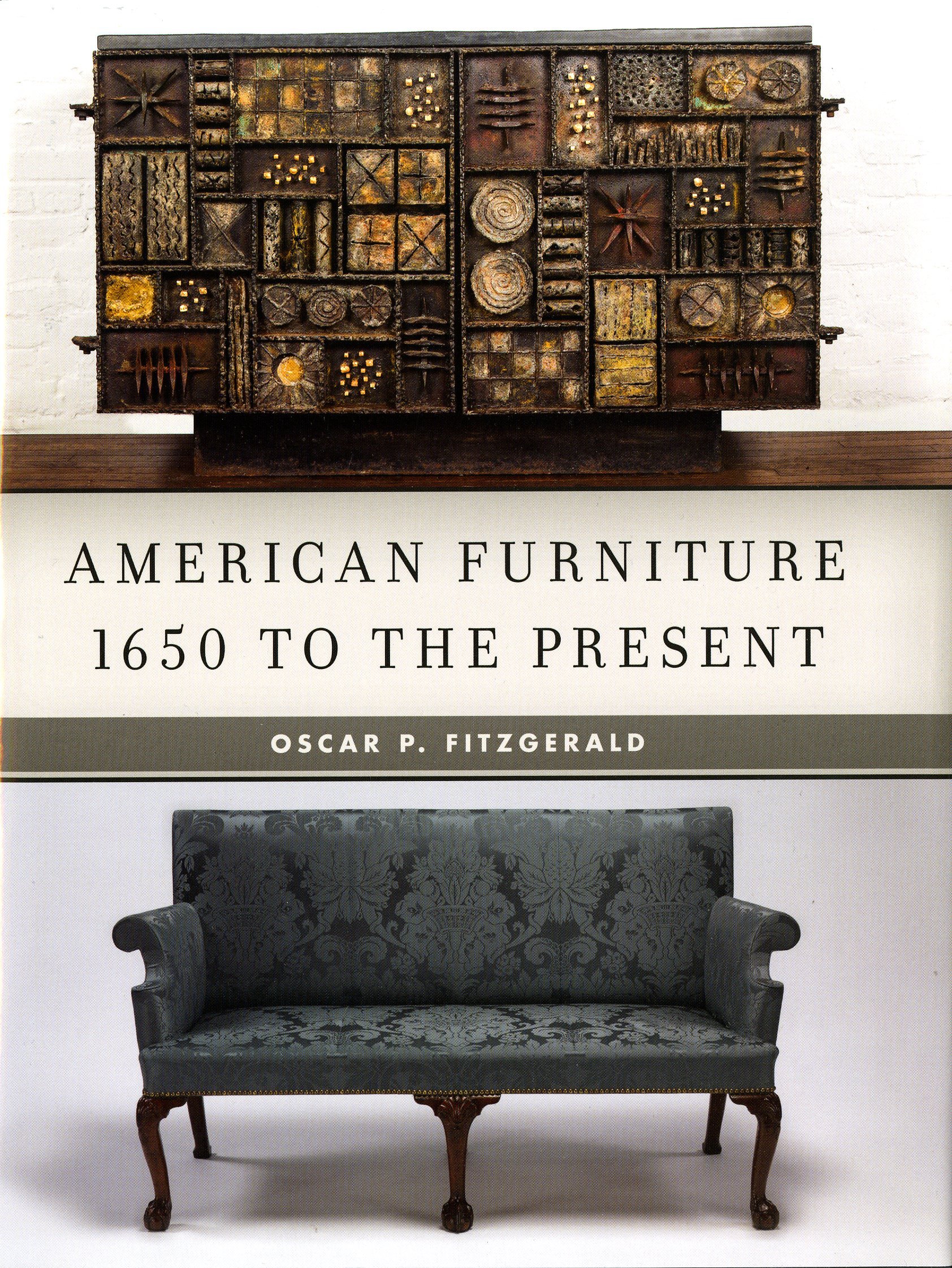 American Furniture: 1650 to the Present
Oscar P. Fitzgerald
Rowman & Littlefield; $130
Hardcover; 630 pages; b/w and color illus.
rowman.com/American-Furniture-1650-to-the-Present
Oscar Fitzgerald is no stranger to educating readers on the history of American Furniture. Author of, among other publications, Three Centuries of American Furniture (1987) and Four Centuries of American Furniture (1995), his new volume is an updated edition of the latter, with new research and additional illustrations. Drawing on the latest scholarship, this comprehensive, lavishly illustrated survey tells the story of the evolution of American furniture from the 17th century to the present. Not viewed in isolation, furniture is placed in its broader cultural, historic, and aesthetic context. The focus is not only on the urban masterpieces of 18th century William and Mary, Queen Anne, Chippendale, and Federal styles but also on the work of numerous rural cabinetmakers. Fitzgerald has also compiled a useful bibliography relative to the subject of each chapter, which contains books, theses, and other resources. The volume is also indexed. Notes Glenn Adamson in a review on the publisher's page, "[Fitzgerald] has put the entire story of American furniture between two covers for the first time, and has done so with commendable intelligence."
31st National Arts & Crafts Conference and Show
February 16-18, 2018; gala February 15, 2018
Grove Park Inn, Asheville, N.C.
https://www.artsandcraftscollector.com
This year's conference includes workshops, walking tours, seminars, demonstrations, and an antiques show with 115 exhibitors. If you are interested in attending the Conference Events, call (828) 628-1915 on Monday or Tuesday of this week. Starting Wednesday, call the Omni Grove Park Inn at (828) 252-2711 and ask for the Arts and Crafts Registration Desk. If you want to just shop the exhibitor booths — antiques dealers, contemporary crafts firms, book sellers, non-profit organizations, and magazines — simply come to the Omni Grove Park Inn and pay $10 at the door. Outdoor parking is free and your ticket is good for all three days.