Exhibitions and Shows Not to be Missed
| | |
| --- | --- |
| | |
| | RDAI Architecture's Dining Room Pavilion Presented by Galerie Philippe Gravier. Photography © Guillaume Grasset. |
SHOWS
Design Miami/Basel
June 12–17, 2018
Hall 1 Süd, Messe Basel, Switzerland
Calling itself the "global forum for design," Design Miami/ is a meeting point for collectors, curators, designers and gallery owners from all over the world who want to see what's new in furniture, lighting and ceramics. In years past, visitors have marveled at Styrofoam chairs, futuristic automobiles, wall decorations made from coathangers and concept installation pieces, such as in this year's show Galerie Philippe Gravier's presentation of RDAI Architecture's Dining Room Pavilion and the Paris-based Laffanour—Galerie Downtown's show of an interior design created for a Belgian children's store by Italian designer Gaetano Pesce.
Photo Basel
June 12–17, 2018
4058 Basel, Switzerland
We come to Photo Basel to learn what is trending in the photography field. As art fairs go, Photo Basel is small, featuring 35 exhibitors from mostly European countries – the nonprofit Aperture Foundation is the only representative of the United States and Bogota, Columbia's La Balsa Arte is the only gallery from South America – but there is a good mix of new and well-known dealers, as well as displays of artists from all over the world. This is the fourth edition of Photo Basel, and each exhibitor here puts on a group show of the work of between three and six artists, whose work frequently attempts to tell new stories about places not described in the news. The Paris gallery Esther Woerdehoff, for instance, is showing the work of four artists, including Martin Essl and Fabian Unternahrer. Galeria Heino in Helsinki, Finland has brought the work of four artists, among them Sami Parkkinen and Axel Antas.
| | | |
| --- | --- | --- |
| | | |
| Sami Parkkinen, Arvi, 2014. Pigment print, framed; 30 x 25 cm, edition 10+2AP; 66 x 54 cm, edition 8+2AP; 132 x 108 cm edition 5+2AP5 / 5. | | Martin Essl, Le Château Rouge No. 1, 2012. Inkjet print, 50 x 40 cm. Edition of 5. |
Art Basel
June 14–17, 2018
Messeplatz 10 4005 Basel, Switzerland
The premier marketplace for Modern and contemporary art, where the elite of the planet goes to be seen and to attend glitzy parties, as well as – oh, yeah – to look and buy works of art, Art Basel has become a major franchise, with Art Basel fairs taking place in Buenos Aires, Hong Kong and Miami Beach, but it also occurs annually in Switzerland in the city of Basel. This year, 290 galleries and dealers from all over the globe will be displaying the work of more than 4,000 artists. Many of the dealers will be familiar to long-time visitors to Art Basel, but some gallery owners are here for the first time, including Jan Kaps of Cologne, Germany, who only has been an art dealer since 2013. His booth will feature large-scale pink marble sculptures by British-French artist duo Daniel Dewar & Grégory Gicquel that use body parts as bathroom accessories, blending conceptualism and sensuousness. Unlike Las Vegas, what happens in Basel doesn't stay in Basel but influences buyers and curators all over the world.

| | |
| --- | --- |
| | |
| | A Paestan Red-Figured Bell Krater Attributed to the Painter Python. Dating circa 350-340 B.C. or shortly afterwards. Approximately 36.5 cm. |
The Art & Antiques Fair Olympia
June 20–27, 2018
Kensington Olympia Exhibition Centre, London
If you need a break from the sharp-elbowed, high-rolling hustle and bustle of Art Basel, the Art & Antiques Fair Olympia, now in its 46th year, offers a more relaxed and less crowded opportunity to view a wide range of sometimes fascinating art, antiques, furniture and collectibles. You may not want to buy them, but wouldn't you want to at least look at a pair of boots worn by the commander-in-chief of the British Forces fighting in South Africa during the Anglo-Boer War? Every item for sale is checked by a team of experts to ensure quality and authenticity before the Fair opens to the public. The event features 160 dealers, such as Babbington Fine Art in London, which specializes in drawings, watercolors and oil paintings, and Alexander Ancient Art in Voorschoten, Holland, which offers Egyptian, Near Eastern, Classical and Pre-Columbian antiquities. One of the pieces that Alexander will have on view is a Paestan Red-Figured Bell Krater. Don't touch.

| | | |
| --- | --- | --- |
| | | |
| Mattia Bonetti, Armchair 'Elle & Lui', 2017. | | Sir Alfred Munnings (Mendham, England 1878 - Dedham, England 1959), After the Race, Cheltenham. Oil on panel Size: 16 x 20 in /40.75 x 50.75 cm. Signed lower left. |
Masterpiece London Art Fair
June 28–July 4, 2108
South Grounds, The Royal Hospital Chelsea, London, SW3 4LW (a short walk from Sloane Square)
Masterpiece, the unmissable event at the height of London's summer season, has established itself as the world's leading cross-collecting fair providing an unparalleled opportunity for new and established collectors to discover exceptional works for sale. The centerpiece of a week of cultural events, the fair features approximately 160 dealers of art, design, furniture and jewelry are on hand. The range of objects for collectors to view and purchase is even wider, from antiquities such as an ancient Roman sculpted portrait of an elderly man from The Gallery Cahn in Basel, Switzerland to more recent creations, including Sir Alfred Munnings' (British, 1878–1959) oil on board "After the Race, Cheltenham" from the London-based Trinity House Paintings and Mattia Bonetti's 2017 His or Her Armchair from the David Gill Gallery in London.
In addition to things to buy is a program of art market talks, including a session in advance of the fair on Monday June 25th, on how to collect fine, contemporary and decorative art with confidence presented by the Sotheby's Institute of Art, and a discussion on the first evening of the fair between Jo Baring director of the Ingram Collection of Modern British Art, and art advisor Simon Stock, on questions to ask when purchasing a work of art. Don't miss what HRH Princess Alexandra calls "The jewel in the crown of London's summer arts season."
EXHIBITIONS
Cercle et Carré and the International Spirit of Abstract Art
June 16–October 7, 2018
Boise Art Museum
670 Julia Davis Drive, Boise, Idaho
The 1910s, '20s and '30s saw a rush of new art movements, new isms (Cubism, dada, Surrealism, Suprematism, Futurism, Precisionism, Socialist Realism, Regionalism and more), all trying to make sense of a western civilization that seemed to have lost its footing. One more effort was a short-lived artistic group known as Cercle et Carré (Circle and Square), which was founded in 1929 by Belgian artist and critic Michel Seuphor, Uruguayan-Catalan artist Joaquín Torres-García, and Catalan-American artist Pierre Daura. Based in Paris and boasting of such members as Wassily Kandinsky, Piet Mondrian, Jean Arp, Fernand Legér and Le Corbusier, Cercle et Carré was formed in reaction to what the founders considered to be the self-indulgent and illusionistic nature of Surrealism. They were more interested in advancing ideas concerning construction and meaningful abstraction. Despite the group's common goal, the styles, theories, and philosophies its members used were varied and sometimes at odds. Small wonder it was short-lived. Still, it represented a moment, and the exhibition at the Boise Art Museum includes just north of 50 works by 30 of the artists associated with Cercle et Carré, including Joaquín Torres-García's 1928 oil San Rafael.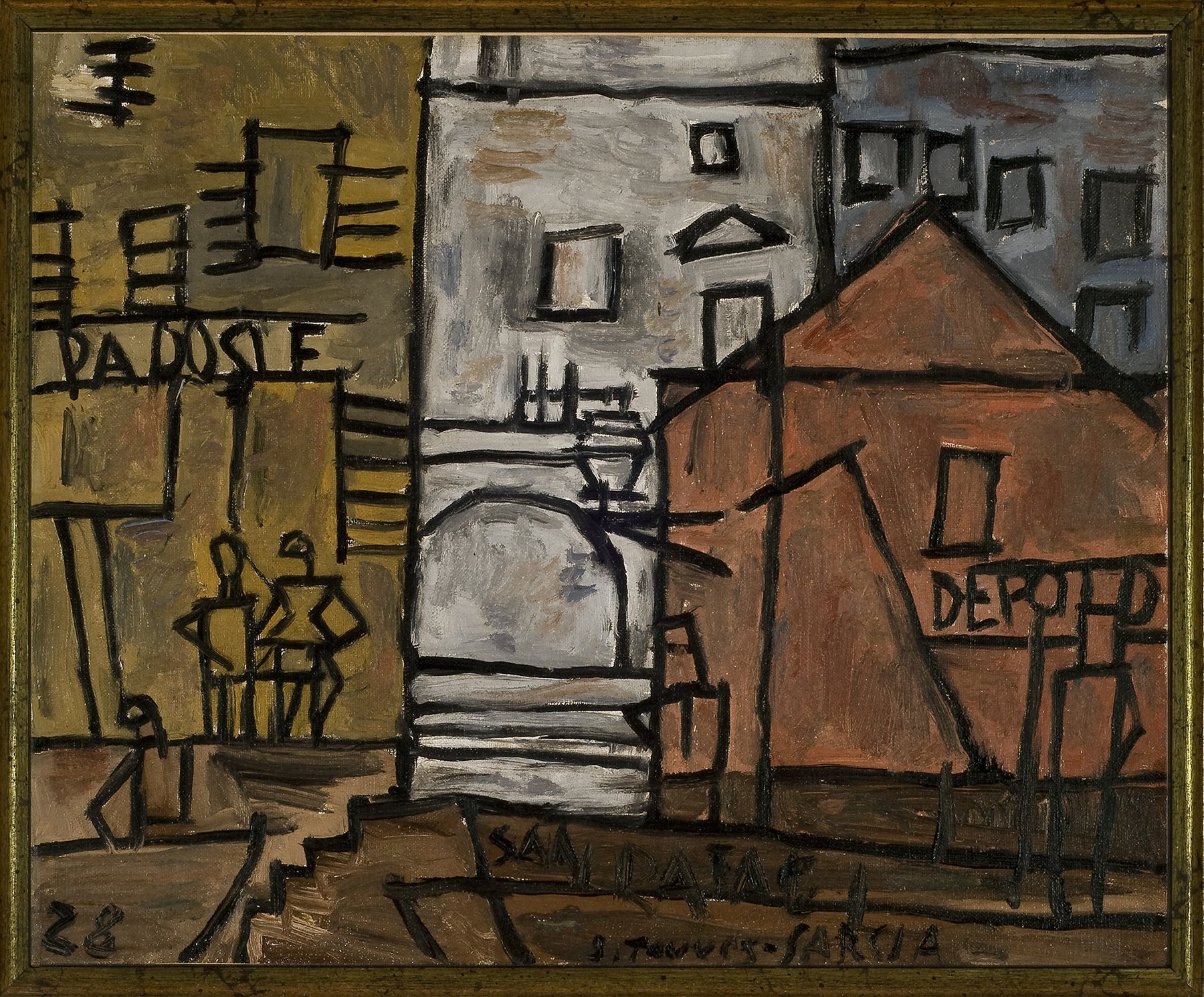 Joaquín Torres-García (Uruguayan, 1874–1949), San Rafael, 1928, oil on canvas, 14-5/8 x 17-7/8 inches, Georgia Museum of Art, University of Georgia; gift of Martha Randolph Daura. Image submitted by Boise Art Museum
| | |
| --- | --- |
| | |
| Pierre Daura (American, b. Spain, 1896–1976), Pax Pacific, ca. 1945, oil on canvas, 32 x 24 inches. Gift of Martha R. Daura, Boise Art Museum Permanent Collection. Image submitted by Boise Art Museum. | |
Pierre Daura: Fifty Fifty
June 16–October 7, 2018
Boise Art Museum
670 Julia Davis Drive, Boise, Idaho
One of the members of the Cercle et Carré group, Pierre Daura, is also getting his own show at the Boise Art Museum, the result of a gift from the artist's daughter, Martha R. Daura, of paintings, prints, and drawings, including his 1945 oil Pax Pacifica. Never heard of the artist? That's part of the reason for this exhibition. Daura (1896-1976) was born on the island of Minorca, Spain. He grew up in Barcelona, and moved to Paris as a young man in 1914. As a result, artistically he came of age alongside some of the most significant members of the European avant-garde, including Joaquín Torres-Garcia and Michel Seuphor, with whom he founded the modernist group Cercle et Carré. Daura returned in 1937 to Spain to fight in the Civil War on the side of the Loyalists but was wounded and recuperated in France, eventually emigrating to the United States at the outbreak of the Second World War. The "Fifty Fifty" in the exhibition's title refers to the fact that about half of Daura's art was abstract and half was representational.